MLB pays tribute to Gwynn before Game 3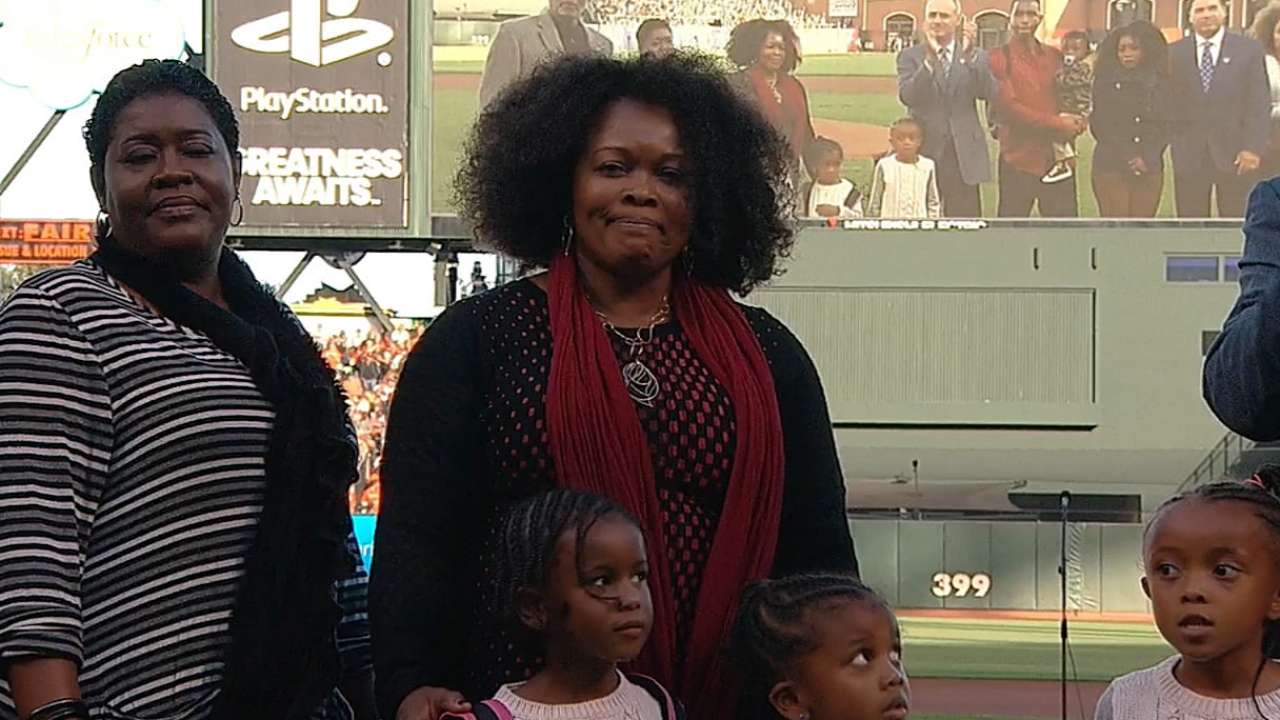 SAN FRANCISCO -- Major League Baseball honored the late Tony Gwynn prior to Game 3 of the World Series between the hometown Giants and Royals on Friday at AT&T Park.
Gwynn passed away on June 16 at the age of 54 after a lengthy battle with salivary gland cancer. The three-minute tribute, part of the Stand Up To Cancer proceedings, included a highlights video from Gwynn's 20-year career, all of which was spent with the Padres. The ceremony was attended on the field by several members of the Gwynn family, including his four grandchildren and widow, Alicia, plus Commissioner-elect Rob Manfred.
The video featured interview footage with Gwynn and some of his greatest moments: scoring the winning run for the National League in the 1994 All-Star Game at Pittsburgh's old Three Rivers Stadium, his homer off the right-field façade of Yankee Stadium in Game 1 of the 1998 World Series and his 3,000th hit, in 1999, at Montreal's Olympic Stadium, a patented single up the middle.
"It was very nice," Alicia Gwynn said about the video and ceremony, which were warmly received by the capacity crowd. "That's the first time I'd seen that one."
Alicia saw her first ballgame since her husband's death in late September, when her son, Tony Jr., was in the lineup for the Phillies at San Diego's Petco Park. She also attended the Hall of Fame induction ceremonies at the end of July, accompanied by her daughter, Anisha.
"It's all been tough, it's been very tough," said Alicia, who began dating Tony when the two attended Long Beach (Calif.) Polytechnic High School. "You know, I'll never be OK with it, but I have to learn how to cope. Little by little I'm learning how to cope."
The children surrounding Alicia on Friday are the daughters of Tony Jr., who was not in attendance: Makayla, 7; Jordan, 5; and Leighton, 3.
Among Gwynn's accomplishments are his .338 lifetime batting average, 3,141 hits and National League record-tying eight batting titles. He played for the Padres from 1982 to 2001 and was inducted into the Hall of Fame in 2007, along with Orioles shortstop Cal Ripken Jr.
Gwynn played baseball and basketball at San Diego State and was the head baseball coach there from 2003 until his death.
Fellow Hall of Famer Rickey Henderson, who was at the ballpark on Friday, admired Gwynn. Henderson had two stints in San Diego, playing with Gwynn on the 1996 team that won the NL West and again at the end of Gwynn's career. Henderson's 3,000th hit, a double, came at Qualcomm Stadium on Oct. 7, 2001, in the first inning of Gwynn's final game.
"I learned a lot from him, because I wasn't a National League player," Henderson said. "I was trying to get adjusted to the National League, trying to get adjusted to the strike zone. I had a great eye in the American League. In the National League, I had a bad one. The strike zone was different. He was trying to teach me about the strike zone, what I should do."
Barry M. Bloom is a national reporter for MLB.com and writes an MLBlog, Boomskie on Baseball. This story was not subject to the approval of Major League Baseball or its clubs.