Oct. 24 Clemente Award presentation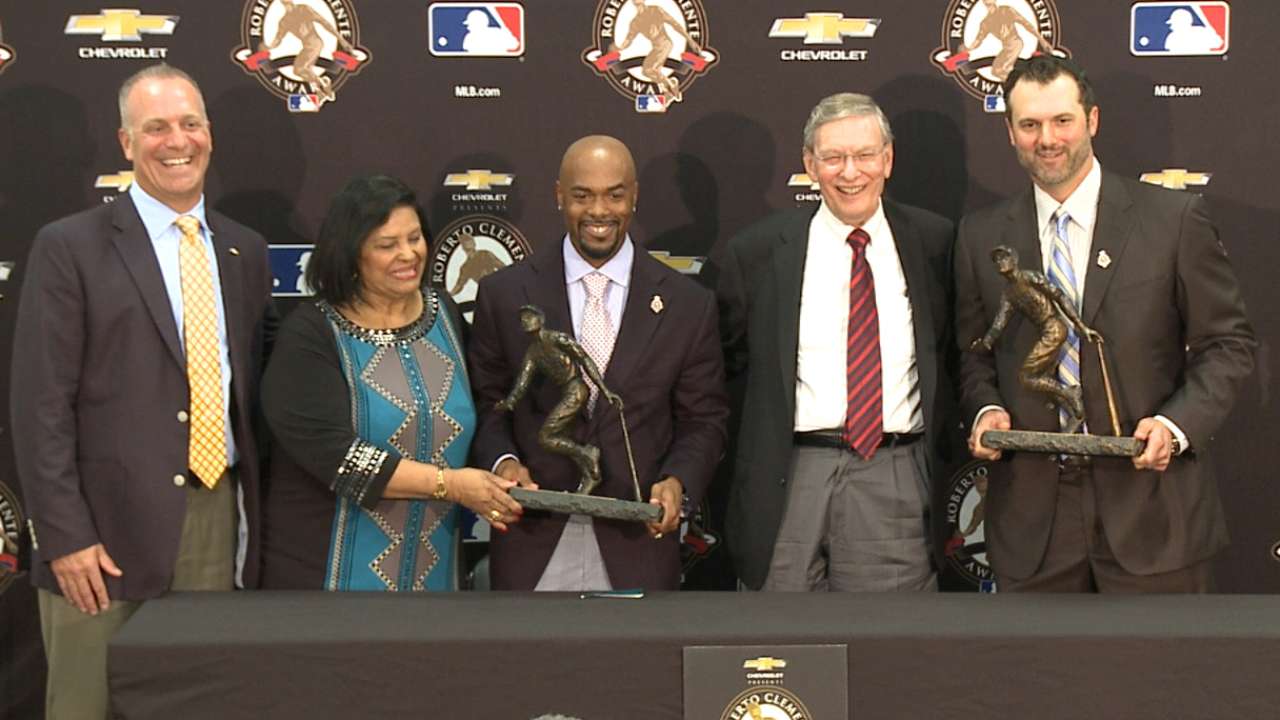 GREG AMSINGER: Hello, everyone. My name's Greg Amsinger of MLB Network, and welcome to the announcement of the recipient of the 2014 Roberto Clemente Award presented by Chevrolet.
This prestigious award pays tribute to Roberto Clemente's legacy, achievements and character by recognizing Major League Baseball player that best represents the game, through positive contributions on and off the field, and who truly understands the value of helping others. The Roberto Clemente Award is named for the Hall of Famer and 15‑time All‑Star who died in a plane crash in 1972 on New Year's Eve while attempting to deliver supplies to earthquake victims in Nicaragua. A wonderful humanitarian, and a special ballplayer was taken from the world that night. From that day forward his indelible giving spirit has lived on, thanks in large part to our next speaker.
As the MLB Goodwill Ambassador, she continues to share Roberto's message of selflessly giving back to others through service. It is my pleasure to introduce the wife of Roberto Clemente, Vera Clemente.
VERA CLEMENTE: Good afternoon. It is an honor to be Major League Baseball's Goodwill Ambassador. It's an honor to be here today representing my family, and Roberto's commitment to baseball excellence on the field, and humanitarian efforts off the field. I want to thank Major League Baseball and Chevrolet for the support it provides to this award, both nationally and locally.
I also want to congratulate all of this year's nominees for all that they do. They are truly role models for today's generation. Congratulations to Paul Konerko and Jimmy Rollins. Roberto would be proud of the many, many things you do for your commitments. You both have been able to play most or all of your careers for one team, Paul with the White Sox for 16 years, and Jimmy with the Phillies for 15 years. And Roberto would have also appreciated that.
A special "thank you" to Commissioner Selig from my heart, the bottom of my heart, for all you have done over the years for me, my family and for the world. We will miss you, but I hope to see you soon in Puerto Rico. We will be together soon. We will be together soon. Thank you. God bless you.
GREG AMSINGER: The Roberto Clemente Award is presented by Chevrolet, the official vehicle of Major League Baseball. To speak on their behalf, please welcome regional zone manager for Chevrolet, Mike Stinson.
MIKE STINSON: Thank you very much. On behalf of Chevrolet, we are very proud to be part of the Roberto Clemente Award. We want to thank you. We want to thank Major League Baseball, quite an honor for Chevrolet to be part of such a great, great award.
We have been involved with this award now for seven years, and I'm here to tell you that we have contributed almost $2 million to all the charities across the nation. And over the seven years we've had almost two million fans vote online for these proud winners, so very, very exciting getting the fans involved.
And I will say this year I'm proud to announce that we'll be donating a car to both winners' charity of choice, as well as a monetary contribution, so very, very exciting, and we're very proud on Chevrolet.
So again, on behalf of Chevrolet, thank you. Being born and raised in Pittsburgh, Vera, this is a proud moment for me, truly, to be part of the Clemente family. And Jimmy and Paul, very exciting, and thank you, Bud.
GREG AMSINGER: The recipient of the Roberto Clemente Award was selected, as Mike said, based on a combination of fan vote on ChevyBaseball.com and a panel of dignitaries, including Vera and our next speaker. To officially announce the winner of the 2014 Roberto Clemente Award presented by Chevrolet, please welcome Baseball Commissioner, Bud Selig.
COMMISSIONER BUD SELIG: Well, I am delighted to be here today for the presentation of the Roberto Clemente Award presented by Chevrolet, which we are awarding this year in historic fashion. I want to thank Chevrolet for their continued support of this prominent recognition. I would also thank to thank my friend Vera Clemente for continuing the enduring legacy of her late husband Roberto, by serving as a wonderful Goodwill Ambassador to Major League Baseball.
Roberto Clemente was not only one of the most gifted players in Major League Baseball history, but also a true humanitarian, who lost his life while trying to help those in desperate need. Major League Baseball's proud to have its most prestigious, and I want to emphasize that, off‑field award, named in his honor, so that we may recognize current‑day players who followed his example of selflessly doing extraordinary things for other people.
As I mentioned, this is a momentous day, as for the first time in the 44 years of the Roberto Clemente Award, we are presenting this prestigious honor to two worthy recipients.
As the current longest‑tenured professional athlete in Philadelphia sports ‑‑ that is something (laughter). Man, you can last that long in Philadelphia, that's pretty good (laughter). Jimmy Rollins has redefined the term of leader in the clubhouse, on the field and in the city of Philadelphia. Jimmy has focused on helping children not only through his Rollins Family Foundation, but also through several important charitable initiatives dedicated to directly working with and enhancing the lives of Philadelphia students in the inner city.
Jimmy, along with his wife, have played a personal role in helping families make healthy food choices at home, and also assisting children in improving their literary skills. Jimmy has also been a wonderful philanthropist, raising more than $1 million to help Philadelphia's children. And he's served as a positive example for his fellow teammates, many of whom have modeled their own charitable initiatives after his.
Jimmy's remarkable commitment to making a difference in the lives of others, also includes making personal connections with people from Philadelphia who are afflicted with ALS or Lou Gehrig's disease, which we just recognize about before Game 2, in helping the Phillies raise more than $15 million towards the fight against this disease.
Jimmy, it is a pleasure to announce you as one of the 2014 co‑winners of the Roberto Clemente Award presented by Chevrolet. Congratulations (applause).
It should come as no surprise that our second recipient of the Roberto Clemente Award is also a respected and admired leader on and off the field. Paul Konerko and his wife Jennifer founded the Bring Me Home campaign in 2007 as a family effort with his former White Sox teammate Jim Thome and his wife Andrea. The campaign raises awareness, generates support, recruits foster parents and advocates for the needs of foster children and families.
This effort has reached more than 1,000 foster families and raised money to provide school supplies and back‑to‑school clothing for children in need and send hundreds of kids to summer camp.
Paul, Major League Baseball has been fortunate to have you be such an outstanding ambassador for our game. I have no doubt that your impact on the field and in your community will be felt for years to come. Congratulations on an outstanding career, and I want to add an aside: I watched a lot of games, and I watched the ceremonies honoring you the last weekend of the year, and that was really a great tribute to baseball, the White Sox, but mainly to you. I congratulate you.
I truly believe that Roberto Clemente would be enormously proud of you both for all that you do. And it's players like these two men on the stage that make me proud to be the Commissioner of Baseball. On behalf of everyone in Major League Baseball, congratulations on being named the co‑winners of the 2014 Roberto Clemente Award, and I want to say that of all the awards that we give out, this one is really meaningful because it speaks to you and to you as great human beings. So we regard this as really the most important maybe of all the awards we give. So congratulations.
GREG AMSINGER: We'd like to hear from both recipients. Paul, we'll start with you.
PAUL KONERKO: I just want to say thank you to MLB. When I got nominated, I thought that was a great way to cap off my final season, and I thought that was the coolest thing, just to be connected to the award. This is overwhelming as far as actually winning.
Then I think it's really cool that winning it with Jimmy, this is a guy that I didn't play a whole bunch against with him being in the National League, but our careers are kind of the same arc, same timeline. To share this with him, it's really good. I respect the way he plays the game. We don't play the game anything close to the same way as far as what we do out there or what I did on the field. But definitely respected him as a player all through my career and saw him on the highlights watching TV late at night. So I feel good about that, that we get to do this together.
I want to thank the White Sox for all the years of helping me kind of learn what it is and how to navigate your way into the off‑the‑field stuff and the charitable stuff. You have to learn that stuff by people that work for the team, and they kind of raise you and teach how to do that. There are a lot of good people there.
Jim Thome, if you're ever going to start a charity or start a movement, not a bad guy to hook up with. People seem to make time for Jim. It's a good guy to latch on to, and Jimmy was a big help to me and mentor.
So, yeah, this is great. As Commissioner says, it was my last year, so I feel like this is a great way to cap it off. To me, now not having to play the game, it kind of inspires you to just now ‑‑ because you can't do anything on the field anymore, now you know you can help in other areas and it kind of kick starts that for me. So thank you very much (applause).
JIMMY ROLLINS: It's definitely an honor to be the recipient of this year's award along with Paul. Thank you, Vera, and thank you to everyone who had something to do with the voting. We go out there as baseball players and people get to see us in uniforms and, "Wow, that's a great person, that's a great player." But I think to take that off the field and to become more than just a person in a uniform says a lot about a person.
When you play Major League Baseball, you're automatically in the legacy of Roberto, and as you go through your career and you start trying to find ways of helping back. You don't know where it's going to take you. I started out in two different directions before I ended up here, and finally found something that I felt could make a direct impact and an immediate impact in the community I was playing in. I've been nominated a number of times by the Phillies. I still don't know why. We have a lot of great guys on our team doing a lot of work, but they seem to nominate me.
So I know what it's like to be on the other side. You want to win the award, but it doesn't happen, and it's like, man. You kind of feel let down because you understand the prestige that comes with the award, and not for any other reason but to say, wow, I did something important in the game that had nothing to do with baseball but everything to do with helping others. So to have won it this year, and to finally ‑‑ I guess "finally" is the word ‑‑ to have been nominated by Vera and everyone else, along with Paul, you read résumés of all the nominees and you get guys like this and you're looking at ‑‑ it's not a competition by any means, but to just look at what they do, it's like, wow, man, I thought I was doing something. Then it makes you want to do more and more and more, just so you can have that impact that your husband ultimately had. Thank you for him and for sharing him with us, and thank him for being the person he was. Because of him, guys like us and all around baseball get to be honored in his name. Thank you (applause).
GREG AMSINGER: Once again, congratulations to Jimmy Rollins and Paul Konerko as the recipients of the 2014 Roberto Clemente Award.
Q. I want to know how you guys chose your charities. There is a lot of different charity work that players can do and there are a lot of charity opportunities, why specifically you chose your respective charities?
JIMMY ROLLINS: Well, first piece of charity I ever did started out with juvenile diabetes, and it was something that Coca‑Cola did or Pepsi was doing with baseball postseason, and I would go to the event, show up, play a softball game, and that was my first real experience. That came to an end and I wanted to continue it. So along with Kimberly, we just pretty much put together a bowling event, in which we went out and raised money just to give to them, the Diabetes Research Foundation.
I wasn't ready for a foundation at the time, and in order to work with them after that I needed a foundation. So it took me a couple years to find out what it was I wanted to do, but I knew I wanted to give back. I went from diabetes to juvenile rheumatoid arthritis. It was always something to do with kids. That came about just one day.
I know Paul knows these stories, and I was working out and it was like, man, this just hurts for no reason, just to bend an elbow it hurts. And I thought what would it be like to be a kid or to be a young adolescent and to have this, not because of work, but because it's a condition. Let's look into that. And we put together some events, met up with the Juvenile Rheumatoid Arthritis Foundation and they had a camp ‑‑ I can't think of the name of the camp right now ‑‑ Camp JRA, in which kids with existing conditions got to be together, and feel normal and not have to worry about hospital visits or not going out and not being able to play sports because they had a flare‑up.
I did that for a number of years, and then Prevent Child Abuse Pennsylvania for two years before ultimately last year making a transition to something I can have or we can have a more direct effect with the community and the area. Something that was larger than what we had been previously doing.
I like to eat, personally. I like good food, and I tell my mom, "Don't hold back the good food. I don't care what it costs, let's go get it." And it just made me think of families that aren't in that situation that can't go out and get the best of the best. How can I help them? How can I help provide them with healthy food? Not just food you go get from any supermarket, but the good stuff. So that's stuff that they naturally or normally wouldn't be able to afford. And we teamed up with a number of programs, Food Share program out in Philadelphia, and they already had these things going. And I was able to team up with them and just push their efforts forward by donating money and lending the name to it.
That's the easy part for me, because I have a lot of people behind us. Kimberly, Josh, my wife Johari, Mina Sabet that do all the dirty work. They do the hard stuff. I'm on the field, so I can't. I have to just show up, smile and appreciate the work they've done and get recognition for it. So that's how I ended up here.
PAUL KONERKO: It was pretty easy for myself. My wife, Jennifer right here, her mom and dad have adopted ‑‑ she has six adopted siblings, and they've probably fostered 50 to 60 over the years. So to see that up close, just to see it all happen and see it up close and see the impact that that can have, I think most people get into charitable work a lot of times with what they've experienced close to them or what they've seen, something that they've seen, it's close and they want to help that. It was kind of a no‑brainer.
When Jim and I, Jim Thome and I were deciding, we wanted to make sure we both were into what we were doing, and we kind of talked about a couple of different things. But that was easy for me. And Jennifer has done a lot, like he just mentioned, a lot of the heavy lifting with some of it, and most of it. But it was just an easy thing.
We've done everything in Chicago up to this point, and we'll continue to do that, but now that I'm back in Arizona and retired, I won't be heading back there as much, we want to sink our teeth into similar‑type programs, but where we live full‑time in Arizona. So that's kind of the next move, I think.
Q. Could you talk about how this impacts you? I'm sure you see certain examples where you actually really helped someone, someone who had some sort of a bad card that was dealt to them. How does this affect you when you see someone you've actually been able to help maybe turn their life around or maybe give them a chance to turn their life around?
JIMMY ROLLINS: I think for me it's just seeing that smile on their face. It's not just, "Hey, I'm happy to see you." It's, "Hey, you actually care. You took the time to come down here and meet with us and talk to us and tell us about your life and just spend that moment."
Yes, you get stories along the way in how what you're doing is going to help. As far as the food, I just started that this year. I've seen other stories and kids that come up with tears in their eyes, and just being thankful that they were able to go to camp because of the money that you and the team or the organization was able to donate, and year after year how it makes a difference. But it's the smile and the appreciation, that is the biggest reward.
I can't speak for Paul, but you don't really expect it, it's just you try not to make a big deal out of it because you don't want to get caught up in the moment, also. But when you leave, it's easy to go ahead and go in a corner and wipe a tear away, and come back like nothing ever happened. But it's that appreciation for what you've done, that is the biggest reward.
PAUL KONERKO: I think it gives you perspective. Especially when you're playing during the season and you're doing things, a lot of the best games that you ever have are on days when you do something out in that field. I think the reason is because it gives you perspective on what you think is really important, and what you're going through; that 0‑for‑8, that 0‑for‑12, you think it's the end of the world. Then you deal with some of this stuff and you come back to the field and it's like, what are really my problems?
But definitely the last couple ‑‑ last three or four years we were bringing foster kids out to the field for a day to come and play catch, shag during BP and stuff. You get a 10, 11, 12‑year‑old kid and we have all this gear and equipment and whatnot, and say, "All right. Here's a glove you can have it." We have all this stuff hanging around. And you give him a glove, and it's like, "I've never had a glove before." And he's 12 years old, you just take that stuff for granted. This kid is 12 and he's never had a baseball glove. That's just not right. It's stuff like that.