Boston's Marrero finds rhythm in Fall League play
Red Sox's No. 10 prospect scores, hits two doubles to give Surprise a win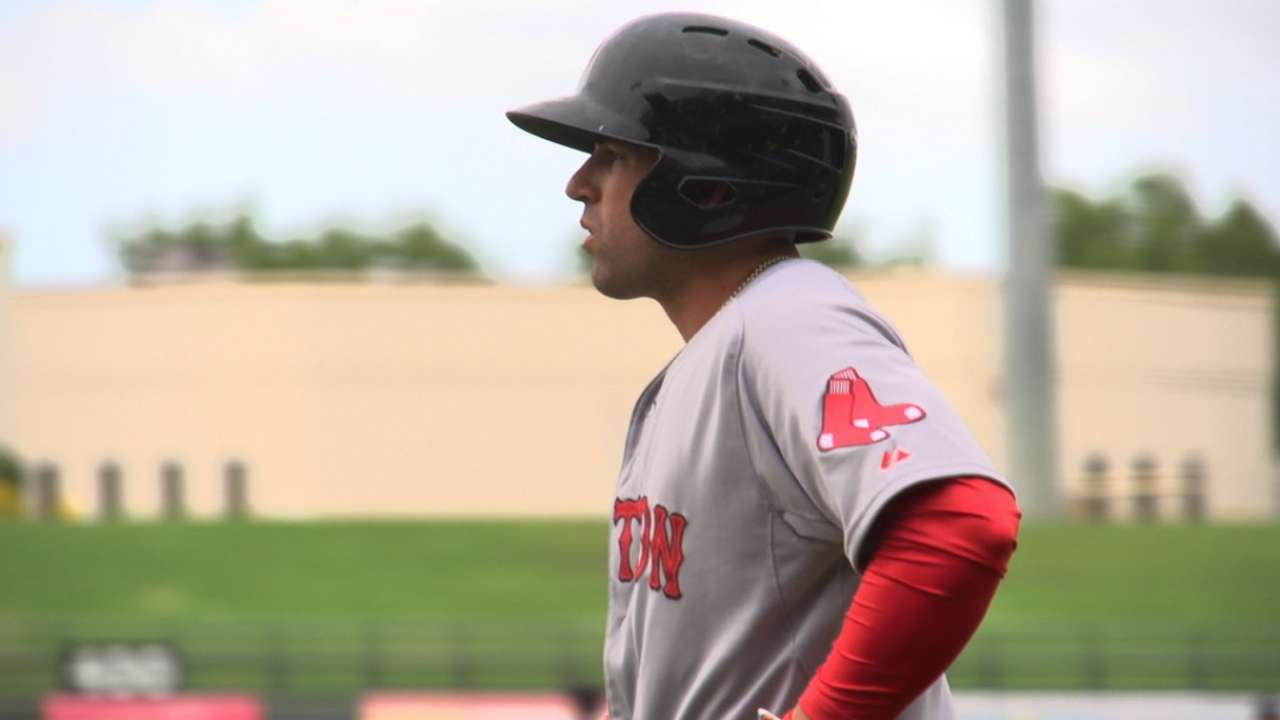 SCOTTSDALE, Ariz. -- Pitching and defense ruled the day at Scottsdale Stadium on Friday, when the Surprise Saguaros narrowly earned a 2-1 victory over the Scottsdale Scorpions. There were no home runs, but the two teams combined to turn six double plays and record three outfield assists.
Surprise shortstop Deven Marrero, the Red Sox No. 10 prospect, had a hand in four of those double plays, and he doubled twice and scored one of the road team's two runs. Scottsdale scored in the first inning and was shut out the rest of the way, and Surprise tied the game in the fourth and pulled ahead for good in the fifth.
"It was fun. It was kind of a close game the whole way," said Marrero. "We were swinging the bat really well but we weren't finding too many holes. Guys are having great at-bats today. We faced some good pitchers. It was a fun game with great defense. It was a good all-around game today."
Marrero, a former first-round draftee, started the game-tying rally with a two-run double in the fourth inning. The former Arizona State star scored on a hit by Pat Cantwell and later notched another two-out double in the seventh. Jesse Winker tripled and scored the decisive run in the fifth inning.
Surprise starter Stephen Landazuri allowed a run in the first inning, but he escaped unscathed through the second and third. Four relievers -- Burch Smith, Matt Brazis, Ryan Dennick and Ben Klimesh -- combined to throw six scoreless innings and held Scottsdale (7-9) to four hits in that span.
Surprise (7-9), meanwhile, had its own problems on offense. Tyler Glasnow, who started for the Scorpions, worked three shutout innings and struck out six batters. The first reliever, Dario Alvarez, gave up Marrero's first double, and Ryan O'Sullivan took the loss after the fifth-inning rally.
Marrero, the 24th overall selection in the 2012 First-Year Player Draft, is coming off a long season that saw him make his first appearance at the Triple-A level. The 24-year-old plays in Boston's organization, and he said he was happy to finish off his season with a six-week stint in the AFL.
"I'm playing baseball, so I can't complain," said Marrero. "It's a lot of fun coming back here to a place I'm familiar with. It's been a great time so far. We're just having fun. It's a great group of guys."
Marrero, a career .258 hitter in the Minor Leagues, played in 118 games split between the Double-A and Triple-A levels this season. First, the fleet-footed infielder batted .291 with a .371 on-base percentage for Double-A Portland, and he later batted .210 in 50 games for Triple-A Pawtucket.
And while the parent club had a tough season, Boston's Triple-A affiliate won its league for the second time in three seasons. Marrero was thrilled to be a part of the championship season at Pawtucket.
"It was a good season. We had a great team and we won the championship," he said. "It was a lot of fun. I had my ups and downs but I learned a lot. And that's what it's all about: That process of learning and working hard and going back there next year and hopefully taking care of business."
Center fielder Hunter Renfroe threw out a runner at third base for Surprise, and left fielder Winker erased a runner at second base later in the game. Renfroe, meanwhile, was thrown out at home in the second inning when trying to score the road team's first run of the game.
Glasnow, the Pirates' top-ranked prospect and the No. 16 prospect on the MLB.com Top 100, gave up three hits and walked one batter. The right-hander starred at Class A Advanced Bradenton this year and is getting his first exposure to upper-level bats this fall. Marrero, who has played at the highest level of the Minors, was asked to compare the level of play in Triple-A to the Arizona Fall League.
"It's close, but Triple-A is more consistent than here," he said. "Guys here just have stuff. They're very exciting and they're overpowering, but in Triple-A, they have more consistency and more stuff."
The Red Sox may have Xander Bogaerts and Dustin Pedroia at the big-league level, but Marrero knows that with time and improvement, he's going to get his own shot soon. All he can do, he said, is work as hard as he can and do all the little things to prepare himself for a potential opportunity.
"I'm one step away. That's all I know," he said of his big-league timeline. "I play every day with a chip on my shoulder to get there and live out my dream. When that day comes, I'm sure I'll be ready."
Spencer Fordin is a reporter for MLB.com This story was not subject to the approval of Major League Baseball or its clubs.