Vargas aims to use AT&T Park to his advantage
Looking forward to hitting, KC Game 4 starter hopes to benefit from spacious dimensions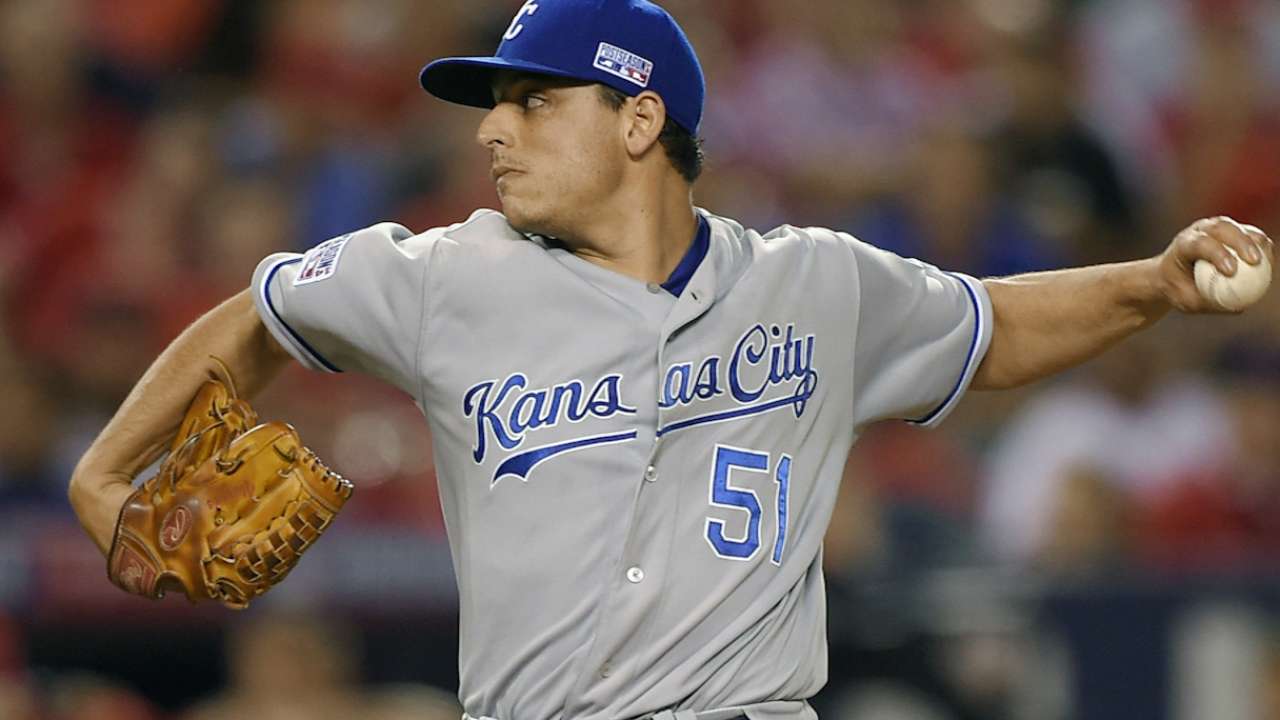 SAN FRANCISCO -- Royals starter Jason Vargas, who gets the ball here for Game 4 of the World Series, has two memories of AT&T Park, one indelible and one inconsequential. The first was an exhibition game on April 4, 2010, "when it was really rainy and everybody just wanted to get the season started." The other came in October of that year, Vargas' first experience at the World Series, when he and his wife flew from Arizona to catch Game 1 between the Giants and Rangers.
"I got to watch it from the fan's perspective," said Vargas, who will start tonight (6:30 p.m. CT airtime, 7:07 first pitch on FOX). "It was a pretty electric atmosphere. I'm looking forward to being a part of it."
Vargas' first meaningful outing at AT&T Park coincides with a chance to give his Royals a commanding 3-1 lead in this Fall Classic. It'll come against a Giants team he held to two runs on nine hits in five innings on Aug. 8, a lineup the 31-year-old left-hander called "really good."
"If you're not prepared to go in and face a team like this," Vargas said, "it's going to be a long day."
But tonight's matchup in this spacious National League park plays favorably to Vargas for a couple of reasons: He's a relatively good hitter, and he's a rather extreme flyball pitcher.
Vargas, a slugging first baseman and designated hitter in college, has a .262/.297/.311 slash line in 66 career plate appearances, which is pretty darn good for a pitcher.
"I don't want to put the shoe on too quick," Vargas said, "but yeah, I'm looking forward to getting in the box and getting to see what it's like to get a World Series at-bat."
Since 2010, a five-year span in which he compiled a 3.92 ERA and averaged 190 innings per season, Vargas has the 14th-lowest groundball-to-flyball ratio among qualified pitchers. In other words, he's allowed a well-above-average rate of flyballs since transitioning into a full-time starter.
During that time, Vargas' Fielding Independent Pitching -- a pitching stat that strips the role of defense, luck and sequencing -- is a slightly-below-average 4.15. But he limits the damage by mostly living in the bottom half of the strike zone -- only 21 percent of Vargas' pitches have been chest high and above since 2010 -- and he can be at his best when pitching in front of capacious outfields.
AT&T Park ranked 25th in park factors this season, making it among the most pitcher-friendly facilities in baseball. And if Royals manager Ned Yost keeps his NL lineup the same, with Jarrod Dyson in center and Lorenzo Cain shifting to right, Game 4 could play right into Vargas' hands.
"It doesn't change my approach," Vargas said, though he really won't have to. "I don't know if I've ever really changed my approach based on the ballpark. I feel like you're getting out of your game plan. Obviously, there might be a few different things you might do over the course of the game, but as far as attacking the strike zone and trying to use your strengths, yeah, I'm pretty much just going to try to do the same things that I always do."
Vargas posted a 3.71 ERA, a 1.27 WHIP and a 3.12 strikeout-to-walk ratio in 187 innings in the first of a four-year, $32 million contract with the Royals. He gave up 18 runs in 18 innings in his last four regular-season starts, then made a couple of mechanical adjustments -- "just some fine-tuning," Vargas said -- and recaptured his success in two prior October starts, giving up three runs on five hits and four walks in 11 1/3 innings.
"Two great starts," Yost said.
Vargas' next will be his first official start at AT&T Park, one of five active NL ballparks he hasn't appeared in (exhibitions excluded). But Vargas knows what it'll be like.
He experienced it himself, from the stands, four years ago.
"It was just an electric atmosphere," Vargas recalled. "They were ready to go. The fans are here and they want to see their team win, and we're hoping to stop that."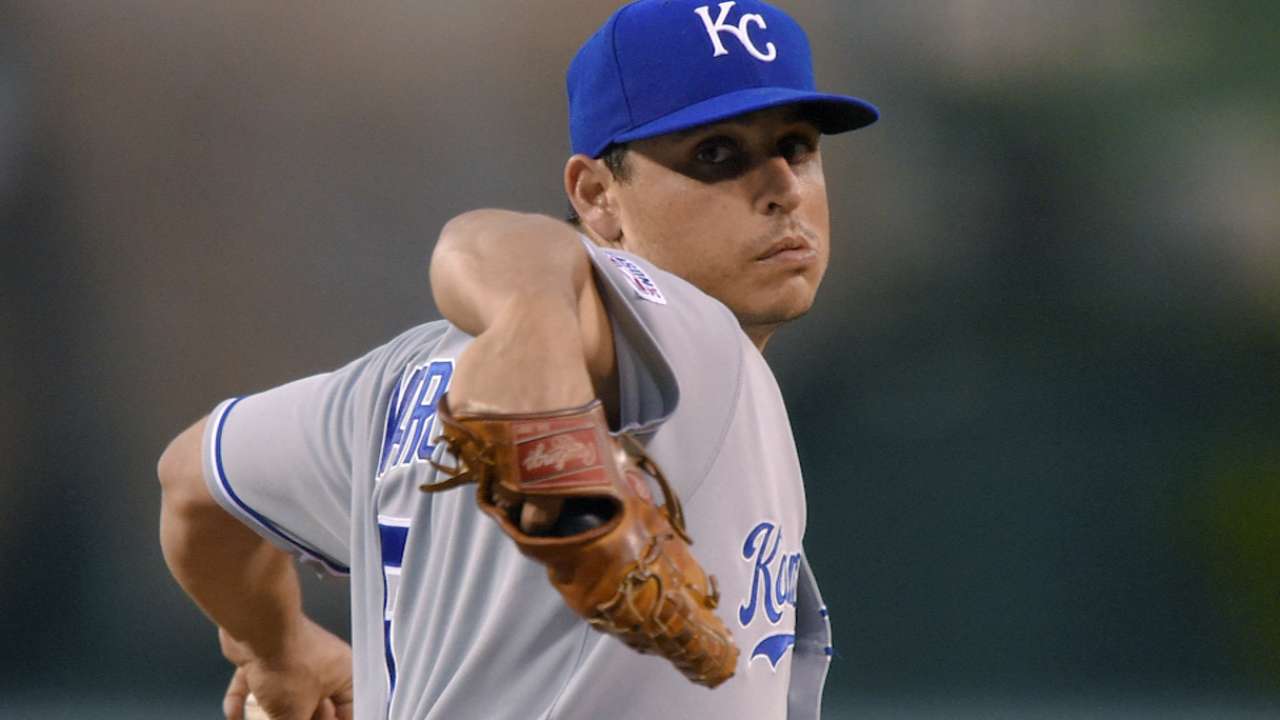 Alden Gonzalez is a reporter for MLB.com. Read his blog, Gonzo and "The Show", and follow him on Twitter @Alden_Gonzalez. This story was not subject to the approval of Major League Baseball or its clubs.