Rally falls short as Giants edged by KC in Game 3
SF in 2-1 Series hole after Royals hold on to leave Hudson with loss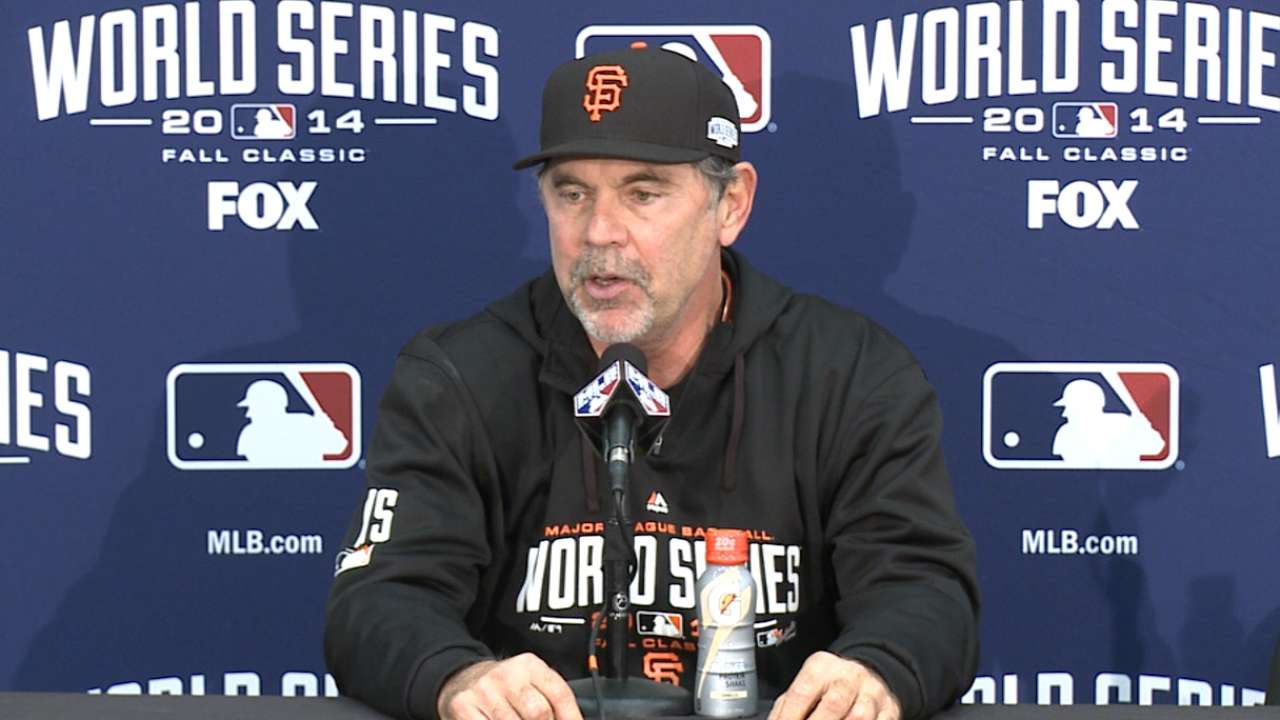 SAN FRANCISCO -- Friday night's 3-2 defeat in Game 3 of the 2014 World Series reminded the Giants exactly what they must do against the Kansas City Royals to emerge with a victory -- get an early lead.
The victory gave Kansas City a 2-1 lead in the Fall Classic and ensured that San Francisco can't win the Series at home, where Games 4 and 5 will be played on Saturday (4:30 p.m. ET air time on FOX; 5:07 first pitch) and Sunday. The Giants must win one of those two games at AT&T Park to force the Series back to Kansas City.
The Giants mustered just four hits against five Royals pitchers Friday, including the impressive relief trio of
Kelvin Herrera
,
Wade Davis
and
Greg Holland
. Kansas City's bullpen fulfilled its reputation for essentially reducing games from nine innings to six, allowing one Giant to reach base safely in the final three innings.
Holland recorded his seventh save of this postseason in dominant fashion, retiring San Francisco's Nos. 3-4-5 hitters -- Buster Posey, Pablo Sandoval and Hunter Pence -- on eight pitches in the ninth.
San Francisco never led as Kansas City inched to a 3-0 advantage through six innings. That foreshadowed the Giants' doom.
"We're pretty good when we score first," observed Giants hitting coach Hensley Meulens, referring to San Francisco's 70-19 record (including the postseason) in 2014 under those circumstances. Logically, by jumping ahead, the Giants can prevent the Royals from using their shutdown relievers.
Some companion statistics: During the regular season, the Royals were 65-4 when leading after six innings, 72-1 when on top after seven and 79-1 when ahead through eight.
If the Giants didn't realize they must start fast against the Royals, they know it now.
HOW THE GIANTS LOST
San Francisco's four hits represented its lowest total in a World Series contest since Game 2 in 1989 against the A's. Aside from the sixth inning, when they scored their lone runs, the Giants moved no runners into scoring position.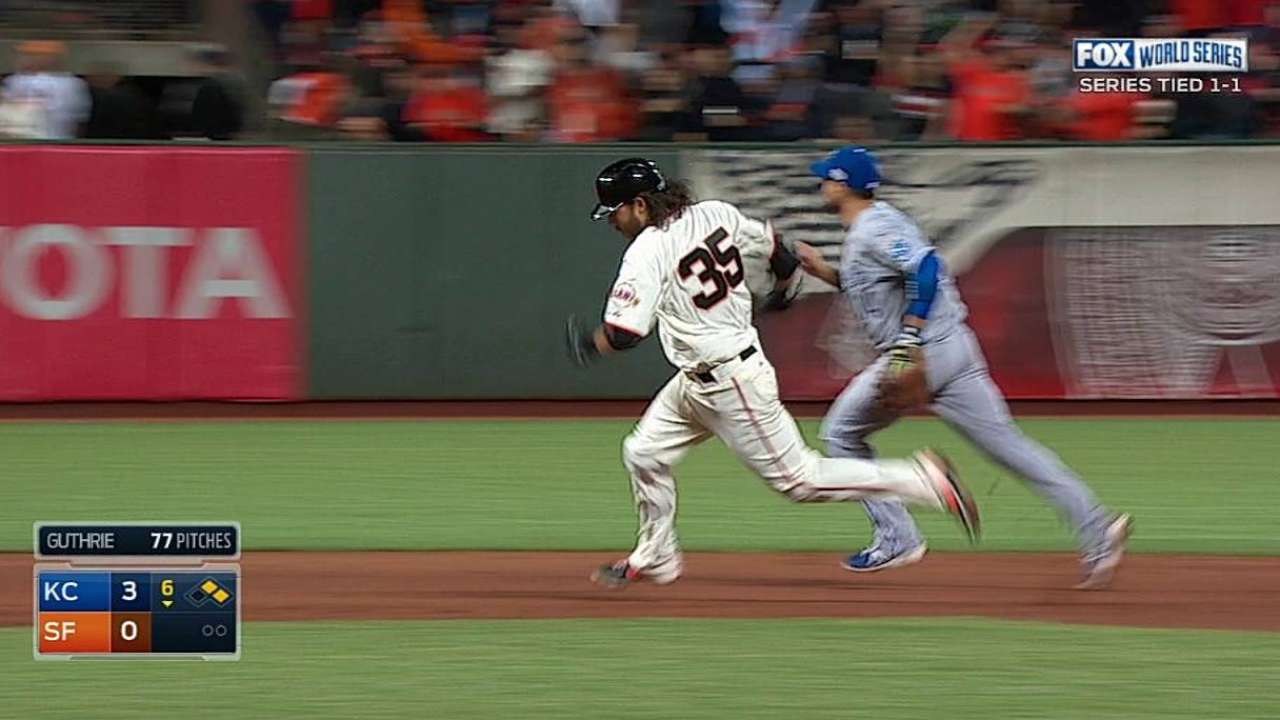 It didn't help that Michael Morse, the Giants' top pinch-hitter, and Sandoval, their starting third baseman, were feeling ill. Morse said he mostly felt better by the time he lashed his RBI double in the sixth, which finished Royals starter Jeremy Guthrie and accelerated the Giants' rally. Sandoval went 0-for-4 and hit the ball out of the infield only once.
"I'm not feeling well, but I don't want to make any excuses," said Sandoval.
Meulens pointed out that the Giants made solid contact on multiple occasions. Posey ended the first inning by lining out to right fielder Lorenzo Cain, who made a sliding catch. Pence and Brandon Belt lined out to start the fourth inning.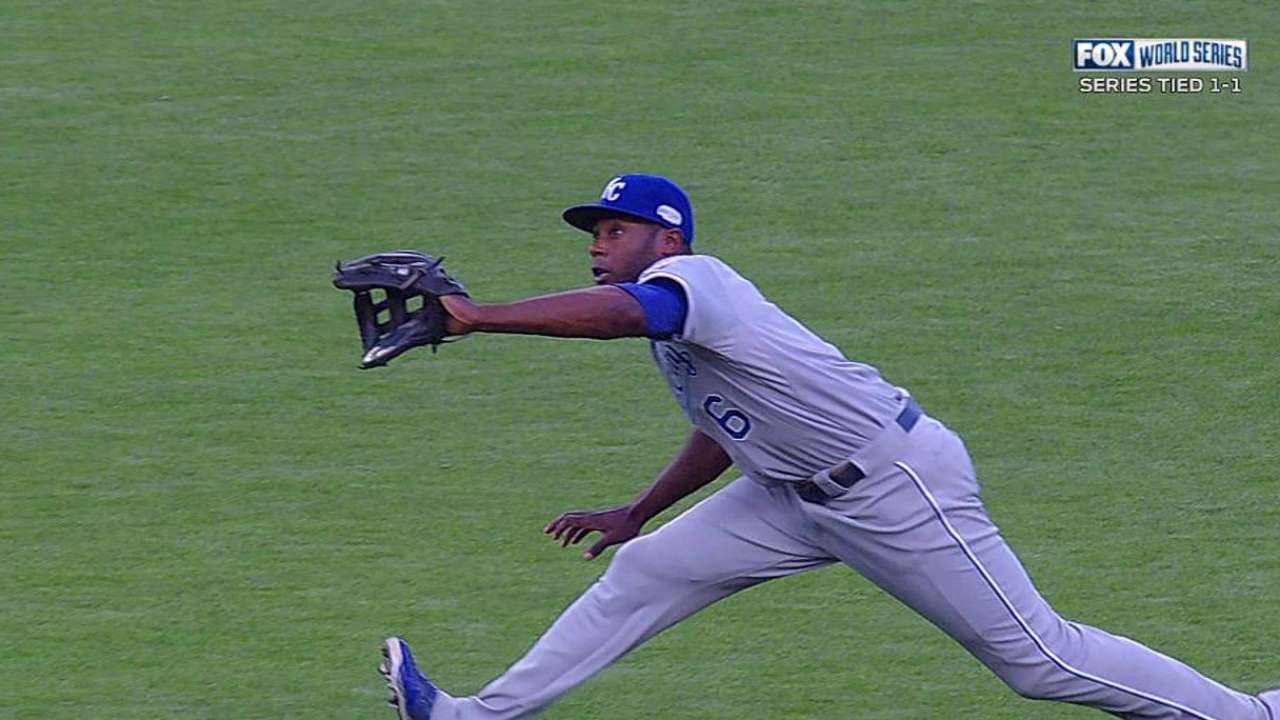 "They have great arms, top to bottom," Posey said. "We hit some balls on the nose today. We were a little unlucky."
MOMENTS THAT MATTERED
Hail, Hudson: The second-oldest starting pitcher to make his World Series debut, 39-year-old Tim Hudson performed admirably for most of his 5 2/3-inning outing. Alcides Escobar doubled on Hudson's first pitch of the night and came around to score, but one inning later, the right-hander began a stretch in which he retired 12 consecutive batters. That streak was broken in the sixth inning by the pesky Escobar, who lined a one-out single and scored on a double by Alex Gordon, who ended a personal 0-for-17 skid.
"Obviously, it's exciting," Hudson said of the thrill of participating in the Fall Classic. "But once you get between those lines and take the mound, things kind of fall into place."
Lopez's standoff: With one run in, two outs and Gordon on second base in the sixth, Giants manager Bruce Bochy summoned lefty specialist Javier Lopez to replace Hudson. The move made complete sense, with left-handed batters Eric Hosmer and Mike Moustakas due up. Celebrating his 25th birthday, Hosmer defied the percentages during an 11-pitch at-bat, working the count to 3-2 before lashing an RBI single.
Lopez forged ahead on the count, 0-2. However, Hosmer fouled off four pitches while working the count full.
"I fouled off some good pitches," Hosmer said. "You definitely get more comfortable as the at-bat goes on. The more balls you see off a guy, it really does lock you in there a little bit. I'm just trying to battle, put the ball in play."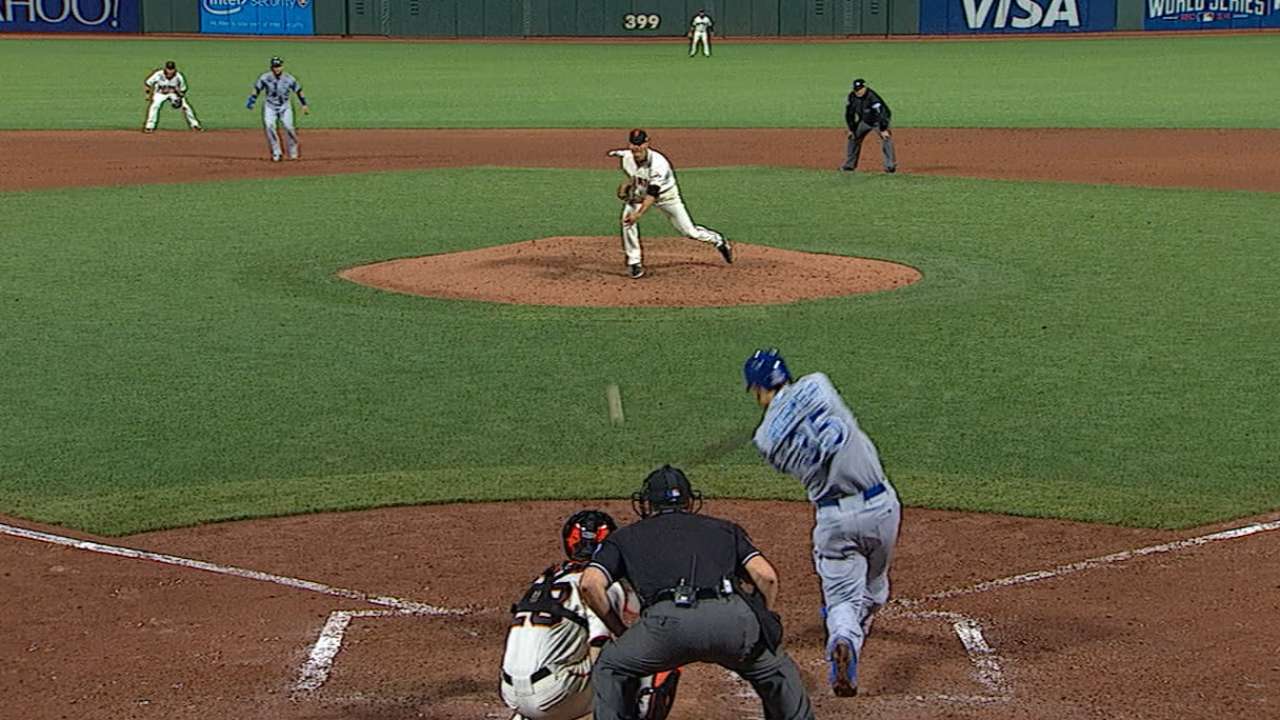 Said Lopez: "To his credit, he made me get in a full count and I threw a pitch over the plate instead of hitting the corner.
"The 2-2 fastball Hosmer took for ball three may have been a borderline call. If it was called [a strike], it would have been great. I haven't seen it on video, so I couldn't tell you. I know it was close. To his credit, he took it, so it obviously couldn't have been that close.
"He worked the count on me very well. That's what he's been doing. Today just wasn't my day."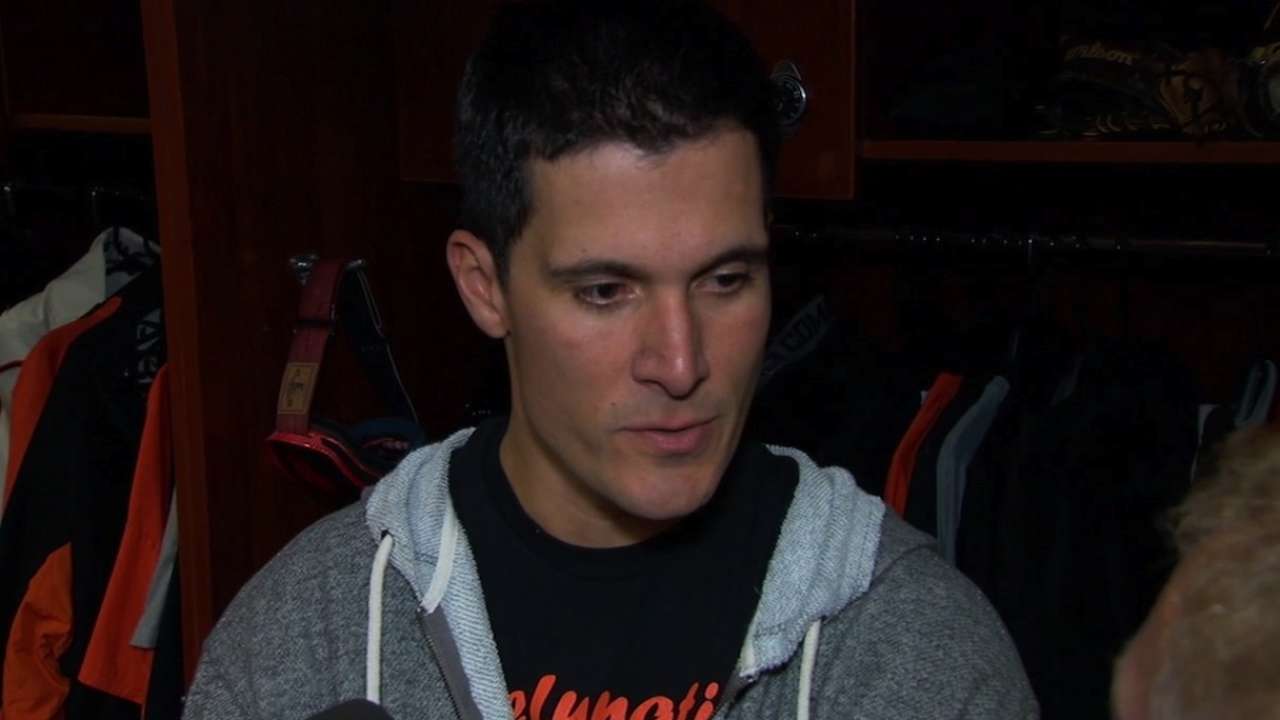 Defense never rests: San Francisco's defense prevented Kansas City from winning more easily. Hudson ended the first inning by leaping to snare Belt's high feed after the first baseman deftly backhanded Hosmer's sharp grounder; left fielder Travis Ishikawa handled Salvador Perez's buckling second-inning line drive; second baseman Joe Panik flawlessly handled Escobar's tricky third-inning smash; and Pence hustled toward the right-field corner to snare Cain's slicing liner leading off the fourth.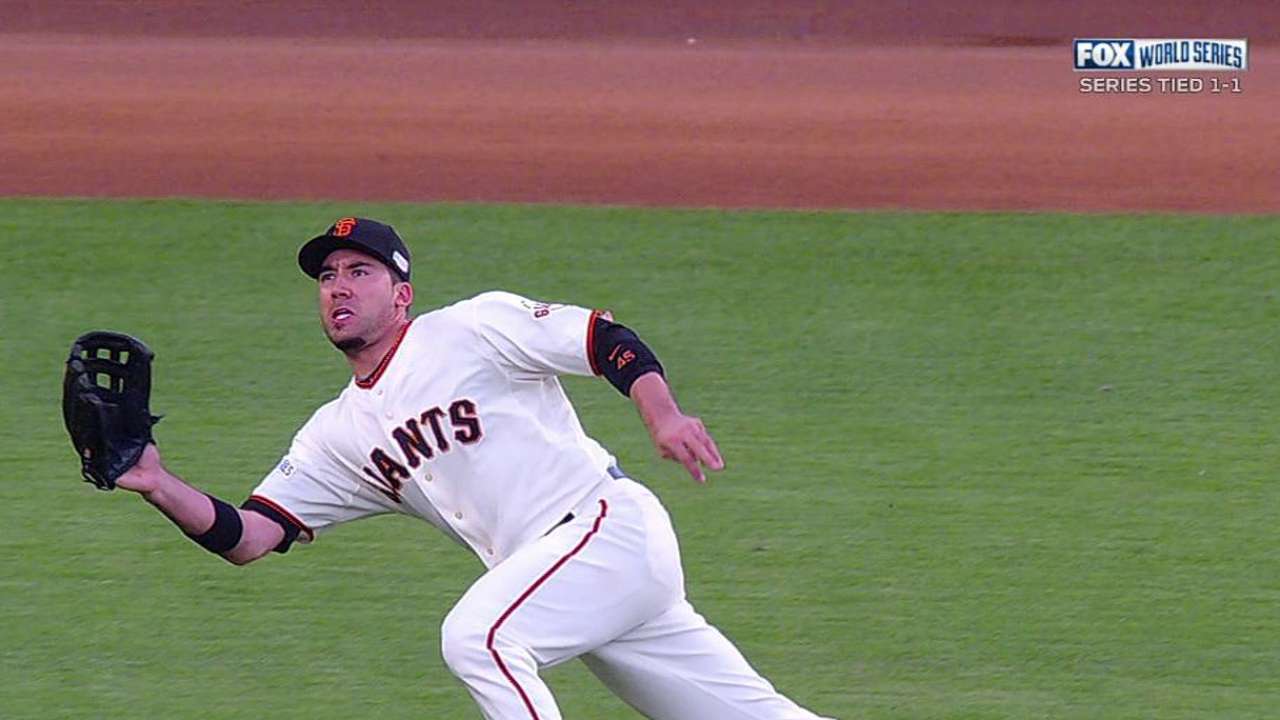 • Since the start of division play in 1969, teams that win Game 3 in a World Series that was tied 1-1 proceeded to win the Series 16 of 19 times.
• At 39 years and 102 days old, Hudson became the second-oldest starting pitcher to make his World Series debut, according to the Elias Sports Bureau. Philadelphia's Jamie Moyer was 45 years and 342 days old when he started Game 3 of the 2008 Series against Tampa Bay.
• By going 0-for-4, Sandoval's 25-game postseason streak of reaching base safely ended. It was the Majors' longest active mark and a Giants record.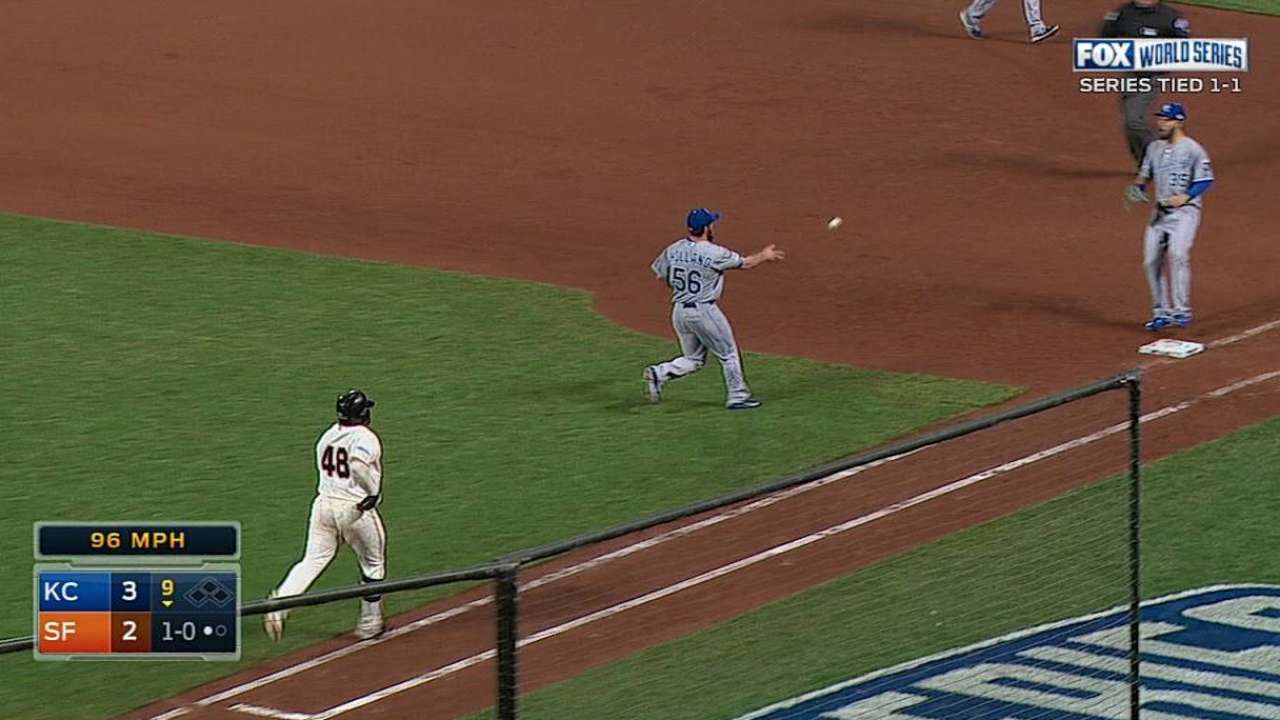 The Giants will attempt to pull even in the Series with Saturday's Game 4. Giants right-hander Ryan Vogelsong is scheduled to oppose Royals left-hander Jason Vargas. FOX's telecast will begin at 4:30 p.m. PT, with Vogelsong's first pitch at 5:07.
Chris Haft is a reporter for MLB.com. Read his blog, Haft-Baked Ideas, and follow him on Twitter at @sfgiantsbeat. This story was not subject to the approval of Major League Baseball or its clubs.