Giants, MLB bring charitable efforts to pediatric center
Club, league donate mobile entertainment unit to the George Mark Children's House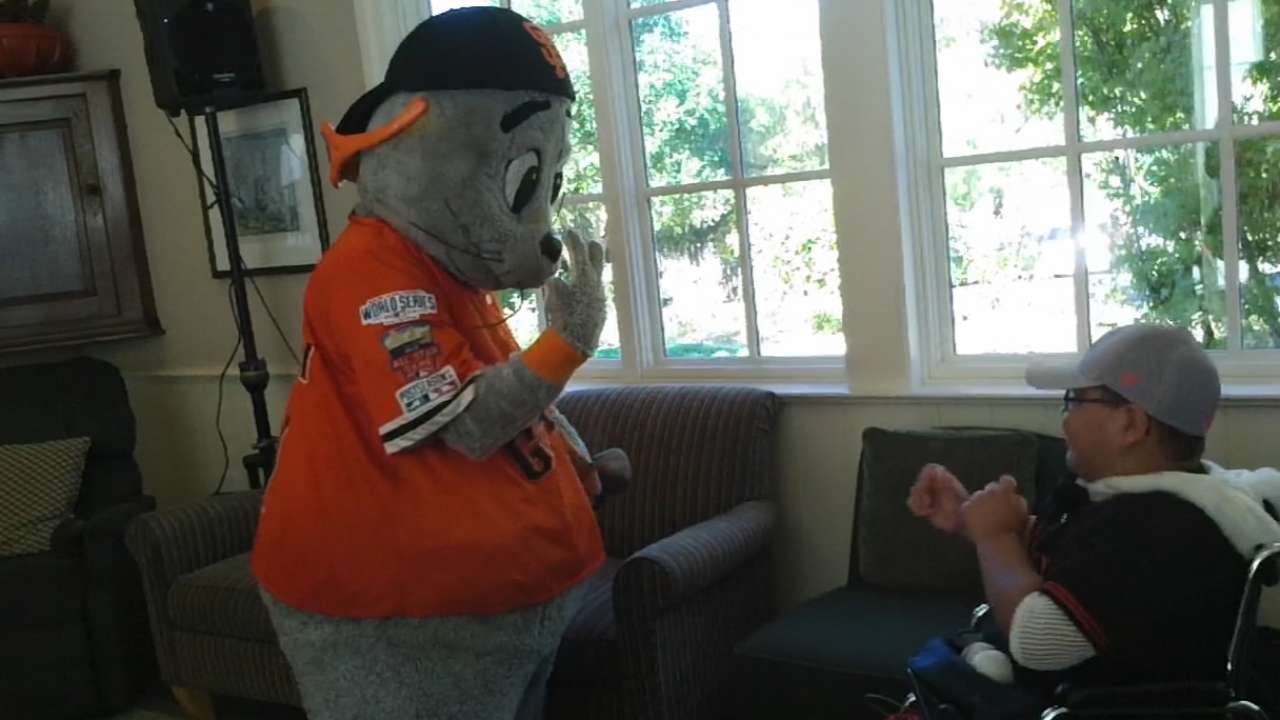 SAN LEANDRO, Calif. -- As the World Series shifted to San Francisco for Game 3 on Friday, Hall of Famer Orlando Cepeda, Vera Clemente and Buster Posey's wife, Kristen, were among a contingent from Major League Baseball and the Giants who drove across the Bay during the day to spend important time with kids who are literally and figuratively miles away from the joyous scene inside AT&T Park.
The George Mark Children's House, nestled in the scenic San Leandro Hills, is celebrating its 10th anniversary as the first independent pediatric palliative care center in the U.S. It provides medical care and support services that enable people from birth to age 25 who are facing a life-limiting illness to live their lives to the fullest. Where there is often the saddest of all possible reality within the walls of this home-like setting, there is also warmth and treasured moments of joy, and MLB and the Giants contributed to that relief by coming out to donate a Starlight Fun Center mobile entertainment unit.
"I think it's absolutely beautiful when people who have the kind of recognition and talent that Major League Baseball has with all of its organizations chooses to adopt a small organization like ours and says, 'Let us help you do what you do,'" said Dr. Kathy Hull, co-founder of the George Mark Children's House. "I think Major League Baseball is putting itself out in front and saying, 'With our resources, we can make a difference in a lot of people's lives.'
"This is such a gift to our whole organization. We're very small, and it's really hard for us to do the kind of outreach that is possible to do with the support of Major League Baseball. ... It's just one more way that we get to say to our kids, 'Let's celebrate, let's do something fun.' Especially for our children who really struggle with physical discomfort with a lot of their conditions, it is something that they can do that's just a fun thing, and interactive, something they [do] with someone else, together."
For the sixth consecutive year, MLB is dedicating the first four games of the World Series to raising the awareness of important causes associated with charitable initiatives and MLB partners. In Kansas City, Game 1 was dedicated to veterans and military families with a focus on Welcome Back Veterans, and Game 2 put the spotlight on education and ALS awareness. In San Francisco, the focus of Game 3 is on helping end cancer in our lifetimes, and Game 4 is youth outreach.
MLB, in conjunction with the Starlight Foundation and the Royals, donated a Starlight Fun Center on Wednesday at the University of Kansas Hospital's pediatric intensive care unit. MLB already has donated these in previous Fall Classic trips to San Francisco hospital pediatric units, so this was an opportunity to do something a bit different, per direction of the host Giants. MLB has donated about 70 of these over the past decade around the Majors.
Buster and Kristen Posey are ardent supporters of the George Mark Children's House, and their interest dovetailed with that of the Giants' community affairs department, which has been a longtime supporter, so she was in attendance. Representing the Giants' front office was Shana Daum, vice president of public affairs and community relations. Also in attendance, in addition to Cepeda and Mrs. Clemente, was Tom Brasuell, MLB vice president of community affairs. Lou Seal, the Giants' mascot, helped entertain the kids.
"In a place that is filled with children who are very, very sick and toward the end of their life here, [it's nice] to bring all this happiness and joy that you can hear in the background here today," Daum said. "We're all human, and although I do have the honor of working with many community groups and being able to use baseball to make a difference in the community, when every day it touches you in different ways, you are reminded that, first and foremost, this is all about life.
"If baseball can play a really important role in people's lives as we see, to really feel it, and just talk to children and parents who have gotten through some really difficult times because of baseball, it makes you feel really good about what we are honored to do as ambassadors of this game."
Cepeda was to be honored later in a pregame ceremony with other San Francisco Giants legends. In the meantime, he said he was "humbled" to be in attendance in San Leandro.
"I'm very grateful for the opportunity to help people like that," he said, as kids in wheelchairs played video games in the new Fun Center. "I say to myself how lucky we are, to have my kids grow old, so whatever we can do to help is wonderful. That's why I'm ready whenever they need me. I am more than happy to be able to do something to help people like that."
Hull asked that anyone feel free to visit georgemark.org to find out more information on how they may help, whether offering their time or donations.
"There are so many ways people can be involved," she said. "We couldn't do what we do without our volunteers. So people can contact us if they are interested in doing that. We always need financial support. Eighty percent of our annual budget is through contributions. We would be thrilled of course if people wanted to offer that kind of support. Time, energy, resources, we are grateful for whatever people would like to share with us."
Mark Newman is enterprise editor of MLB.com. Read and join other baseball fans on his MLB.com community blog. This story was not subject to the approval of Major League Baseball or its clubs.