With Maddon out, Rays prepare for managerial search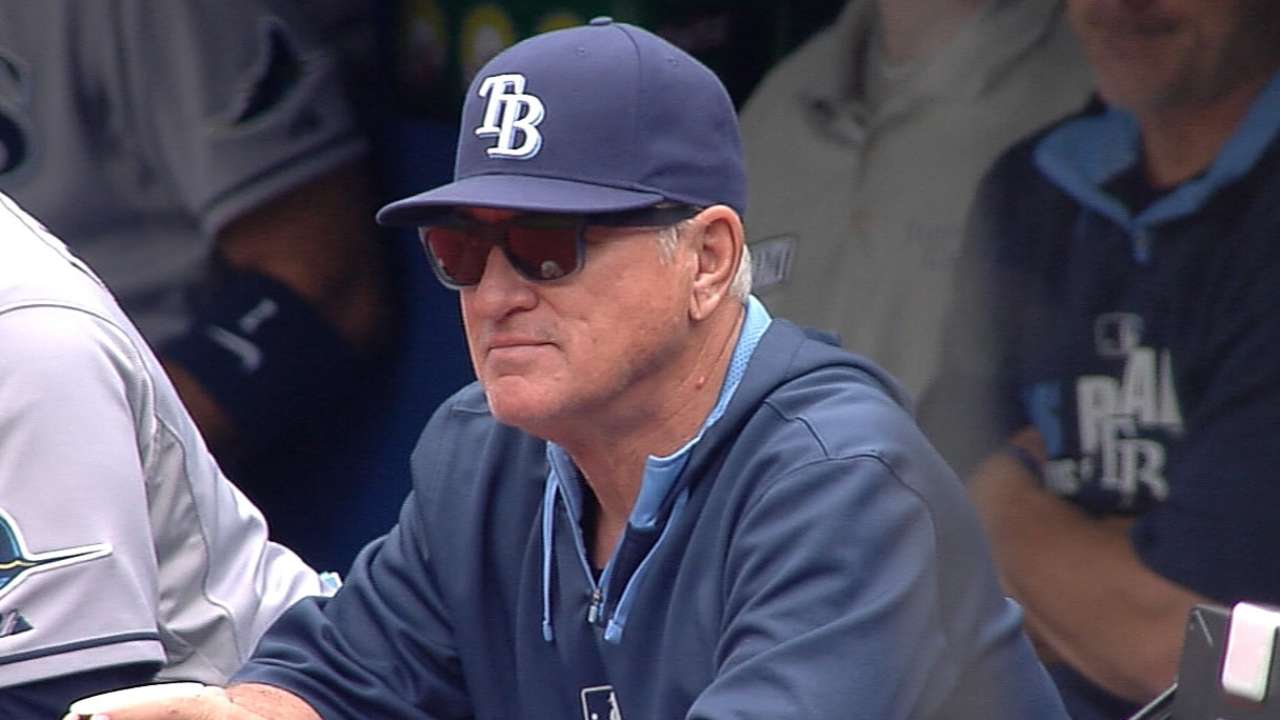 ST. PETERSBURG -- The Rays' initial reaction Friday was shock and disappointment. After spending so much time talking about how he wanted to manage the Rays for many more years, Joe Maddon opted out of his contract and will not return to Tampa Bay's dugout in 2015.
Now, as the initial surprise wears off, president of baseball operations Matt Silverman and the Rays' front office must move forward. What will they look for in a new manager? Who's on the short list to succeed Maddon? At what point do they need to have a replacement in place?
Silverman said it will be a "deliberate and comprehensive search" that will consider both internal and external candidates, and the Rays will take "a good bit of time" making their decision. Otherwise, there are many more questions than answers.
Tampa Bay hasn't had to hire a new manager since bringing Maddon aboard in November 2005. Silverman said the Rays will "dust off our old notes, we'll make some revisions to our thinking and we'll dive into the process." But there is no timetable for making a hire, no set deadline they're willing to share.
"There's a lot of work to be done this offseason, and this certainly adds to all that is on our plate. The last time we went through a manager search was nine years ago, and we did a pretty good job in finding Joe," Silverman said. "I hope we can be that successful with this next search, and that's why it's imperative for us to be deliberate and be comprehensive and make sure that we get the right guy."
Silverman didn't go into specifics when asked what the Rays will look for in their next manager, but he noted the club's internal discussions will not be limited to the front office. He hopes to get some feedback from players regarding what qualities they want to see in the manager's office in 2015 and beyond.
"Anytime we bring in someone new, there's going to be change and there's going to be adaptation to that change," Silverman said. "We have a great culture in our clubhouse. We have a great group of players who enjoy being together. I expect that the next manager will recognize that, appreciate it and build on it to make it an even better clubhouse."
So, who might be on the Rays' list at this point? It's all just speculation for now, but here's a look at some names you'll likely hear about in the coming weeks.
Dave Martinez: This is the most obvious choice, as Martinez has been Maddon's bench coach since 2008. In stating his interest in the Astros' then-vacant post, Martinez said he's "been ready" for the challenge of becoming a Major League manager. He has previously interviewed with the Indians, Blue Jays, Astros and Cubs.
Martinez, 50, was Maddon's right-hand man through the franchise's most successful years. He played 16 years in the Majors, so he has personal experience to call upon. He's already well-established with the players in the clubhouse. He knows how the Rays work, a particularly important aspect of the job given the close relationship between the front office and the manager's office.
"I learned from being here over the years that it takes a whole organization to become a championship team," Martinez said in September. "I want to build a relationship like that wherever I go -- with the GM, with the radio announcers, with media, with ownership, with fans, players, all that stuff. It all matters."
Gabe Kapler: Expect to hear Kapler's name come up a lot, if he's interested. The former Rays outfielder and current Fox Sports analyst has done some part-time consulting work with Tampa Bay's front office, offers a wealth of experience and intelligence and seems to fit the Rays' mold of open-minded, analytically inclined forward-thinkers. He also has some experience managing in the Minors, as he was the skipper for Boston's Class A Greenville affiliate in 2007.
Tim Bogar: Seemingly the frontrunner to get the job as Rangers manager, Bogar left the organization when Texas hired Jeff Banister. Bogar was a coach with the Rays before joining the Red Sox staff from 2009-12. He was the Rangers' bench coach in 2013-14 and went 14-8 as interim manager following Ron Washington's resignation. Maddon himself recently praised Bogar's ability as a manager.
Other names to consider: Internally, it would seem pitching coach Jim Hickey and Triple-A Durham manager Charlie Montoyo at least merit a mention, if they're interested. Hickey has done brilliant work with the pitching staff, and Montoyo has been managing in Tampa Bay's farm system since 1997.
A few other candidates to watch from outside the organization: Ron Gardenhire, the former Twins manager; Joe McEwing, third-base coach for the White Sox; Alex Cora, former big league player and coach who interviewed for the Rangers job; Manny Acta, former Nationals and Indians manager and current ESPN analyst and Sandy Alomar Jr., first-base coach for the Indians.
Adam Berry is a reporter for MLB.com. Follow him on Twitter at @adamdberry. This story was not subject to the approval of Major League Baseball or its clubs.