Rollins, Konerko named co-winners of Clemente Award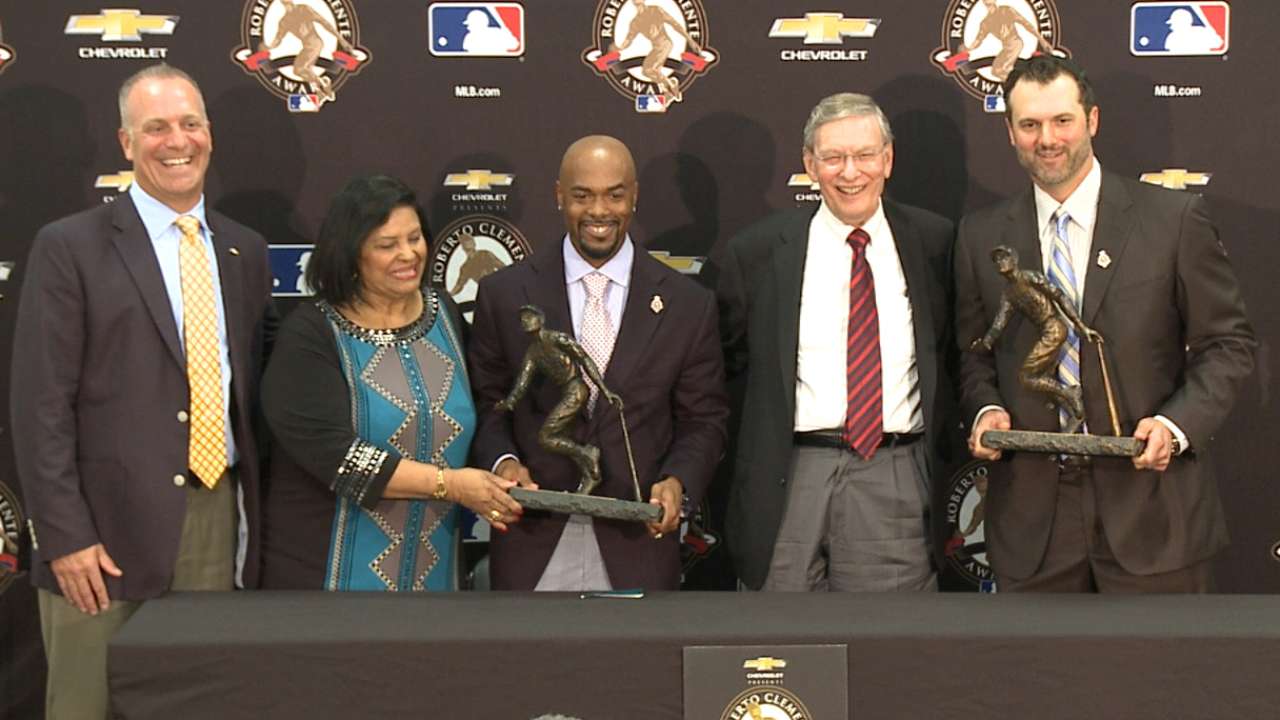 SAN FRANCISCO -- For the first time, there are two winners of the Roberto Clemente Award, sponsored by Chevrolet and presented annually to recognize a Major League player who best represents the game of baseball through positive contributions on and off the field, including sportsmanship and community involvement.
Phillies shortstop Jimmy Rollins and White Sox first baseman Paul Konerko were presented with their awards on Friday before Game 3 of the World Series at AT&T Park.
"Paul Konerko and Jimmy Rollins are two of baseball's great ambassadors and have long distinguished themselves as leaders both on the field and in their communities," Commissioner Bud Selig said. "Their commitment to making a difference in the lives of children is a wonderful reflection of the legacy the legendary Roberto Clemente has left on our game and in society. Major League Baseball is proud to honor Jimmy and Paul, two veteran standouts who have represented the National Pastime with excellence, with our game's most prestigious recognition."
Rollins has long supported J-Roll's Aces, a charitable ticket program, and the J-Roll's Readers program, each of which is dedicated to directly working with and enhancing the lives of inner-city students. During his time with the Phillies, he has also hosted major fundraisers to benefit the Juvenile Diabetes Research Foundation, Juvenile Rheumatoid Arthritis, Prevent Child Abuse, Pennsylvania, The Food Trust, SHARE Food Program and St. Christopher's Foundation for Children, raising more than $1 million.
This season, Rollins also passed Mike Schmidt and became the franchise's all-time hits leader.
"You understand the prestige that comes with the award, and not for any other reason but to say, wow, I did something important in the game that had nothing to do with baseball, but everything to do with helping others," Rollins said.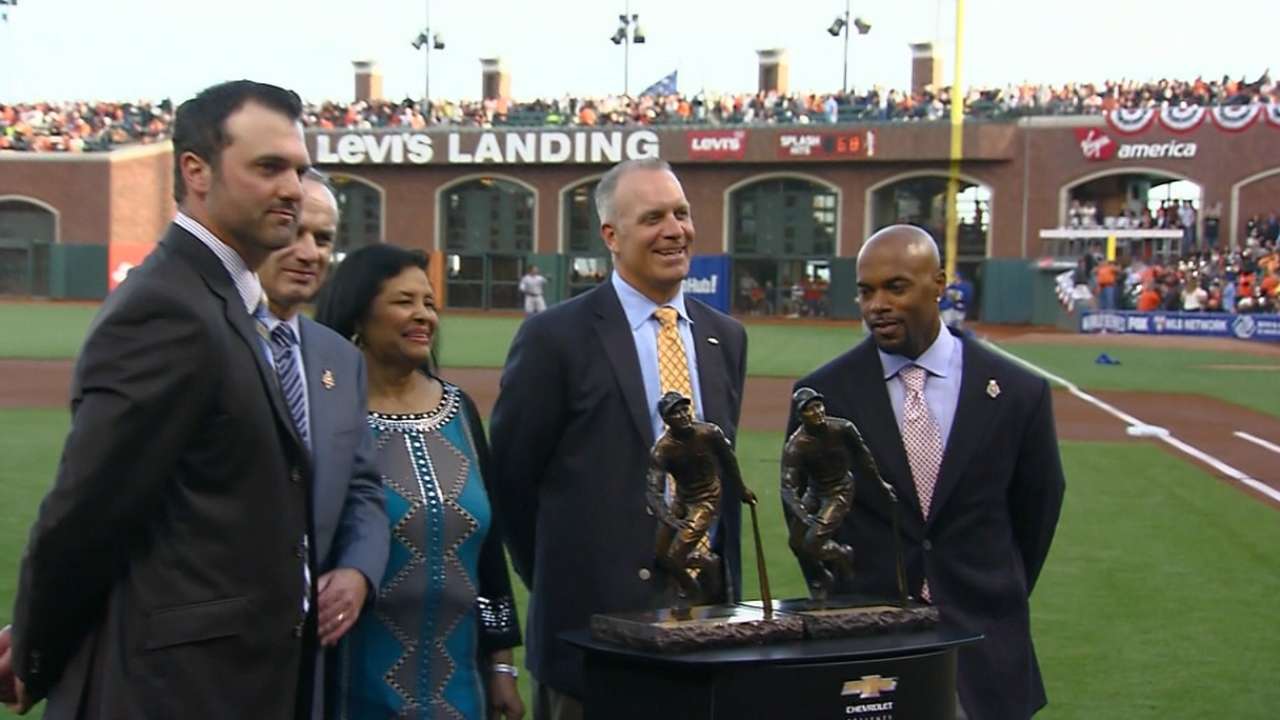 Konerko and his wife, Jennifer, founded the Bring Me Home Campaign in 2007 as a family effort with former White Sox teammate Jim Thome and his wife, Andrea. They partnered with the White Sox and Children's Home + Aid to help raise awareness, generate support, recruit foster parents and advocate for the needs of foster children and their families. Within its first seven years, the Bring Me Home Campaign has raised nearly $450,000. Konerko also supports a variety of White Sox Charities efforts and hosts various groups at U.S. Cellular Field, including Patient Airlift Service (PALS) for Patriots and Make-A-Wish children and their families.
"It was my last year, so I feel like this is a great way to cap it off," said Konerko, who retired at the end of the season. "To me, because you can't do anything on the field anymore, you know you can help in other areas, and this kind of kick-starts that for me."
Each of MLB's 30 teams nominates a candidate for the prestigious award that honors the legacy of the late Pirates star, who was killed in a plane crash while taking relief supplies to earthquake victims in Nicaragua on New Year's Eve 1972.
The winner is determined by a fan vote combined with the ballots of a distinguished panel that includes Selig; Commissioner-elect Rob Manfred; MLB goodwill ambassador and wife of Roberto Clemente, Vera Clemente; Hall of Fame broadcaster and the "Spanish Voice of the Los Angeles Dodgers" Jaime Jarrin; MLB Network analysts and former Roberto Clemente Award winners Al Leiter, Harold Reynolds (also of FOX Sports) and John Smoltz (also of FOX Sports); ESPN analysts and former Roberto Clemente Award winners Rick Sutcliffe and Hall of Famer Barry Larkin; FOX Sports broadcaster Joe Buck; TBS analysts Ron Darling (also of MLB Network) and Hall of Famer Dennis Eckersley.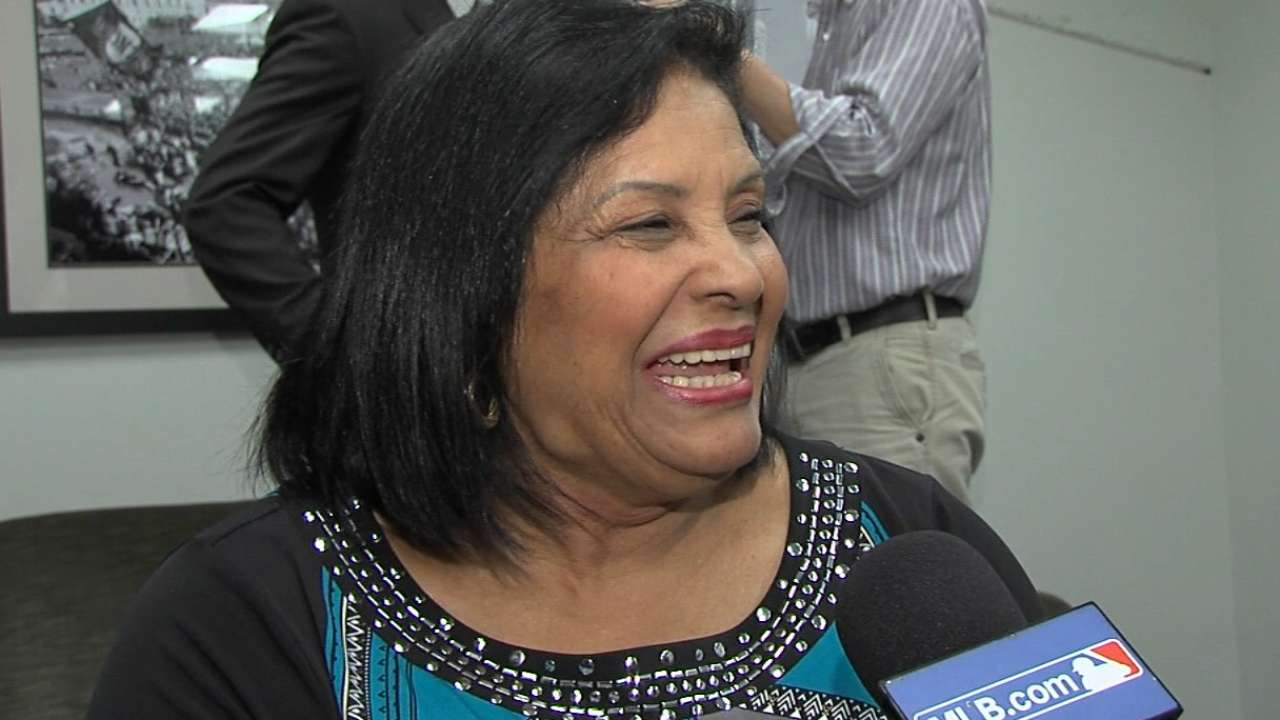 "This Award represents everything Roberto stood for as a 'good Samaritan,'" Vera Clemente said. "Through the Roberto Clemente Award, today's players are recognized for these same qualities, and Paul and Jimmy's contributions are particularly impressive. Roberto played his entire career with the Pittsburgh Pirates, and with Paul and Jimmy having each played 15 or more years with the same team, they have taken advantage of that continuity to make significant and lasting contributions in their communities. Our family is proud to add them to the family of Roberto Clemente Award winners."
Rollins and Konerko tied in the final voting, resulting in two awards being presented this season.
Paul Hagen is a reporter for MLB.com. This story was not subject to the approval of Major League Baseball or its clubs.