Maddon breaks down decision to leave Rays
Skipper plans to remain a part of Tampa community going forward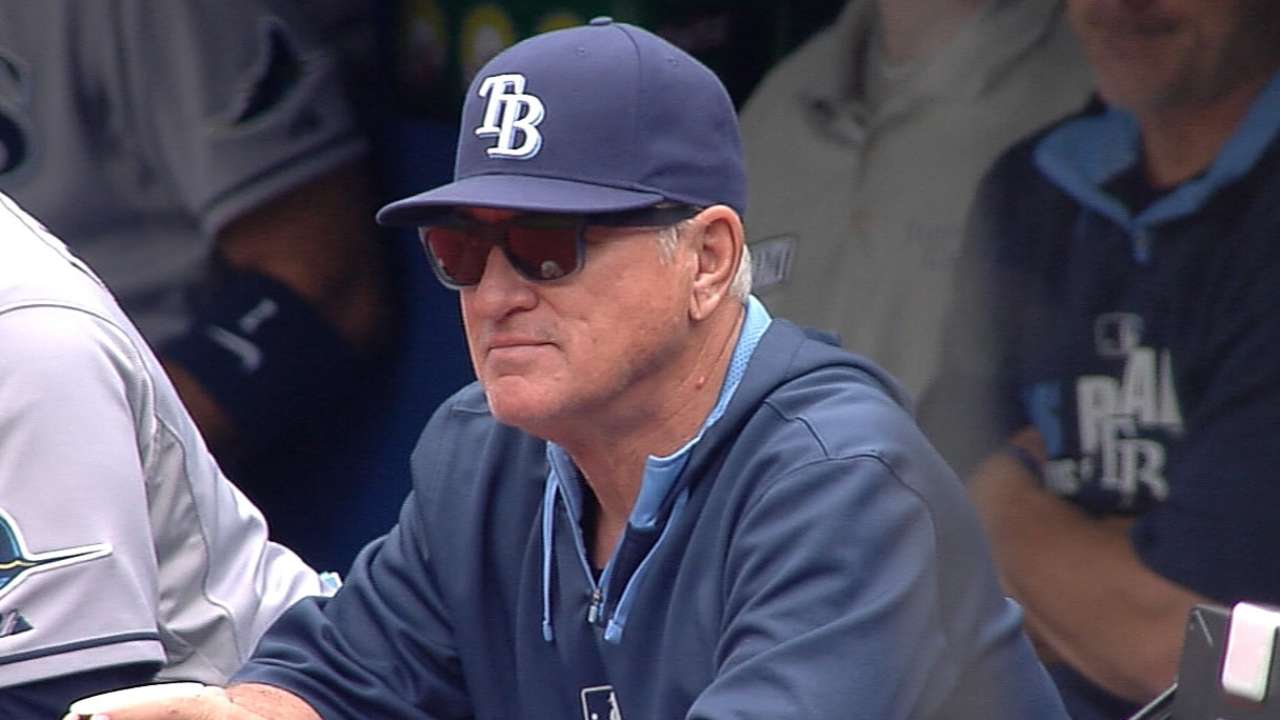 ST. PETERSBURG -- Joe Maddon hopes Rays fans will understand his decision to exercise an opt-out clause to manage the Rays in 2015, essentially making him a free agent to field unknown offers.
"I just hope they will understand that this was a unique opportunity for me and my family, and beyond that, the charities that I'm attached to," said Maddon explaining the opportunity created by an opt-out clause in his contract that kicked in once Andrew Friedman departed for the Dodgers. "There was nothing else that I was looking for before that. Up until Andrew left I did not have this kind of opportunity whatsoever. And then once Andrew left and this opportunity opened up, I had to consider it.
"And I really ask anybody if they really looked at it, if they will put themselves in my shoes, what would they have done? So it's not an easy decision, a very difficult decision. Talk about agonizing, that pain in the gut type of stuff, absolutely. But at the end of the day, I thought it was the right thing for me and my family."
Maddon learned of the opt-out clause when informed by Matt Silverman, Rays president of baseball operations, who was obligated to inform him of the exit window in his contract.
"Matt called me originally, because I was totally unaware of it, I didn't know," Maddon said. "And then I knew. And once I had a chance to evaluate it I was able to make up my mind for what we're doing now. It wasn't easy. There's a two-week window there to look at it and then make a decision."
Silverman told reporters he was surprised and disappointed about Maddon's decision. He also said that he felt like the offer they made to Maddon had been a fair and competitive one.
On the flip side of that, Maddon said "with the Rays I've always had to consider who we are and the circumstances that we work within."
"I know that Matthew reached out and they came up with an offer," Maddon said. "It did not meet up to what I [wanted] and we came to an impasse. And that happens. There's no friction between me and him or me and [principal owner] Stu [Sternberg]. I had great conversations with Matthew and Stu, they were very candid and open. I felt good about it moving forward. I hope they don't feel betrayed, because I don't feel betrayed by the offer."
Upon Friedman's departure from the Rays to take a newly created position with the Dodgers as president of baseball operations, Maddon commented that the organization would roll on in part because of the job Friedman had done. Maddon said he was hopeful that the work he did while as manager would make the transition to a new manager a seamless one.
"I want to hope so," Maddon said. "It starts with Stu, Matt and Andrew. That's where it began. I was the steward on the field. I want to believe that we left a really good infrastructure there. I hope so. I really believe so. The players who are coming back know how to play. There's a Rays way of playing baseball that's been established. The Minor Leagues and the Major Leagues are on the same page.
"I'm sure there's going to be some difficult moments transitionally, that's normal. But I think they're going to be fine."
Maddon said he has no offers on the table for any kind of employment right now.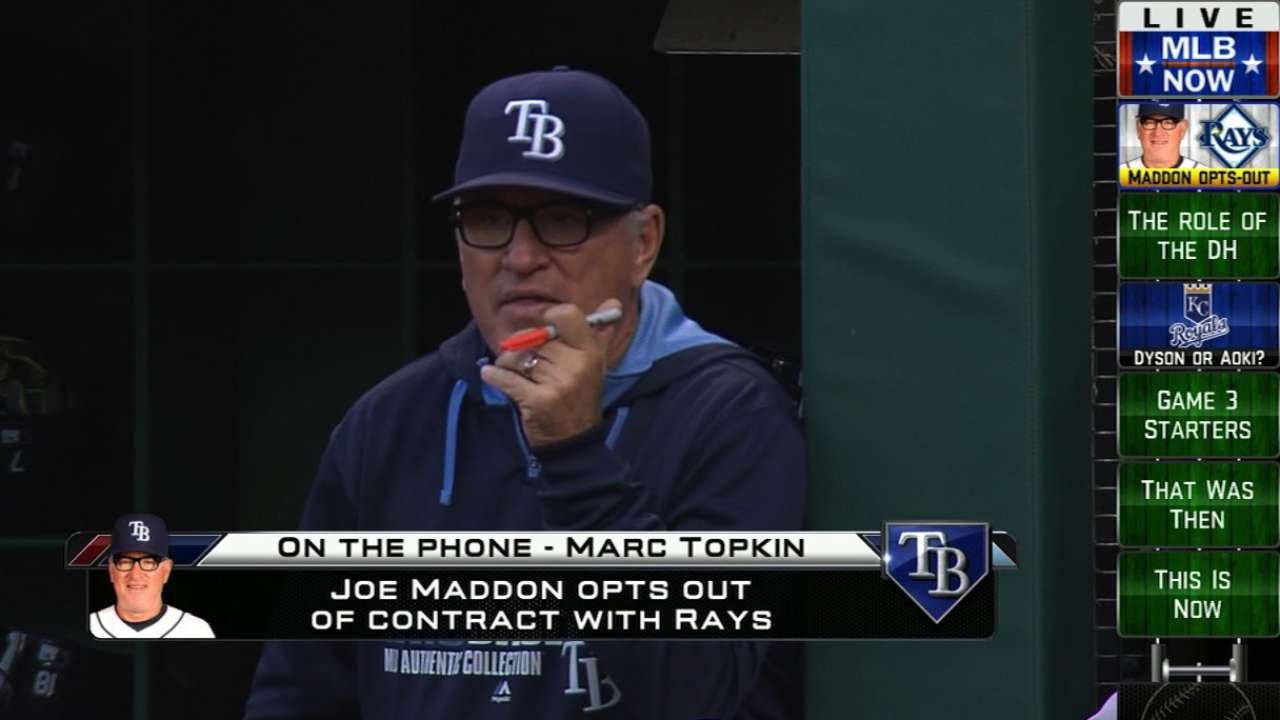 "I am open for anything," Maddon said. "Even if it takes me to the point where I don't manage next year and have to sit out a year. There's just no telling. I just need to sit back and evaluate when a potential offer comes and see if it's amenable and then make a decision."
When asked about his best memories, Maddon harkened back to the beginning of his tenure as manager of the Rays in 2006.
"Primarily going back to 2006, being the manager for the first time and addressing the Devil Rays at Ray Naimoli Field," Maddon said. "Really a daunting moment, but something I was able to grow from."
A big part of what Maddon tried to do initially was to change the losing culture of the franchise. In that vein, he felt as though Elliot Johnson's memorable home-plate collision with Yankees catcher Francisco Cervelli should be remembered as a huge step for the organization.
Johnson took out Cervelli during a 2008 Spring Training game played in Tampa. Cervelli came away from the collision with a fractured wrist and bad blood between the teams followed.
"Until then we weren't given anything by those people, so we had to start taking it," Maddon said. "And Elliot Johnson's play to me is as symbolic as anything in Rays history. I really mean that."
In the next spring meeting with the Yankees both teams left the dugouts for a rift at Al Lang Stadium in St. Petersburg, the former spring home of the Rays. Later that season the Rays threw down with the Red Sox at Fenway Park.
"We had to go toe-to-toe with the Yankees and the Red Sox to gain respect," Maddon said. "And we did. Then we get into the playoffs. The ground ball to Aki [Iwamura to clinch the 2008 American League Championship Series], all that stuff, but it really came down to those moments. Those are the kinds of moments that gave us the courage to proceed."
Maddon hopes his work has helped to change the culture of the organization.
"I came in with a really great organization," Maddon said. "I thought I had learned a lot. Primarily it was about building relationships and establishing trusts. Nobody wants to talk Xs and Os, but it begins there. And I thought we did that.
"It took a while. It probably took until the end of the second season, 2007, before I started feeling that happening and then after that, 2008, it really started blossoming."
Maddon said he will continue to reside in Tampa, where he owns a home and plans to open a restaurant this fall.
"Absolutely," Maddon said. "I'm a big part of the community, I hope that never ends. We have a house, the restaurant is opening up, my wife, Jaye, is talking about opening a boxing-spin studio in Tampa. Love the place.
"There's no ill will at all. There's no negative. It's just a moment that has occurred. We all have to move on at some point. And from all indicators this was my time to turn the page and move on."
Bill Chastain is a reporter for MLB.com. This story was not subject to the approval of Major League Baseball or its clubs.