Oct. 24 Jason Vargas pregame interview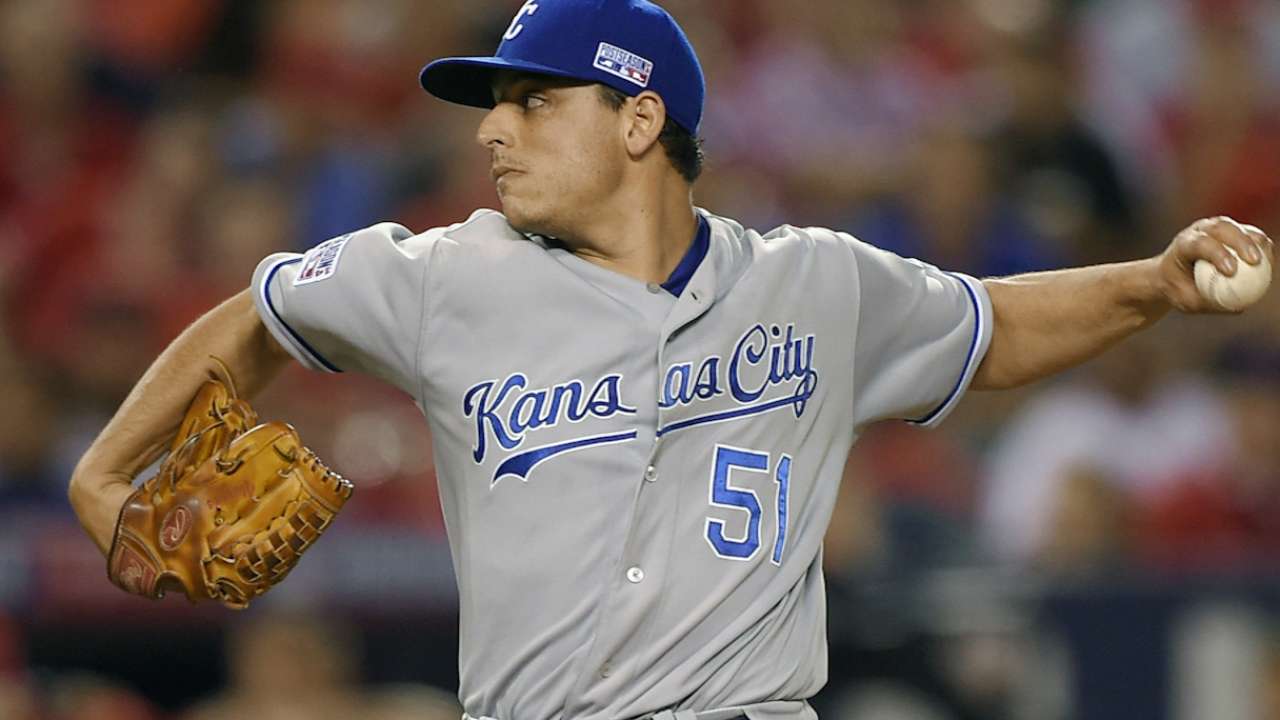 Q. Postseason pitching is just so different because of the space between the starts. How do you make that adjustment?
JASON VARGAS: You know, I guess just try and make it a part of your routine. The last three starts I've had have all had a significant amount of time in between them. So you just kind of try to make that a part of your routine, and you know the postseason is going to be different than the regular season.
Q. We've talked in Kansas City about kind of getting your hitting skills going, and in Interleague play, and how well this is done. How does having to hit when you're not used to in the game situation affect the way you pitch or does it? Is that a lower priority? How do you handle both when that's not called upon you most of the time?
JASON VARGAS: I think with the Interleague play the way it is now, more spread out throughout the year, you get a little bit better feel throughout the year instead of just getting it condensed into one part of the schedule. So I think the American League has a little bit more of an advantage than they used to with that.
But obviously our main goal out there is to focus on executing pitches. The situation will dictate where we're at when we come up to hit ‑ if we have to bunt, if we have to try to move somebody over. But I don't think any of us can prepare for that until we get in that situation.
Q. You've seen it from both sides, both teams in this postseason ‑ the starting pitcher is getting pulled after 66, 71 pitches, going pretty good, but the game situation, at least in the manager's mind, dictates it. Does that affect the way your outlook is in any way for the pitchers? Just how do you feel about it generally?
JASON VARGAS: Yeah, I think we're definitely not holding anything back. I don't think there is any pacing yourself. You're going out there with everything from the beginning. Obviously, the game has dictated over the course of the postseason for a lot of teams, starters coming out of the game early.
But every pitch counts, every situation matters. There is no trying to save time for anybody or saving people for later on down in the season. So, unless you're rolling and the situation really suggests that you should stay in the game, then you've got to understand the situation.
Q. You've never pitched here, right at AT&T Park?
JASON VARGAS: I have not. I pitched here in an exhibition game, when it was really rainy and everybody wanted to get the season started.
Q. Does that make it a little extra special for you? Your first World Series start will be kind of at a park that you never really have been in in a really big situation?
JASON VARGAS: Yeah, definitely. It's a great ballpark, great fans. It's a great city for baseball. The first World Series game I saw was here in 2010. I was here for that Game 1 and got to watch it from the fans' perspective. It was a pretty electric atmosphere.
Yeah, I'm looking forward to being a part of it.
Q. No matter what you're pitching in front of a really good defense. But when you have the Gordon‑Dyson‑Cain defense behind you, does that change at all how you pitch and what you're able to do?
JASON VARGAS: I don't think that changes what we're trying to do out there. It doesn't mean we're trying to give up more fly balls or trying to pitch to let them drive the ball. Obviously, it gives us another lead outfielder out there who can really run and go get the ball and take away some space out there. I think that any of our outfielders out there, we feel pretty good with.
Q. You talked about seeing the World Series game here in 2010. I'm wondering, was that because you happened to be in town? You had a friend that was playing? And also what do you remember from that game?
JASON VARGAS: Just a fan of baseball. Had never been to one. I live in Arizona; it's not a very far flight. So figured we'd come up and try to catch that with me and my wife.
Yeah, it was just an electric atmosphere. They were ready to go. The fans are here and they want to see their team win, and we're hoping to stop that.
Q. Jason, Ned talked about a mechanical issue you had in September and you had to work through. How did you get through that and get back on track like you have in the postseason?
JASON VARGAS: Yeah, other than the work in the bullpen, just some fine‑tuning of not anything extraordinary, just getting back on track and getting some opportunities to spend a couple more side sessions, working on executing some things that we hadn't.
So we're fortunate enough that they've seemed to come around, and we've just got to try to execute our game plans.
Q. Billy Butler said yesterday you guys were talking hitting a little bit. How excited are you to get a few at‑bats?
JASON VARGAS: Yeah, definitely am. I definitely don't want to put the shoe on too quick, but, yeah, I'm looking forward to getting in the box and getting to see what it's like to get a World Series at‑bat.
Q. Do you consider yourself a good hitter?
JASON VARGAS: I don't know if I'd want to consider myself a good hitter. I think the good hitters are getting paid to do that. But I'm definitely going to try to put the bat on the ball and do damage when I'm up there.
Q. Also, what were your impressions of this Giants lineup when you faced them earlier this year?
JASON VARGAS: They've got a really good lineup. If you're not prepared to go in and face a team like this, it's going to be a long day. But just like they do their homework, we do our homework. We go out there with our game plan and see who comes out on top.
Q. Just like The K, there is a lot of space in the outfield. Does that, instead of pitching in a place like Baltimore, does that change your approach at all?
JASON VARGAS: It doesn't change my approach. I don't know if I've ever really changed my approach based on the ballpark. I feel like you're getting out of your game plan. Obviously, there might be a few different things you might do over the course of the game, but as far as attacking the strike zone and trying to use your strengths, yeah, I'm pretty much just going to try to do the same things that I always do.