MLB.com Columnist
Terence Moore
John 3.0 can return Braves to glory
Schuerholz, Hart and Coppolella in perfect roles to help club rebound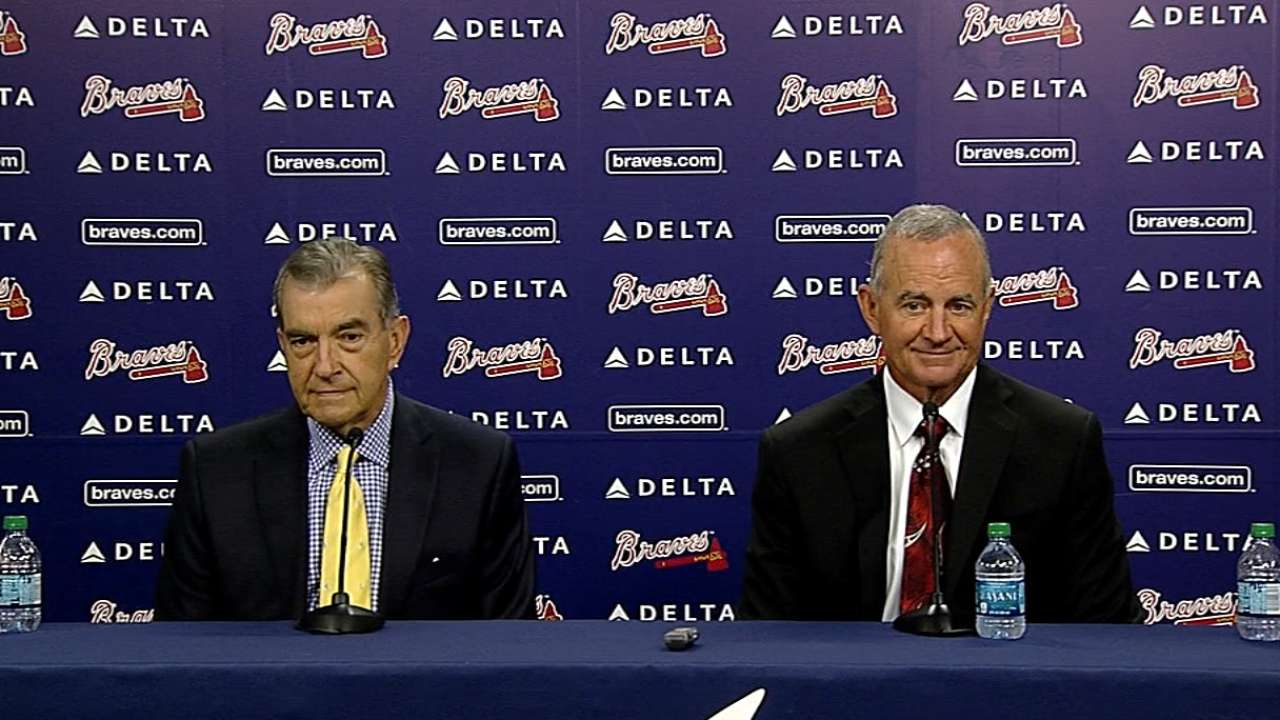 Step by step, the Braves of now are seeking to resurrect the team of a record 14 consecutive division titles, five National League pennants and a World Series championship. So far, so good -- at least when it comes to moves away from the playing field, and here's the latest: The new-old Braves have not one, not two, but three general managers.
OK, none is officially the Braves' general manager, but the choppers and the chanters don't care about technicalities after watching their team reach the playoffs only three times in the last nine years since its glorious run through the 1990s and beyond. Whatever works. With that in mind, the Braves are trending in a positive direction after they unofficially made a trio of Johns -- Schuerholz, Hart and Coppolella -- their three-headed general manager.
Just call them John 3.0, even though they have different titles for the Braves.
Schuerholz is the Braves' president, but he was general manager during their glory days. Earlier this week, he promoted Hart from senior advisor and interim general manager to a newly created position for the Braves called president of baseball operations. Then there is Coppolella, who will remain the Braves' assistant general manager. He received that title under Frank Wren, who was dismissed earlier this month after he served as the Braves' GM for eight years after he replaced Schuerholz.
Did you get all of that? If not, Schuerholz explained further Thursday to reporters when he announced Hart's new role.
"It is president of baseball operations," Schuerholz said. "It will have elements of general managing in it. It will have other elements in it. And with his right-hand man, John Coppolella, who will assume some duties of a normal general manager and many of an assistant general manager [and] grow under John Hart's direction, it [will] be a wonderful combination."
Schuerholz forgot to mention something. The person overseeing this redesigned front office for the Braves involving Hart and Coppolella will be somebody who is a leading candidate to enter Cooperstown as one of baseball's most accomplished general managers.
Yep, Schuerholz.
You can see how this could get messy. What's that saying about too many cooks in the kitchen? There are so many examples in sports of the previous GM, manager or coach of considerable fame trying to micromanage the ways of his successor -- or head chef, if you prefer. It's just that, for the Braves, baseball's version of buying the groceries and cooking the food will feature three cooks who know how to stay out of each other's way.
Take Schuerholz, for instance. Given the slew moves by Wren that didn't pan out -- most noticeably his big-money contracts to Dan Uggla and B.J. Upton -- I'm guessing Schuerholz wasn't whispering much in Wren's ear.
Schuerholz also has a lengthy professional and personal relationship with Hart, the architect of those Indians teams that went from obscurity to prominence during the 1990s after he invented the art of signing young talent to long contracts. Hart eventually joined the Braves before the 2013 season as a senior advisor, and that gave Hart and Schuerholz more time to combine their philosophies -- if they weren't totally combined before.
As for Coppolella, no worries there. At 36, he is a rising star among baseball executives, and he knows a lot. He mostly knows to spend more time over the next few years nodding since Schuerholz and Hart are trying to shape Coppolella into their own image along the way to naming him the general manager someday of the Braves.
So there goes the Dayton Moore rumors.
Moore made enough moves during his nine years as Royals general manager to lead them to the playoffs this season for the first time in 29 years. In fact, his Royals are in the World Series against the Giants. But here's why those Moore rumors were more than rumors: Prior to joining Kansas City, where he grew up in the area as a Royals fan, he was a protégé of Schuerholz after he advanced from Braves scout in 1994 to Braves assistant general manager under Schuerholz in 2005. Two seasons later, after Schuerholz was promoted to Braves president, Moore was high in the running to take the place of his former boss, but Wren was chosen instead.
Now Moore is losing out to John 3.0.
That is, if he really wanted to ignore the two years he has left on his Royals contract to join the Braves again.
Whatever the case, Moore remains the general manager of a baseball team filled with promise, and the Braves are trying to get back to that place in the aftermath of their first losing season in six years.
First, before the formation of John 3.0, the Braves brought back manager Fredi Gonzalez for a fifth season. All things considered, he did well despite the flawed rosters of Wren. Then the Braves hired former Astros manager Bo Porter to coach third base and to improve the baserunning of a team that couldn't manufacture runs on a consistent basis. They hired former Braves scouting director Roy Clark as a special assistant, and the club gave a similar role to Gordon Blakeley, an ace scout with the Mariners and the Yankees. The Braves also promoted Brian Bridges - who was partly responsible for the team signing players such as Craig Kimbrel and Jason Heyward -- to scouting director.
If those things aren't enough, Hall of Fame Braves manager Bobby Cox is more active with the team these days. He is a former Braves general manager who acquired much of the early talent for those 1990s teams.
Make that John 3.0, plus Bobby 1.0.
Terence Moore is a columnist for MLB.com. This story was not subject to the approval of Major League Baseball or its clubs.