Recent history repeated itself with Blue Jays' infield
Lawrie's health, uncertainty at second base marked 2014 campaign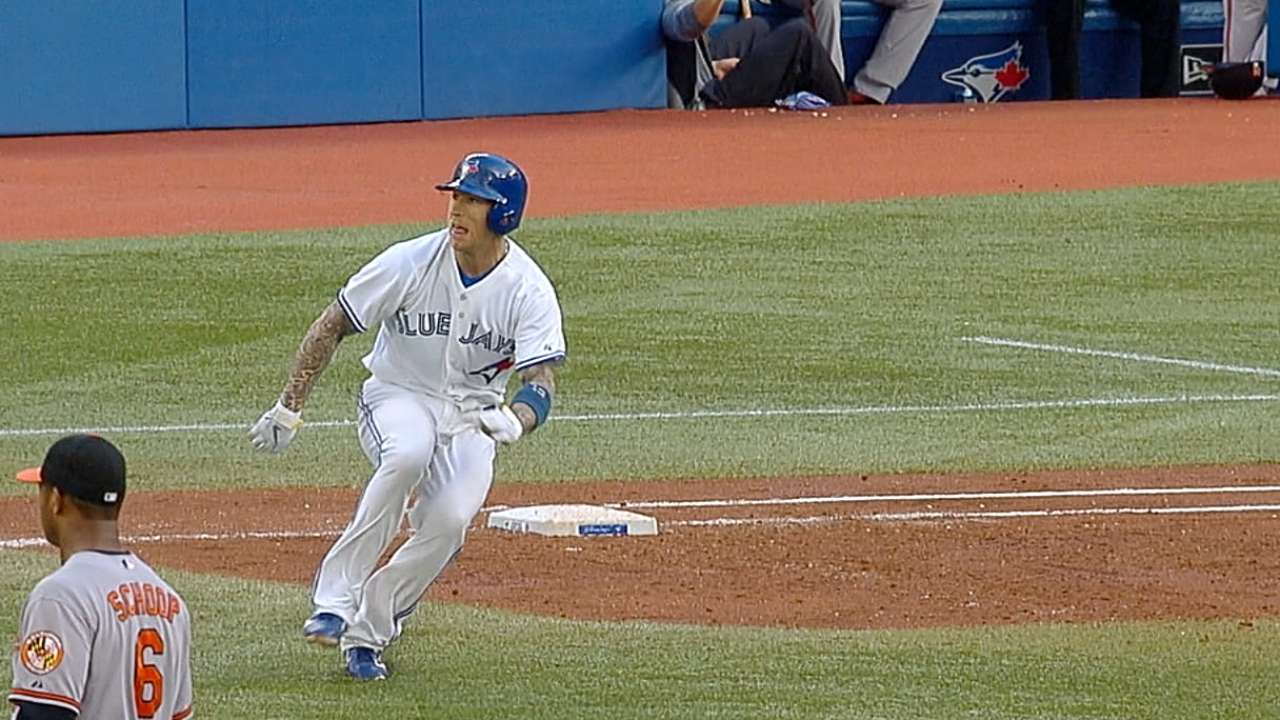 TORONTO -- The Blue Jays' infield was a concern in 2013, and not much changed this year as the club struggled to take away hits from the opposition and wasn't able to provide a much-needed security blanket for the pitching staff.
In a lot of ways, the performance of Toronto's infield mirrored the results from a year ago. Brett Lawrie got hurt again, and a lack of long-term options meant there was a revolving door at second base for the second consecutive season.
This is one of several spots on the roster that could use an upgrade and it's clear the status quo won't get the job done. In part three of a four-part series that examines where things went wrong and where things went right for the Blue Jays in 2014, we take a closer look at the infield and what needs to change:
Dioner Navarro: The big question surrounding the catcher heading into 2014 was whether he would be able to handle a full workload. The answer was yes as he went on to set a career high in games played at 139. It marked Navarro's first time playing more than 89 games since 2009, and despite the daily grind, he was able to finish the year strong. There were some issues with Navarro's ability to frame strikes and some occasional lapses with balls in the dirt, but for the most part, he exceeded expectations. He hit .274 and posted a .712 OPS with 69 RBIs. Navarro has one year and $5 million remaining on his contract.
Edwin Encarnacion: When the Blue Jays were red-hot in May, Encarnacion enjoyed the best month of his career. The first baseman hit 16 home runs to tie Mickey Mantle for the most by an American League player during May. Encarnacion's season hit a sour note on July 5, when he tore his right quadriceps muscle in Oakland. He did return on Aug. 15, but he was noticeably hobbled the rest of the way and couldn't reclaim that first-half success. The 31-year-old should be fully recovered by Spring Training, and he'll continue to form the heart of Toronto's lineup alongside Jose Bautista. Encarnacion is under control for the next two seasons at a combined $20 million.
Ryan Goins: The Blue Jays tried to hand the starting second-base job over to Goins, but the rookie infielder struggled to make consistent contact, and his overall inability to hit at the big league level cost him the role by the end of April. Munenori Kawasaki eventually took over and performed well with the bat for awhile, but he's best served in a utility role. Second base was a noticeable area of weakness for the Blue Jays last offseason and it remains one. Infielder Maicer Izturis will be back next year after a knee injury in 2014, but there's a clear need for additional help from outside the organization. Slotting Lawrie at the position is a fallback plan if the Blue Jays add a third baseman instead.
Jose Reyes: The shortstop hit the disabled list on the first day of the regular season, but he missed the minimum number of games and found a way to get through the rest of the year. It wasn't easy, though, as Reyes battled a shoulder issue midway through the season, and the turf at Rogers Centre took its toll on his legs over the final two months. The .287 batting average was respectable, but Reyes' .328 on-base percentage was his lowest since 2010. Though there were concerns with his range, Reyes and the Blue Jays felt injuries played a role. What's clear is that the club doesn't have any intention of changing Reyes' position any time soon, and the Blue Jays will need to find ways to get him more regular rest to avoid similar health concerns in 2015.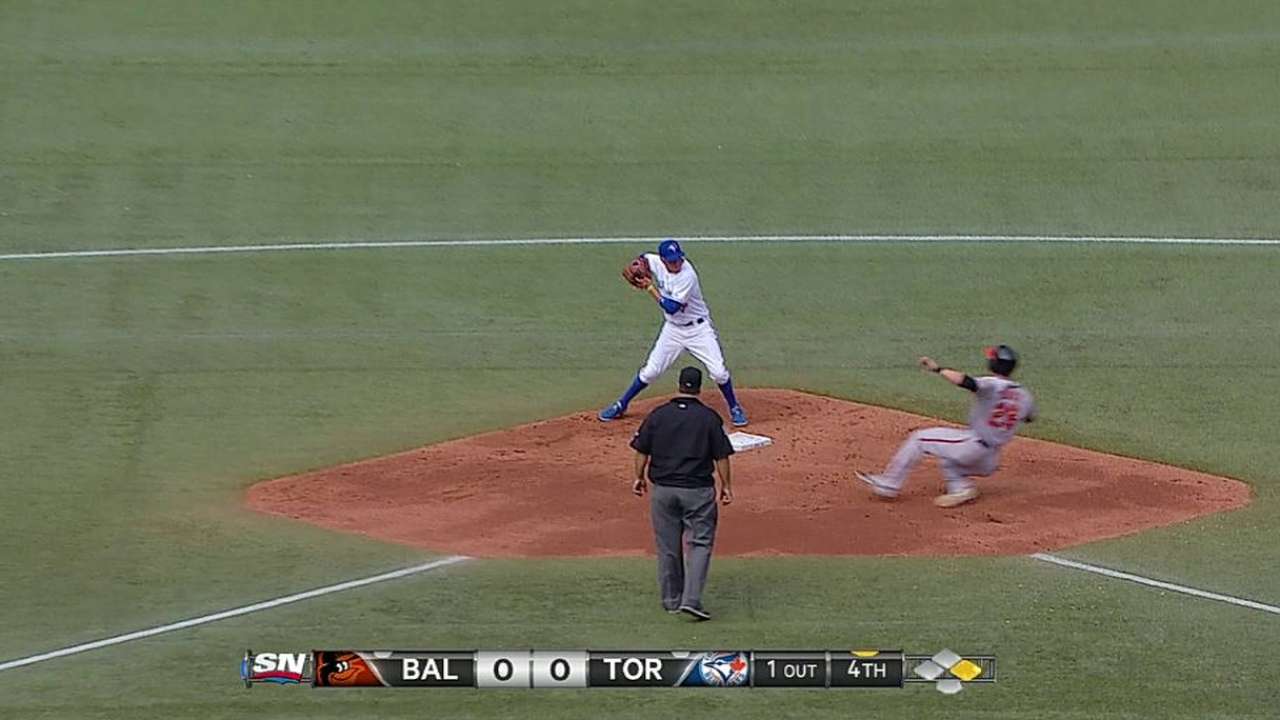 Lawrie: The third baseman remains one of the more intriguing young players in the Majors, but he has yet to find a way to stay healthy. This year, it was a broken hand and another oblique injury, which limited him to 70 games. Lawrie has yet to play more than 125 games in a season, and if he's going to take the next step, health will have to be on his side. It's sometimes easy to forget that Lawrie is only 24 years old. His versatility in the field is especially valuable for Toronto -- he's a plus defender at third, but his ability to play second will allow general manager Alex Anthopoulos to explore a lot of options this winter. It's hard to envision a scenario where the infield drastically improves unless Lawrie is a focal point.
Adam Lind: The home run power all but completely disappeared, but Lind still had a strong season at first base and DH. He posted a very strong .860 OPS but went deep just six times and drove in 40 runs. Part of the reason for those low numbers was a back injury earlier in the year and a broken foot that he tried to play on for several weeks. Regardless of the final tally, Lind remains an elite hitter against right-handed pitching and is best used as part of a platoon. Toronto can retain Lind for $7.5 million on a club option this winter. That would seem like a reasonable amount for Lind's overall production, but if the club wants to save money to use in another area, it's possible the Blue Jays could look to deal him this winter.
Areas for improvement: The bench needs to be upgraded. Toronto didn't have a natural shortstop to back up Reyes for most of the season, and that will have to change next year. The Blue Jays also struggled against left-handed pitching, but the late-season additions of Danny Valencia and John Mayberry Jr. may have helped change that. If Lind returns, either Valencia or Mayberry Jr. could be considered possibilities to step into a platoon role. The lack of production at second base speaks for itself. Defence could be improved with the return of Lawrie, and the Blue Jays can only hope for a better year in the field from Reyes.
Gregor Chisholm is a reporter for MLB.com. Read his blog, North of the Border, and follow him on Twitter @gregorMLB. This story was not subject to the approval of Major League Baseball or its clubs.