Lineup breakdown: Royals vs. Giants, Game 3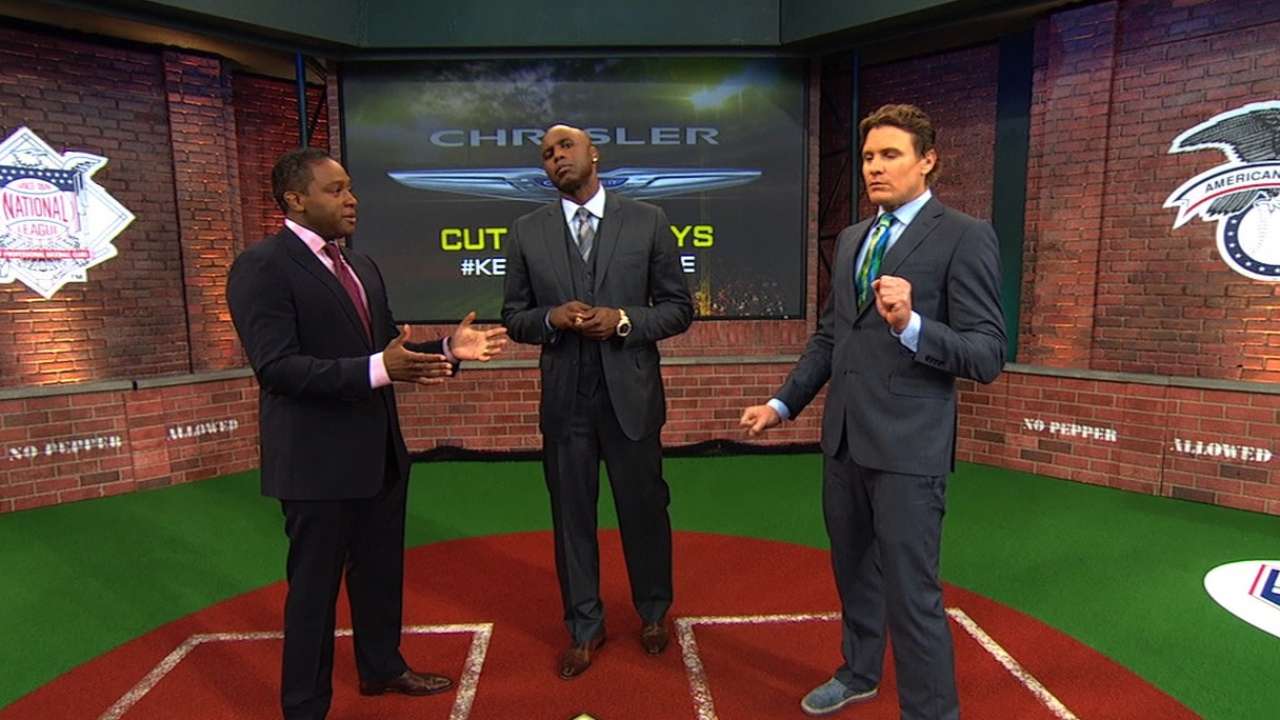 With Game 3 shifting to the Bay Area, the Royals and Giants are both looking to get a leg up in the series that's even at a game apiece. Here is a breakdown of the starting lineups for Friday night's game (7:30 p.m. ET air time on FOX; 8:07 first pitch):
ROYALS
After sticking to the same lineup throughout his team's first 10 postseason games (9-1), manager Ned Yost scrambled his lineup today against Giants right-hander Tim Hudson -- and not just because of the absence of a designated hitter.
"We didn't scramble it up. Well, we did, but it was out of necessity," Yost said.
The only absolutely necessary moves were to bat pitcher Jeremy Guthrie ninth and drop the DH, Billy Butler, who had batted fifth. Yost also chose to put right fielder Nori Aoki on the bench, with Jarrod Dyson in center and Lorenzo Cain moving to right.
"With this vast outfield, we knew we had to put our best defense out there so that took Nori out of the two-hole," Yost said.
He moved Alex Gordon up from sixth to the second spot, and that might help the left fielder get out of his 6-for-34 (.176) postseason swoon.
"What we're trying to do is get him more fastballs to hit. With [Alcides] Escobar leading off, got speed; Dyson at the bottom of the order, got speed," Yost said. "If you've got those guys on base, pitchers tend to -- I'm not saying Hudson is going to do it -- throw more fastballs in those situations to give your catcher more opportunity in case they run. Alex is a really good fastball hitter."
As Yost noted, bases are stolen on pitchers not catchers, and Hudson has allowed 22 steals in 26 attempts over the last two seasons. So he's likely to throw more fastballs to give catcher Buster Posey a better chance.
Mike Moustakas was moved from ninth to the No. 5 spot behind Eric Hosmer and Omar Infante to No. 6 ahead of Salvador Perez.
"We moved Moose up because he's been swinging the bat well right now for a little more protection for Hoz, and Omar's been swinging the bat better for a little more protection for Moose," Yost said.
Yost has a bench that includes Butler and Josh Willingham as right-handed pinch-hitters, Aoki from the left side and Terrance Gore to pinch-run.
1. Alcides Escobar, SS
2. Alex Gordon, LF
3. Lorenzo Cain, RF
4. Eric Hosmer, 1B
5. Mike Moustakas, 3B
6. Omar Infante, 2B
7. Salvador Perez, C
8. Jarrod Dyson, CF
9. Jeremy Guthrie, P
GIANTS
Returning to their Fortress by the Bay -- they have won 19 of their last 22 games in AT&T Park, including four of five postseason games -- the Giants are rolling out their familiar lineup.
The only change, due to the change in venues from an AL park, is shortstop Brandon Crawford's return to the eight-hole, with starting pitcher Hudson at the bottom.
Given his brief, but spectacular, history against Kansas City starter Guthrie, perhaps Crawford isn't batting high enough -- the shortstop is 4-for-4 with a homer in his career off Guthrie. The four hits nearly match the total of five off Guthrie by the rest of San Francisco's lineup (Pablo Sandoval with three and Hunter Pence and Gregor Blanco one each).
Guthrie has spent only one of his 11 MLB seasons in the NL, but that 2012 stint in Colorado afforded him two opportunities to face the Giants.
The righty's most recent AT&T Park appearance went fine, as he held the Giants without an earned run for 5 1/3 innings on May 15 of that '12 season .
1. Gregor Blanco, CF
2. Joe Panik, 2B
3. Buster Posey, C
4. Pablo Sandoval, 3B
5. Hunter Pence, RF
6. Brandon Belt, 1B
7. Travis Ishikawa, LF
8. Brandon Crawford, SS
9. Tim Hudson, P
Dick Kaegel is a reporter for MLB.com. Joey Nowak is a reporter for MLB.com. Follow him on Twitter at @joeynowak. Tom Singer is a reporter for MLB.com and writes an MLBlog Change for a Nickel. He can also be found on Twitter @Tom_Singer. This story was not subject to the approval of Major League Baseball or its clubs.