MLB.com Columnist
Jonathan Mayo
Pipeline Inbox: Appel an Opening Day possibility?
Mayo responds to fans' questions about baseball's top prospects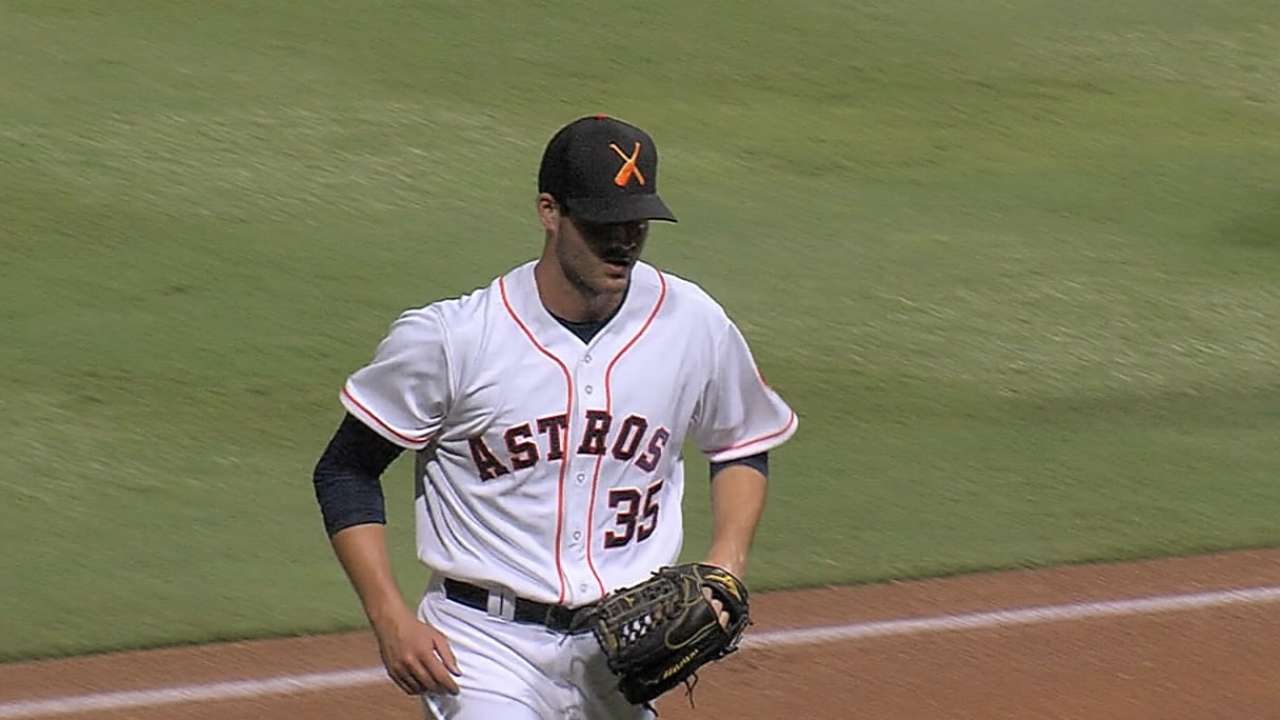 Everyone is gearing up for Game 3 of the World Series. I can't think of a better time to sneak in some good Pipeline Inbox reading.
Both the Giants and Royals have used their pipelines to build championship-caliber big league rosters. Kansas City has 13 homegrown players on its World Series roster, and it used a big-time homegrown prospect (Wil Myers) to help bring in James Shields and Wade Davis. The Giants have 11 homegrown players, including postseason wunderkind Madison Bumgarner and his batterymate Buster Posey.
The point, of course, is that the prospects discussed in this week's Inbox (or any, for that matter), just might be getting your favorite team to the Fall Classic in the near future. We'll kick things off with an Arizona Fall League question, then spend some time in Atlanta and Chicago, finishing off with the start of the pipeline: the First-Year Player Draft.
With his recent successes, could Mark Appel make the Astros' Opening Day roster?
-- Jason T., Clearwater, Fla.
What Appel has done in the Arizona Fall League, following up on a solid finish to his 2014 season in Double-A, certainly is encouraging. But I don't think I'm ready to hand him a spot in the Major League rotation just yet.
The 2013 No. 1 overall pick certainly has helped put a rough start to his first full season in the rear view mirror. That began with a 9.74 ERA in the California League, a debut that included a trip back to extended spring camp and some tendinitis. He had one strong start, and the Astros got him out of the Lancaster launching pad and moved him up to Double-A.
There, he began to pitch the way most expected him to, with a 3.69 ERA over 39 innings. His best start was his penultimate outing of the year, when he tossed eight two-hit innings and struck out 10. He's kept that going in the AFL, tossing 12 shutout innings, allowing just four hits and three walks, while striking out 12 over his first three starts.
All of this means he's heading in the right direction. But I would stop short of giving him a shot at the Astros' Opening Day roster. Instead, I'd let the big right-hander build off of his success in the Minors, maybe starting back in Double-A Corpus Christi. If he continues to pitch the way he has, and the way he's capable of doing, he'll be in Houston soon enough.
Is this the thinnest on talent you've seen for the entire Braves organization since 1991?
-- Darren T., Noblesville, Ind.
While not being able to go back 20-plus years for true historical context, I think it is safe to say the Braves' system isn't what it used to be in terms of elite-level talent and depth. There is some movement in a better direction, with three players currently on MLB.com's Top 100 prospects list, and Jose Peraza and Lucas Sims standing out as potential impact players.
But even with a thinner system, there are a few things to remember. The core of the Braves at the big league level is still pretty young, with guys like Andrelton Simmons, Freddie Freeman and Jason Heyward really just getting going. That helps offset the potential lack of help coming from the farm. But even a thinner system has provided help. Simmons arrived in 2012, Craig Kimbrel was Rookie of the Year just in '11 and Evan Gattis arrived in '13. Even Heyward ('10) and Freeman ('11) established themselves within the last four years. Catcher Christian Bethancourt could make an impact in '15, and Peraza might hit his way there next season as well. So not all hope is lost.
There have been conflicting reports on whether White Sox 2013 second-round Draft choice Tyler Danish can remain a starter. What is your outlook, and if you do see him as a starter, what is his upside/timeline?
-- Nick D., Chicago
Danish, Chicago's No. 7 prospect, is a bit of an enigma in that regard. Evaluators aren't thrilled with his delivery and mechanics. That, combined with his size, have many thinking he's destined for the bullpen. From a results standpoint, though, there's no reason to mess with success. He made 25 starts during his first full season and amassed 129 2/3 innings, showing no problems durability-wise. He was tough to hit, missed enough bats, didn't hurt himself with walks and got a ton of groundball outs, all while pitching in the Carolina League as a teenager.
There are enough examples of guys who don't "look the part" who prove they can stay in a rotation. Jake Peavy is a common comparison for Danish. I think the prospect has a chance to stick as a starter, one who could be a solid No. 3 type in the near future. The bullpen should be a fallback for the time being.
Who are the top 10 players in the 2015 Draft and which players will the White Sox be targeting?
-- Sean O., Columbia, Mo.
The standard response to a question like this usually has something to do with it being way too early to know. The Perfect Game WWBA World Championship is going on right now, signifying the end of the fall season. We will be coming out with our early Draft Top 50 list in the coming months, always with the caveat that things will change dramatically come spring.
Rather than spit out a Top 10 quickly, I'm going to give you groups of players who could potentially land high in the first round come June. As far as who the White Sox will be targeting, again it's way too early. But when you pick No. 8, taking the best available talent is the way to go. The White Sox tend to like college pitching (a strength of this class) and toolsy, athletic types, so keep that in mind when looking at these groups. There are two pitchers who make things a little intriguing. One is Phil Bickford, the former first-round pick who recently moved to Southern Nevada so he can be eligible in 2015. The other is last year's No. 1 pick, Brady Aiken. He's not officially at a junior college, but there's a chance he will be in time for June.
High-school position players: Chris Betts, C, Wilson, Calif.; Daz Cameron, OF, Eagle's Landing, Ga.; Trenton Clark, OF, Richland, Tex.; Nick Plummer, OF, Brother Rice, Mich.; Brendan Rodgers, SS, Lake Mary, Fla.
High-school pitchers: Kolby Allard, LHP, San Clemente, Calif; Beau Burrows, RHP, Weatherford, Tex.; Justin Hooper, LHP, De La Salle, Calif; Mike Nikorak, RHP, Stroudsburg, Pa.; Ashe Russell, RHP, Cathedral, Ind.
College position players: Alex Bregman, SS, LSU; Ian Happ, OF, Cincinnati; D.J. Stewart, OF, Florida State; Chris Shaw, 1B, Boston College; Dansby Swanson, SS, Vanderbilt
College pitchers: Aiken, LHP, no school; Walker Buehler, RHP, Vanderbilt; Kyle Funkhouser, RHP, Louisville; Nate Kirby, LHP, Virginia; Michael Matuella, RHP, Duke
Jonathan Mayo is a reporter for MLBPipeline.com and writes a blog, B3. Follow @JonathanMayoB3 on Twitter. This story was not subject to the approval of Major League Baseball or its clubs.