Miggy's ankle surgery reveals foot fracture
Tigers slugger will 'probably be pretty much inactive' according to GM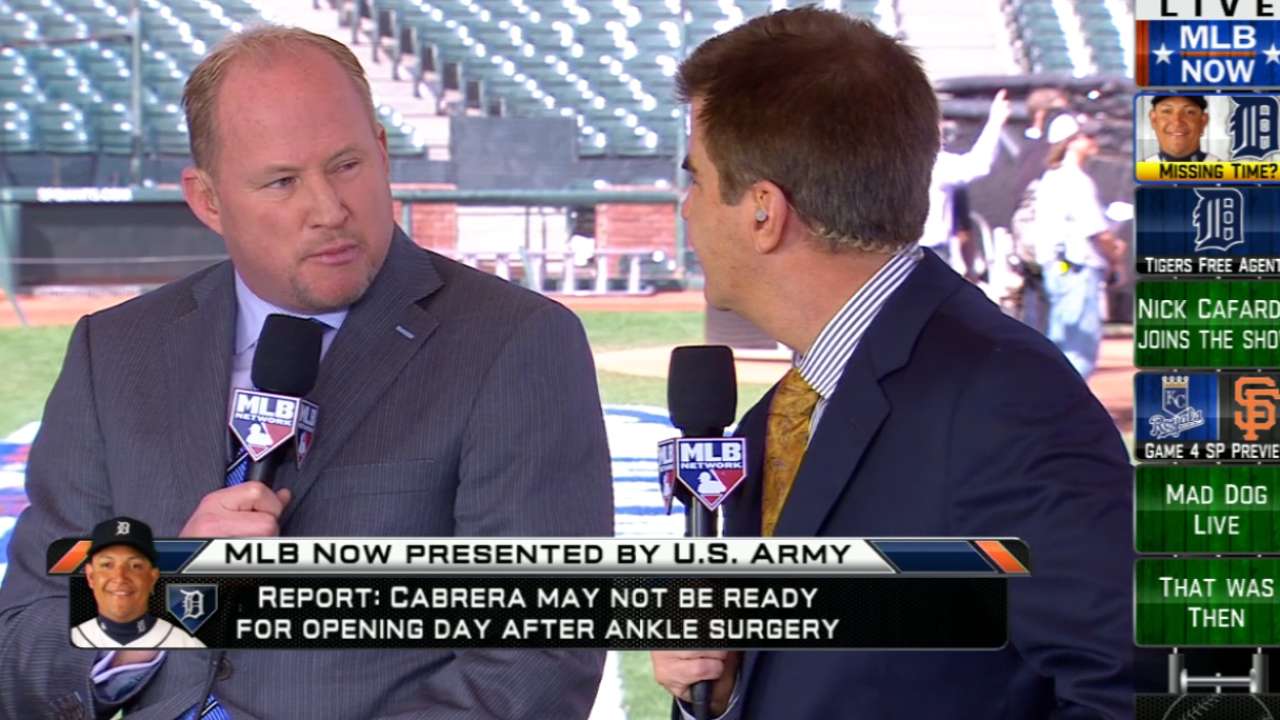 DETROIT -- For the second consecutive offseason, Miguel Cabrera will be working his way back from surgery. The latest surgery was more complicated than originally hoped.
As expected, Cabrera underwent surgery to remove the bone spur in his right ankle that had been bothering him for months. He also had a procedure to repair a stress fracture in the navicular bone near the top of his right foot, an injury that hadn't been known.
Dr. Robert Anderson performed the surgery in Charlotte, N.C., including the insertion of screws in the foot.
"It was a surprise, I'd say, for all of us," team president/CEO/general manager Dave Dombrowski said Friday morning. "We were not aware [the stress fracture] was there. I'm not sure how long it was there. He did have a couple of screws inserted."
Cabrera will be re-evaluated in three months -- or a few weeks before Spring Training. He's expected to avoid weight-bearing activities on the foot until then, which greatly limits his offseason workouts.
"He'll probably be pretty much inactive," Dombrowski said.
Dombrowski avoided any prognostications about Cabrera's potential readiness for Spring Training, preferring to wait for the follow-up exam in January.
Cabrera's ankle began to bother him soon after he seemed to regain some of his strength from the core muscle surgery that he underwent last year around this time. Cabrera recovered from that surgery in time to have a full Spring Training, but admitted later to a reporter for USA Today that the core muscles tightened on him at times during the season.
The ankle injury hobbled Cabrera for much of the summer, but as with the core muscle issue last year, he played through the pain. In this case, he seemed to improve as he kept playing.
Cabrera's September performance -- including a .379 (39-for-103) average, eight home runs and 18 RBIs -- earned him American League Player of the Month honors. He wasn't moving anywhere near full speed, but he was moving better than he had been in July and August.
"There's no question that that ankle started to bother him at times, based upon a couple of instances -- probably more sliding at more various times -- in which he was affected," Dombrowski said during his season-wrap-up press conference last week. "But I think the difference was, where in 2013, where [the core muscle injury] hurt him all the time, in 2014 here at times … it hurt him at times, worse than others. Because it was there, and he would do something to jar it, and it would hurt him.
"There's no question that [it] did bother him, but you saw in the postseason he still swung the bat well, the first couple of games in particular."
Dombrowski said at that point that it wasn't clear whether Cabrera would need surgery, because the slugger was still being evaluated. The surgery to remove the bone spur, Dombrowski said, is relative easy. The stress fracture complicates matters.
Now that the extent of the injury is clear, Cabrera's ability to play through it becomes all the more impressive.
"It's amazing that he was able to do that," Dombrowski said. "It was much more involved [than expected] with the fracture there being in a position -- and again, I don't know when that happened. It's amazing he was able to function with the foot and the ankle the way it is. He really is as tough as can be."
Jason Beck is a reporter for MLB.com. Read Beck's Blog and follow him on Twitter @beckjason. This story was not subject to the approval of Major League Baseball or its clubs.