MLB.com Columnist
Jonathan Mayo
Angels Arizona Fall League overview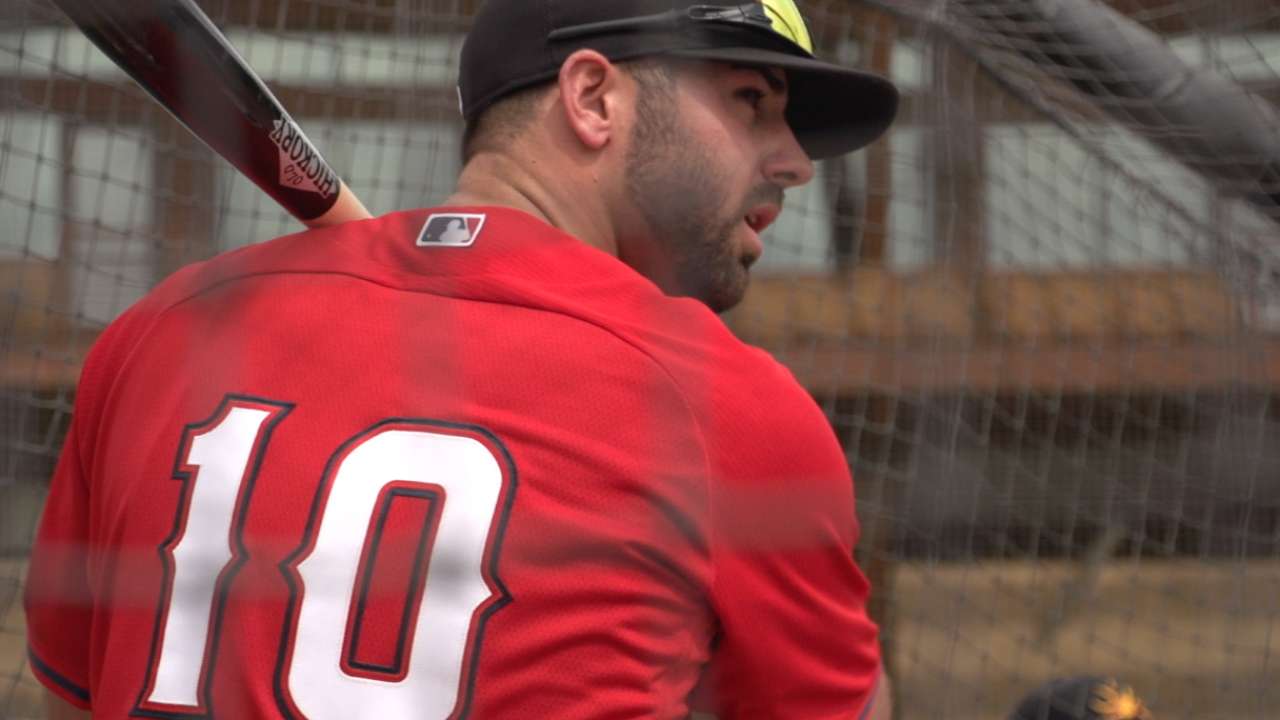 The way Kaleb Cowart's pro career began, everything pointed to a quick ascent to the big leagues as one of the top third base prospects in the game. But after that very successful first full season, things haven't gone nearly as smoothly for him.
The former first-round pick was once the top prospect in the Angels' organization and a Top 100 caliber player, one who hit .276/.358/.452 with 103 RBIs and reached the Class A Advanced California League at age 20 during that first year. He's now No. 4 on the organization's Top 20 list and has spent two years at Double-A, hitting a combined .222/.286/.312 in the process.
"Everyone deals with failure at some point in their career," Cowart said. "It's just made me a better person, maybe learn how to deal with it better. I'm stronger."
Cowart is back in the Arizona Fall League this season -- he played on the Scottsdale Scorpions in 2012 -- to try to continue to build off those lessons from adversity. Cowart is still ahead of the curve, age-wise: he won't turn 23 until next June, but he's hoping this fall's time with the Mesa Solar Sox can help him get back to moving up the ladder.
"It's another chance to come swing it, get out of Double-A, come down here and hit where it's good hitting," Cowart said.
When Cowart was in the AFL the last time around, he was a switch-hitter. Now, he's only hitting left-handed, a change that was implemented this July. The third baseman did have a better second half than first, though he scuffled in the season's final month. The decision had more to do with trying to simplify things than anything else.
"It wasn't necessarily that I failed at it," Cowart said. "It was just that this is going to make my swing more consistent, less to worry about. I only have to worry about one side of the plate. It's been good so far. I like it."
Cowart also likes being able to contribute, even if it's not with his bat. He's received praise for being adept at not bringing offensive woes to the hot corner. His range, hands and arm strength all point to a future at the position.
"I take a lot of pride in defense," Cowart said. "Once I go out there on the field, I have to forget about that last at-bat and move on."
Cowart and the Angels are hoping he can move on from the last couple of years and rediscover the stroke that allowed him to profile well at third offensively. After his first full season, there may have been a hope or expectation that Cowart would have reached the big leagues by now. Not every prospect's path is straight and quick. Cowart watched his parent club reach the postseason for the first time since 2009. Even though the run didn't last very long, it's motivating him to keep working to get there.
"I wish I could've been up there and contributed," Cowart said. "My time will come, hopefully it will be soon."
Angels hitters in the AFL
A member of the Taxi Squad -- meaning he'll only play on Wednesdays and Saturdays for Mesa -- Eric Stamets is ranked No. 15 on the Angels' Top 20. He has the glove to get him to the big leagues, but will have to show he can hit upper-level pitching more consistently in order to be considered a potential full-time big league shortstop.
A senior sign out of Baylor in 2013, Cal Towey used a huge pro debut in the Pioneer League that summer to catapult him to the California League for his first full season. The Angels' No. 17 prospect continued to show some good things with the bat (.279/.364/.417 with 10 homers, 21 steals) while playing third, the outfield and even getting behind the plate. He focused on the hot corner and right field for most of the second half and that's where he continued to play in the AFL.
Chad Hinshaw was another senior sign from the 2013 Draft, taken in the 15th round. The outfielder began the year in Burlington, joining Towey in Inland Empire mid-season and leading the organization in stolen bases along the way. He also had 54 extra-base hits, using his speed and aggressive baserunning well. He showed an ability to play all three outfield positions, something he's continued to do in Arizona.
Angels pitchers in the AFL
The Angels received Trevor Gott along with Huston Street at the deadline. Street may have been the headliner, but Gott has the chance to join him in the Angels bullpen in 2015. His hard sinking fastball gets a lot of ground ball outs and he's not afraid to pitch in high-leverage situations.
Chris O'Grady is another college senior, a left-handed reliever taken in 2012 out of George Mason University. He's moved somewhat slowly, spending 2014 in the Cal League, where he did show some ability to get left-handed hitters out. O'Grady will turn 25 next April, with a strong AFL performance perhaps helping to convince the Angels he can handle being pushed a bit faster.
The 2014 season didn't go according to plan for Mark Sappington, the Angels' No. 9 prospect, after a 2013 campaign that saw him reach Double-A. The stuff is all still there, from his plus fastball to his swing-and-miss slider, but he was wildly inconsistent (9.0 K/9 and 6.3 BB/9 in 2014). He fared better with a move to the bullpen, a role he's continued in the AFL.
One more senior sign from 2013, Nate Smith comes in at No. 18 on the Top 20. He's all about pitchability, using average stuff with an ability to mix his pitches well to get to Double-A in his first full season. He could use his AFL experience to jump into the Angels' rotation plans at some point in 2015.
Jonathan Mayo is a reporter for MLBPipeline.com and writes a blog, B3. Follow @JonathanMayoB3 on Twitter. This story was not subject to the approval of Major League Baseball or its clubs.