MLB.com Columnist
Jim Callis
Dodgers Arizona Fall League overview
Shortstop Seager leads Los Angeles' talented crop of prospects playing for Glendale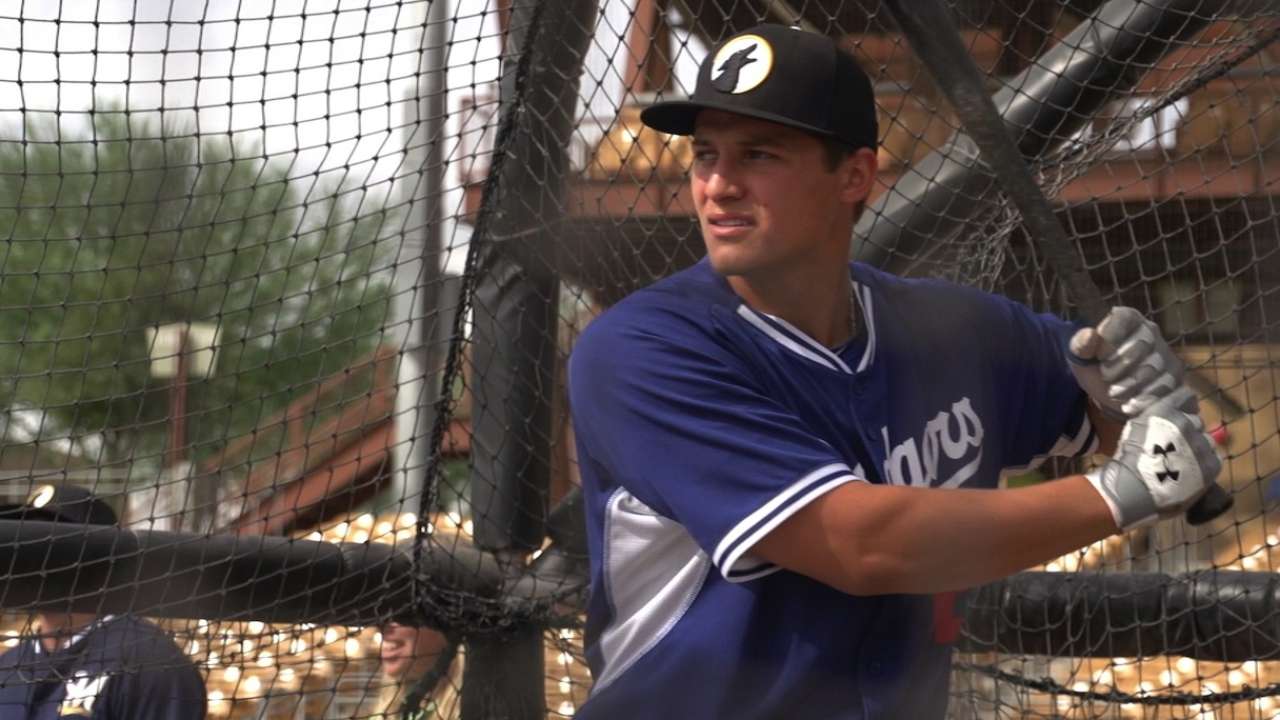 Corey Seager never really had scuffled on the diamond until he was promoted to high Class A at age 19 and hit .160 during the final month of the 2013 season. Seager's slump carried over to the Arizona Fall League, where he batted .181 in 19 games with the Glendale Desert Dogs last offseason.
As frustrating as the conclusion to his 2013 season might have been, Seager said it helped make him a better player.
"When I struggled, that was the first time I ever struggled, so I had to really figure out myself," Seager said. "It helped me understand what I need to do to continue my success and continue not to hit those low patches all the time. When I do hit them, I know how to fix them."
Seager hit few low patches in 2014, when he batted .349/.402/.602 in 118 games between high Class A and Double-A. He led the Minor Leagues in hitting and doubles (50), won MVP honors in the California League and shared the Dodgers' Minor League Player of the Year Award with Joc Pederson.
Seager hopes to build on that success in his return engagement with the Desert Dogs. He has hit .255/.352/.426 in his first 12 games while leading the league with six doubles and tallying seven extra-base hits. That's a far cry from the .559 OPS he posted for Glendale last year, when he was the youngest player in the league at 19.
"It's kind of a big difference," Seager said. "I'm swinging a little better this year, that's always nice to have that success and everything. It's just all around a little better, little better defensively, too."
Seager is sharing Glendale's shortstop job with Tim Anderson (White Sox) and getting extra at-bats as a DH when he's not in the field. The two former first-round picks are part of a stunning shortstop class in the AFL that also includes top prospects Francisco Lindor (Indians), Deven Marrero (Red Sox), Raul Adalberto Mondesi (Royals), Daniel Robertson (Athletics), Addison Russell (Cubs) and Trea Turner (Padres).
Though the Dodgers have kept Seager at shortstop since signing him for $2.35 million as the 18th overall selection in the 2012 First-Year Player Draft, many scouts think he lacks the speed and quickness to stay there and will have to move to third base. The 6-foot-4, 215-pound Seager is bigger than most shortstops, and he gets by with arm strength and instincts.
There are no concerns with Seager's offense. Like many young hitters, he could use a little more patience at the plate, but all of the tools are there. He has a smooth, balanced left-handed swing, as well as the bat speed, strength and all-fields approach to produce for both average and power.
Seager certainly has enough bat to profile as a star at the hot corner -- just like his older brother. Kyle Seager played in his first All-Star Game and hit a career-high 25 homers in 2014. Corey is more advanced than Kyle was at the same stage of his career and may eclipse his sibling one day.
Dodgers hitters in the AFL
• One of the best hitters in the Dodgers' system since signing for $600,000 as a 26th-round choice out of Des Moines Area CC in 2010, outfielder Scott Schebler put up .280/.365/.556 numbers and led the Double-A Southern League in homers (28), triples (14), extra-base hits (65), total bases (272) and slugging this year. He has solid power and speed and at least average tools across the board, with the exception of his subpar arm.
• A disappointing junior season at Central Florida dropped second baseman/shortstop/outfielder Darnell Sweeney to the 13th round of the 2012 Draft, but he has hit since, batting .288/.387/.463 with 14 homers and 15 steals in Double-A this summer. He's a plus runner with more pop than most middle infielders and a solid arm.
Dodgers pitchers in the AFL
• A 25th-round pick from Texas Tech in 2012, left-hander Daniel Coulombe began this season in Class A Advanced and finished it in Los Angeles. Armed with an 89-93-mph fastball and a curveball that has its moments, he registered a 2.89 ERA with 92 strikeouts in 65 1/3 Minor League innings.
• Matt Magill climbed from the 31st round of the 2008 Draft as a projectable California high schooler to the big leagues in 2013, and spent all of this year in Triple-A, where he posted a 5.21 ERA and 70 strikeouts in 84 2/3 innings. His best pitch is a 90-94 mph fastball, and he's effective when his low-80s slider and his inconsistent control are on.
• A 2009 second-round pick out of California as a slugging outfielder, Blake Smith became a full-time pitcher in mid-2013 and compiled a 3.82 ERA with 61 strikeouts in 61 1/3 innings between high Class A and Double-A this season. He's a right-hander with a 91-94 mph fastball and a slurvy breaking ball.
• Right-hander Mike Thomas set Rider career records with 29 wins and 286 strikeouts before signing for $1,000 as a senior 35th-round pick in 2011. He has reached Double-A and owns a 2.74 ERA and 265 strikeouts in 216 2/3 pro innings, thanks to his deceptive delivery and ability to mix four pitches.
Jim Callis is a reporter for MLB.com and writes a blog, Callis' Corner. Follow @jimcallisMLB on Twitter. This story was not subject to the approval of Major League Baseball or its clubs.