Brewers Arizona Fall League overview
Outfielder Taylor headlines Milwaukee's group of talented prospects honing craft with Glendale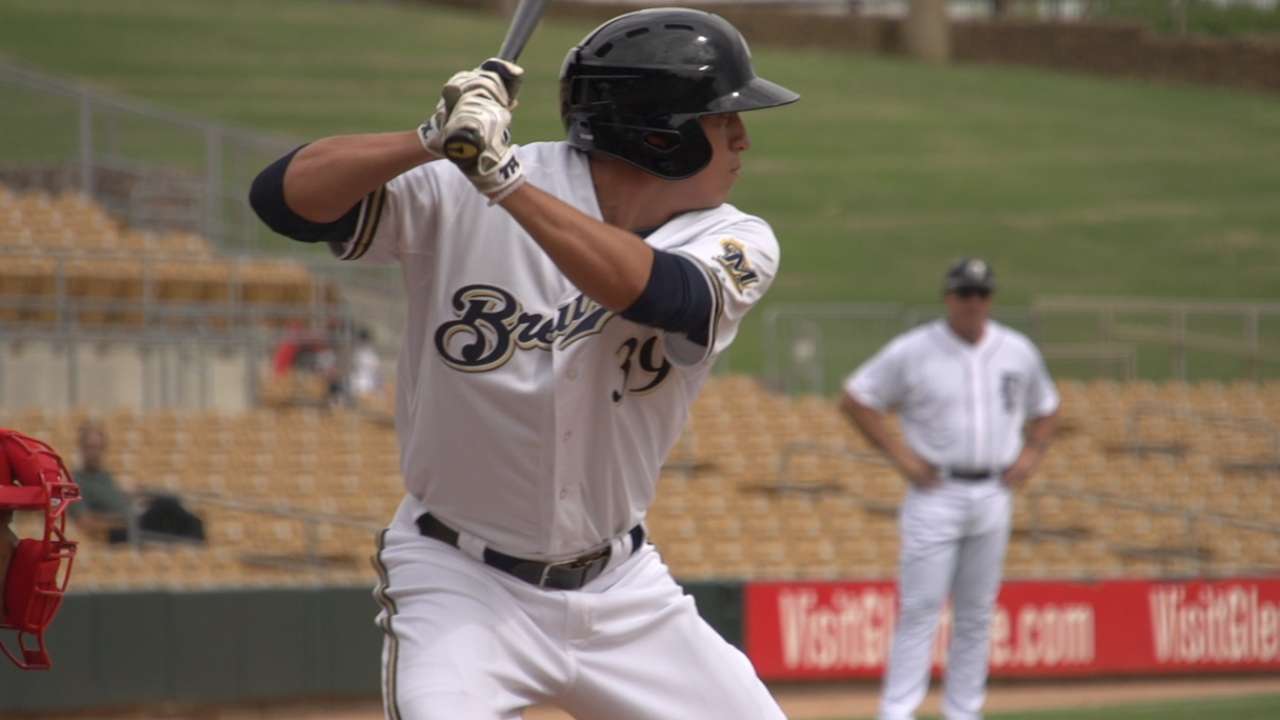 After a solid season with advanced Class A Brevard County, the Brewers gave outfielder Tyrone Taylor a challenge at the end of the year. He was promoted to Double-A Huntsville for the final week of the regular season and the playoffs. In all, Taylor played in seven games for the Stars, collecting three hits before their season came to an end in the Southern League semifinals.
Now, Taylor has a new challenge. He is one of nine Brewers playing for Glendale in the Arizona Fall League.
During the AFL, Taylor, 20, will find himself playing against older, more experienced competition. The Brewers' top prospect said he is excited for the opportunity.
"Every level that you go up, the game speeds up a little bit and just prepares you more and more," Taylor said. "Just got to keep working hard, and I'm happy to be here."
Taylor is still honing his game after being a two-sport star in high school. He only began focusing on baseball after the Brewers selected him in the second round in the 2012 First-Year Player Draft.
Playing in the AFL will help his development, Taylor said, because it will give him an opportunity to observe how some of baseball's elite prospects prepare and play.
"I'm a visual learner, so being out here should be great, because I'm around all these great guys," Taylor said. "Just watching them and how they carry themselves and stuff is going to help me a lot."
Taylor had already made considerable progress since he was drafted. He has refined his plate discipline and simplified his swing.
Those improvements, plus his elite athleticism, have helped him find quick success as a professional. In 130 games with Brevard County this season, Taylor hit .278/.331/.396 with six home runs and 22 stolen bases.
Taylor hopes he can continue his progress in the AFL. He said he's focusing on keeping his head straight up when he's swinging, an adjustment that would allow him to see the ball better.
But Taylor knows his whole game still needs work.
"I always feel that I can get better in every aspect of my game," Taylor said. "I know this is going to be a great opportunity for me, so I'm just going to come out here every day and play my hardest."
Brewers hitters in the AFL
• Clint Coulter was named the Brewers Minor League Player of the Year after hitting .287/.410/.520 with 22 home runs for Class A Wisconsin this year. After the season he went to instructional league to begin the process of converting from a catcher to an outfielder, a transition that continues in the AFL. As a member of Glendale's taxi squad, Coulter won't play much, allowing him to focus on learning his new position.
• Originally signed by the Rockies out of the Dominican Republic in 2004, Hector Gomez first reached the big leagues for Colorado in 2011. He wasn't able to carve out a permanent role, however, and the Brewers claimed him off waivers the next year. He returned to the Major Leagues this September, appearing in 15 games at three positions for Milwaukee. His strong arm and good glove give him a chance to be a valuable utility infielder.
• Nick Ramirez was a two-way player at Cal State Fullerton, serving as the team's first baseman and closer. He's given up pitching since the Brewers drafted him in the fourth round in 2011, becoming a full-time first baseman. Ramirez has good power and has hit at least 16 home runs in each of his three full professional seasons. He's also struck out at least 144 times in all three seasons and will need to improve his plate discipline to reach his potential.
• A 44th-round pick by the Brewers in 2007, catcher Shawn Zarraga proved to be an effective hitter in the low levels of the Minor Leagues, but he struggled defensively. After getting in better shape, Zarraga made strides behind the plate this season and advanced to Triple-A Nashville for the first time. The native of Aruba makes a lot of contact, but he doesn't produce much power.
Brewers pitchers in the AFL
• Right-hander Brooks Hall started five games in April for Huntsville before he was sidelined by an attached bone fragment that caused irritation in his right elbow. He spent the rest of the season on the disabled list, but he's healthy again and back on the mound for Glendale. Hall does a good job of using his 6-foot-5 frame to throw his low-90s fastball from a downhill angle and create groundball outs. His changeup is his best secondary offering.
• Primarily a reliever throughout his professional career, left-hander Michael Strong has shown the versatility necessary to handle multiple innings and spot starts when called upon. He spent most of the year with Brevard County before advancing to Double-A Huntsville in time for the playoffs. Listed at 6 feet and 195 pounds, Strong isn't the most physical presence on the mound, but he effectively uses his fastball-curveball combination to miss bats and create groundballs.
• Right-hander Tyler Wagner served as the closer at the University of Utah and has thrived since moving to the rotation as a professional. He finished eighth in the Midwest League with a 3.21 ERA in 2013 and followed that up with a 1.86 mark in the Florida State League this year. He throws his fastball in the low 90s with heavy sinking action, mixing it with an average slider and changeup. Wagner is confident on the mound and fills up the strike zone.
• The Brewers surprised the industry when they selected left-hander Wei-Chung Wang in the Rule 5 Draft last December. At the time, the Taiwanese native had thrown just 47 1/3 innings -- all in the Gulf Coast League. But the Brewers managed to keep him on their big league roster all season, sparingly using him out of the bullpen. In the AFL he is working as a starter and getting more seasoning as the club prepares him to fill a larger role in the future.
Teddy Cahill is a reporter for MLB.com. Follow him on Twitter at @tedcahill. This story was not subject to the approval of Major League Baseball or its clubs.