Alcides thriving since receiving ignition keys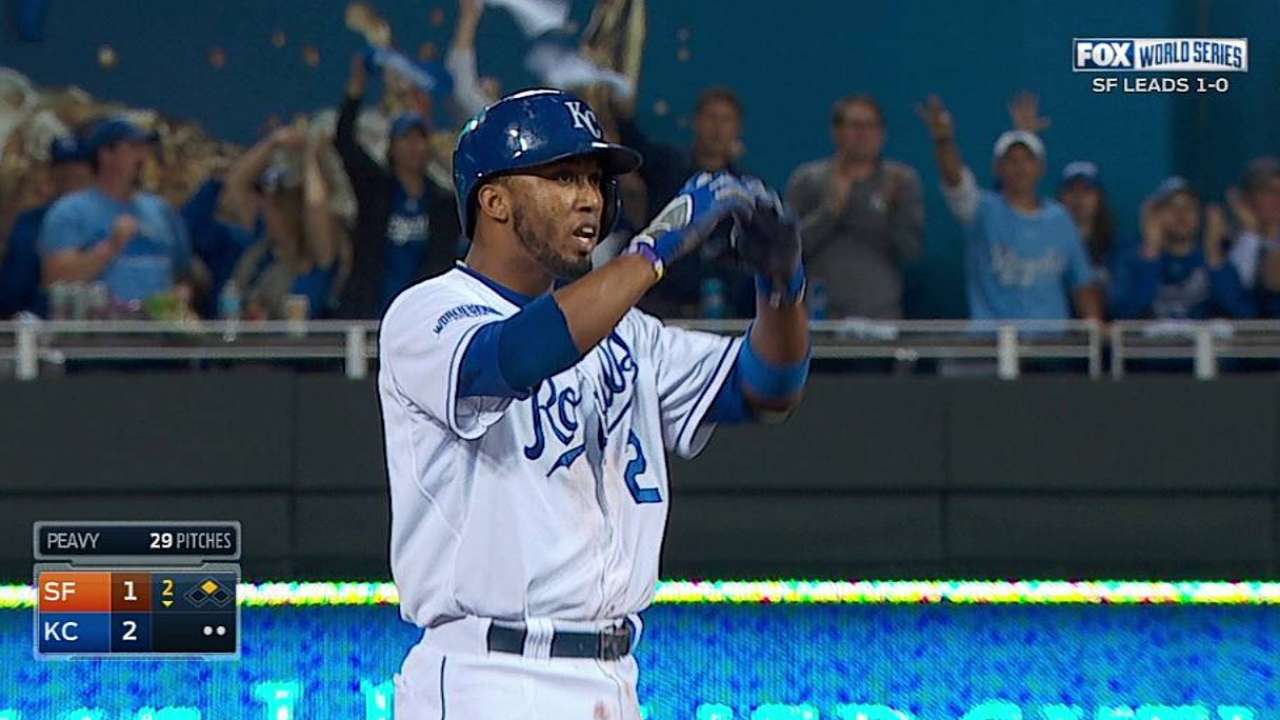 SAN FRANCISCO -- Alcides Escobar always has seen himself as a leadoff man or No. 2 hitter. He hit mostly first or second in the Brewers' Minor League system before doing so for significant parts of his Major League career in Milwaukee and Kansas City.
But the Royals shortstop has not always produced in those roles. In 2012, his numbers were much better at the bottom of the lineup than the top, while in 2013 -- a down offensive year for him in general -- he posted his best average as the No. 9 hitter.
However, that tendency was turned upside down this season after Royals manager Ned Yost decided to move Escobar back to the leadoff spot in mid-September during a series against the Red Sox.
The move paid off. In his final 16 regular-season games, all from the first spot in the order, Escobar hit .362 with a .397 on-base percentage and .478 slugging percentage. In the postseason, he has continued producing with a .295 average and, most recently, a key RBI double in Kansas City's 7-2 victory over San Francisco in Game 2 of the World Series to help the Royals pull even in the series.
"I think it's a spot that he relishes being in," said Yost. "Really came back last year and struggled. Dropped him back down to the eighth and the ninth spot and started there this year. But he's had another phenomenal year offensively."
With his strong performance down this stretch, Escobar finished the regular season hitting .285 with 34 doubles and 50 RBIs. And of course, that production was accompanied by his defense at shortstop that on Thursday garnered him a nomination for an American League Gold Glove Award.
"For a shortstop to be able to hit .280 or .290 and drive the ball like he can to the gaps, hit the ball to all fields, it's important to be able to do that," said Yost.
Escobar, 27, has expressed on multiple occasions his preference of hitting at the top of the lineup.
"I was always leadoff or second in the Minors" he said. "I really wanted to go back to leading off, and thank God, I've done the job.
"I've taken advantage of it 100 percent."
Of course, Escobar was not just given the leadoff spot without having to earn continued time there. It was up to him to do his part to keep responsibility on a daily basis.
"When we made this change, we were just kind of grasping at straws," said Yost. "We were really struggling offensively as a group. So we thought, 'OK, let's make some changes here and see if we can't shake something up. Put Esky in the one, Nori Aoki in the two and (Lorenzo Cain) in the three and try to get some speed in the top of the order for the power hitters in the middle.'
"The first day we did it, Esky said, 'I hope this isn't a one- or two-day deal.' We said, 'Esky, that's all kind of depending on you. If you can give us good at-bats from the top of the order, you're going to stay there.' And he's worked hard to do that."
Escobar feels there have been few times in his career when he's been as focused at the plate as he is right now.
"I've been feeling great in the postseason and now in the World Series," he said. "I get to home plate ready to make adjustments in every at-bat, and to look for a good pitch in the strike zone."
Escobar's surge in September and October has not gone unnoticed by his teammates.
"Esky was hot at the right time", said designated hitter Billy Butler. "Esky has really turned into a complete player.
"He's a tremendous defensive player. I'd stack him up against any of the best. But he's had a good year offensively. He's taken more pitches. He's getting on base. He's doing everything well right now, and that's what we need at the top."
David Venn is lead editor of MLB.com's Spanish site, LasMayores.com. This story was not subject to the approval of Major League Baseball or its clubs.