Royals could revive running game facing Hudson
Giants right-hander has allowed 22 stolen bases in 26 attempts last two years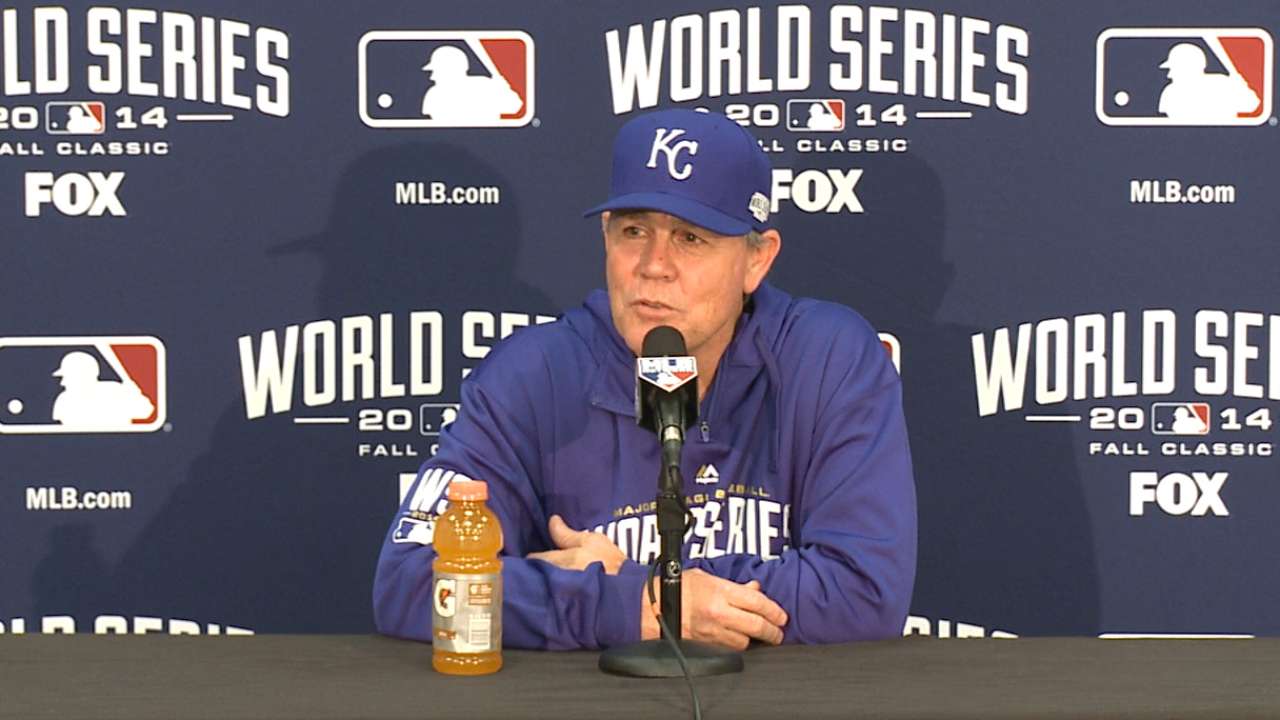 SAN FRANCISCO -- It's been forgotten amid a surprising power surge, swept aside because it hasn't necessarily altered outcomes. But the Royals -- Major League leaders in stolen bases by a wide margin and armed with two track stars off their bench -- haven't been running. They've stolen one base in their last six postseason games, five of them wins, after swiping seven in the American League Wild Card Game and five in a Division Series sweep of the Angels.
Game 3 of the World Series, a matchup against Giants right-hander Tim Hudson at AT&T Park, could be their chance to run again.
"If he's slow to the plate, there's definitely going to be opportunities," Royals center fielder Lorenzo Cain said leading up to Friday's game (6:30 p.m. CT airtime, 7:07 first pitch on FOX). "It all depends on him."
Hudson isn't awful at holding runners -- you don't last 16 years in the big leagues that way -- but he isn't particularly good. "Just fair," one longtime scout said. The 39-year-old has what Jarrod Dyson identified as "a quick pickoff move," but Hudson also has a tendency to be slow to the plate, as evidenced by the 182 stolen bases he's allowed since his rookie year in 1999 (12th most in the Majors) and the 22 he's given up in 26 attempts over the last two seasons.
The Royals are, in the words of manager Ned Yost, "opportunistic in our basestealing." And they feast on any slight opportunities to swipe a bag.
Hudson is well aware that the threat remains.
"You have to vary your times," Hudson said. "You have to be obviously a little quicker to the plate than you normally are. You can't have the same cadence every pitch to the plate."
And therein lies the advantage of the Royals' speed -- even when they're not using it to steal bases, the threat creates opportunities for their hitters.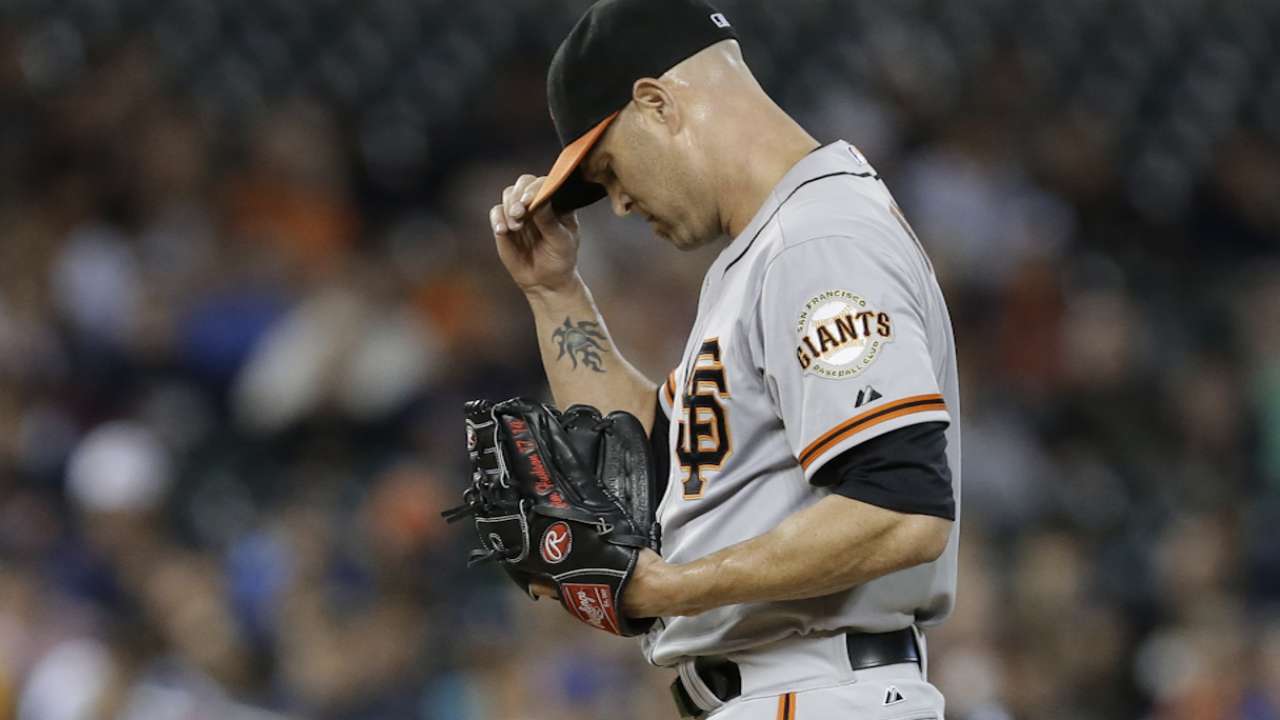 "It still has its benefits," Yost said. "In the Baltimore series, every time we'd have a speed guy on, even though guys were really quick to the plate, they still diverted some of their attention from getting the hitter out to the baserunner. And that's the idea behind it. You want to try to divert some of the attention away from the pitcher's main focus, which is concentrating on getting that hitter out."
It's shown up in the amount of fastballs the Royals' middle-of-the-order hitters have seen, or in the numerous times Orioles and Giants pitchers missed their spots because they had to alter their deliveries from the stretch.
It showed up as a domino effect in the ninth inning of Game 2 of the AL Championship Series. With the speedy Terrance Gore at second representing the go-ahead run, Orioles second baseman Jonathan Schoop had to watch him closely. With Schoop shaded toward second, first baseman Steve Pearce had to play well off the bag, which allowed Alcides Escobar to punch the game-winning hit right down the line.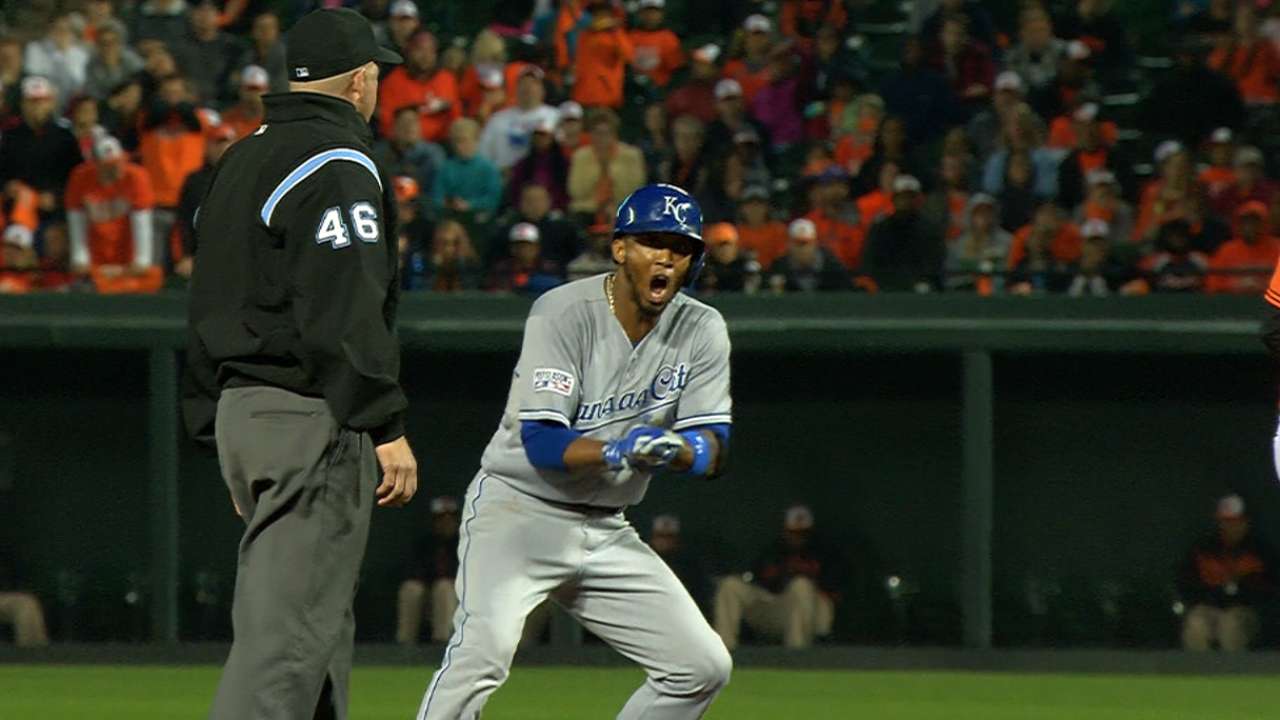 It showed up in the sixth inning of World Series Game 2, when Giants reliever Jean Machi grooved a fastball to Billy Butler for the go-ahead hit, largely because he was so focused on Cain, who had a big lead at second base.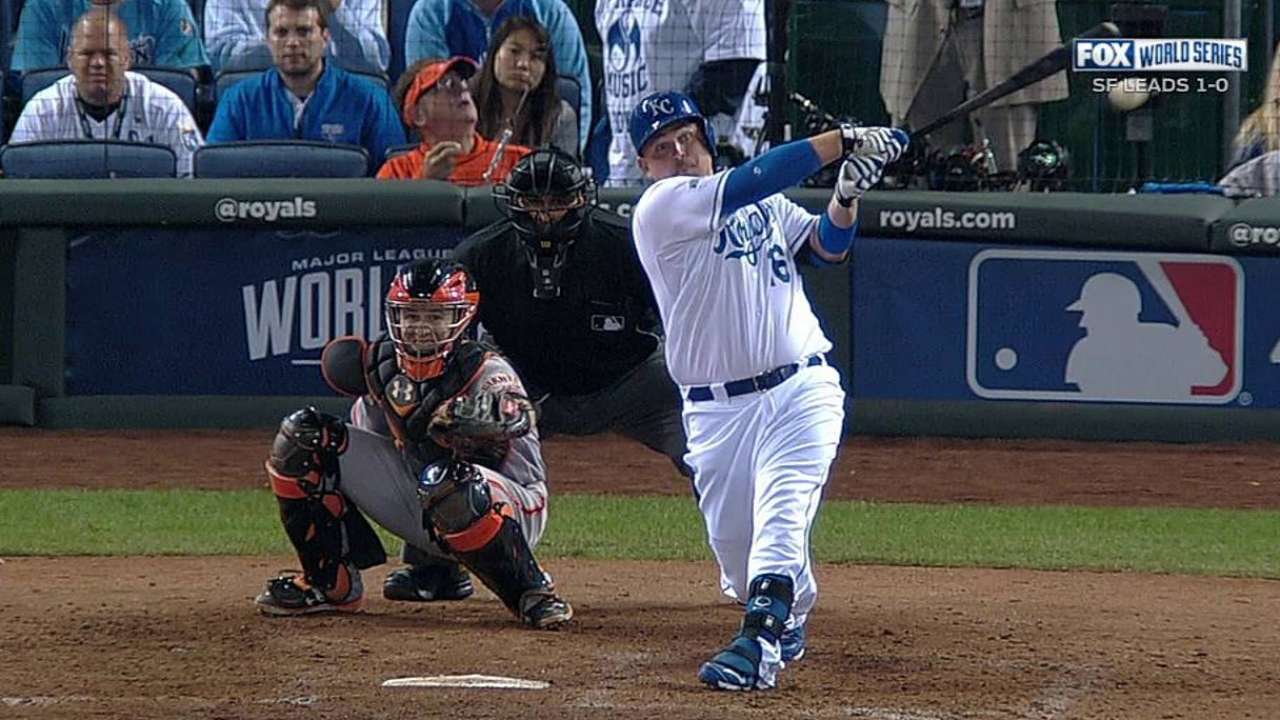 "The first pitch, he tried to pick a set to slide," Cain recalled. "In my mind, I knew he was thinking about me and I was in his head. He started off 2-0 to Billy, and Billy smoked a line drive and we ended up taking the lead, so that was huge."
It'll be even bigger if those stolen bases materialize again for the Royals, particularly against someone like Hudson, who gave up more stolen bases this season (15) than any of the other Giants pitchers who will start in this Series.
This may be their best chance to run free.
"These teams that we're playing against, they're going to do everything they can do to shut down our running game," Dyson said. "But we're still going to take off, any chance we get. We're not going to go in there and try to run into an out because we're known for running. We're just going to go out there and play our game, and if it presents itself, take advantage of it."
Alden Gonzalez is a reporter for MLB.com. Read his blog, Gonzo and "The Show", and follow him on Twitter @Alden_Gonzalez. This story was not subject to the approval of Major League Baseball or its clubs.