Strickland owns actions, ready for next chance
Young reliever apologizes for incident following Infante's home run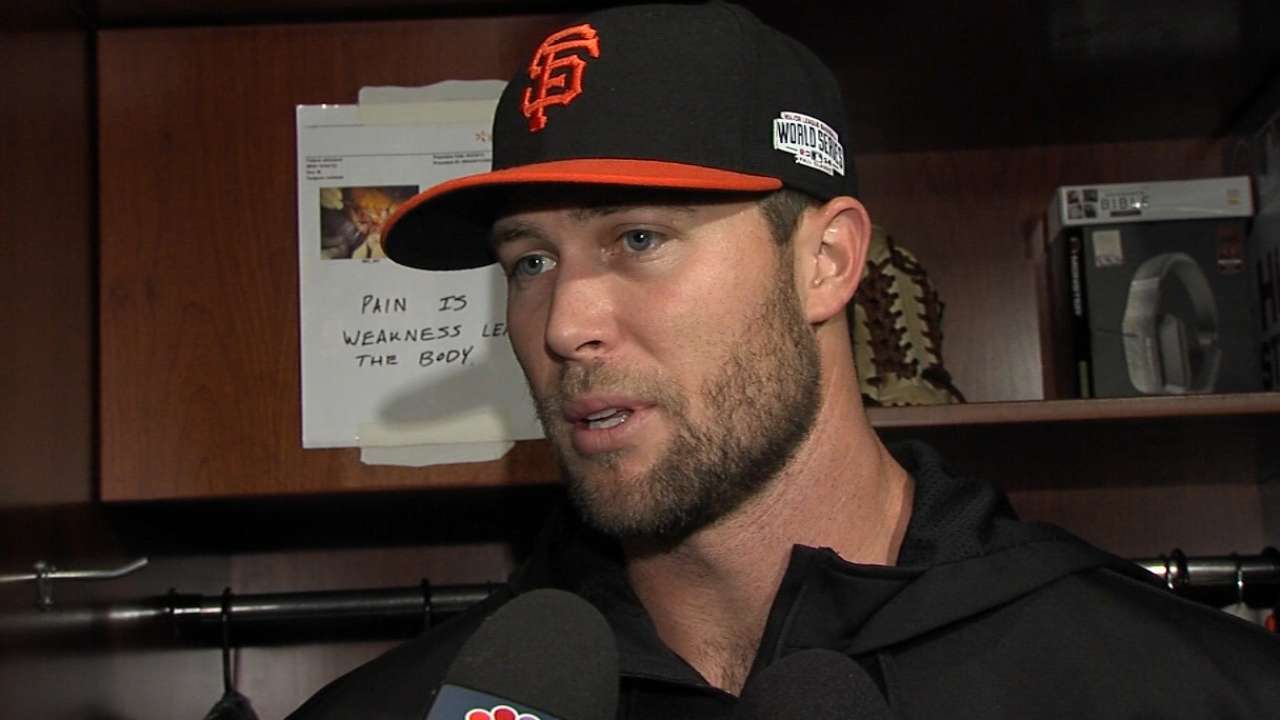 SAN FRANCISCO -- Admittedly, Giants reliever Hunter Strickland didn't sleep very well after a nightmarish Wednesday night in Kansas City.
His dreadful Game 2 performance -- in which he allowed a double and a homer without recording an out -- went from bad to worse when he yelled at Royals catcher Salvador Perez as he crossed home plate, prompting both dugouts to empty briefly.
A day later, back in his home clubhouse in San Francisco, a remorseful Strickland was ready to put all of that behind him.
"Obviously, I'm embarrassed about it," Strickland said during Thursday's off-day. "I was in the moment, and I took it a little too far, and my emotions got to me. There's no hard feelings toward anybody. It's just what happened. I'm not going to deny it. I'm going to own up to what I did. I'm embarrassed in front of my teammates, the organization and all of the fans."
Strickland's struggles this postseason, however, aren't limited to Wednesday night. His playoff ERA sits at 10.13, and he's given up five home runs, tied with Milwaukee's Chris Narveson in 2011 for the most ever by a relief pitcher in a single postseason.
Giants manager Bruce Bochy wouldn't say whether he plans to use Strickland differently after his blowup on Wednesday, but he did say he hasn't lost confidence in the 26-year-old flamethrower.
"He's had ups and downs," Bochy said. "Two days ago, the question was, 'Am I going to use him in the sixth or the seventh?' Now he has a rough outing and [the question] changes. That's how the game goes."
Strickland has already thrown nearly as many innings this postseason (5 1/3) as he had in his entire Major League career beforehand (seven). In his nine regular-season outings -- all coming in September -- Strickland didn't allow a run, and he posted a 0.71 WHIP.
Despite the overall postseason struggles, Strickland had looked sharp against right-handed hitters for much of the postseason, with lefties accounting for all four of his home runs allowed. But Wednesday night was a different story. He faced two righties in Perez and Omar Infante, who have struggled mightily this postseason, and was roughed up.
Still, Bochy insists there's a good chance he'll need to call on Strickland before the series is over, and if he does, he'll do so with the utmost confidence.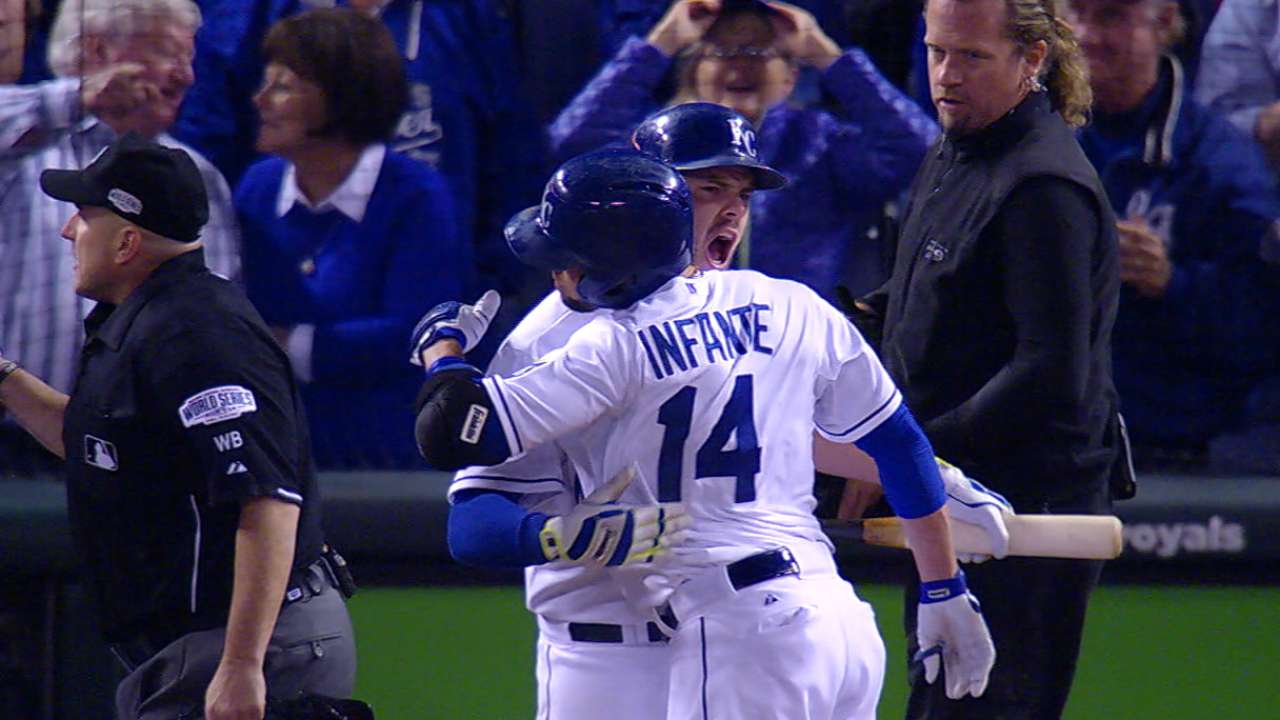 "This is a tough kid," Bochy said. "I was proud of how he owned his actions after the game. He stood up and he said, 'Hey, I made a mistake, I let my emotions get to me there.' But still, he's part of this club, and he's part of this bullpen. We have to have all of these guys ready and we may need them."
Following Wednesday's game, veteran reliever Jeremy Affeldt had a long conversation with Strickland. Affeldt, who said he sees a lot of his young self in Strickland, wouldn't divulge the specifics of their dialogue, but he said if Strickland heeds the advice, "It is stuff that is going to make him a really good baseball player for a long time."
"Failure sometimes drives you, and failure can sometimes make you very fearful," Affeldt said. "I think with Hunter, it drives him. He wants to get better, he wants to be better."
Now, for Strickland, the shorter he has to wait before pitching again, the better.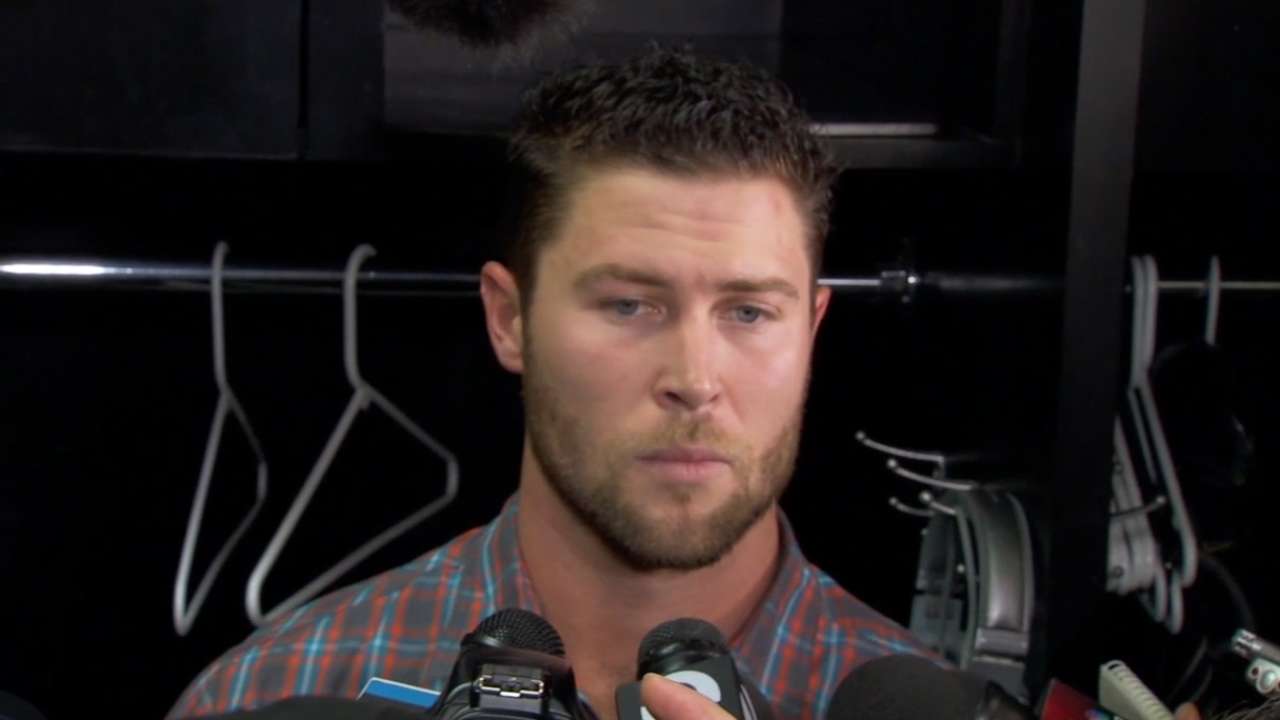 "I didn't do my job, and I haven't been doing my job to the best of my ability this postseason," Strickland said. "But they continue to show confidence in me. I'm honored by that, and I'm ready to get back out there."
What most impressed both Affeldt and Bochy was the way Strickland responded to the incident afterward, apologizing to his teammates and taking full responsibility.
"When you see a guy own it like that -- he's not running from anything, he's not trying to hide from anything," Affeldt said. "It just tells you the kind of quality person that he is."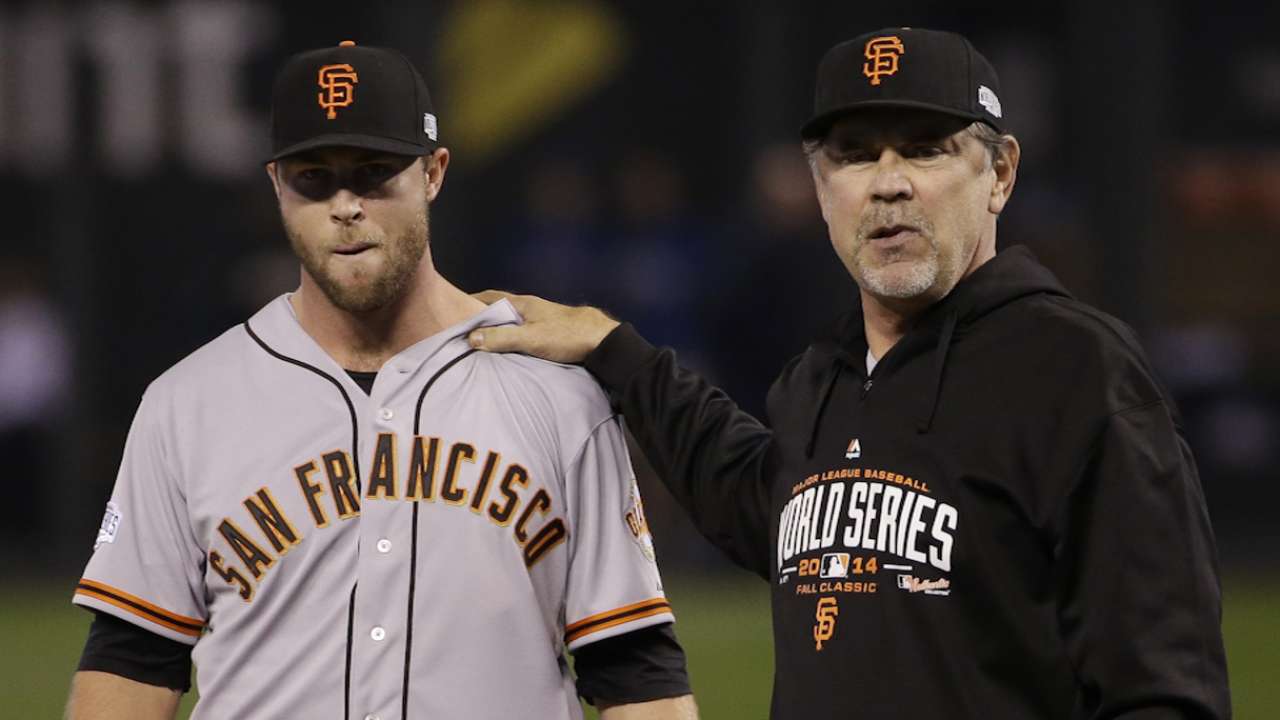 Regardless of Strickland's actions and reactions Wednesday, he insists his focus has already shifted to Friday night.
But at 26 years old, pitching the biggest games of his life, does Strickland feel he has already developed the type of short memory that Affeldt likes to preach?
"I've given up five home runs this postseason," Strickland said. "So I've got to learn pretty quickly."
AJ Cassavell is a reporter for MLB.com. Follow him on Twitter @ajcassavell. This story was not subject to the approval of Major League Baseball or its clubs.