With no DH, Giants look for Morse to adjust on bench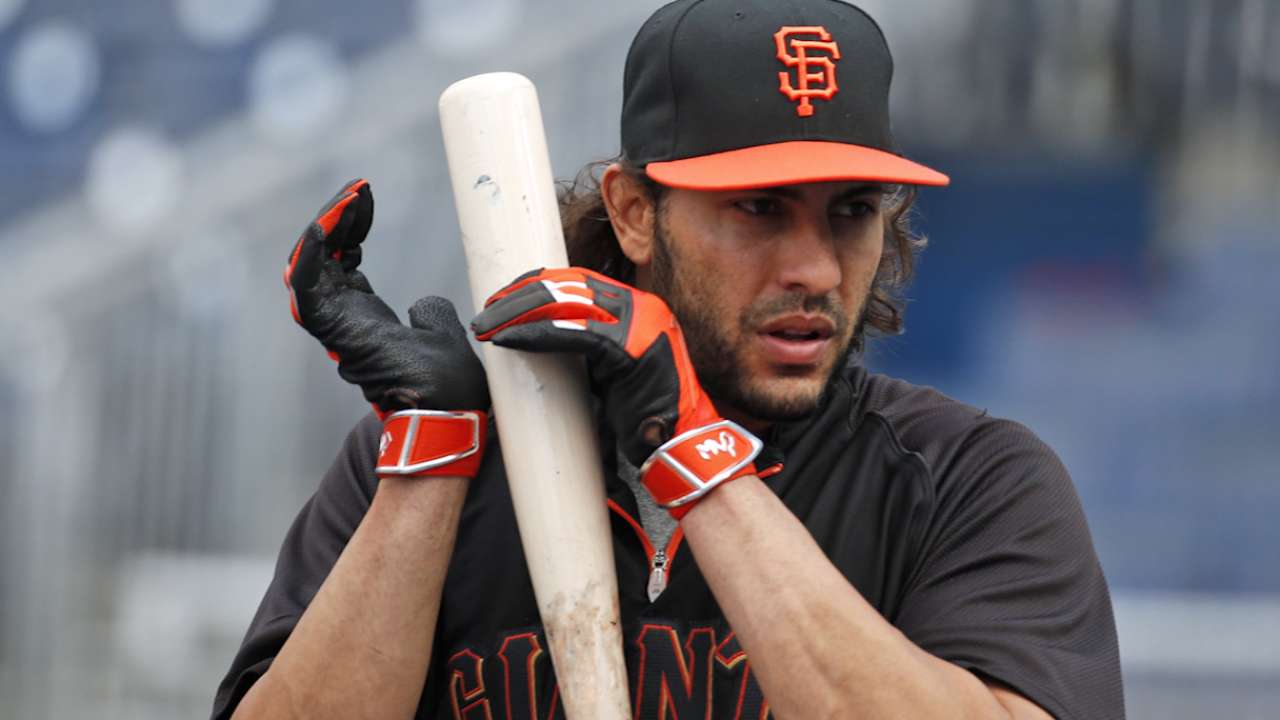 SAN FRANCISCO -- Travis Ishikawa knows the pitfalls of what Michael Morse is dealing with right now, himself having once been relegated from the starting lineup to a pinch-hit role, but that doesn't mean the Giants' current starting left fielder has much advice to impart to his teammate who spent much of the regular season there.
"With that one swing, he has half as many pinch-hit homers as I do, so I don't think he needs any help," Ishikawa said of Morse's eighth-inning, pinch-hit home run to tie Game 5 of the National League Championship Series. "He seems to be doing good. He has his right mindset, he has his routine that he does, you don't want to mess with that right now."
With the World Series using National League rules -- no designated hitters -- at AT&T Park for the next three games, Morse will once again be used off the bench as a pinch-hitter. Ishikawa thinks Morse -- who started 125 regular-season games -- has approached the change with the right mindset, which Ishikawa believes is the key.
"When you're used to playing every day, you're used to knowing you'll get three or four at-bats, and you can adjust your approach to the pitcher with what you want to do," Ishikawa said. "When you're coming off the bench and know you'll only get one at-bat, you have to change your mindset because you're only going to get that one at-bat."
Morse made the most of his appearance in Game 5 against the Cardinals, blasting an eighth-inning home run that tied the game. He had been 1-for-6 as a pinch-hitter in the regular season.
The biggest adjustment he's had to make to his new AT&T Park role?
"Try not to eat too many sunflower seeds?" quipped Morse, who's 4-for-12 with a homer and two RBIs this postseason, on Thursday evening. "You get more time to go in the cage and get ready for an at-bat. You've got to watch the game and be your own manager, see when you can be used.
"Usually it's a big spot, there's a lot of pressure, but you've got to just relax and fight to have a good at-bat. You know you're only going to get one at-bat, and you want to make the most of it."
That's precisely the adjustment Billy Butler will have to make for Kansas City in Game 3 on Friday night.
"You lose a quality hitter like Billy Butler, but you also, like I explained to Billy, and Billy understands completely, 'Hey, you can win a ballgame off the bench in the seventh inning just as well as you can getting four at-bats,'" Royals manager Ned Yost said. "It's a crucial, crucial spot to be your No. 1 pinch-hitter, your high leverage pinch-hitter in a game like this. So he's ready for it."
The American League team is typically at a disadvantage in NL parks when it loses a bat, and AL teams are 7-15 on the road in National League parks during the World Series since 2006. However, the Royals were 8-2 in NL parks this season.
Ryan Hood is an associate reporter for MLB.com. Follow him on Twitter @ryanhood19. This story was not subject to the approval of Major League Baseball or its clubs.