MLB.com Columnist
Anthony Castrovince
Path to World Series ultimate test of best teams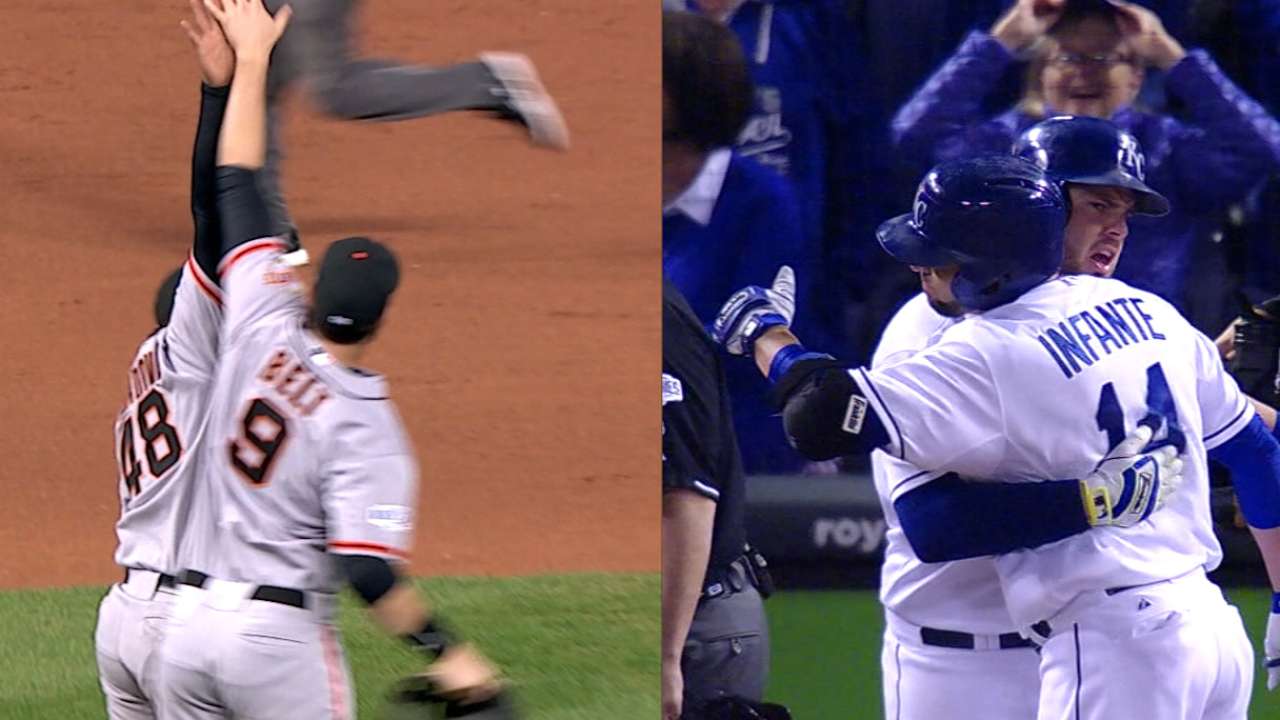 SAN FRANCISCO -- There was a mid-game moment in Game 2 of this World Series when two competitors, two guys representing teams trying to crush each other's dreams, had to turn to each other and smile. It was in the midst of a pitching change when Eric Hosmer took a moment to soak it all in and congratulate Hunter Pence on reaching this point of the postseason.
"Man," Hosmer said to Pence, "it's unbelievable to be here right now."
Two games in to the Fall Classic, it's still surprising that the Royals and Giants, two Wild Card teams are here, isn't it? But don't make the mistake some have made -- in print, on radio, on television, or in casual conversation -- of taking the makeup of this matchup as some sort of indictment of the setup itself. Anybody pooh-poohing this Fall Classic is missing the point of the postseason.
"This whole tournament is about getting hot at the right time," Royals manager Ned Yost said. "It's about playing a 162-game season to qualify for this tournament. So you have to fight 162 games to qualify for it. And once you qualify for it, then you darn well better get hot in a hurry, or you're going home. And you'd better stay focused."
The goal of the postseason is -- as it should be -- determining a champion, and this has been the case for so darn long that to complain about the impurity of the playoffs is to sound like a dinosaur.
There is a clear parallel between baseball's October format and the NCAA's March Madness. Both are endlessly entertaining, except one draws protests from purists while the other draws raves (and crumpled brackets).
Oh, sure, there was a time when baseball's regular season had inherently more value. But it also, I'd argue, had inherently less intrigue. There was a time when the Yankees were routinely the "best team in baseball" and, ergo, routinely advanced directly to the World Series, where they often cemented that status. If you were a fan of, say, the Washington Senators, you quite literally had no hope. That is, after all, why the Senators inspired a Broadway musical called "Damn Yankees."
Expansion to the division format in 1969 expanded hope. Expansion to the Wild Card format in 1995 doubled down on that hope and made it all the more challenging to buy yourself a title. And the most recent expansion in 2012 -- to a 10-team postseason format in which two Wild Card clubs have to play each other for the right to get to the Division Series round -- provided the low-seeding disadvantage so many of us desired as a means of promoting more fairness in the format.
So now more than ever, the regular season is about seeding, plain and simple. Maybe a club that survives the grind of 162 games and comes out with the best record in baseball has an argument as the "best team in baseball." But it's strictly semantics, and no one really cares. The conversation is too ripe for unsolvable debate about the strength of division schedules or the manner in which those victories were accrued. And if there's no hardware to be handed out or coronation to be held or bonus check to be cashed, what difference does it make?
All that matters over those six months is how you position yourself for this month. And once you make it to this month, all that matters is how you perform in what is, truly, a season unto itself. A season with extra off-days, a season with extra scrutiny over every single managerial move, a season with extra focus on each and every pitch.
"It's the ultimate pressure," said Giants general manager Brian Sabean, who, at this point, would certainly know. "You have to play your best baseball with a lot of eyes on you and everything counting so much."
Clubs who do what the Giants and Royals have done these last few weeks should be celebrated, not critiqued. Heck, win or lose in the coming week, if any team has an argument as the "best in baseball," it's Sabean's Giants, simply because they've risen above the ranks in this October crapshoot more convincingly than anybody else these last five seasons.
The Giants were a Wild Card club? So what. In '14 -- as a function of revenue sharing, of the predominance of young talent, of the spate of pitching injuries, of the relative absence of offense, among other factors -- the talent gap between a No. 1 seed and a Wild Card is not exactly vast. The best records in baseball this season belonged to the Angels (98 wins) and the Orioles and Nationals (96 wins), but they weren't leaps and bounds better than the Wild Card clubs. They were all good teams that put themselves in great position to advance in October. That's really all you can ask of the regular season.
"This job -- or a team itself -- is all about crisis management," Sabean said. "And you evolve one way or another. Some years you morph into something bigger and better, other years you can't figure it out and you're pushing against the tide. But each year is so different and so challenging, because there's so much parity and every year is a shotgun start. You really have to earn it. You have to earn your way to the playoffs, and you have to earn your way through the playoffs."
The Giants and Royals earned it. So give them credit. Neither club stumbled upon some secret formula -- although they do both lend credence to the belief that you need a strong bullpen and capable gloves to stay alive in October -- but both found the necessary cohesion to make this a magic month.
Some people are focused on the wrong things right now. They're saying a World Series matchup such as this invalidates the regular season. They're pining for a time when excellence was established over 162 and then rewarded with an automatic World Series berth.
If you're saying a World Series matchup such as this undermines the regular season, you're focusing on the wrong thing. Because right now, baseball has a format in which championships cannot simply be bought, when the postseason is unprecedentedly unpredictable, when a guy like Hosmer, who had an OPS+ below league average this season, can enter October a project and leave it a star.
"It's a different animal," Hosmer said. "It really is."
It's unbelievable. As it should be.
Anthony Castrovince is a reporter for MLB.com. Read his columns and follow him on Twitter at @Castrovince. This story was not subject to the approval of Major League Baseball or its clubs.