Lincecum undergoes MRI; Bochy remains optimistic
Giants skipper believes righty may be able to pitch again in Series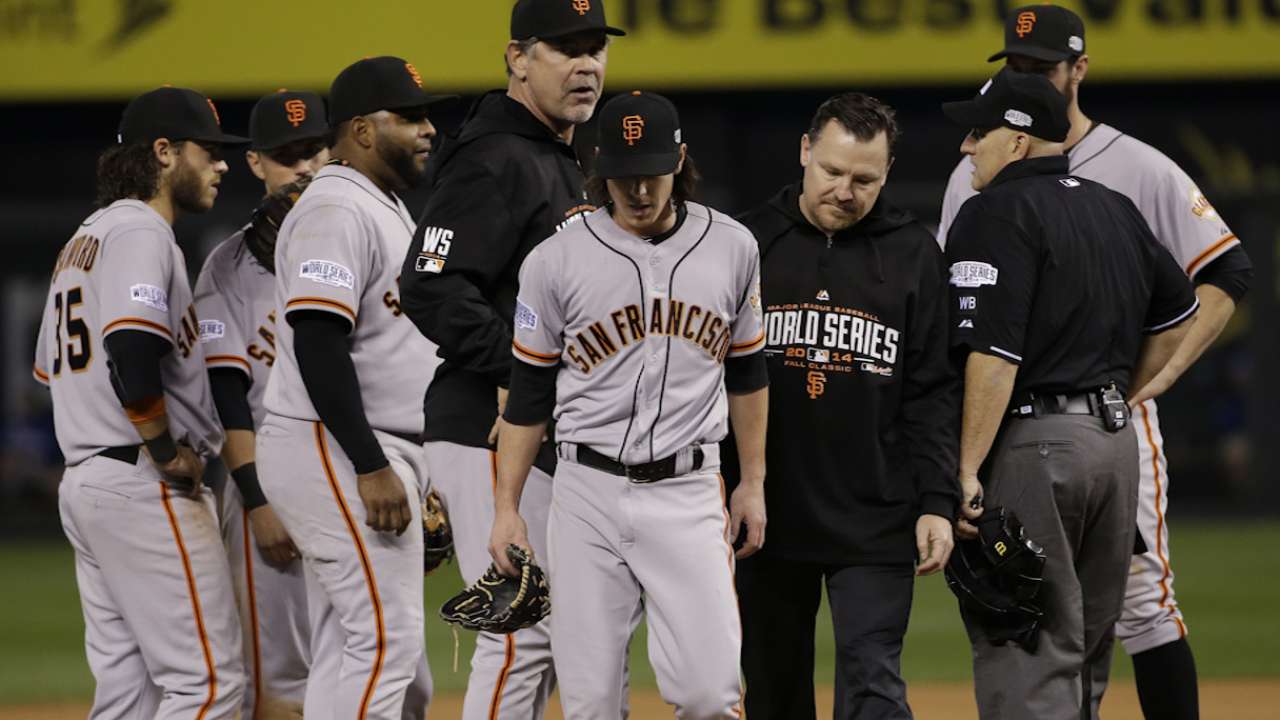 SAN FRANCISCO -- A day after Tim Lincecum left Game 2 of the World Series at Kauffman Stadium because of tightness in his back, Giants manager Bruce Bochy was decidedly upbeat about the extent of the injury, which occurred during the veteran right-hander's first outing of the postseason.
As the Giants worked out at AT&T Park in preparation for Friday night's Game 3 against the Royals, Lincecum was offsite undergoing an MRI to evaluate the nature of the damage.
With the best-of-seven Series tied at one game apiece, Bochy speculated that Lincecum should be ready to pitch.
"Timmy feels pretty good today. He's getting an MRI as we speak," Bochy told the media on Thursday. "I'm more encouraged because he feels well, but still we have to cover ourselves and get this MRI. So I can probably answer the question better once we get the result. If something's going on, then it's obvious we'll have to make the change. But my hope is he's fine, and if he is, then I think he'll be good to go [Friday]."
The two-time National League Cy Young Award winner had a tough week. He missed introductions of both teams prior to the Giants' 7-1 victory in Game 1 on Tuesday night because of a sudden bout with stomach flu. After then waiting the entire playoffs to make an appearance, Lincecum lasted all of 23 pitches on Wednesday.
Lincecum's final pitch to Royals catcher Salvador Perez, coming with two outs in the eighth inning of a 7-2 loss, bounced to the plate as Lincecum did a little flip on his follow-through. Trainers went to the mound, and he immediately left the game.
"It was just the pitch before the last one; I felt something tighten up in my back," Lincecum said after the game. "I just decided not to go any further."
Bochy had been going round by round this postseason looking for an opportunity to use the one-time starter, who won 12 games this past season, but hadn't made a relief appearance since Sept. 28, the final day of the regular season. The opportunity presented itself on Wednesday after the Royals scored five runs against five Giants pitchers in the sixth inning to wipe out a 2-2 tie.
Lincecum came out of the bullpen to start the seventh inning and worked flawlessly into the eighth, retiring the first five batters he faced. The injury occurred on a 2-2 pitch to Perez, and when Lincecum left the mound, Santiago Casilla finished the at-bat, striking out Perez swinging on his only pitch.
Considering the fact that rookie right-hander Hunter Strickland gave up his fifth homer of the postseason in the sixth -- a two-run shot by Omar Infante -- Bochy might be more inclined now to use Lincecum in critical situations.
"Well, I think with the long layoff it showed that he continued to work in the bullpen," Bochy said. "He had a great session [during a club workout this past Sunday], so he showed good command. He looked comfortable out there. I didn't like the score, but I was glad I was able to get him out there and get him some work. I know he has to feel good about that outing. I know we do, so he could play a bigger role now if he's healthy."
Lincecum's postseason resume includes a 5-2 record and 2.40 ERA in 13 appearances -- six starts -- since the Giants began going to the playoffs in 2010, winning the World Series that year and again in '12. As a starter in 2010, Lincecum went 4-1, including two wins during his club's five-game World Series victory over Texas. Two years ago, when the Giants swept the Tigers, Lincecum was relegated to the bullpen; he made six postseason appearances, two of them scoreless and hitless in a span of 4 2/3 innings during the World Series.
This postseason, Bochy has been reluctant to use him, even in relief. Despite pitching one of his two career no-hitters earlier in the season, Lincecum hasn't made a start since Aug. 23. But he doesn't think the long layoff had anything to do with the sudden injury.
"I don't think so, just because I've been on the mound a few times in bullpen sessions," Lincecum said on Wednesday. "I've been trying to go full bore in those, so I don't think it's an injury that has anything to do with that. I've had this at times, but I don't think it's linked to any direct thing."
Barry M. Bloom is a national reporter for MLB.com and writes an MLBlog, Boomskie on Baseball. This story was not subject to the approval of Major League Baseball or its clubs.