Rags-to-riches story for Giants' pitching staff
Under Righetti's leadership, hurlers key to club's recent title drives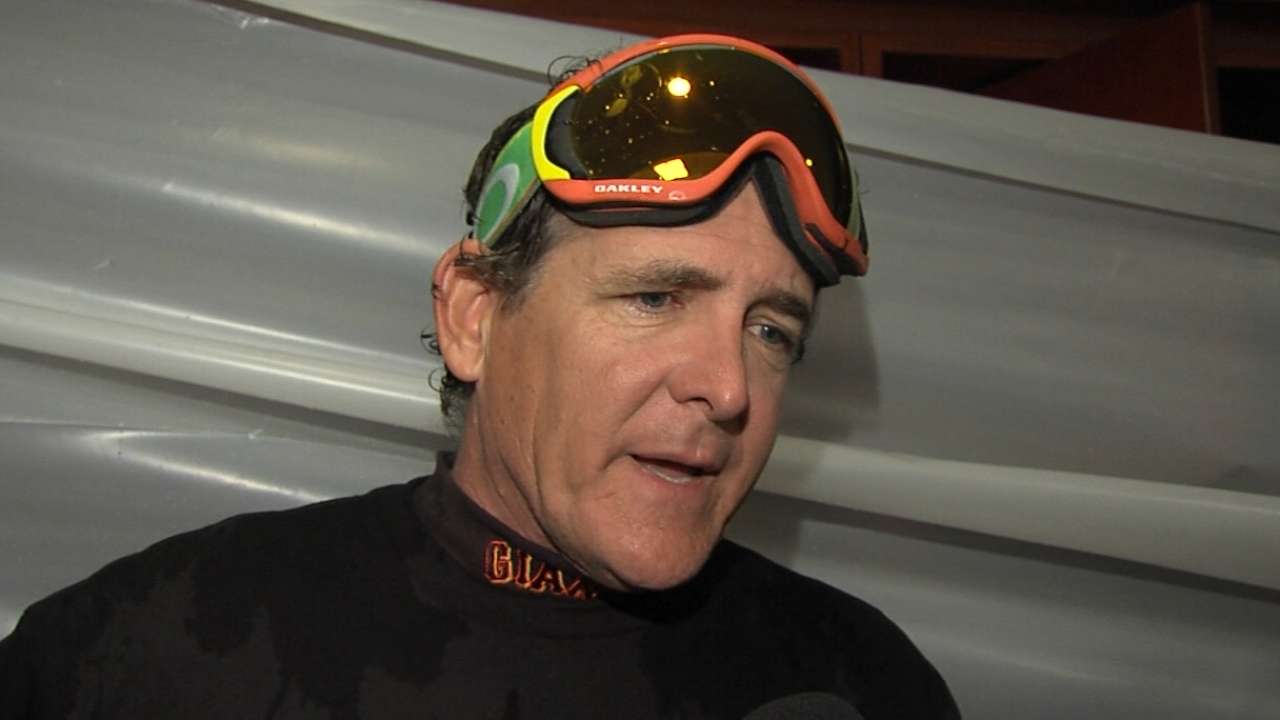 SAN FRANCISCO -- When a new manager joins a new Major League Baseball team, it is customary for new staff members to accompany him. Managers like to bring in coaches whom they trust, coaches whom they have known for decades.
Yet, when Bruce Bochy came to San Francisco prior to the 2007 season, he made the unorthodox move of keeping longtime pitching coach Dave Righetti -- a relative stranger -- on staff. At the time, Righetti said, he was wary of Bochy "inheriting" his services as opposed to actually wanting them. But Bochy assured him that all was well, and so Righetti remained a Giant.
Eight seasons later, the marriage is thriving for a franchise that, in winning three National League pennants in five years, has become far better known for its rotations and bullpens than its lineups.
One of the few constants through it all has been Righetti, who will be in the dugout once again when the Giants take on the Royals in Game 3 of the World Series on Friday (4:30 p.m. PT airtime/5:07 p.m. first pitch on FOX).
"We've pitched," Righetti said in simple explanation. "We have to pitch good."
How much of the Giants' mound success has been the direct work of Righetti -- as opposed to scouting, drafting and development -- is impossible to quantify. But consider the pitching staff's accomplishments over the past six years alone. The Giants led the league in ERA once, finished second twice and in the top 10 two other times. Over that same stretch, their bullpens also finished in the top two in ERA three times and the top 10 five times.
World Series Game 2 starter Jake Peavy was well aware of Righetti's reputation when the Red Sox traded him to San Francisco earlier this season. The two almost immediately began working on a series of mechanical tweaks, which greatly improved Peavy's command within the strike zone. He stopped nibbling and started hitting the corners. As a result, Peavy's walk and home run rates plummeted, taking his ERA down with them.
That has been a specialty of Righetti throughout his 14 years as pitching coach. A 2011 FanGraphs analysis by Jesse Wolfersberger concluded that Righetti, more than any other pitching coach in baseball, has been able to reduce his pitchers' expected home-run-to-fly-ball ratio. Limiting homers also just so happened to be the 1981 Rookie of the Year and two-time All-Star's greatest strength throughout a 16-year playing career with the Yankees, Giants and others; over the past 35 years, only 15 pitchers with at least 1,400 innings have given up homers at a lower rate than Righetti.
"He brings everything to the table," Peavy said. "There's not a situation that you're going to be faced with that Dave Righetti hasn't been faced with at some point in his career. When you have that experience on your side, when you have the experience and the years that he's had as a pitching coach, seeing so many different guys mechanically, when you have the experience that he has to offer on the preparation side, he touches it all. He's a special, special pitching coach as he's proven time and time again with what he gets out of every one of his guys."
This year's playoff rotation consists of a left-hander with one of the quirkiest deliveries in the Majors (Madison Bumgarner), a former fastball-slider guy who now leans heavily on a cutter and curve (Peavy), one of this generation's foremost sinkerballers (Tim Hudson) and a journeyman whose career Righetti helped salvage (Ryan Vogelsong). The bullpen is an entirely different animal, featuring Santiago Casilla's gas, Sergio Romo's slider and Javier Lopez's dropdown delivery, among other quirks.
Over the past six years, that cast has combined to allow the fourth-fewest homers in baseball. Some of is due to the ballpark they play in. Some is due to their talent. Much is due to Righetti.
"He understands how guys think," reliever Jeremy Affeldt said. "He never panics. He never gets frustrated. He seems to understand hitters and what they can do. He just knows how to talk to guys. I have a huge, huge amount of respect for Rags."
Anthony DiComo is a reporter for MLB.com. Follow him on Twitter @AnthonyDicomo. This story was not subject to the approval of Major League Baseball or its clubs.