Giants' success a testament to Sabean's blueprint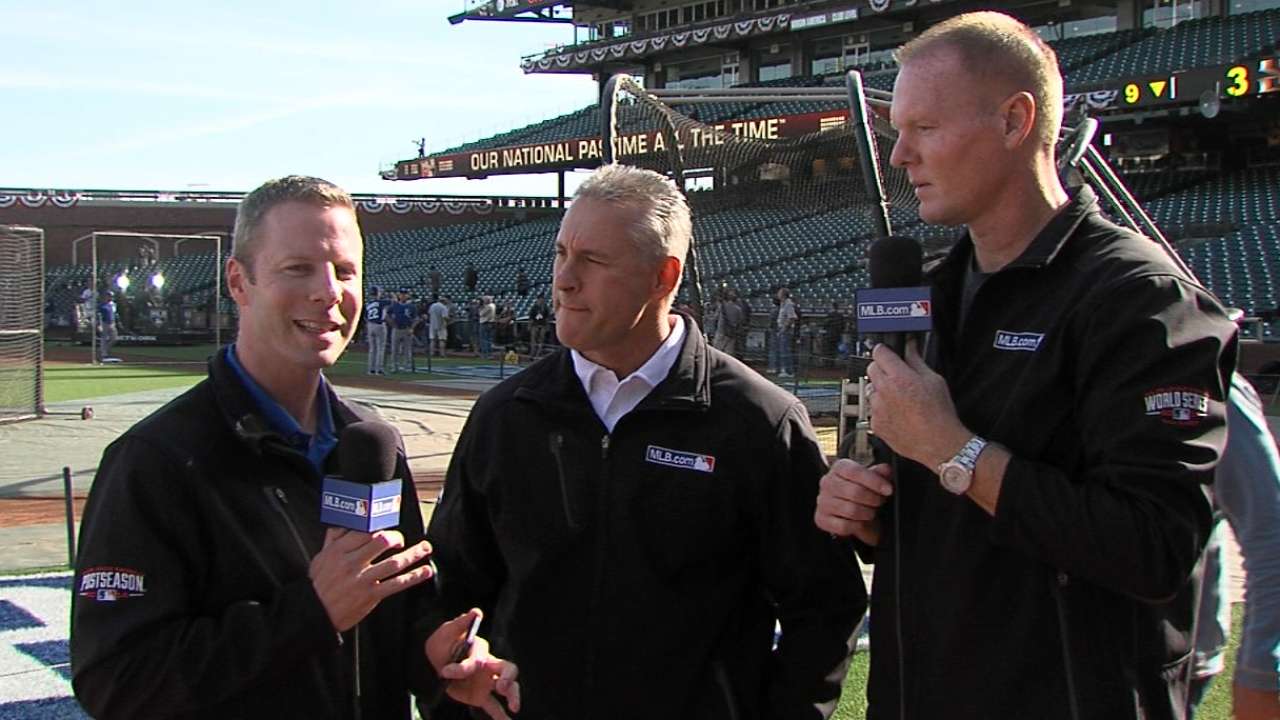 SAN FRANCISCO -- A ballclub's general manager is often referred to as its architect. In that sense, Brian Sabean has built something enduring, at least as much as the fragile nature of the game's success allows him to do.
The Giants are in the World Series again and have a chance to become the National League's second team to capture three Fall Classics in five years, matching St. Louis (1942, '44, '46).
Ask Sabean whether he's created a dynasty, and he'll respond in characteristic fashion -- deflecting praise yet at once expressing confidence.
"I won't use that word. That's for somebody else to write," Sabean said. "I guess you're saying we're pretty [darned] good."
Good enough to have won eight consecutive postseason series and 16 of their last 19 postseason games. Tied 1-1 with the Kansas City Royals entering World Series Game 3 on Friday at AT&T Park on FOX (air time at 4:30 p.m. PT/5:07 p.m. first pitch), the Giants believe they can tip the balance in their favor. That assurance begins with Sabean, who assembled a roster of performers filled with belief in themselves and each other.
Sabean laid his bricks over a period of years. The Giants reached this year's Fall Classic with a postseason roster that includes 11 players raised in their farm system, as well as two others (first baseman/left fielder Travis Ishikawa and right-hander Ryan Vogelsong) who were originally drafted by the Giants.
Six of those homegrown Giants -- left-hander Madison Bumgarner, third baseman Pablo Sandoval, catcher Buster Posey and right-handers Tim Lincecum, Sergio Romo and Matt Cain (who's sidelined following elbow surgery) -- performed on all three clubs and won World Series rings in 2010 and '12.
They're joined by three others seeking their third Series ring as Giants -- relievers Jeremy Affeldt, Javier Lopez and Santiago Casilla, who were acquired between the 2009-10 Trade Deadlines.
Sabean believes that this continuity helps create a winning culture.
"I think that all gets passed on," he said. "They're links in the chain, truly team players. It's not a star system."
As Vogelsong said, "We've got 25 guys who know what they need to do that day."
Outside forces constantly threaten the Giants' professional bond, since that's part of baseball's circle of life. For instance, the Giants must decide what to do with Sandoval, a hugely popular figure who's eligible for free agency after this season.
"The game's getting complicated because of payrolls and fan bases being so rabid," Sabean said. "The one thing that's good about this recent run is that we've been able to keep this core group together. Evey year, you have to make a lot of tough choices. And there'll be a lot of tough choices at the end of this year. You have to stay in the moment. Your season's never what you expect. There's a lot of crisis management."
This was illustrated in early August, when the Giants finally settled on Joe Panik as their everyday second baseman after Brandon Hicks, Marco Scutaro, Ehire Adrianza and Dan Uggla couldn't hold the job for one reason or another.
Sabean, baseball's longest-tenured GM with 18 years' experience, is quick to credit manager Bruce Bochy and numerous others for helping the Giants thrive. Sabean has been assisted since the outset of his Giants tenure by player personnel director Dick Tidrow. Assistant GM Bobby Evans actually joined San Francisco's baseball-operations department before Sabean did. Numerous scouts, player-development officials and on-field personnel have remained with the Giants for the bulk of their careers. They're rarely, if ever, mentioned in the media.
However, Sabean said, "Those guys are worth their weight in gold."
He added, "The good thing is that we have a lot of long-term employees, a lot of smart people. We have a lot of collective collaboration that has helped sort a lot of things out."
Chris Haft is a reporter for MLB.com. Read his blog, Haft-Baked Ideas, and follow him on Twitter at @sfgiantsbeat. This story was not subject to the approval of Major League Baseball or its clubs.