MLB.com Columnist
Mike Bauman
Band of brothers: Team-first mentality the key for Giants
Club has three Series berths in five years on strength of its camaraderie, spirit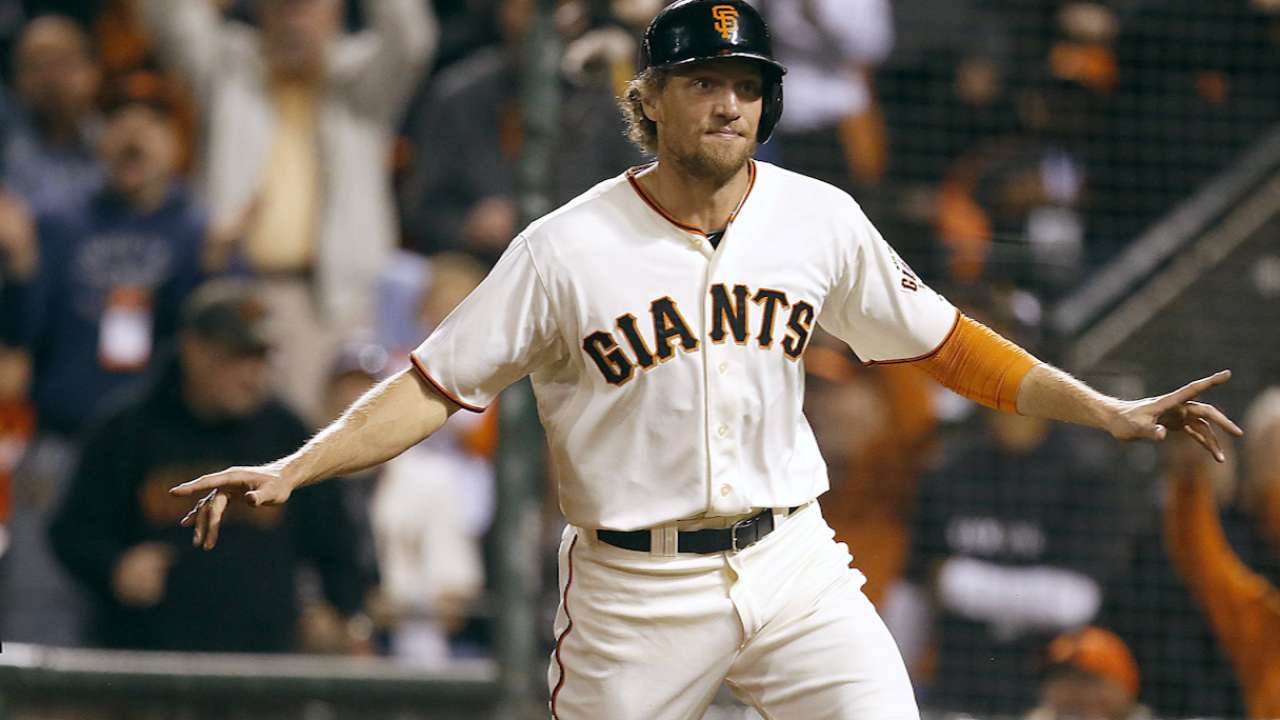 SAN FRANCISCO -- The Giants are the classic case of the whole being greater than the sum of its parts.
Put them up, man-for-man against some other teams, and maybe the other guys seem more impressive. But put the Giants together and they're in the World Series for the third time in five years.
The Giants will resume trying to win their third World Series in five years, with Game 3 of the 2014 Fall Classic set for Friday at AT&T Park (4:30 p.m. PT airtime, 5:07 first pitch on FOX).
The Giants have a relentless quality to their play, particularly in the postseason. They are just as relentless in describing their familial approach to baseball, their camaraderie, their spirit, their affection and admiration for each other. You cannot keep them off this topic.
"We play as a band of brothers," is the way starting pitcher Jake Peavy puts it. Hearing this for the first time, you might raise an eyebrow. Hearing it from practically everybody on the Giants' postseason roster, repeatedly, you might as well believe.
When Giants manager Bruce Bochy is asked about the strength of his team, this is how he responds:
"I think it's a balanced club, but I'd say more than anything is just the spirit they play with. I mean, they play for each other and they're a very unselfish group. They're not caught into their own agenda, and they'll do whatever is best for the club.
"We've asked guys to go in different roles and no one has ever complained. They just want to get to where we're at now, and they don't care how we get there. They don't care if it's their way, they just want a way to get there. That, I think, is their strength."
"The will and the want to win of those guys in that clubhouse is pretty special," Peavy says. "It's the same desire that we had last year [with the Boston Red Sox].
"We have a little bit different way of going about it, but at the end of the day, we found our identity. We know who we are. We know how we need to win. We know the things that are critical for us to do. When you identify who you are and you play together, you have a chance to make things happen.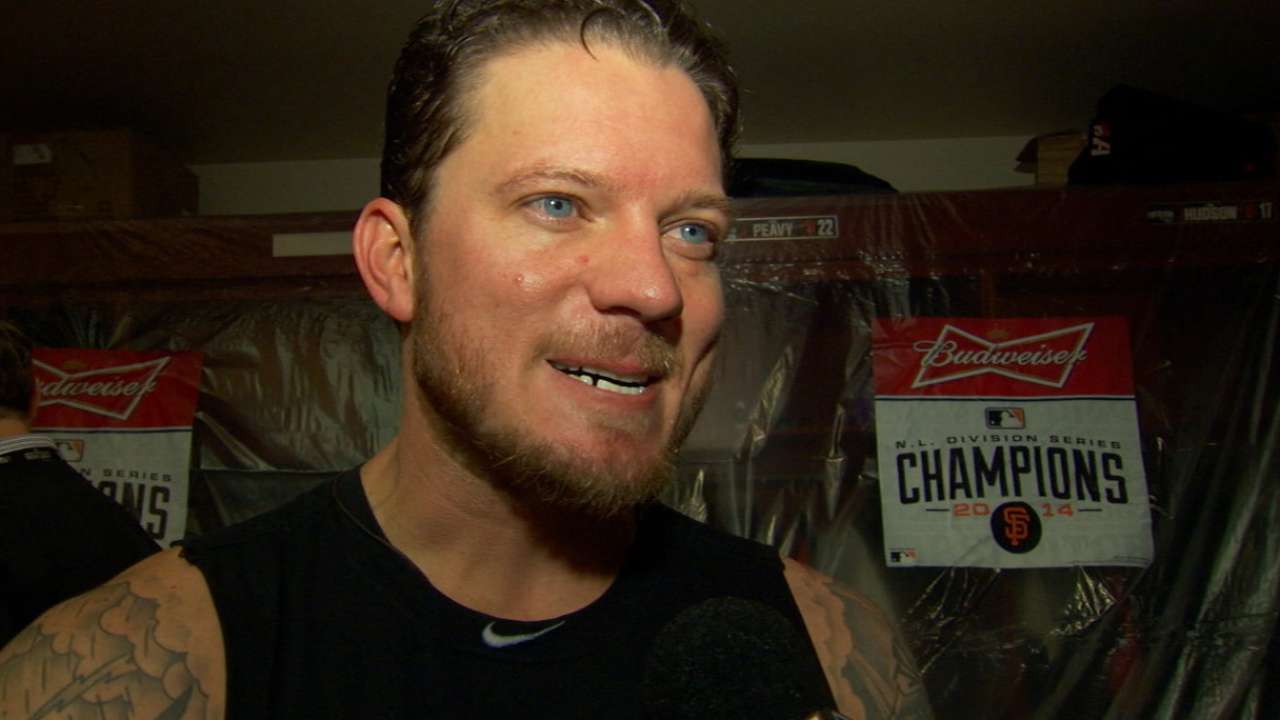 "There's a certain way that this team goes about playing the game that's special, and that has to be realized at this point in time when you've advanced this far and have been fortunate enough to have beaten the great teams that we've beat to get here. We play as a band of brothers, so to speak. A unit. We're not going to do anything individually. Not one person can win or lose that game. We understand that. And the coaching staff constantly reminds us and we constantly remind each other that this is a team effort."
The relentlessly positive clubhouse presence of right fielder Hunter Pence gives the Giants an edge no other club can have.
"We have a mascot on our team named Hunter Pence," Game 3 starting pitcher Tim Hudson said with a smile Thursday at AT&T Park. "I mean, that guy, he's full of energy, man. I tell you what, he brings some excitement and some fire to your team that money just can't buy. When things start getting a little bit stale in the dugout and the locker room, he's a guy that always seems to bring that energy, and helps you bring a smile to your face. Man, you know what, this guy is in it. He's in it to win it, and you can't help but want to follow in his lead.
"He has all these cheerleading chants. I don't know how much coffee he drinks every day, but it's more than y'all, I can tell you that."
And so, the Giants develop the best, most useful sort of clubhouse and organizational culture.
"I think it really plays a huge role in our success to have the continuity, especially with your core players," Bochy says. "I mean, those guys have set the culture. They have a great way of making the new guys feel comfortable, and the Joe Paniks, the [Andrew] Susacs and the young guys that come up.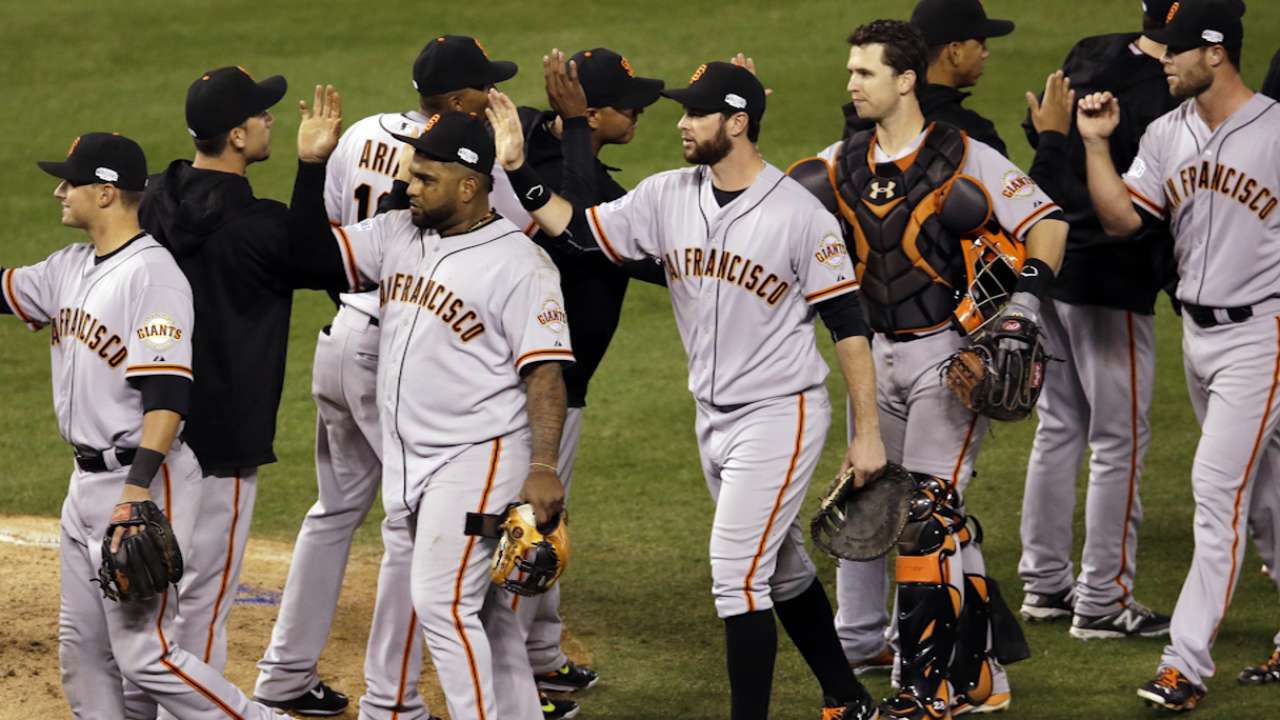 "That's invaluable because there is a lot of pressure when you come up in the Major Leagues, and when you have a sense of comfort with your teammates and they make you feel comfortable, it makes that transition to the big leagues a lot easier.
"So we're fortunate to have the great continuity, but [also] great guys that take it upon themselves to help each other.
"I think that's a big reason for a lot of our success is that these guys play for each other, they care about each other and they try to help each other every day."
That is apparently the Giants way. And it ends up being the way to have a real shot at winning three World Series in five years.
Mike Bauman is a national columnist for MLB.com. This story was not subject to the approval of Major League Baseball or its clubs.