In first five years, Posey evoking legendary backstops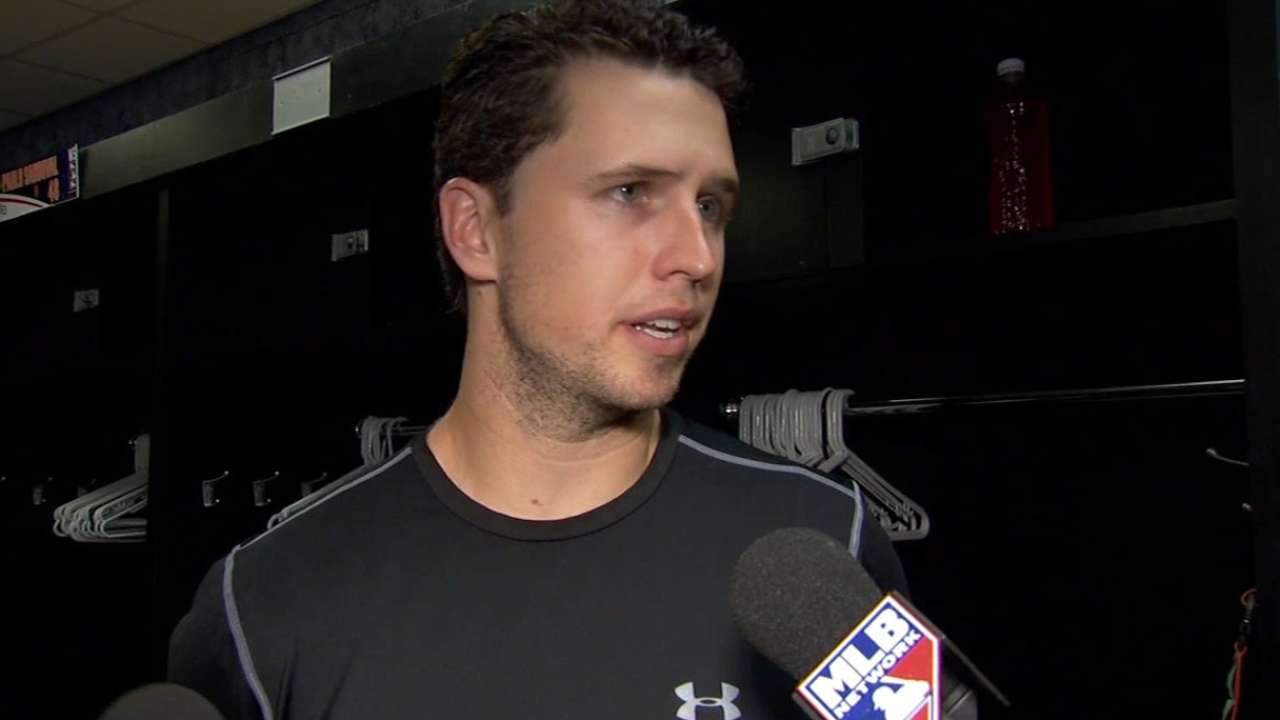 It doesn't take an expert in the art of catching to realize that Buster Posey is a special player off to a rare start to his Major League career. Rookie of the Year and Most Valuable Player honors speak to his individual talents. Two World Series rings with a third hanging in the balance are testament to his leadership qualities, both behind and beside the plate. Doesn't take a genius to figure out that's something special, something historic after just five years.
Giants manager Bruce Bochy is in fact an expert in the art of catching, chief among his many assets as the dean of active Major League skippers. His perspective of having worn the so-called tools of ignorance for a decade in the Majors is at the very root of his wisdom on the top step of the dugout for two decades since. His opinion on Posey is uniquely qualified.
As Posey makes his way through a third trip to the Fall Classic in five years, you can count Bochy among those who believe the 27-year-old catalyst of the Giants' run of success is putting himself in very rare air, indeed.
"I think with the sample size, which is pretty big now, with five years and the success that we've had, Buster's really going to be one of the elite catchers of all time in the game," Bochy said as the Giants embarked on their latest quest for the ring this week. "With how good he's been for us, he's been instrumental to our success. He's a guy hitting in the heart of the order, running the staff. We're very fortunate to have him, I know that. He's just a special player."
Posey will be at center stage, as usual, when the Giants host the Royals for Game 3 of the World Series on Friday night, with an air time on FOX of 4:30 p.m. PT and a first pitch of 5:07 p.m. It will be Posey receiving that first pitch from Giants starter Tim Hudson, and Posey coming to the plate in the bottom half of the inning as the No. 3 hitter against Royals starter Jeremy Guthrie -- the pivotal game another notch on Posey's World Series belt as he marches into the history books.
After just five years, it's tricky to put any player in too certain a career classification -- but what a five years it has been already for Posey, and "elite" certainly applies. Especially if he's able to deliver the World Series bear hug for a third time in five years, well, it's going to be hard not to put him in very select company.
Posey's place in postseason history is not so tricky to figure out. A third World Series behind the plate in his first five years? That's rare. Yogi Berra went there four of his first five, winning all four when the World Series was all there was, and so did Jorge Posada in a much later Yankees dynasty, winning three. Johnny Bench went twice, with Cincinnati losing both as the Big Red Machine was just revving up. Nobody else among the best catchers since Bench set the bar for excellence at the position has come close to this sort of success in October so early in his career.
And, while the World Series is baseball's ultimate team accomplishment, make no mistake, Posey hasn't just been along for the ride. He has been dropping signs for a pitching staff that has been key to the team's success, and right in the middle of a batting order that seems to find a way to rally for runs during October.
"We wouldn't be here without him, including the previous two trips," Giants general manager Brian Sabean says. "He's done amazing things with a relative lack of experience, and with the demands and the rigors of the position and the middle-of-the-lineup responsibilities."
Posey has caught every single inning of the Giants' 12-game run so far in 2014. He has been behind the plate for all but two of the 43 games the Giants have played in the postseason since 2010, manning first base twice in 2012. On top of all that, his calm appreciation of the moment is part of what makes him the hub to the Giants' World Series wheel.
"I think just like '10 and '12, it's an opportunity that a lot of people don't get, and I think we're going to try and make the most of it and enjoy playing baseball this late in the year," Posey said as this World Series began.
In terms of his individual career, Posey has years to go to be mentioned alongside Bench and other greats. Bench, for instance, also won Rookie of the Year, but claimed a pair of MVPs in his first five seasons. At about three years younger, Bench's numbers over those first five years dwarf Posey's in home runs (154-83) and RBIs (512-352), although Posey lost more than half his 2011 season to injury and his 2010 season started in late May. Of course, that example is just a narrow segment of what makes Posey or any other catcher valuable, anyway. Posey has won a batting title, too, and his presence behind the plate is among the best in the game.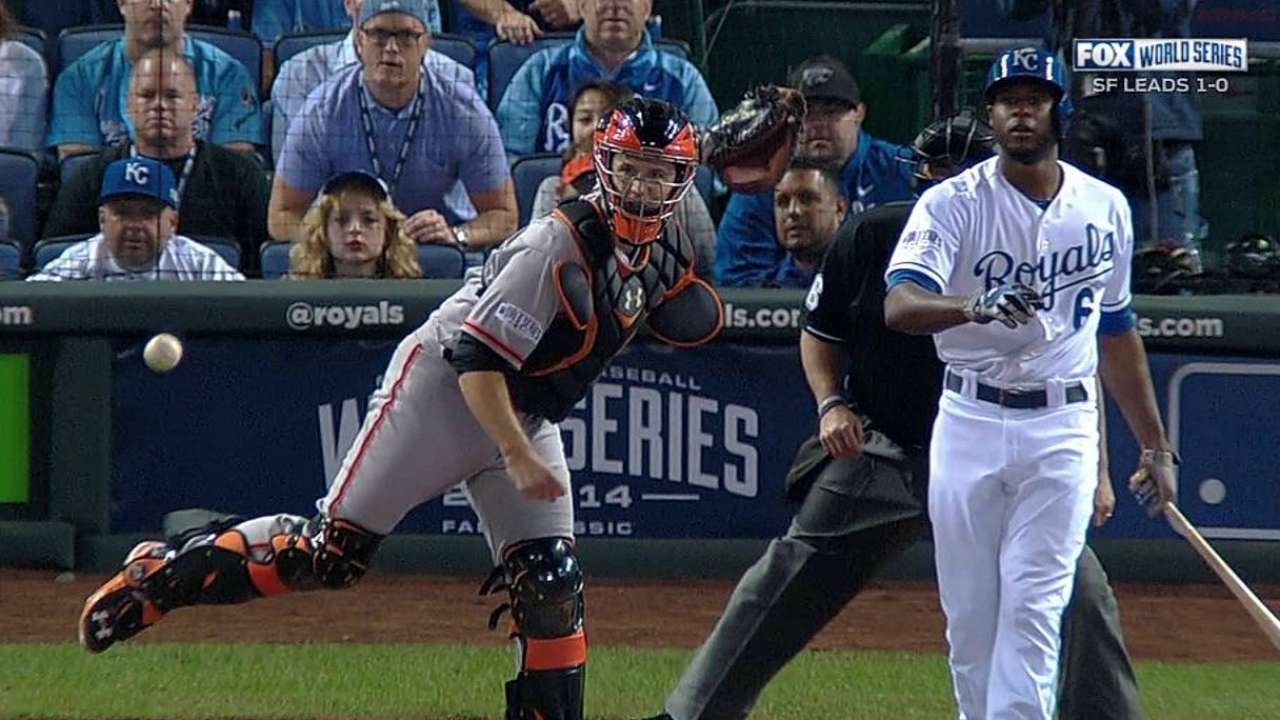 Still, just judging on offense, he's off to a very strong start. Early in his career, Posey's power can't keep up with Bench or Mike Piazza, but he compares favorably offensively with recent stars such as Ivan Rodriguez and Posada. He's on a pace with the kinds of numbers Carlton Fisk and Gary Carter took to the Hall of Fame, too. But it's important to remember this is just a five-year run for Posey, as amazing as it is.
A mere six years ago last June, the Giants knew they had something special in Posey, a Golden Spikes Award winner as the nation's top amateur at Florida State they selected as the No. 5 pick overall in the 2008 First-Year Player Draft. Just how special, they didn't find out until Posey actually made his way onto the Giants' roster for good, Sabean says.
This catcher among great catchers five years later played first base for the first few weeks of his Major League career after his May 29 arrival. By July 1, the Giants made the move to trade veteran Bengie Molina to Texas, and Posey would settle in behind the plate for what has become an amazing run of success.
"We didn't know how ready he was even when we brought him up in '10," Sabean said. "We played him at first base just to get him in the lineup, and then with a consensus of opinion we made the bold move to trade Bengie, which was probably unheard of, and we turned to Buster. That's how fast he had impressed everybody.
"I don't know how much longer I'll do this, but I can't remember being in the middle of something like that. I don't know if it'll ever come up again, where you'll be that proactive and turn a team over to the next generation so fast."
The leader of that generation of Giants is in the middle of making history again this October, as Posey's legacy continues to grow.
John Schlegel is a national reporter for MLB.com. You can follow him on Twitter @JohnSchlegelMLB. This story was not subject to the approval of Major League Baseball or its clubs.