Lagares named finalist for Gold Glove Award
Center fielder praised for defensive prowess in second Major League season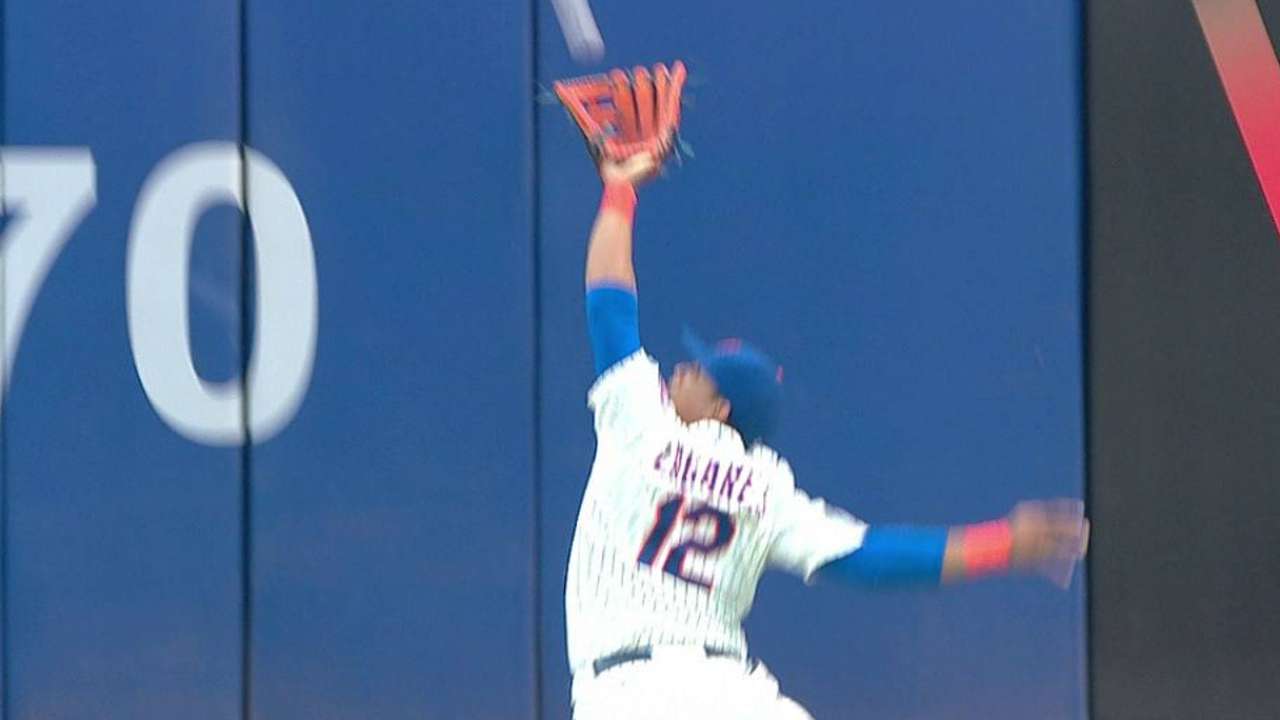 SAN FRANCISCO -- Juan Lagares had already established himself as one of the finest defensive center fielders in baseball last year when Rawlings released its Gold Glove finalists. Yet despite some eye-popping traditional and sabermetric numbers, Lagares was not among them.
No such snub has taken place in 2014. Lagares is the Mets' lone Gold Glove candidate, and he has a strong chance to win the award, which Rawlings will announce on Tuesday, Nov. 4, on ESPN2 at 7 p.m. ET.
Though Lagares missed significant time this season due to a hamstring strain, a hyperextended right elbow and several other maladies, he still posted standout defensive numbers when healthy. He led all big league center fielders with 28 Defensive Runs Saved, nearly twice as many as runners-up Ender Inciarte and Leonys Martin. He also ranked second behind Billy Hamilton in Ultimate Zone Rating, a catch-all statistic designed to measure a defender's overall worth.
Hamilton and Denard Span are Rawlings' other Gold Glove finalists in center field for the National League.
"There are a lot of good outfielders in this league, but Juan Lagares ranks right with anybody in this league defensively," Mets manager Terry Collins said late in the season. "He's got a great arm."
Traditionalists will note that Lagares committed five errors in 945 innings in center. A year after setting a Mets rookie record with 15 outfield assists, Lagares' total in that department fell to six -- mostly because teams stopped trying to run on him.
In large part because the Mets were trying to give playing time to Chris Young, Lagares' playing time suffered at the beginning of the season. But he won the job outright midseason and appears entrenched as the Mets' center fielder of the future. At the plate, Lagares demonstrated significant improvement in 2014, batting .281 with a .703 OPS and a career-high 13 steals.
Last year's Mets Gold Glove finalists, third baseman David Wright and outfielder Eric Young Jr., did not receive the same recognition in 2014. The Mets have not had a Gold Glove winner since Wright and Carlos Beltran in '08, though Lagares may be their most worthy candidate since that time.
"He's a rare breed as far as just being a natural," Mets first-base coach Tom Goodwin said this summer. "More than likely, whatever position you put him at, I could see him as being a natural. The things you see out of him honestly are not that easy to teach, to do."
Anthony DiComo is a reporter for MLB.com. Follow him on Twitter @AnthonyDicomo. This story was not subject to the approval of Major League Baseball or its clubs.