Oct. 23 Tim Hudson workout day interview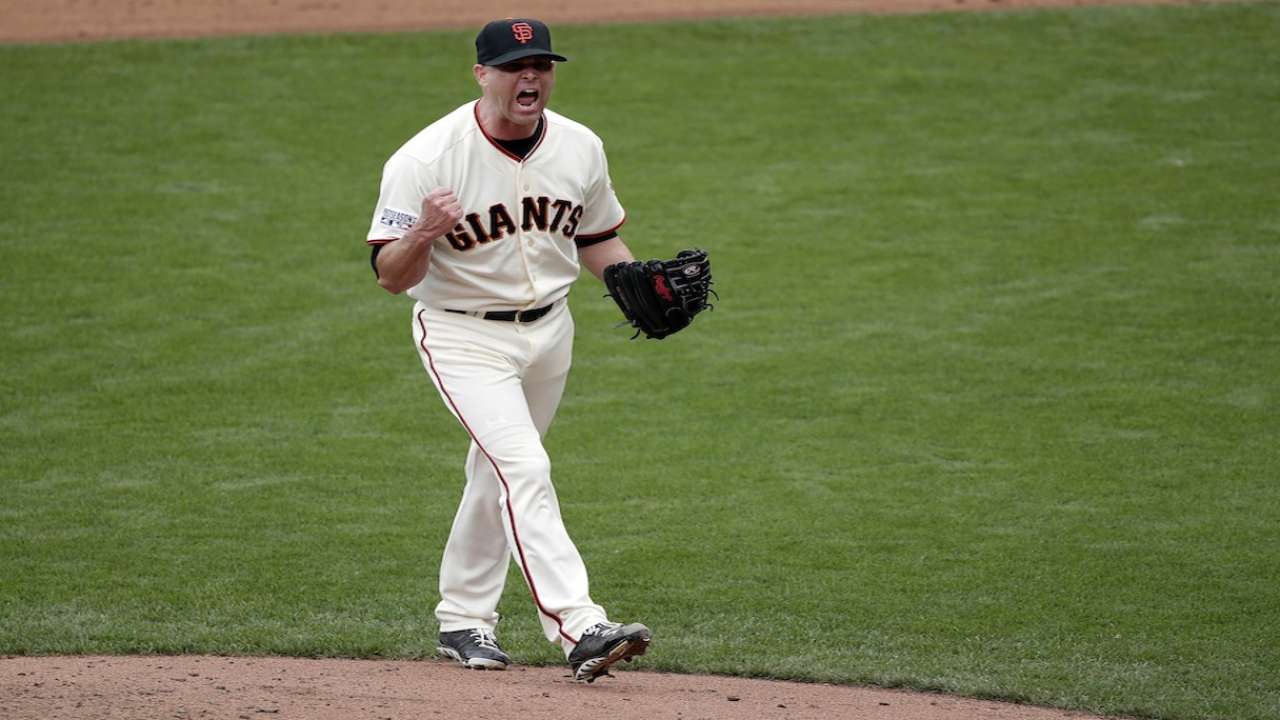 Q. As you're going through the hip thing in September, what was your rehab like? And did you take cortisone shots? What did you have to do to get yourself back to the point where you are now?
TIM HUDSON: Well, I mean, at this point of the year you're always having maintenance treatment and those kinds of things in the training room. Just some things with the trainer, I don't want to go into a lot of details, but just a lot of stretching, lot of strengthening of some areas. You know, just a lot of training room work, honestly. Anybody that's dealt with some little chronic injuries understand the things you have to go through. Medicine is a beautiful thing (laughter). I'll leave it at that.
Q. Now you've gotten through the Division Series, the Championship Series, the World Series, is it any different pitching later in October under the brighter lights?
TIM HUDSON: You know what, obviously it's the biggest stage, it's the pinnacle of baseball. This is what everybody hopes and dreams for throughout their career. It's obviously a bigger, brighter stage, but at the end of the day it's the same game we've played all year. It's the same game we've played our whole lives. It's just going out there and controlling those emotions and understanding that it's still a simple game. You've got to go out there and make pitches, have a solid game plan and be mentally and physically prepared.
I feel really prepared and ready to go both mentally and emotionally and physically, I think. I'm excited about it.
Q. Has it been hard to keep away the fact that this is the biggest game that you've ever pitched in your life? I'm curious how you slept last night? Will it be tough to sleep tonight?
TIM HUDSON: I sleep good every night. Ask my wife.
Obviously this is something I've never had to deal with at this point in my career. It's something that I've always looked forward to. I've always hoped and dreamed that this opportunity would happen for me, and here I am on the eve of obviously the biggest game I've ever pitched.
It's almost a sense of relief that it's finally here, that what I've hoped and dreamed for throughout my career is finally here, and there's not going to be anybody on the field that's more ready than I am tomorrow night.
Q. What are the one or two maybe most important things you do in your effort to control the running game? And how much will that be on your mind tomorrow night, knowing what they're capable of?
TIM HUDSON: You obviously have to be concerned with it. That's one of the big strengths of their ballclub. You have to understand how to control the running game. Obviously you can't be slow to the plate. You have to be quicker to the plate and be able to be quicker to the plate. But also you have to be able to vary your times to the plate, vary your looks to first, your picks to first.
So just that combination of a lot of different things to help control that running game. You know, you can't get into the same counts with delivering your pitches and those kinds of things.
It can be a problem if you allow it to be a problem. I feel like it's something that I'm able to control for the most part. Obviously, you can't go to sleep, you can't daydream on those guys or they'll take bags on you. It's something that I'm going to have to give Buster a chance to throw them out, and that comes with holding them on and varying your times pretty much.
Q. Last couple years have you worried at all that you wouldn't get this chance? Were you worried that time was running out? Also, had Bumgarner, Lincecum talk to you at all about pitching in the World Series or is it the same in your mind as the playoffs?
TIM HUDSON: Obviously, the further along you get in your career, you don't have that opportunity to pitch in a World Series. You often wonder, is it ever going to happen? Obviously, last year the way my season ended with my ankle injury, things looked a little bleak there for a few moments.
But I'm just really lucky. I feel lucky and blessed to be able to have this opportunity to come here to San Francisco. That's why I came here. You always say the right things and you always think about the right things, but until it actually happens, there's always that doubt, can it happen? Here I am.
It's funny how things fall into place. This is exactly how I envisioned it, and it's kind of crazy to actually see it happen throughout the season. I feel very, very lucky.
As far as those guys go, I haven't really talked to them too much about pitching in the World Series. I feel very ‑‑ actually very relaxed, honestly, coming into this game. I know it's not just any other game that I've ever pitched, but it feels ‑‑ my preparation has been the same. The excitement that I normally have during a normal game is pretty much the same that I have now, so. I'm looking forward to it.
Will that change tomorrow? Maybe. I mean, probably, I wouldn't be human if it didn't. But as of right now my routines are pretty well the same except for this kind of thing going on. Normally I don't have this kind of press conference.
Q. All those years you made the playoffs with the A's and Braves, did that make it more frustrating because you got so close or less frustrating because at least you were in the mix?
TIM HUDSON: Early on it wasn't quite as frustrating because I thought that I'd be there every year. I thought I'd have an opportunity every year to get to the playoffs and have a chance to win. But as you start playing with some teams and you have that playoff drought of a few years in a row, you start realizing how hard it is to get here every year, and how hard it is to compete against a lot of teams in baseball. There is a lot of parity in this game right now. The same teams don't always win like they used to.
So that's when it started becoming a little bit more ‑‑ a little frustrated. One day you see this window starting to gradually shrink throughout your career. It was 16 years without getting to the World Series was a long time. I played with a lot of guys throughout my career that had not only gotten to the World Series but have won rings, and I'm really happy for those guys, but at the same time I'm really jealous.
Q. You guys hit some bumps this year. You hit a bump last night. When that happens, are there guys on the team that kind of like cheerleaders, pick you guys up more than other guys?
TIM HUDSON: Well, we have a mascot on our team named Hunter Pence (laughter). I mean, that guy he's full of energy, man. I tell you what, he brings some excitement and some fire to your team that money just can't buy. When things start getting a little bit stale in the dugout and the locker room, he's a guy that always seems to bring that energy, and helps you bring a smile to your face. Man, you know what, this guy is in it. He's in it to win it, and you can't help but want to follow in his lead.
Q. What does he do?
TIM HUDSON: I mean, y'all have seen it. He has all these cheerleading chants. I don't know how much coffee he drinks every day, but it's more than y'all, I can tell you that (laughter).
Q. You pitched in Oakland with Barry Zito for a lot of years, and you watched him move on to San Francisco with the Giants and win a World Series here. What was it like for you watching him experience this for the first time with this team? And is it sort of ironic that here you are with the same team for the first time?
TIM HUDSON: You know, I was so happy for him. He was one of my best friends in Oakland. I loved when he came over here to San Francisco. It was something that I knew that he worked so hard for throughout his career, and there wasn't a guy in baseball that I was more happy for and I felt like was more deserving than to accomplish something like that.
For him to come in and pitch like he did that one year and pitch some really big games in the playoffs and help this team win a World Series was awesome. I felt like I was right there with him, even though I was sitting at home with my family and just watching the games. I was as emotionally involved with watching him do his thing as anything, and very happy for him.
Q. Seeing the importance, the winner of Game 3 is going to take the series lead, how important is this Game 3?
TIM HUDSON: It's very important. It's all of a sudden essentially a five‑game series right now. The first game of any series is important. I saw a stat today where the winner of Game 3s usually win the World Series 70% of the time. So I think that speaks for itself. So it's very important.
Q. I saw a story in the Chronicle that mentioned that the A's were one of the teams that you spoke with last winter. Given your priority of wanting to get to that first World Series and knowing the resources the Dodgers have thrown at everything, why did you think this was your best chance compared to what Oakland was doing?
TIM HUDSON: Well, obviously, I felt like Oakland had a very good chance to get to the World Series as well. Billy does a great job over there with the resources that he has, to put a winner out on the field every year. But for me, it was a lot about staying in the National League. I felt like the teams that were showing interest in the National League with me, San Francisco was the best one that I felt had the opportunity to get to the World Series.
I mean, I've competed against this team and this organization in the playoffs, and there is something about this time of year that they bring it. They come with something that a lot of organizations and a lot of teams don't understand how to come with it the way that they do.
It was a pretty easy decision for me, honestly, after weighing all the options and everything. It was a pretty simple decision for me.
Q. When you're going up against a team that can run like the Royals, how does that change how you operate out of the stretch? How much more cognizant do you have to be of them when they're on the bases?
TIM HUDSON: Well, you have to be aware of it. I mentioned earlier that you have to vary your times. You have to be obviously a little quicker to the plate than you normally are. You can't have the same cadence every pitch to the plate. They'll take second, third on you every time.
So you have to be aware of it. Running games can be a problem if you allow it to be a problem. It's our job to control those guys and to vary our times and give our catchers an opportunity to throw those guys out.