MLB.com Columnist
Phil Rogers
Batter up: Royals pitchers ready to take hacks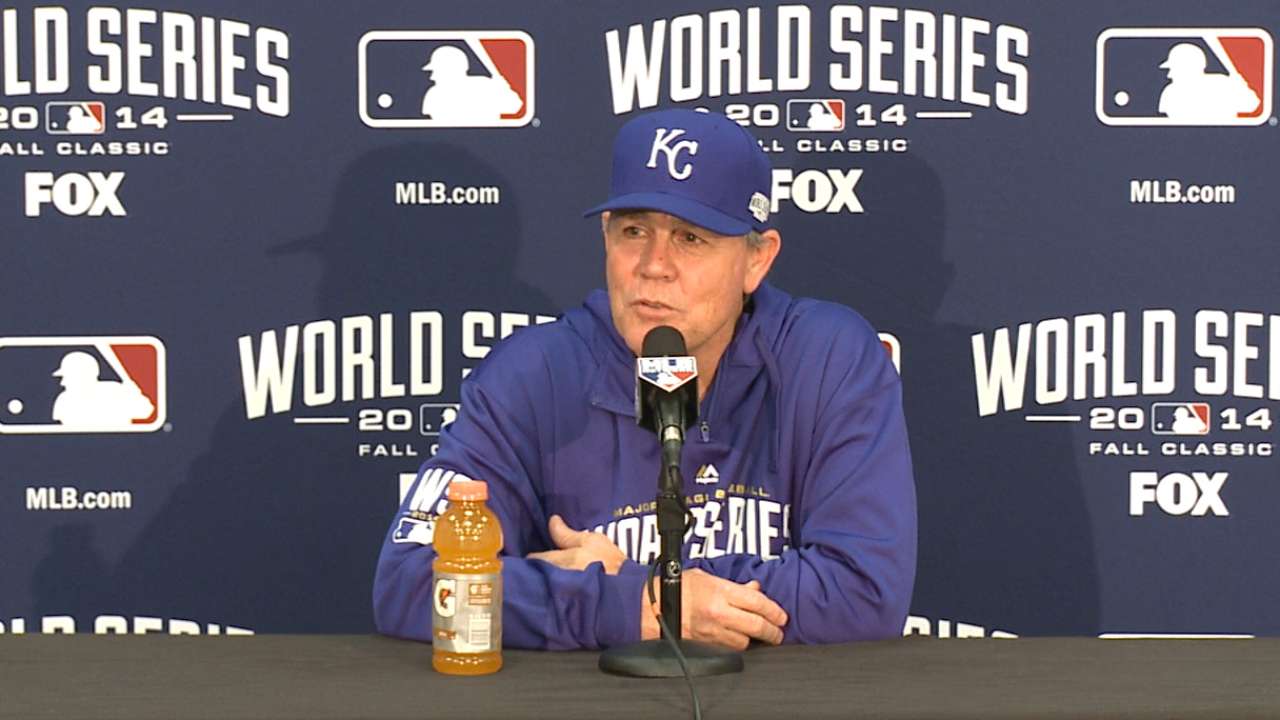 SAN FRANCISCO -- After 11 seasons in baseball, Jeremy Guthrie is in his first World Series. Not only that, but he will be used as a starter, working Game 3 for the Royals. And that's not all.
With the designated hitter out of play in the National League champs' home park, Guthrie should get a chance to dig his spikes into the batter's box and take his hacks against Giants starter Tim Hudson on Friday at AT&T Park (6:30 p.m. CT on FOX; 7:07 first pitch).
For the cerebral right-hander, that might be the biggest thrill of all.
"Ironically, I think most kids dream about hitting in the World Series, more than pitching,'' said Guthrie, an .089 career hitter. "Very few kids are six years old and say, 'I'm going to be a Major League pitcher in the World Series.' But most want to hit a walk-off home run, get a big hit and high-five guys. I think to some extent that may be one of those things that's even more of a realization of a childhood dream, something you imagine.''
Jason Vargas, a former pitcher/designated hitter for Long Beach State and LSU, shares Guthrie's excitement about getting a chance to hit in the World Series.
"It would be unbelievable, way better than a regular-season at-bat,'' said Vargas, who will start Game 4 for Kansas City. "I think there would be a few emotions running through you, but I don't know until I get that at-bat under the belt.''
Few topics in sports generate more regular attention than Major League Baseball having two sets of rules, with the designated-hitter rule used in the American League but not the NL. It's an "experiment" that has lasted 42 seasons.
Some executives and managers think the NL is inching closer toward adding a DH, but there's no clear sign that is the case. So it leaves another annual argument -- who do the rotating DH rules (that is, the DH being used in the AL park but not the NL park) benefit during the World Series?
With Billy Butler, the Royals are one of only five teams that have given a player 500-plus at-bats as the DH. Butler will be shifted to the bench for Games 3-5 at AT&T Park, but Royals manager Ned Yost isn't complaining.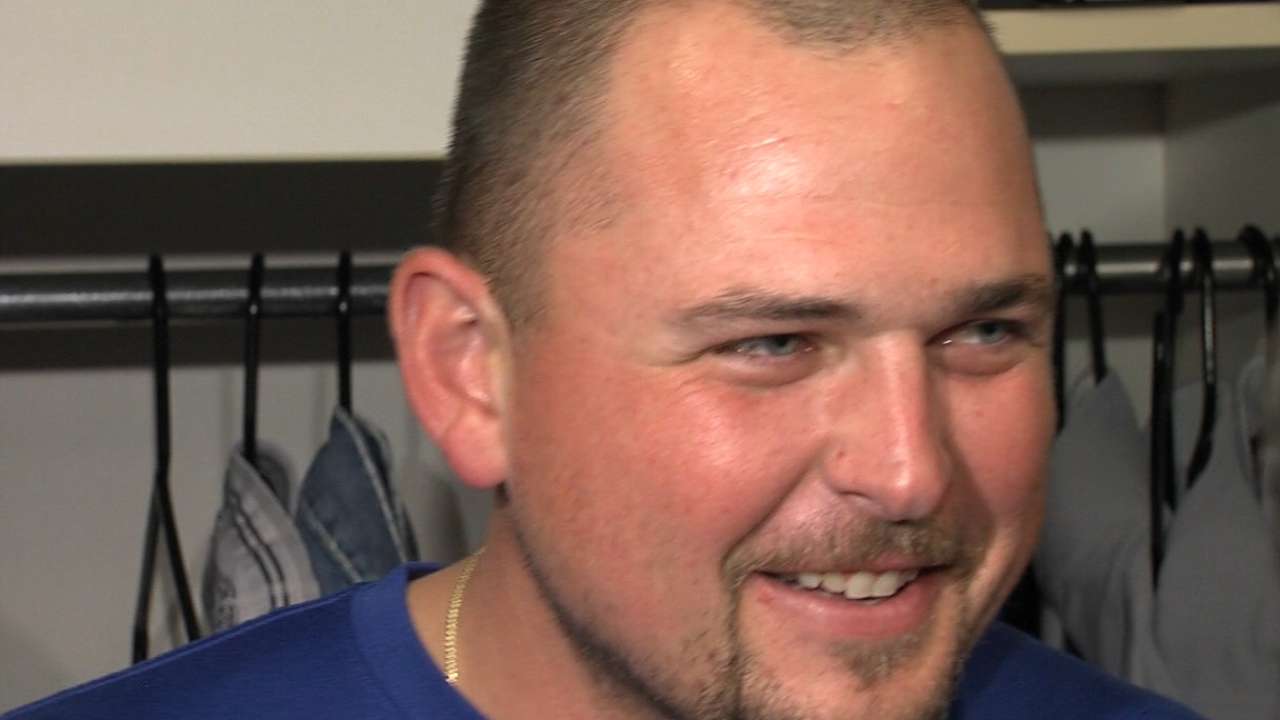 "We're a little more built for the American League with the DH, but we're still built for the National League, too, with our speed and our ability to manufacture runs and our versatility off the bench,'' said Yost after Game 2 in Kansas City. "I think it's different, but I kind of like it, and I think it's fun to play two styles. You play our game here, and then you go to the National League and play that style, which is pretty different, the National League style.''
In the first three years that the DH rule was used in the AL, it did not get used in the World Series. Oakland nevertheless won in 1973-74, in part because of three doubles and a home run in eight plate appearances by lefty Ken Holtzman (career batting average, .163). The DH rule was added for the World Series in '76, to be used in all games in even-numbered years. That format was used for 10 years, with the NL winning three of five Series featuring a DH, before the current format was adopted in 1986. In the 27 series in which the DH has rotated between parks, the AL holds a 15-12 edge.
Before Interleague Play was added, the World Series could be the only time a pitcher would hit. Jack Morris got four of five career plate appearances in the World Series. But it's not such a novelty anymore.
The fact that NL pitchers hit all season long hasn't played out to be much of an advantage in recent Fall Classics. Since 2000, they have hit .136 with five RBIs compared to an .090 average with three RBIs for AL pitchers, who enter Game 3 in an 0-for-21 stretch since a Cliff Lee double in the first game of the 2010 Series.
The Giants' Madison Bumgarner, who will start Game 5, will be the most dangerous pitcher to bat this weekend. He hit .258 with four home runs and 15 RBIs in 66 at-bats this year. But the Royals expect their pitchers to be respectable at the plate.
"Guthrie handles the bat pretty well,'' Royals hitting coach Dale Sveum said. "Vargas can really swing the bat, but he hasn't gotten any at-bats this year. He's always pitching in games with the DH. He was a hell of a hitter in college, and when he started out in Florida he could swing the bat. James Shields takes a lot of pride in it. He's been hitting probably for the last month. He's probably in the cage more than hitters. He's got a good approach, had some really good at-bats against Andrew Cashner in San Diego this year. Great at-bats off him. He can swing the bat. Actually, for American League guys they can swing the bat pretty good.''
Vargas is a career .262 hitter with a .608 OPS. He was a .300 hitter his first two seasons with the Marlins but has batted only .176 while spending the last six seasons in the AL.
"I guess statistics would say I'm OK, but I feel I'm a guy who might get lucky,'' Vargas said. "I don't know. I hit my whole life, but I'm sure most guys did. I got most of my [Major League] at-bats when I was right out of college, still had a good idea of what was going on.''
Thirteen pitchers have hit home runs in the World Series, but the Phillies' Joe Blanton (2009) has the only one since Holtzman hit one off Andy Messersmith in 1974.
"You get a chance to drive an important run in, get that winning hit, it would be fantastic,'' Vargas said. "Obviously our goal is to concentrate on getting guys out, but if you get up there and happen to run into one that means a lot, it would be fantastic.''
Swing hard. Dream big. You're in the World Series, and you have a bat in your hand. You might just catch a ride on Halley's Comet.
Phil Rogers is a columnist for MLB.com. This story was not subject to the approval of Major League Baseball or its clubs.