1985 Royals found motivation in being written off
After dropping first two World Series games at home, KC was counted out vs. St. Louis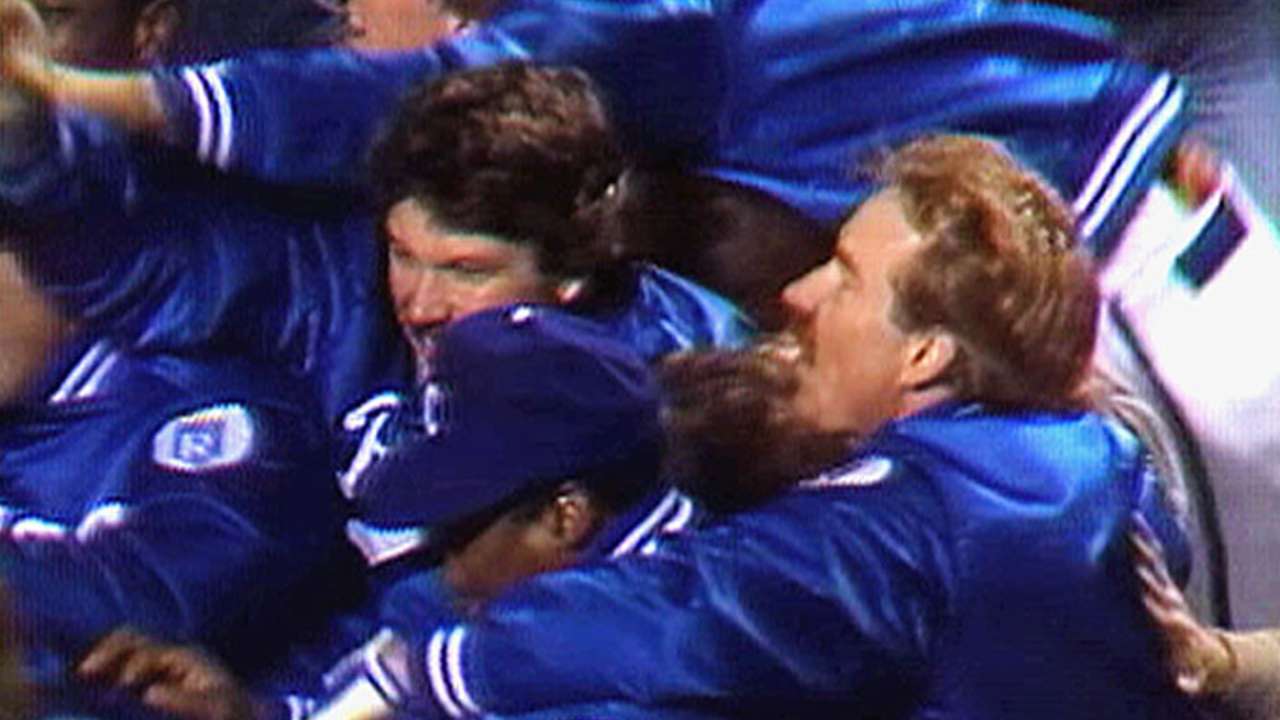 SAN FRANCISCO -- The Royals have endured comparison after comparison to the 1985 World Series champions, but in at least one respect, the current club may have a leg up on the team from 29 years ago.
The full script still is yet to be written for the current club, and we know how things turned out for the '85 team. But this year's Royals team had the luxury of departing Kansas City with a split of the two World Series games played at Kauffman Stadium. The '85 team, on the other hand, headed out of town with an 0-2 deficit and were written off by plenty of folks in both Kansas City and St. Louis.
But it turns out, that sentiment may have worked in the Royals' favor. Not only were they written off by a lot of media in both regions, but they were discounted completely before they had even arrived to St. Louis for Game 3.
During an appearance at the Negro Leagues Baseball Museum on Wednesday, one of the stars from that 1985 team, speedster Willie Wilson, described a surreal scene waiting for the Royals when it landed in St. Louis.
"Getting off the plane, there was a sign that said, 'Welcome home 1985 World Champions,'" Wilson said. "We had only played two games. We were walking off the airplane and everyone was looking over to the right and it really just made everyone mad."
Later, as Wilson and Frank White were sitting in the clubhouse, a couple of media members started setting up television cameras. He heard one say, "We're going to get the losers' perspective."
Ouch.
There's an understanding in baseball that inciting the opposition is a bad, bad, bad idea. It's that whole poking-the-sleeping-bear thing. An overzealous player talks a little too much, sounds a little too brazen, hurls an insult or two at the opponent. That's called bulletin-board material.
And just like that, boom! Game on.
Back in '85, it really wasn't the Cardinals players who were at fault, although George Brett does acknowledge his disdain for Ozzie Smith's backflips during player introductions. Most of the provocation, in this case, was from outside parties who inadvertently lit a bit of a fire in the bellies of Royals players, who couldn't believe the premature celebratory nature of select St. Louisans.
"Before Game 5 in St. Louis, my wife and I are walking around and I see vendors with '1985 World Series Champion St. Louis Cardinals' signs up," former Royals pitcher Danny Jackson said. "I turned to my wife and said, 'The [Series] isn't even done yet.' That gave me another chip on my shoulder."
We know how it turned out. The Royals came back from a three-games-to-one deficit to win three straight, including a landslide 11-0 win in the decisive Game 7.
The "losers" comment from that one TV reporter never left Wilson.
"I said, 'We're not going to lose,'" he said. "That just made me go out to back my words up. Frank looked at me, I looked at him, and I saw the determination on his face. I was determined not to lose.
"You can't judge a man's heart. You can put numbers out there all day long. But a man's heart is where the game is played. If you've got heart and determination, you can get a lot accomplished."
Alyson Footer is a national correspondent for MLB.com. Follow her on Twitter @alysonfooter. This story was not subject to the approval of Major League Baseball or its clubs.