MLB pauses during Game 3 to Stand Up To Cancer
Fans, players, umpires, broadcasters show placards in support of fight against disease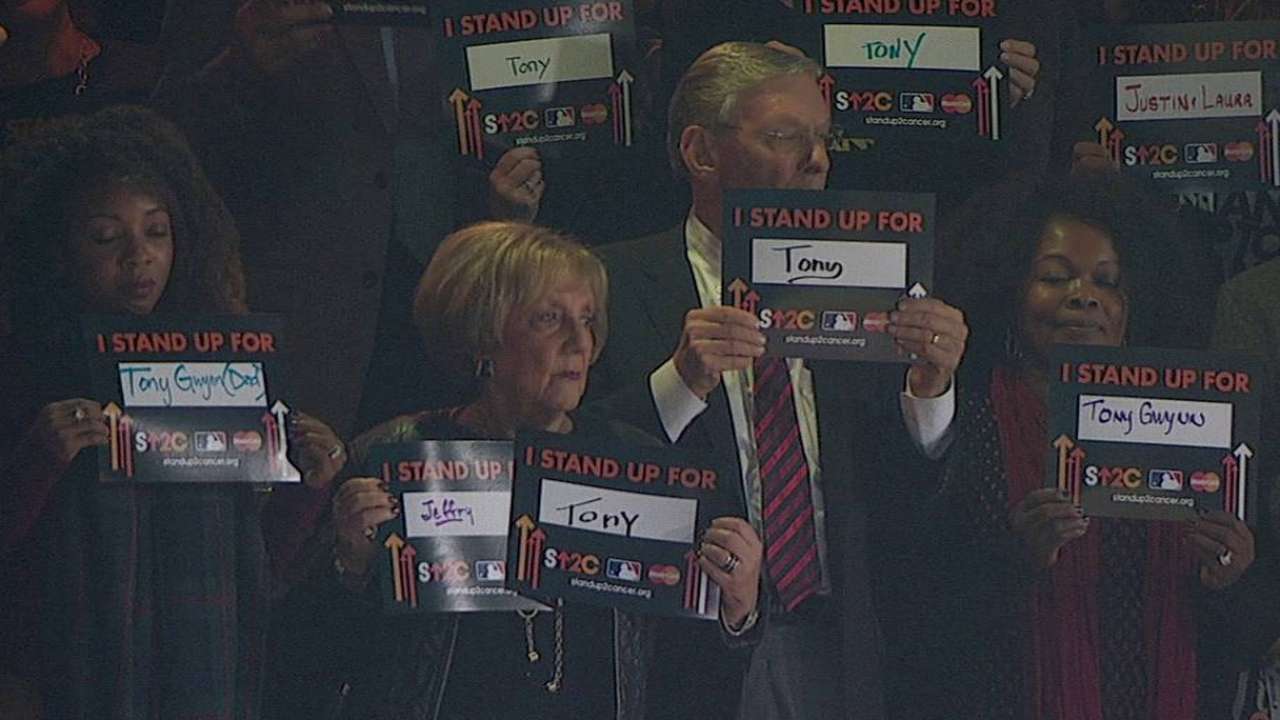 SAN FRANCISCO -- Brothers Travis and Cameron Newton of Sacramento, Calif., were standing beyond the left-field bleachers Friday night inside AT&T Park, wearing "Team Delaney" T-shirts and holding up "I STAND UP FOR ____" placards with the name "Delaney" written on them in marker.
Delaney is 3, and she is fighting a good fight against brain cancer.
The Newton brothers stood with everyone else at the start of the sixth inning, as Major League Baseball used its biggest stage for the sixth year in a row to hold a live
Stand Up To Cancer
moment for a capacity crowd and a global FOX viewing audience. Players, umpires, all on-field personnel and fans held up the signs, as MLB dedicated Game 3 of the 110th World Series to advancing the fight against cancer.
After holding up their signs, Travis texted the third brother in their family, Merlin. He's a Livermore-Pleasanton firefighter, and he was watching at home with little Delaney. Merlin's fellow firefighter, Neal Sanchez, was there at the ballpark with the two brothers.
"It was sad and emotional at the same time, seeing the crowd quiet and then seeing the players holding the signs, too, because everyone has been affected by it," Travis said. "I was just texting my brother, who is Delaney's dad, and he's watching the game at home and he said it's hard for him. Even he was tearing up."
Delaney, you should know, is an inspiring little girl.
"It started when she was 2, had brain surgery, six rounds of chemo, 20 days of focal radiation, here at UCSF 2 [University of California-San Francisco]," Travis said. "So everything is going in the right direction now. We took a couple pictures together for it. The last year has been, to say the least, hell. But it's going in the right direction now."
SU2C co-founders Rusty Robertson, Lisa Paulsen and Sue Schwartz were interviewed outside Commissioner Bud Selig's suite after the event, and they said the story of Delaney and the three brothers perfectly symbolizes the mission of their organization, backed since 2008 by founding donor MLB and supported year-round by MLB and its 30 clubs and fans.
"Only if we come together can we as one really fight this disease. We've been so fortunate with Major League Baseball, because they've been able to reach the people, tell them who we are and what we're all about," Robertson said. "Everybody needs someone to help them get better and get the word out. With Major League Baseball, the leadership of Bud Selig and all the owners, we are so grateful that now we can actually turn to that child and her parents and say, 'We are on the right track. Stand Up To Cancer is doing something that's not been done before. We can honestly tell you now that we have great results.'"
"Bringing such a powerful platform as MLB to the masses, to have everybody understand the importance of team science, you're all about building teams and we're doing the same thing with critical researchers all working together at the same time for the benefit of patients," Paulsen said.
For the sixth consecutive year, MLB is dedicating the first four games of the World Series to raising the awareness of important causes associated with charitable initiatives and MLB partners. In Kansas City, Game 1 was dedicated to veterans and military families with a focus on Welcome Back Veterans, and Game 2 put the spotlight on education and ALS awareness. In San Francisco, the focus has been on helping end cancer in our lifetimes, and Game 4 is youth outreach all day and night.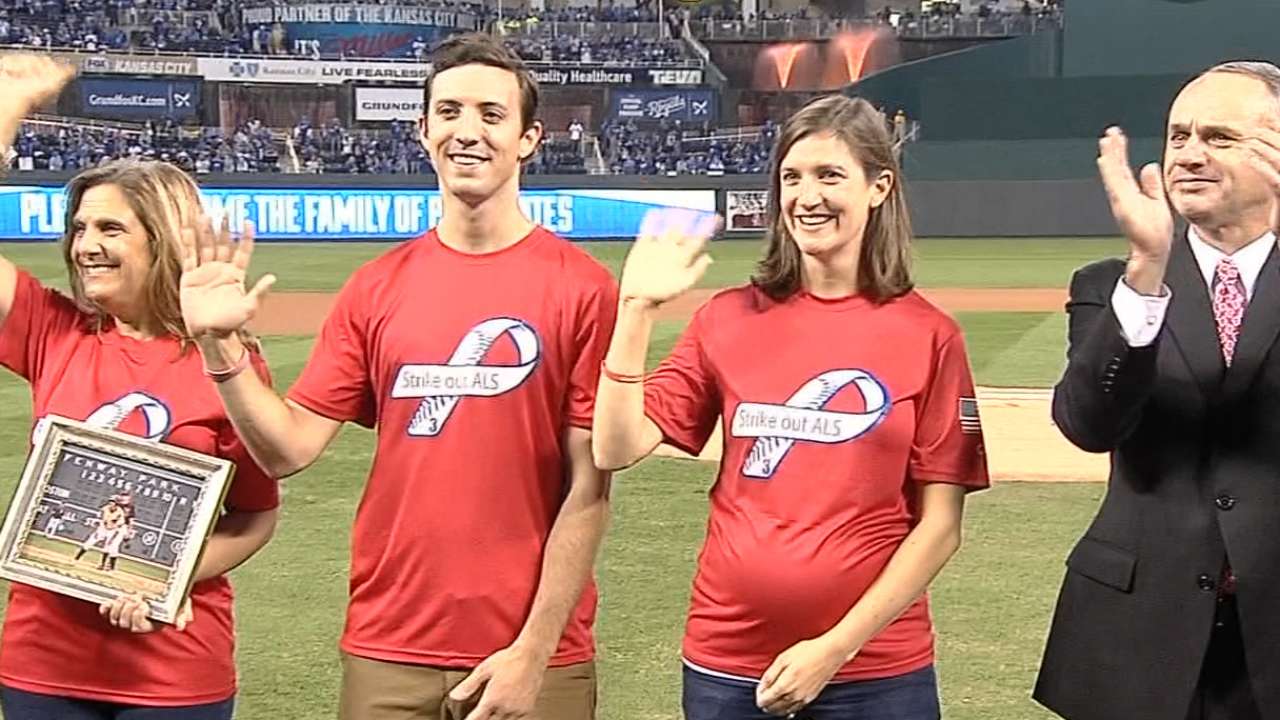 This is the last World Series presided over by Selig as Commissioner, and this has become an important legacy in his tenure. MLB and its 30 clubs have committed more than $40 million committed to date. On Sept. 5, Selig and all of MLB were recognized during the organization's fourth biennial fundraising telethon, and the public continued to financially support 12 scientific "Dream Teams" that are trying to end cancer.
"Major League Baseball is proud to utilize the global platform of the World Series to highlight causes that are important to so many of our fans and our culture as a whole," Selig said. "Baseball is a social institution with significant social responsibilities, and it is a privilege to draw attention to organizations that work tirelessly to address these challenges."
Earlier in the day, Hall of Famer Orlando Cepeda and representatives from MLB and Giants donated a mobile Starlight Fun Center entertainment unit to be made available to kids at the George Mark Children's House in nearby San Leandro, Calif. Before Game 2 on Wednesday, a Starlight Fun Center was presented to the pediatric intensive care unit at The University of Kansas Hospital by MLB, the Royals and the Starlight Children's Foundation, with help from Royals legend Willie Wilson and Royals mascot Sluggerrr. MLB has donated about 70 of these Fun Centers in the past decade.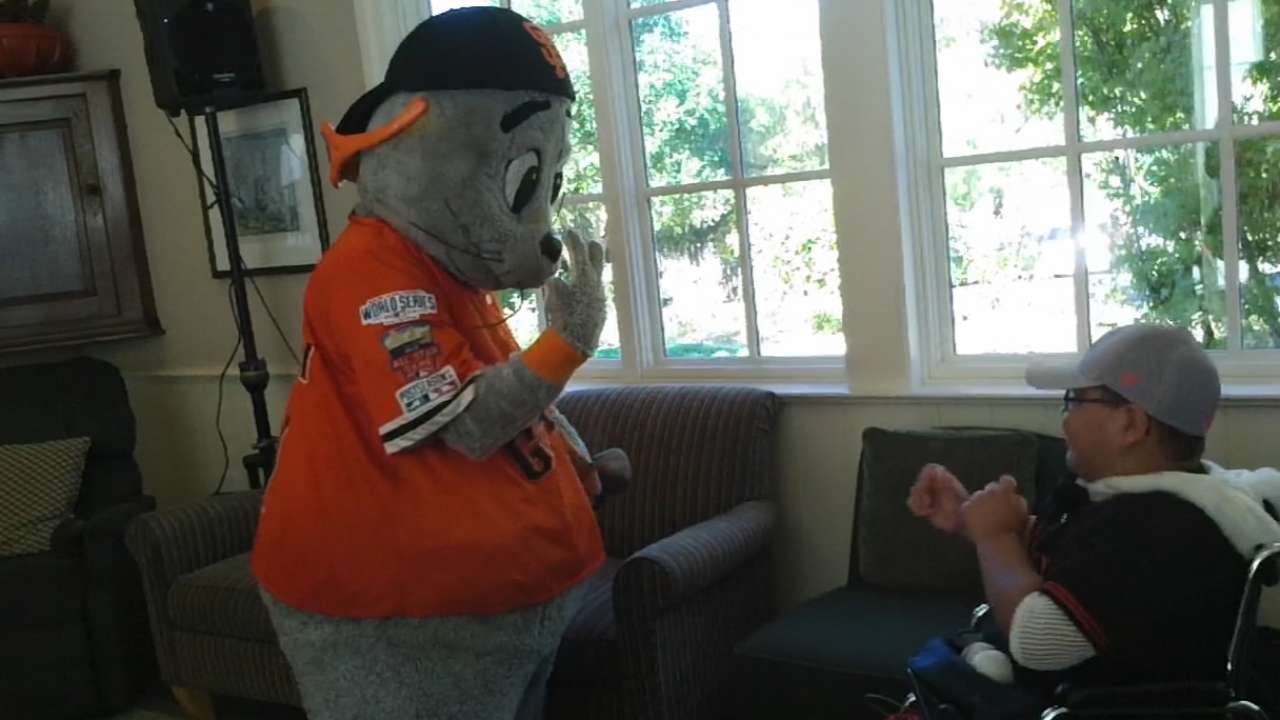 As part of the Game 3 dedication, MLB remembered the late Hall of Famer Tony Gwynn, who passed away in June at the age of 54 due to salivary gland cancer. Tony's wife, Alicia, and several other members of his family were on hand for a special pregame ceremony as baseball celebrates Gwynn's life and career.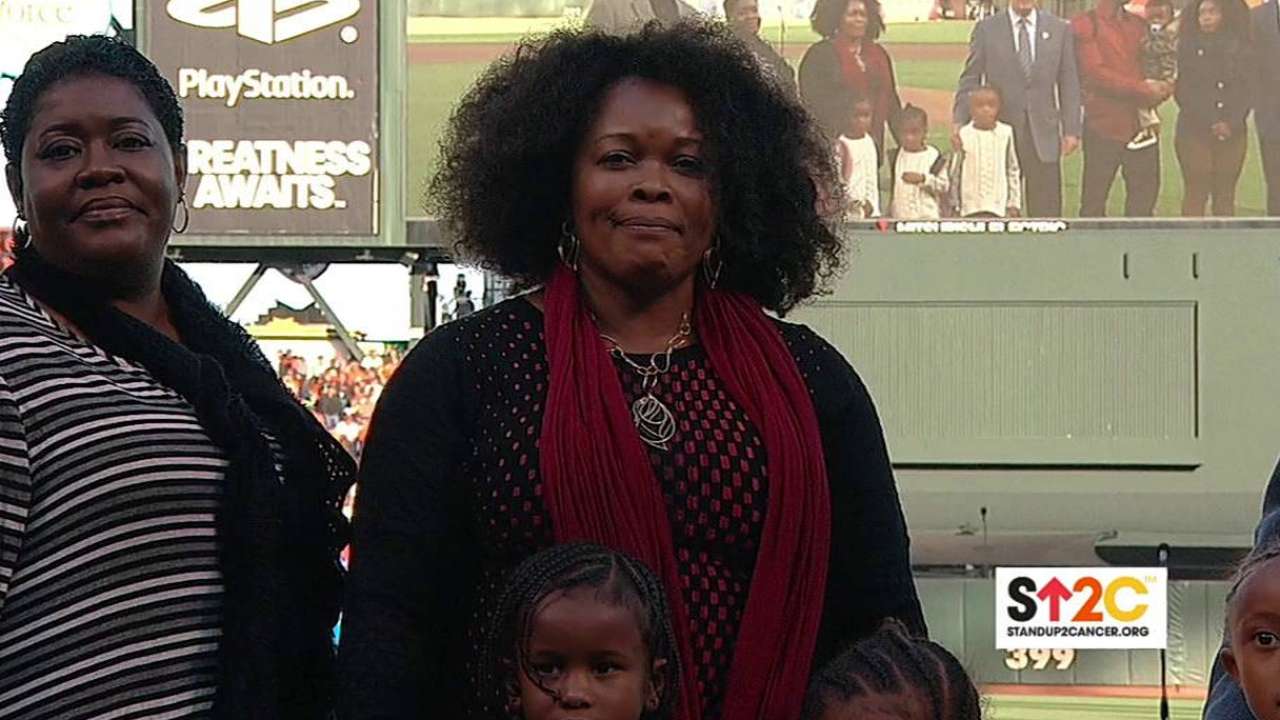 During the last Winter Meetings in December, MLB and its clubs staged their second annual SU2C Auction, which raised more than $120,000 over four days.
Follow @SU2C on Twitter and use the hashtag #IStandUpFor. You can donate at SU2C.org.
MasterCard presented a $4 million donation to Stand Up To Cancer Scientific Advisory Committee members; SU2C co-founders; Sue Selig; and special guest Eric Stonestreet, the "Modern Family" actor and SU2C ambassador. The funds were raised with the help of fans and cardholders through the "Priceless Causes" initiative. A MasterCard/SU2C spot will run in-stadium featuring club mascots.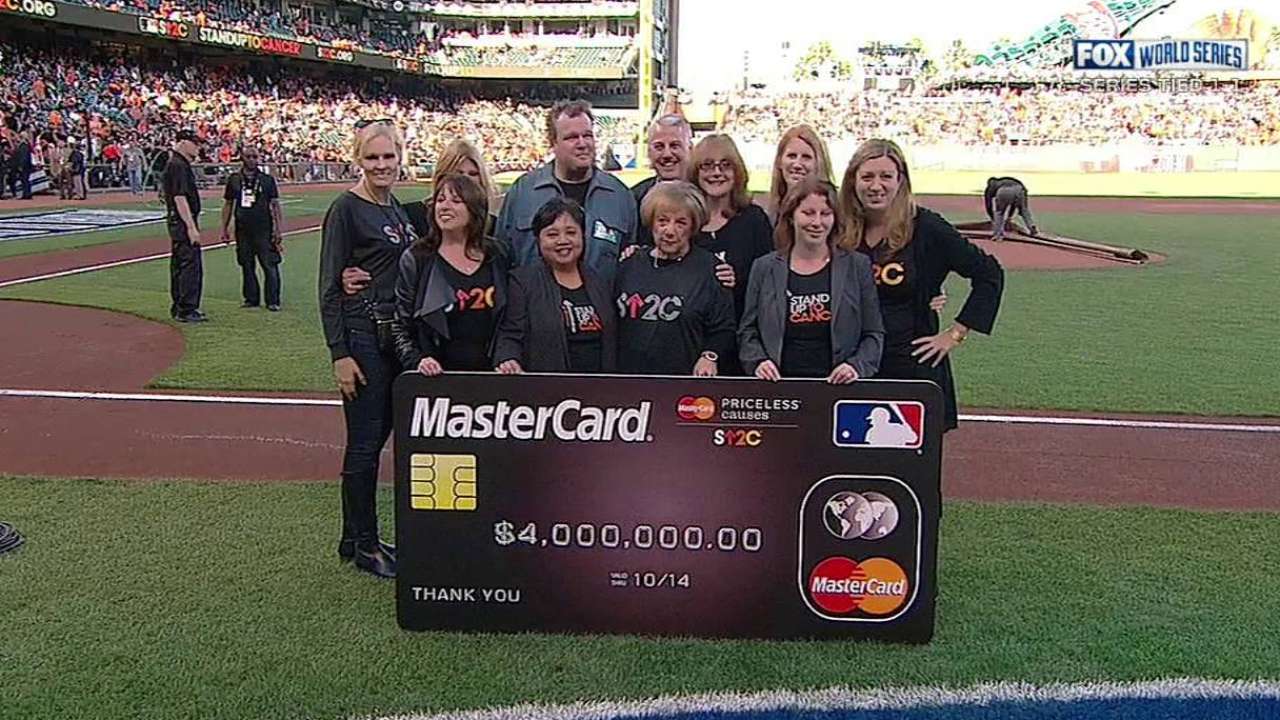 Mark Newman is enterprise editor of MLB.com. Read and join other baseball fans on his MLB.com community blog. This story was not subject to the approval of Major League Baseball or its clubs.