Russell homers in his final Fall League at-bat
Highly touted prospect's stay in Arizona ends after 10-game stint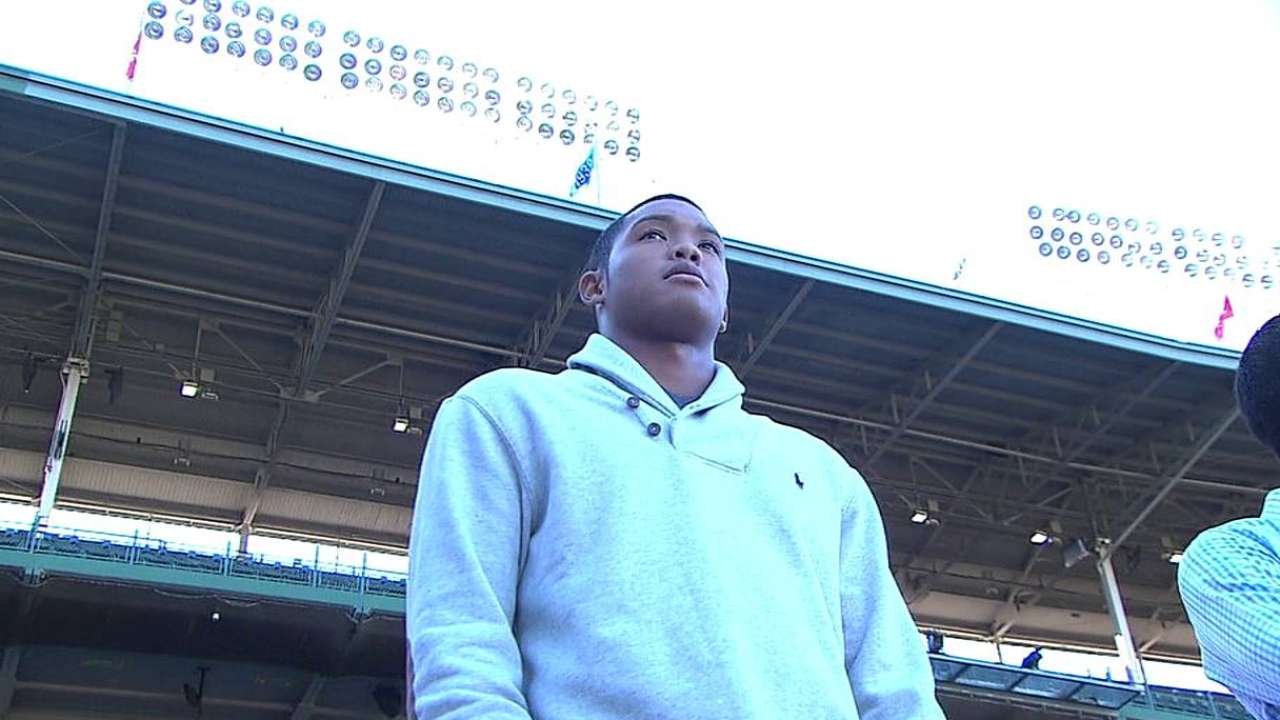 MESA, Ariz. -- Addison Russell's stint in the Arizona Fall League came to an abrupt end Thursday, but he made sure to leave a lasting impression.
In his final AFL at-bat, Russell, the fifth-ranked prospect in baseball, hit a towering two-run homer to left that helped seal Mesa's 7-3 victory over Scottsdale.
"I just wanted to be aggressive that last at-bat," Russell said. "I was looking fastball in and he threw me a fastball in and I got a hold of it."
The 11th overall pick in the 2012 First-Year Player Draft played just 10 games in the Arizona Fall League, but the Cubs apparently saw all they needed to see and decided to shut down their second-ranked prospect.
Despite the brief time in Arizona, Russell was able to get a lot of work in. He saw at-bats as the designated hitter for four games and played his natural position, shortstop, in five games. On one occasion, he spent time at a new position -- second base.
"It was a short around here, but I can learn from this experience," Russell said. "You can learn something new every day in baseball. It was a lot of fun."
Russell, coming off a regular season in which he played only 68 games because he missed nine weeks with a hamstring injury, hit .196 in the AFL but left the league with a three-game hitting streak.
He also homered in two of his final three games.
"It's just another steppingstone," the 20-year old said. "I have to go into this offseason with the mindset of 'I want to get better.' That's why I came here, is to get better, see some more arms and play with these guys. It was just fun for me."
Now that the 2014 season has closed for Russell, he plans to take a little time off before getting right back to work for 2015.
"I'll talk to my agent a little bit, but I'm thinking maybe 2 1/2 weeks off," Russell said. "Spend some time with the family and just kind of recharge the batteries then get back at it."
William Boor is a reporter for MLB.com. Follow him on Twitter at @wboor. This story was not subject to the approval of Major League Baseball or its clubs.