Cowart comes through with big triple in AFL
Angels' No. 4 prospect drives in two runs late in Mesa's win over Scottsdale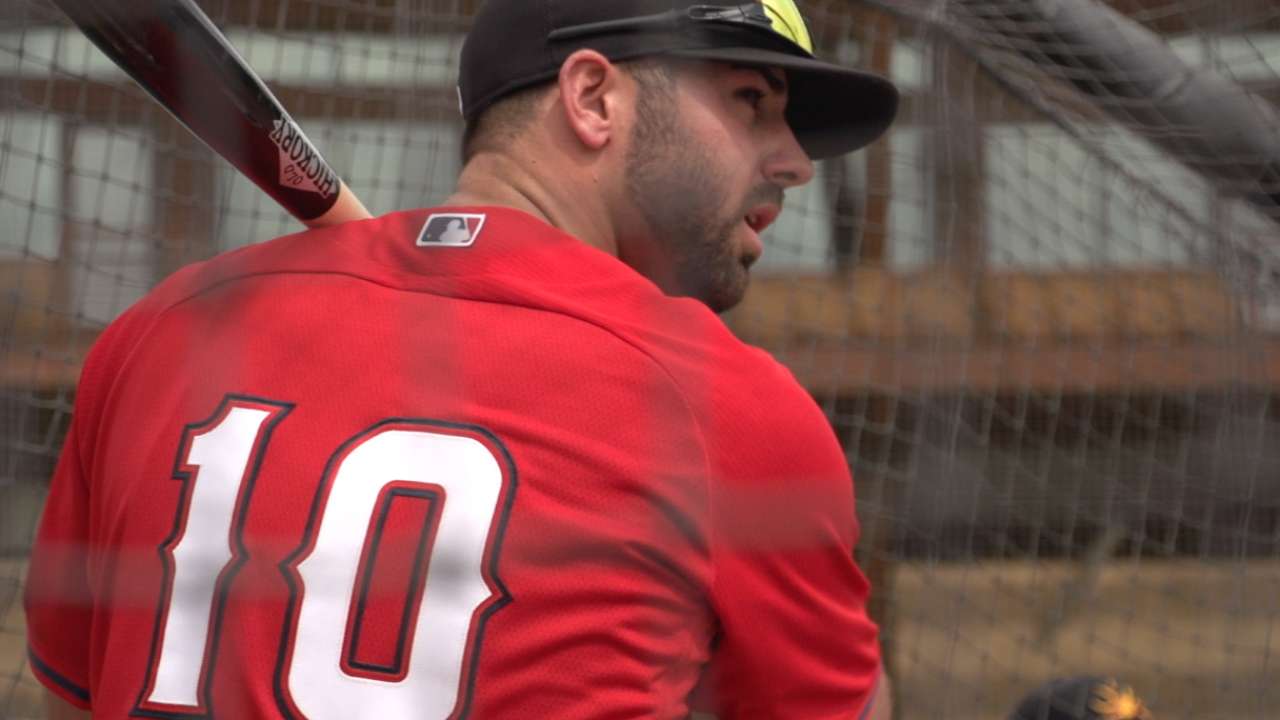 MESA, Ariz. - For the third time in as many days, the Mesa Solar Sox rode the bat of an Angels prospect to victory.
First, Cal Towey, the Angels' No. 17 prospect according to MLB.com, went 3-for-4 with a homer Tuesday. Then on Wednesday, Chad Hinshaw scored a pair of runs and reached base five times.
Finally, it was Kaleb Cowart leading the way as the Solar Sox defeated the Scottsdale Scorpions, 7-3, on Thursday.
Cowart, the Angels' No. 4 prospect, was off to a slow start in the Arizona Fall League, but broke out of his slump as he went 2-for-3 with a walk and a run scored.
"It felt really good," Cowart said. "Felt good seeing some pitches and getting back in the swing of things."
The 18th overall pick of the 2010 Draft is coming off a 2014 campaign in which he hit .223 in 126 games with Double-A Arkansas. Through the first nine games of the AFL, Cowart was hitting just .108.
But Thursday, none of those struggles were evident. Cowart singled in the second, walked and scored in the fifth, and drove in two with a triple into the left-field corner in the sixth.
"[I was] just trying to get a good pitch to hit, trying to put a good swing on it and put something in the gap," Cowart said.
Often when one part of a player's game starts to click, the rest quickly follows, and that was evident with Cowart.
In the middle of his best offensive game of the AFL, Cowart also turned in a few defensive gems at third base.
In the sixth, Cowart ranged to his left and started a 5-4-3 double play. In the next frame, he made a play to his right as he backhanded a hard-hit ball and threw to second for the force out.
"I feel good," Cowart said. "Just trying to keep my feet moving and make some plays out there."
However, before Cowart and the Solar Sox could get their offense rolling, they had to deal with Rob Whalen, a Mets prospect.
Whalen was off to a rough start in the AFL having allowed seven earned runs in 4 2/3 innings pitched over his first two starts, but bounced back with a dominant effort Thursday.
Whalen, a 12th-round pick in the 2012 Draft, stifled a Scottsdale offense that has now scored 27 runs in its past three games. Whalen allowed just one run on two hits in four scoreless innings while striking out five.
"His fastball was sinking, cutting, he was splitting the plate in two different ways," Cowart said. "He had some good stuff today."
Whalen's lone mistake came against Athletics No. 2 prospect Matt Olson, who hit a solo homer to right, his fourth of the AFL.
Scottsdale also used the long ball to put up offense as Mets prospects Matt Reynolds and Yankees prospect Tyler Austin each hit solo homers for the Scorpions.
William Boor is a reporter for MLB.com. Follow him on Twitter at @boor. This story was not subject to the approval of Major League Baseball or its clubs.