Pair of Dodgers get bats going in Fall League victory
Schebler goes yard, Seager drives in one; Wang allows one unearned run in four innings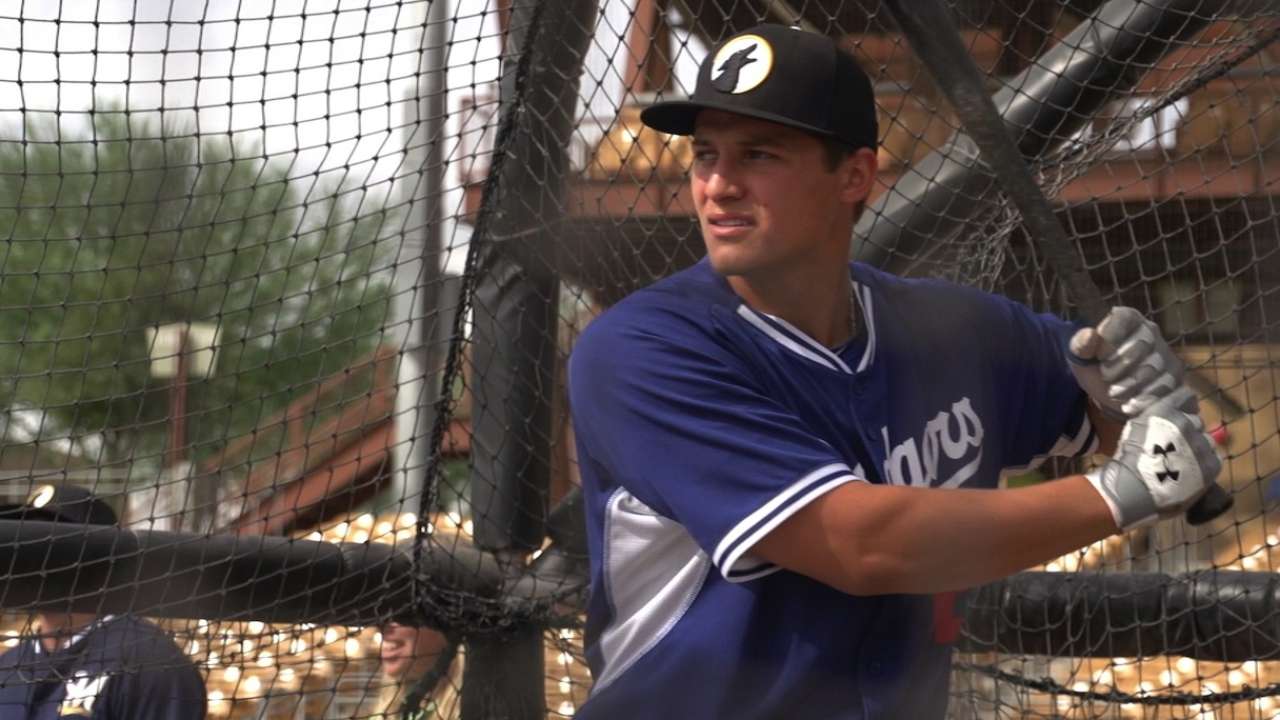 SURPRISE, Ariz. -- Two of the Dodgers best prospects carried the Glendale Desert Dogs to victory on Thursday. Left fielder Scott Schebler delivered a solo home run in the second inning, and Corey Seager pushed home the decisive run with a third-inning double in Glendale's 2-1 victory over the Peoria Javelinas.
Schebler's home run was his second of the Arizona Fall League season, and Seager, the Dodgers' top prospect according to MLB.com, delivered his seventh RBI in his first 10 games. Andrew Friedman, the Dodgers' new president of baseball operations, watched the team Wednesday, and Schebler said his presence was an inspiration.
"We had the bigwigs in town," joked Schebler. "So we needed to perform a little bit better."
Schebler, the Dodgers' No. 9 prospect, pounded the ball in the Double-A Southern League last season, but he started slow here in Arizona. The 24-year-old went 2-for-16 in his first four games, but he's turned around to hit .400 (8-for-20) in his last six games.
Part of that turnaround, he said, came from one productive swing. Schebler homered Friday against Scottsdale, restoring his confidence and setting him up for a tear against Fall League pitching.
"The beginning was a struggle," he said. "It was one swing that kind of turned things around and got a little confidence underneath me. I hit a home run in Scottsdale, and before that, I was searching a little bit, maybe pressing too much. But one swing can take you out of it and it carried over to today."
The Desert Dogs got a strong pitching performance from Wei-Chung Wang, who threw four innings and allowed just one unearned run. Four relievers -- Joe Mantiply, Jefferson Olacio, Zac Reininger and Tyler Wagner -- combined to throw five innings and allowed just three hits to the Javelinas.
Tyrell Jenkins continued his hard luck campaign in the AFL. Jenkins pitched five innings and allowed two earned runs, and he sank to 0-2 despite logging a 1.35 ERA in his first three outings. Schebler went deep off Jenkins in the second inning, and Seager sent the only other Glendale run home.
"You would think power would play here with the thin air, but these ballparks are pretty big," said Schebler. "And the pitching's been great. Every time you go out there, there's a guy throwing 95 [mph] with a put-away pitch. It's easy to say that you can hit them, but it's a lot harder to do."
Schebler, a former 26th-round draftee, has seen his stock steadily rise in the last two seasons. The Iowa native batted .296 with 27 home runs in the high-octane Class A California League in 2013, and he followed that up by batting .280 with 28 home runs for Double-A Chattanooga this year.
And if you look at those two seasons, they're eerily similar. Schebler batted .296 with a .360 on-base percentage and a .581 slugging mark in the California League, and he followed up with a .280/.365/.556 slash line after being promoted to Double-A. Now, he could be a hot streak away from the Majors.
"I was real happy," said Schebler of his performance at Double-A. "Obviously, there were more expectations for me because of the California League, and some people were saying my power numbers were just because of the California League. I think it was awesome to show people that I have some power, and hopefully it's enough to get me a chance up there [in the Major Leagues]."
Schebler made one major sign of progress this season in cutting down his strikeout rate; He struck out 140 times in 477 at-bats in 2013, and 110 times in 489 at-bats this season.
Schebler was able to make that adjustment without sacrificing power and without walking fewer times, and he credited one of his coaches in Chattanooga for helping him change his game.
"I actually got with my hitting coach, Shawn Wooten, and he helped me a ton," he said. "It had a lot to do with my timing and when I started my swing. I was starting too early, which I never thought you could do because these guys are throwing so hard. But I was starting so early and wasn't trusting my hands. It translated to letting the ball get deeper, and when you let the ball get deeper, you see it better."
Spencer Fordin is a reporter for MLB.com This story was not subject to the approval of Major League Baseball or its clubs.