Rockies' Arenado, LeMahieu, Morneau finalists for Gold Glove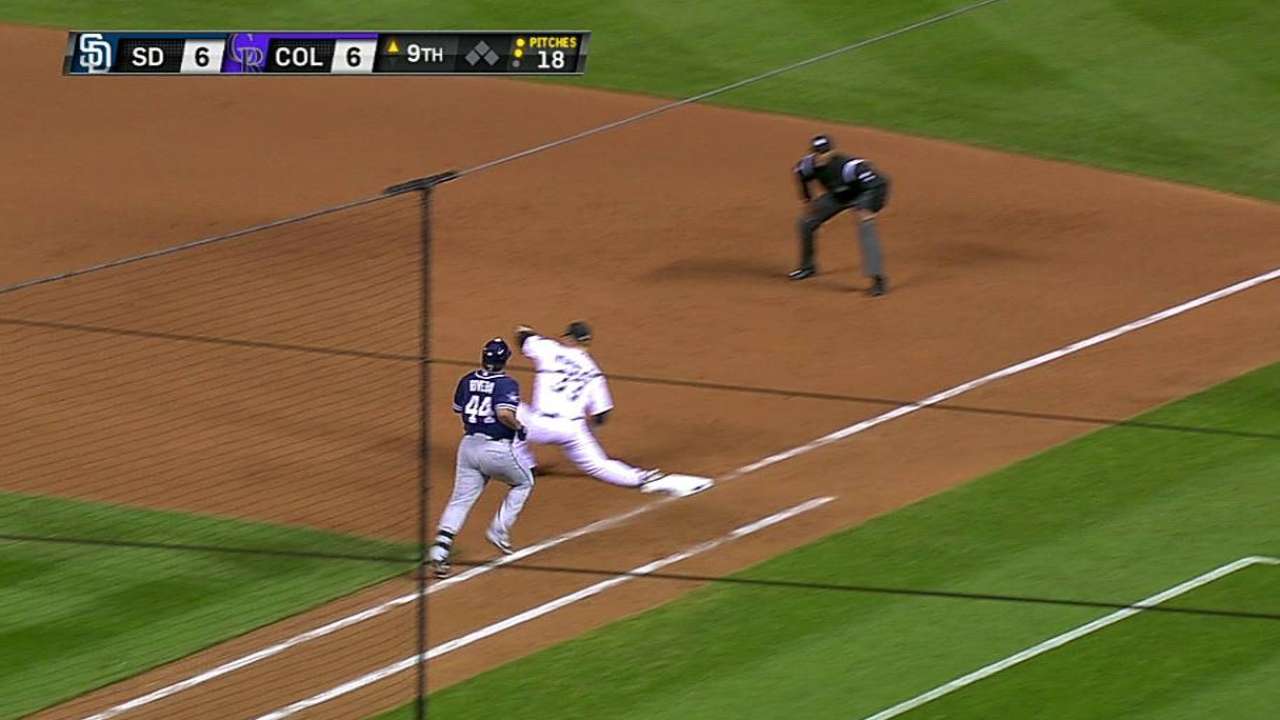 DENVER -- A Rockies franchise known for its bats has had a nice tradition with the glove. Third baseman Nolan Arenado, second baseman DJ LeMahieu and first baseman Justin Morneau could add to the growing reputation.
Arenado, LeMahieu and Morneau were named Thursday as finalists for the National League Rawlings Gold Glove Award at their respective positions. Last year, Arenado and outfielder Carlos Gonzalez won the awards. Since 2010 (their last winning season) the Rockies have carried home six.
Managers and coaches from each team were asked to vote for players in their league, but they were not allowed to vote for their players. In addition, a formula approved by the Society for American Baseball Research (SABR) accounts for roughly 25 percent of the voting process. Winners will be revealed Nov. 4 at 5 p.m. MT on ESPN2.
Last season, Arenado became the first rookie third baseman in NL history to win the award, and LeMahieu was named the Rockies' Wilson Defensive Player of the Year, based on a statistical formula that rated him the team's most valuable defender. Both followed up with standout 2014 defensive seasons. The veterean Morneau signed with the Rockies last winter as a free agent and is up for his first Gold Glove, in a year in which he won the NL batting title.
Arenado was limited to 111 games because of a broken finger in May and a bout with pneumonia in the final weeks. But according to Baseball Reference's web site, he still led NL third baseman in range factor per game and was second in range factor per nine innings. Even with the low number of games, he was second in double plays turned and third in assists. He will contend with the Giants' Pablo Sandoval and the Dodgers' Juan Uribe.
For the second straight year, LeMahieu led NL second basemen in range factor per nine games under the Baseball Reference formula, and led the league in double plays with 99. According to Fangraphs, LeMahieu led NL second basemen with a 10.7 UZR. The Phillies' Chase Utley was second at 8.2.
Arenado and LeMahieu had their strong seasons in a year when shortstop Troy Tulowitzki underwent season-ending hip labrum surgery and was limited to 89 defensive games. Tulowitzki was in line for his third Gold Glove had he stayed healthy. Along with Utley, Brandon Phillips of the Reds was named a finalist at second base.
Tulowitzki and LeMahieu are instinctive players who position the infield based partly on scouting reports but more on their readings of opponents' swings and the effectiveness of Rockies pitchers. With Tulowitzki missing, Arenado took more of a positioning role and LeMahieu was his steady self.
"We all set out to improve," LeMahieu said. "We're obviously not going to fill 'Tulo's role but we were going to do the best we could to be better individually. Everyone that played infield this year has gotten better defensively."
Arenado's candidacy is an interesting study in the weight of stats against the eye test -- he was a regular on highlight reels -- and the lure of already having won the award. Arenado's errors were up this year, with 15 that pulled his fielding percentage down to .959. But the ability to cover ground is generally considered more important than fielding percentage.
"I feel I've proved what I can do," Arenado said. "Obviously, I've made some errors, but sometimes when you get to tough balls you make some mistakes. But at the same time I've showed that I've helped these pitchers out and I did the best I could.
"Obviously, there's room for improvement, but I believe I'm one of the top guys in the defensive category, and I proved it. If I don't get it, that's OK. Other people are deserving. But I think there's a good chance."
All factors considered, the biggest drawback might be Arenado's games played.
"If the argument is going to be the games, that's going to be the argument," he said. "But if that's not the argument, I feel like I could get my second one."
LeMahieu is often described as "steady," but that doesn't do justice to his ability to make highlight-reel plays that draw the attention of voters. Not to be underrated is his continued strong defense during a .154 skid that dropped his average from .290 in late July to .260 by the end of August. He finished at .267.
"Defensively, I thought I got better this year, but there's a lot of room to improve," LeMahieu said. "I can't wait to really get back to work and continue to get better."
By season's end, LeMahieu and Arenado actually were more focused on '15 than preparing to celebrate Gold Glove Awards.
"I was talking to Nolan about this -- I know that at the end of the season we're going to be 0-0," LeMahieu said. "That's really going to be the most important thing. We just need to be ready again next season."
In his first full NL season, Morneau -- who spent most of his career with the Twins and finished '13 with the Pirates -- led NL first basemen in fielding percentage at .997. He led the American League with the same percentage in '13. It's also the third straight year in which he has led his league in range factor per nine innings at the position, according to Baseball Reference, which also ranked him first in the NL in total zone runs. Adrian Gonzalez (Dodgers) and the Nationals' Adam LaRoche are the other two NL finalists.
Additionally, according to Fangraphs, Morneau posted a 6.3 UZR, which was good for second in the NL behind the Cubs' Anthony Rizzo and tied for second in the Majors with the Angels' Albert Pujols.
Thomas Harding is a reporter for MLB.com. Read his blog, Hardball in the Rockies, follow him on Twitter @harding_at_mlb, and like his Facebook page, Thomas Harding and Friends at www.Rockies.com. This story was not subject to the approval of Major League Baseball or its clubs.