MLB.com Columnist
Anthony Castrovince
Hart will bring swagger to Atlanta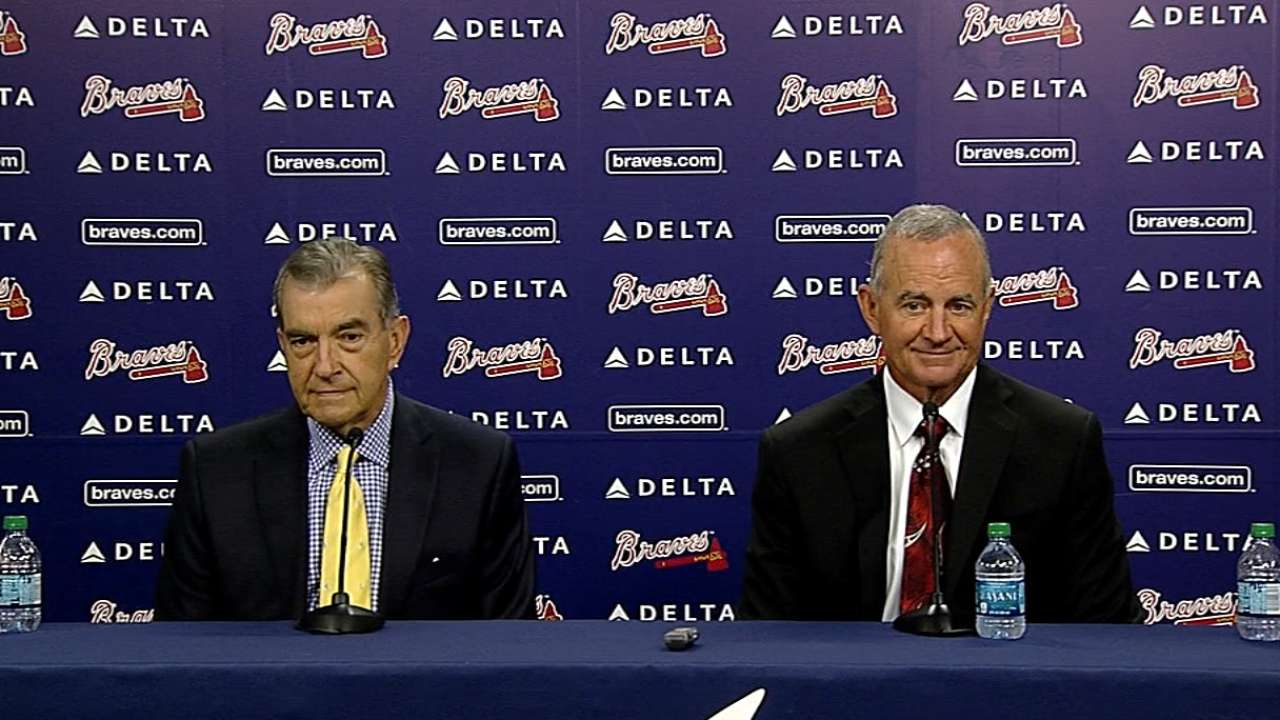 John Hart seemingly has it all. Great family, great golf swing, great clothes, great tan, great legacy in the front-office fraternity. And up until recently, he had great flexibility to enjoy all of these things at his own pace.
But Hart also has great baseball insight and a great competitive fire. And these are the traits his good friend John Schuerholz leveraged in convincing Hart to take on this greater role and greater challenge with the Atlanta Braves. Hart, the Braves' newly named president of baseball operations, is going to be more tied up in his work life than he's been in years, but he has an opportunity to simultaneously groom a fine young general manager candidate in John Coppolella and turn the Braves back into a World Series-caliber ballclub.
It was an opportunity the competitive Hart wavered on the last few weeks, but, ultimately, couldn't pass up.
"[Fans] want to expect that everybody that is associated with their team is going to wake up every morning and everything they're going to be doing during that day is geared toward making that team better," Hart told reporters Thursday. "That's a pledge of mine that I'm clearly here to make, and I think it is for everybody that's in the front office."
The Braves fell frustratingly flat in the second half this season, and they've got roster composition issues that are going to be tricky to navigate in this lead-up to their arrival to a new ballpark in 2017. They've committed nearly $80 million to eight players for 2015, and that's coming off a franchise-record payroll of $112 million in '14. The Braves hold club-friendly extensions on Freddie Freeman, Craig Kimbrel, Julio Teheran, Andrelton Simmons and Chris Johnson. But Jason Heyward and Justin Upton are signed through only next season, which is complicated, and they're still on the hook for nearly $50 million worth of B.J. Upton, which is even more complicated.
Hart, though, is a terrific choice to not only prolong the competitiveness of a club that has remained relevant in the standings for nearly a quarter century, but also help it take the next step.
The Braves haven't won a postseason series since 2001, so there's a difference between competitiveness and championship-caliber. We saw that down the stretch this season, when the Braves had an opportunity to at least grab a National League Wild Card spot. They entered September just 1 1/2 games out of a playoff spot and proceeded to lose 14 of their first 18 that month, leading to Frank Wren's ouster from the GM seat.
So something was missing from that ballclub. It's one part personnel, no doubt, but there was a certain swagger absent as well.
Hart's got swagger.
"I love to compete," he said. "Doesn't matter what it is."
And he's going to expect players developed in and representing this organization to be the same way.
"I like players that care more about winning than anything else," he said. "It's a team game, and it's about winning. We want to make sure we have those kinds of players here."
Those are the kinds of players Hart invested his faith and Dick Jacobs' finances in when he was the Indians' general manager in the 1990s. His tactic of locking up young talent ahead of arbitration eligibility has become the industry standard (the Braves employed it in multiple instances last spring). Jacobs, a wily businessman who wasn't afraid to take risks, had challenged Hart to be creative in finding ways to create a core and continuity before the Indians moved into a new ballpark and revenues (and payroll) soared.
By the time Jacobs Field opened in 1994, the Indians had the seeds of something truly special -- a ballclub built around homegrown products Albert Belle, Jim Thome and Manny Ramirez and shrewd acquisitions like Kenny Lofton and Sandy Alomar Jr. Hart's Indians teams won six division titles and two pennants before he went on to the GM role with the Rangers from 2002-05.
But while Hart's success with Cleveland is his calling card, that's not really the reason he's so well suited for this situation in Atlanta. Look around the game right now, and you see branches of the Hart "family tree" all over. Indians president Mark Shapiro and general manager Chris Antonetti, Pirates GM Neal Huntington, Rangers GM Jon Daniels and Red Sox GM Ben Cherington all worked under Hart and credit him as a mentor. And in Coppolella, whose résumé includes time spent as student manager for the Notre Dame football team and gradual rises in rank with the Yankees and Braves, Hart likely has his next protege.
We'll see where this all leads, but, on the surface, you can certainly understand why Scheurholz tried so hard to get Hart to give up his comfortable life -- a steady helping of tee times mixed around a part-time MLB Network analyst schedule -- to get back to the work of building up a ballclub.
"John clearly wanted me to take this job," Hart said.
So add it to the list. Great family, great golf swing, great clothes, great tan, great legacy and great opportunity.
Anthony Castrovince is a reporter for MLB.com. Read his columns and follow him on Twitter at @Castrovince. This story was not subject to the approval of Major League Baseball or its clubs.