O'Neil's legacy carrying on through Royals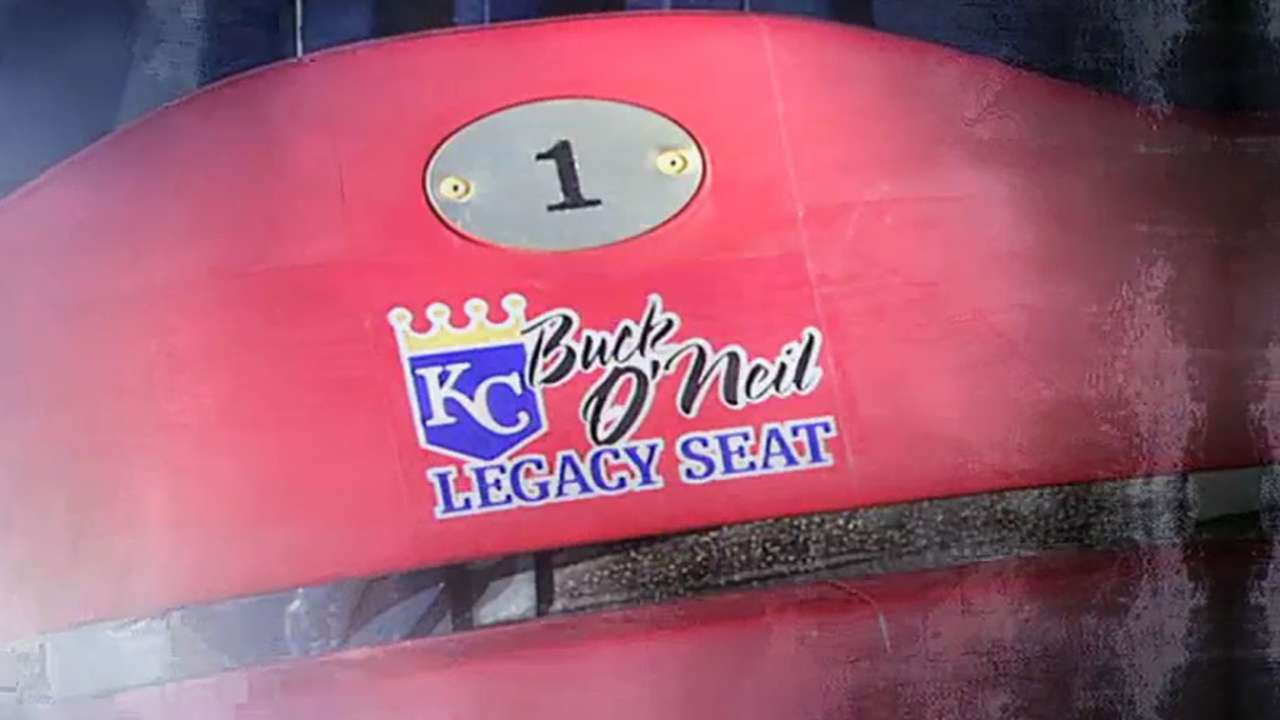 SAN FRANCISCO -- Throughout the Royals' frenetic playoff run, one that was void of a loss until Game 1 of the World Series, one comment kept coming up in conversation among those familiar with Kansas City baseball.
Buck woulda loved this.
With the exception of George Brett, there is arguably no one more affiliated with baseball in Kansas City than John "Buck" O'Neil, a true gentleman in every sense of the word who did more to educate America on the Negro Leagues than anyone in history. That is not an exaggeration -- through interviews, documentaries and just simply embracing being in the public eye in general, O'Neil, it could be argued, single-handedly brought the Negro Leagues back to life.
O'Neil lived to a ripe old age of 94, but he would have needed to stretch that to 102 to witness the Royals winning the American League pennant and hosting the first two games of the World Series. He passed in 2006, but his name has been mentioned numerous times this month by people who knew and loved O'Neil, and by many more who simply loved him.
"Buck was a fan, first and foremost, so he'd be just like the rest of us," said Bob Kendrick, president of the Negro Leagues Baseball Museum. "Dancing, prancing, high-fiving, hugging. He'd be doing the things we all came to know and love about Buck O'Neil."
He'd also be the least surprised of anyone, Kendrick surmised, that the Royals not only made it to the postseason but swept their way through the first two rounds to get to the World Series. O'Neil was as well known for his optimism as he was for being the public face of the Negro Leagues. If he were alive today, Kendrick estimated, O'Neil would think what the Royals are doing is all perfectly normal, and expected.
"He'd be one of the few folks that would actually believe that any of this was happening, because he never gave up," Kendrick said. "He was the most optimistic individual that I've ever met. I think the rest of us are a little bit surprised, and, obviously, excited. But not Buck."
Kendrick affectionately refers to the NLBM as "The House that Buck built," an appropriate label given the integral role O'Neil played in it coming to life. O'Neil led the efforts to establish the NLBM in the 1990s, and he served as its honorary board chairman until his death.
O'Neil's Negro Leagues playing career, which was spent mostly with the Kansas City Monarchs, lasted from 1937-50. He was a player-manager during the last few years of his career and went on to become a scout after retiring as a player. In 1962, he became the first African-American to coach in the Major Leagues, landing a job with the Cubs.
Despite his dedication to promoting education about the Negro Leagues, it's likely that part of history never would have gained national traction had it not been for O'Neil's prominent interviews with Ken Burns in the 1994 PBS documentary "Baseball." Suddenly, O'Neil's engaging personality and ability to tell a story like no other was on full display. His popularity exploded, and the beneficiary was the Negro Leagues, whose story suddenly reappeared in mainstream conversation.
And just like that, O'Neil's unending kindness and enthusiasm was no longer a secret. The smile that never faded, the eyes that lit up when he talked about teammates -- it was all there for public consumption.
"He's special," Kendrick said. "I think if you adhere to the belief that we are all here for a purpose ... some of us never really realize what that purpose is, and others spend their time running from that purpose. Buck never did. He embraced it and he lived it out. It was amazing to be there and witness it all."
O'Neil just had that certain something that separated him from the pack.
"We would be in places, and if people didn't know who he was, they always felt like he was somebody," Kendrick said. "He had this aura about him. He walked into the room and you knew he was in the room."
Kendrick remembers countless times that he'd be sitting in the airport with O'Neil and knowing it was just a matter of minutes before O'Neil would strike up a conversation with the people sitting next to him.
"He'd introduce himself to a young couple and before we were heading to our gates, they're sharing an embrace as if they've known each other all their lives," Kendrick said.
With so much to celebrate in Kansas City lately, it's easy to imagine O'Neil in the middle of it all, throwing his arms around the collective masses.
A 29-year drought? Nah. O'Neil, the eternal optimist, would probably just label it as a brief intermission, leading to an even sweeter finale.
Alyson Footer is a national correspondent for MLB.com. Follow her on Twitter @alysonfooter. This story was not subject to the approval of Major League Baseball or its clubs.