Braves get their man, persuade Hart to join full time
New president of baseball operations was top candidate all along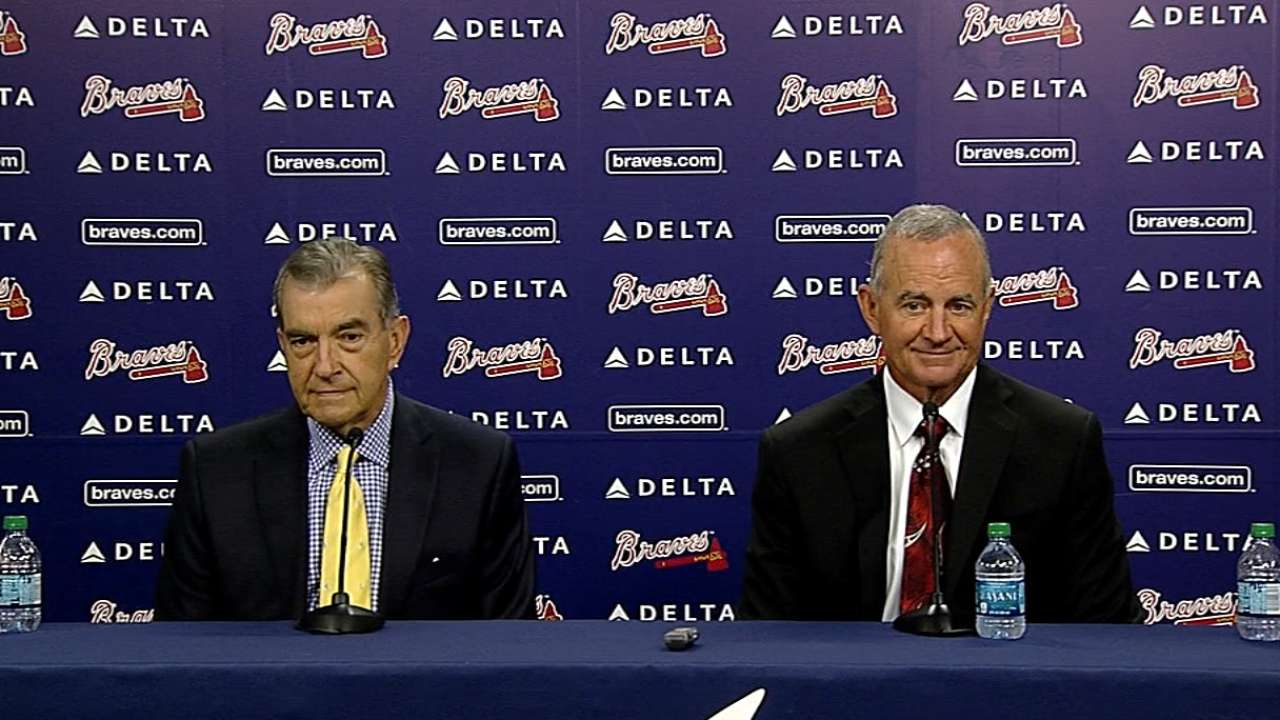 ATLANTA -- When John Hart agreed to become the Braves' interim general manager in September, he was looking forward to working with team president John Schuerholz and Bobby Cox in search of the man who would eventually fill the role on a full-time basis. But it did not take long for him to realize they already knew who they wanted to assume the responsibilities.
"I had my list of great candidates for the job," Hart said. "We talked about scouting, player development, our roster, and then when I would say, 'OK, are we going to talk about the GM?' [Schuerholz] would take a break go to the bathroom and Bobby would start talking about the 1995 World Series."
In other words, Schuerholz and Cox knew all along that the best man for the job was Hart, who agreed to assume some of the general manager's responsibilities when he was announced as the Braves president of baseball operations on Thursday afternoon.
"I was able to persuade him that this is the place to be, and this is the organization that he can have so much of an impact on in a very positive and energetic way, and get us to where we want to be, and that is at the very top," Schuerholz said.
When Schuerholz hired Hart to serve as a senior advisor in November 2013, many within the baseball industry saw this as indication that he would soon succeed former general manager Frank Wren, who was dismissed last month. But there was also reason to wonder whether Hart would be willing to give up some of the freedoms he had while working as an advisor and an analyst for MLB Network.
While completing a massive overhaul of the Braves scouting and player development departments this past month, Hart was reintroduced to the competitive juices that fueled him when he previously served as the GM for the Indians (1991-2000) and Rangers ('02-05).
"I've had a lot of other chances over the years to do some things in this same capacity," Hart said. "It's always been the personal piece that has not worked for me."
Schuerholz's ability to persuade his longtime friend to assume this role was aided by the fact that the Braves' Spring Training facility is located approximately 20 minutes from Hart's family residence in Windermere, Fla. He shares this home with Sandy, his wife of 44 years who approved of this decision to get back into the baseball world on a full-time basis.
"This game sometimes can be a little bit more of an evil mistress," Hart said. "She takes up your time and your energy and your focus. You have to dedicate everything to her and you're chasing this dream of the ring. But along the way, you have a chance to connect with so many wonderful people. I examined it and I looked at all the things in my life. The most impactful things that have happened in my life have happened around a baseball diamond."
Hart experienced a brief playing career as a catcher in the Expos farm system and then coached high school baseball in the Orlando area before beginning a seven-year stint as a Minor League manager for the Orioles. He joined the Indians as a special assignment scout in 1989 and ended up serving as Cleveland's manager for the final 19 games of that season.
After getting a taste of being a big league manager, Hart joined Cleveland's front office and was named the general manager near the end of the 1991 season. During his 10 seasons as the Indians' GM, he collected talent and provided the blueprint that has been used by the Braves and other clubs who have attempted to lock up their most talented young players with multiyear extensions.
During Hart's 10 years as Cleveland's GM, the Indians won six division titles and two American League pennants. He was named Sporting News' Major League Executive of the Year in 1994 and '95.
Though Hart's Cleveland teams featured players such as Albert Belle, Kenny Lofton, Jim Thome and Manny Ramirez, he admits that he has always been attracted to filling his roster with lesser-acclaimed players who are able to provide valuable intangibles.
"You certainly love your star players," Hart said. "But I tell you, I love the winning players. I like the players with grit. I like the players who care more about winning than anything else. It's a team game and it's about winning. We want to make sure we have those kinds of players."
An avid scratch golfer who has continued to exercise on a regular basis, Hart certainly does not look like a man who is 66 years old, an age he was reminded of repeatedly courtesy of the many stories that have been written over the past few weeks about his candidacy for this role in Atlanta.
Hart, the 74-year-old Schuerholz and 73-year-old Cox have playfully dubbed themselves The Sunshine Boys in reference to Neil Simon's popular 1970s play that reunited two comedians who had formed a successful duo more than 40 years earlier.
"I just have to tell everybody I didn't scout Ty Cobb," Hart joked. "Ted Williams wasn't one of my Draft picks. It's okay to have that [66] up there, but it's tough looking at that every day. We've had some fun with that."
Mark Bowman is a reporter for MLB.com. This story was not subject to the approval of Major League Baseball or its clubs.