MLB.com Columnist
Bernie Pleskoff
Pirates catching prospect Diaz showing defensive skills in AFL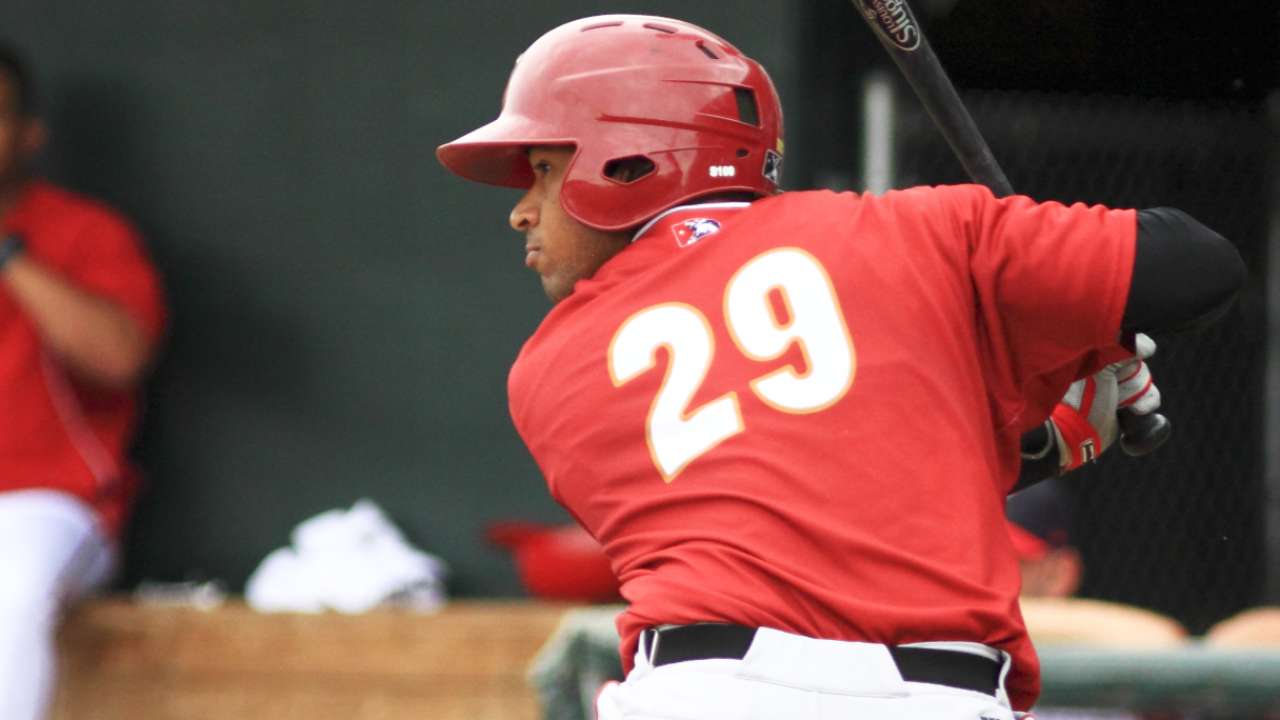 I believe baseball fans in general, and Pittsburgh Pirates fans in particular, should remember the name Elias Diaz. Diaz is a catcher from the Pirates on the Scottsdale Scorpions in the Arizona Fall League. I sat up in my seat when I watched him play for the first time.
I was so intrigued that I returned to watch him in another game. It didn't take long before I couldn't take my eyes off him. He reminded me of a former Pirates catcher I used to admire. Diaz has the same quickness and apparent passion for the game as Manny Sanguillen, an All-Star Pirates catcher from the 1970s. Sanguillen, from Panama, is now 70. He played at 6-foot, 190-pounds. Diaz is 6-foot-1 and 175-pounds. He won't turn 24 until November.
The Pirates signed Diaz in 2008 as an international free agent from Venezuela. His defense was always first rate, but his offense is improving markedly.
Like Sanguillen, Diaz has a tremendous arm with a lightning quick release and very good accuracy. Also like Sanguillen, I saw him throw to second base from his knees, without popping up and setting his feet. Not every time, but when he knew the play was rushed. If his pitcher releases the ball from the mound to the plate in a reasonable time, Diaz has excellent mechanics to throw out the runner. In his six-year Minor League career, Diaz has thrown out 30 percent of the runners trying to steal. That's an extremely impressive statistic. And when I saw Diaz throw, I knew instantly he had a high caught stealing percentage.
For example, if a pitcher throws a pitch to the plate in 1.3 seconds or less with the Reds' Billy Hamilton at the plate and the catcher pops up, exchanges the ball from glove to hand and throws the ball to second base in 2 seconds or fewer, there is a chance to get Hamilton stealing. With a throw that's right on the money. But with a slow release by the pitcher to the hitter, the catcher is limited in his ability to nail the runner. That's what makes Diaz's caught stealing rate so special. He was not always dealing with quick pitch times from the mound to the plate.
Diaz has extremely good footwork. He blocks balls in the dirt, shifts his weight well, and has cat-like quickness behind the plate. Diaz combines his footwork, outstanding arm strength and accuracy with mature game management. He provides the type of leadership and work ethic required to handle the high intensity and high pitch counts he is seeing in today's game.
While I believe Diaz will continue to be an outstanding defensive catcher, I think he might eventually capture a regular role behind the plate with his improved hitting ability. Consider that he went from hitting .221 in 360 plate appearances in '11 playing for Class A West Virginia to a combined .312 playing 91 games (367 plate appearances) at Double-A Altoona and 10 games (37 plate appearances) Triple-A Indianapolis in '14. That's what development programs are intended to accomplish. He has shown tremendous offensive improvement every year.
Offensively, I have seen a patient hitter with good knowledge of the strike zone. Diaz is especially solid when he is down in the count with two strikes. He tries hard to make contact, keeping his at-bat alive by fouling pitches until he likes a pitch he can drive. In fact, he has never struck out more than 69 times in any season. That happened in '11, the year he hit only .221. He is a disciplined hitter who is capable of accepting a base on balls.
By design, Diaz tries to use the whole field on offense. His goal is to hit the ball up the middle, and that's very obvious in his approach. While I don't see much power in his batting practice sessions or in game situations, he may very well hit up to 10 home runs a season with his measured, short swing.
Diaz has all the tools of a big league contributor behind the plate.
Bernie Pleskoff has served as a professional scout for the Houston Astros and Seattle Mariners. Follow @BerniePleskoff on Twitter. This story was not subject to the approval of Major League Baseball or its clubs.