Phils re-sign Sizemore to boost outfield depth
Vet, expected to play all three positions, agrees to one-year deal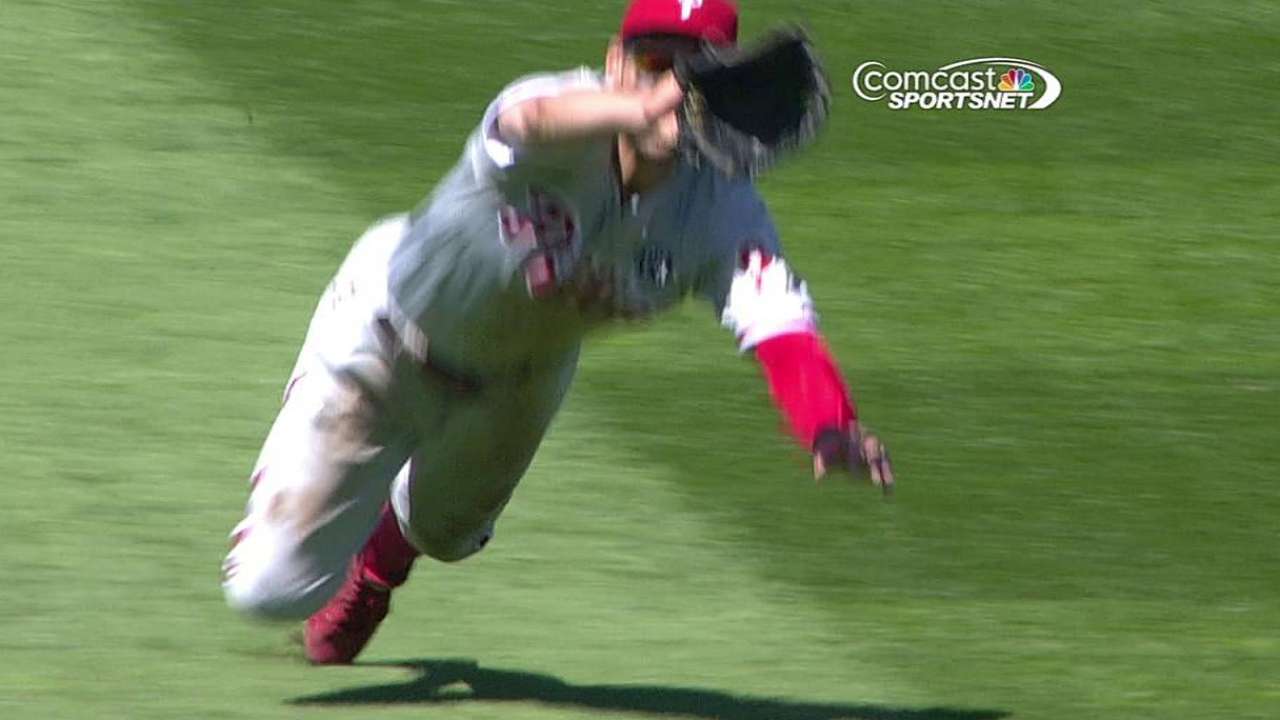 PHILADELPHIA -- The Phillies need outfielders, and they believe Grady Sizemore can help in some fashion in 2015. They announced Thursday they have signed him to a one-year, $2 million contract.
Sizemore hit .253 with nine doubles, two triples, three home runs, 12 RBIs and a .701 OPS in 176 plate appearances with the Phillies, who signed him to a Minor League contract in June. He was hitting .306 with an .817 OPS through his first 130 plate appearances with the Phillies, but cooled off considerably in the season's final month.
Sizemore started just nine games in September and hit .098.
It is the first of what could be many moves in the outfield.
Several sources have said the Phillies are serious players for free-agent Cuban outfielder Yasmany Tomas. He could command $100 million, but the Phillies have the money to spend, and with no outfield prospects knocking on the door, it is something that makes sense for them.
Right fielder Marlon Byrd had the best season of any Phillies outfielder, posting team-highs in home runs (25) and OPS (.757). But the Phillies are going to try to trade him for younger pieces, which they tried to do without success in July.
Domonic Brown hit just .235 with 22 doubles, one triple, 10 home runs, 63 RBIs and a .634 OPS in 144 games this season. His OPS ranked 139th out of 147 qualified hitters in baseball. His .641 OPS as a left fielder was the lowest of any left fielder since Chuck Knoblauch's .582 OPS for Kansas City in '02. Brown's future with the organization is uncertain, but he is relatively young, and some in the organization still believe he can rekindle the stroke that landed him on the 2013 National League All-Star team.
Center fielder Ben Revere hit .306, and .323 from July 2 through the end of the season, but posted just a .686 OPS overall. His OPS ranked 123rd out of 147 hitters. The Phillies would like to upgrade in center field if possible, but options are slim.
Sizemore is expected to be a fourth or fifth outfielder who will play every outfield position. He played 28 games in left field, 12 in right and seven in center for the Phillies in 2014.
The Phillies also avoided arbitration with left-hander Cesar Jimenez, agreeing to a one-year contract for the 2015 season.
Todd Zolecki is a reporter for MLB.com. This story was not subject to the approval of Major League Baseball or its clubs.