Four Royals nominated for Gold Glove Awards
Joined by Escobar, Hosmer and Perez, Gordon seeks fourth straight nod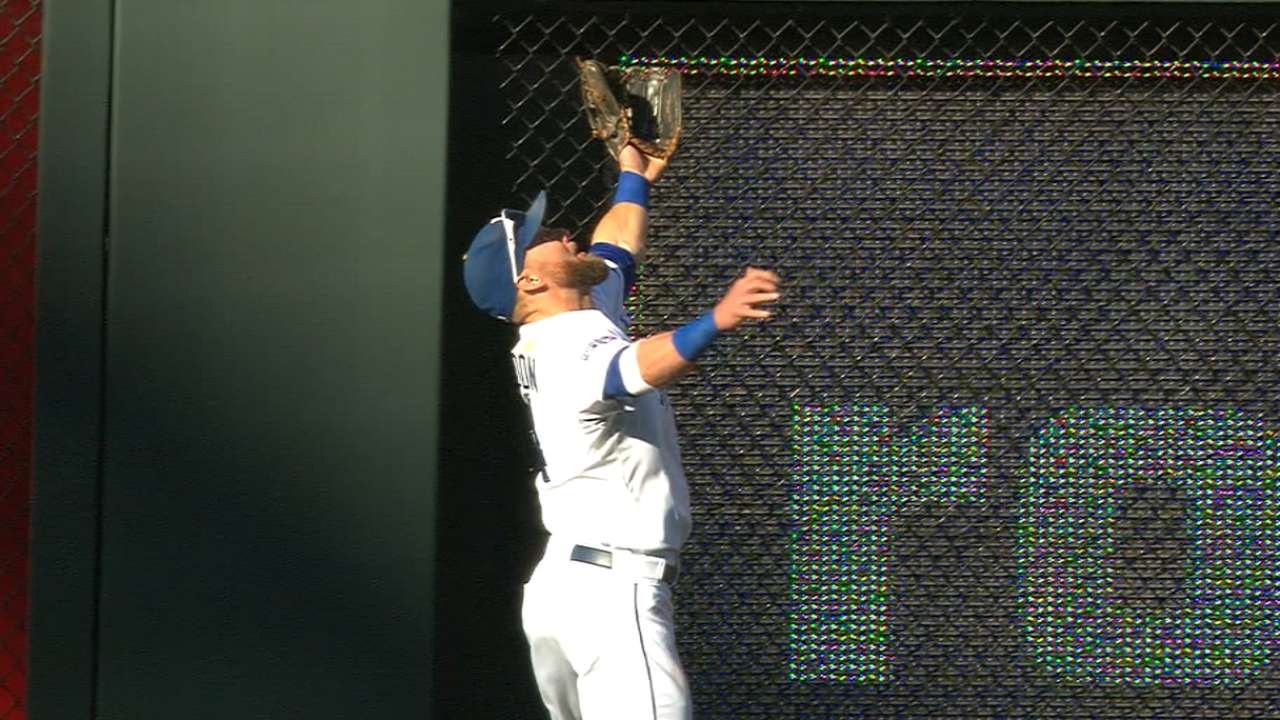 SAN FRANCISCO -- The Royals have been lauded as the best defensive team in baseball this season, and that excellence was recognized once again on Thursday, when four members of the team -- left fielder Alex Gordon, shortstop Alcides Escobar, first baseman Eric Hosmer and catcher Salvador Perez -- were named finalists for American League Rawlings Gold Glove Awards.
Gordon could win his fourth straight Gold Glove in left field. His first came in 2011, his first full season in that position. Hosmer and Perez are going after their second straight awards. For Escobar, it's his first nomination.
"Sometimes people look at me crazy when I say I think we have the capability one day of getting five Gold Gloves on that field," said manager Ned Yost. "But I think it's a real possibility with our defense. I'm proud. I think Esky has deserved a Gold Glove for the last couple years. I would love to see him win it. I'd love to see Sal win a second, Hoz win a second and Gordy win his fourth."
The winners will be revealed on Nov. 4 at 6 p.m. CT on ESPN2.
The omission of center fielder Lorenzo Cain from the list of nominees struck a wrong chord for Hosmer.
"Why no Cain? I need answers right now," Hosmer said. "That really is surprising and kind of shocking that Cain is not even a nominee or a finalist. But obviously, it's a tremendous honor for everybody that's nominated. You're talking about a Gold Glove, and that's a big-time deal."
Cain was nominated last year, but Baltimore's Adam Jones won. The nominees for center field this year are Jones, Adam Eaton of the White Sox and Jackie Bradley Jr. of the Red Sox.
"That's a tough pill to swallow, to not even be nominated," Cain said. "I feel like I've played really good defense this year. It is what it is, and I'm just going to move on from it and keep my mind on this World Series."
However, Cain has been named the Royals' top defensive player by Wilson Sporting Goods in the last two years.
"I'll keep taking my Wilson awards," he said.
Kansas City can top a franchise record, set last season, if all four finalists win at their positions. The 2013 Royals claimed three Gold Gloves -- Gordon, Perez and Hosmer -- for the first time in team history.
Gold Glove Award winners are determined through a combination of voting by managers and coaches (75 percent), plus statistical data (25 percent).
Dick Kaegel is a reporter for MLB.com. Jackson Alexander is an associate reporter for MLB.com. This story was not subject to the approval of Major League Baseball or its clubs.