Red Sox tab Davis to be new hitting coach
Farrell praises longtime big leaguer's personality in return to organization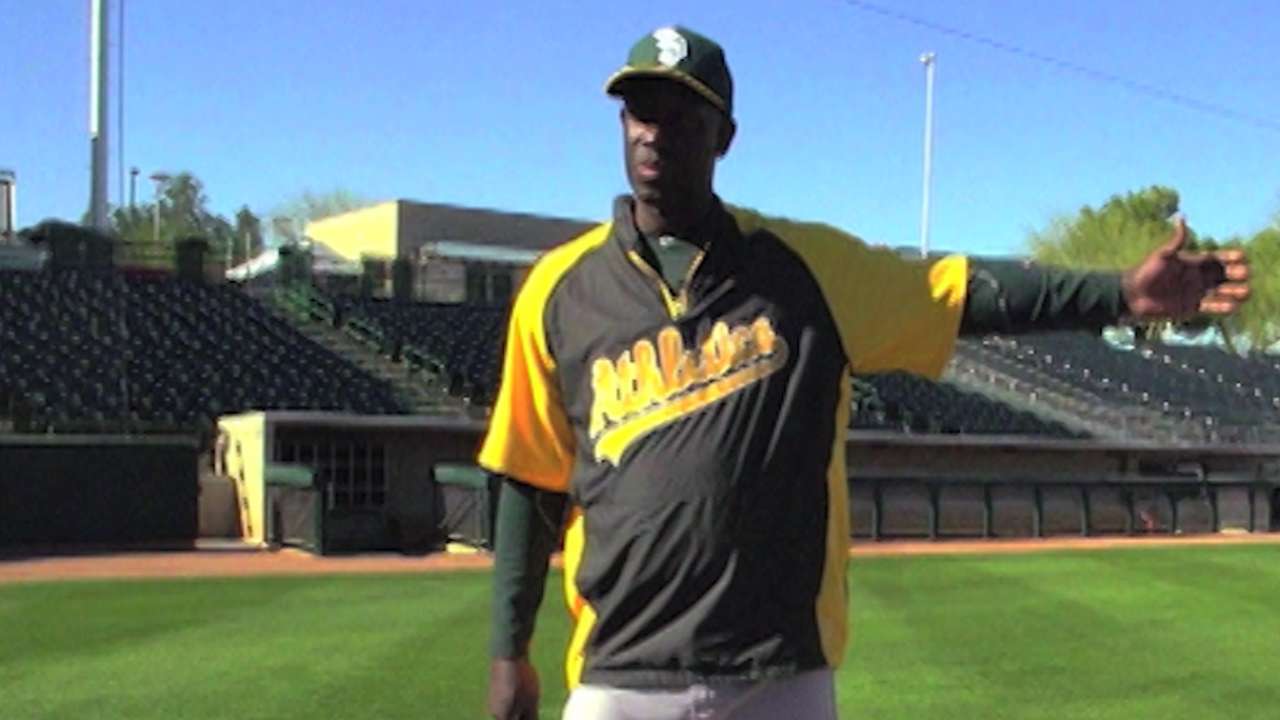 BOSTON -- By hiring Chili Davis, the Red Sox feel they've found a hitting coach with the type of enthusiasm and technique that players will feed off.
"It goes back to the person Chili is," said manager John Farrell. "You all will get to know him firsthand. This is someone that, setting aside a great playing career, it's someone that cares about the individuals that he's working with ultimately to make them better and to make us better.
"You're talking about an incredible playing career and someone who can spread an incredible message. The genuine personality that Chili has, our players will feel that immediately."
After a successful three-year run in Oakland, Davis has decided to return to the Red Sox organization, where he served as hitting coach for Triple-A Pawtucket in 2011.
And by coming back to Boston, Davis gets to reunite with Red Sox slugger Yoenis Cespedes after working with him for 2 1/2 years in Oakland.
"Cespy is a special player, just a very special player with a lot of talent," said Davis. "Big-game guy, loves the noise, loves the lights. I feel like we formed a relationship but we weren't quite finished building that relationship. From the relationship we formed, it won't be that difficult to pick up where we left off."
Davis lights up when he talks about Cespedes.
"As far as I'm concerned, and I told him this to his face, he has greatness written all over him. He does," said Davis. "He does everything -- he can run, throw, hit for power. Cespy in Fenway Park is comfortable. It took him a while to get comfortable in Oakland as well, but once he gets comfortable, then there's no telling what he might put up in a season as a player. I think he can be a great player. It's all up to him, whether or not he wants to be there, but I think he has the ability to be a great player."
There will be plenty of other hitters Davis will get to know, including David Ortiz, Dustin Pedroia and a young collection of talent that includes Xander Bogaerts, Rusney Castillo, Mookie Betts and Jackie Bradley Jr.
"When you look like a guy like Pedroia, Big Papi, Cespedes, Allen Craig, Betts, Bradley Jr., [Daniel] Nava, [Will] Middlebrooks, [Shane] Victorino, the rest of the guys there, they have a lot of younger players and some professional players," said Davis. "If I can come in and add a little bit to how I approach the game and the mentality of the game, I'm hoping I can establish some trust and make sure when you go out and the play the game and have a world championship year offensively and turn things around."
Davis replaces Greg Colbrunn, the club's hitting coach the last two years. Victor Rodriguez will remain on staff as the assistant hitting coach for the third straight season.
"When Chili was here, Victor was the hitting coordinator at the time," said Farrell. "There are relationships already established with guys on our roster, even as that roster has turned over. What's most important about a two-man hitting system is that there's a similar approach to hitting that's talked about. There's a working relationship that both guys will be able to tap into and reference from previously. So Victor's return was as much a natural fit as Chili's return to the organization."
And yet another reason Davis appeals to the Red Sox is that he had a proven track record in Oakland with young players such as Josh Donaldson, Josh Reddick and Brandon Moss.
"That goes a long way into seeing the value that Chili brings," said Farrell.
The A's finished third in the American League in runs the last two years. Davis also had a fine Major League playing career that spanned 19 seasons and included three All-Star appearances and three World Series championships.
On Sept. 11, 1999, while playing for the Yankees, Davis hit a home run, which served as New York's only hit against Red Sox ace Pedro Martinez, who turned in a 17-strikeout masterpiece that night.
Davis and Farrell were teammates with the Angels in 1993-94.
"Knowing him personally, knowing what our needs are here, this is an ideal fit with Chili joining our staff here," said Farrell.
And after a rough season offensively for the Red Sox in 2014, when they created plenty of opportunities but couldn't cash in, Davis will try to help to orchestrate a rebound.
"I think it all starts in Spring Training with us, how we approach our at-bats," said Davis. "Every at-bat is somewhat of a different at-bat. Whether or not you're facing a different pitcher, whether or not you're in a different situation, as far as I'm concerned, if we focus properly on the process at hand, what we need to do, in any situation, whether it's getting on base, moving the runner, driving the runner in, if we're focused the correct way on it, and our approach is to do that job at hand, the numbers are going to control themselves."
Ian Browne is a reporter for MLB.com. Read his blog, Brownie Points, and follow him on Twitter @IanMBrowne. This story was not subject to the approval of Major League Baseball or its clubs.