Hechavarria, Stanton, Yelich first-time Gold Glove finalists
Left fielder strong candidate as teammates face stiff competition at their positions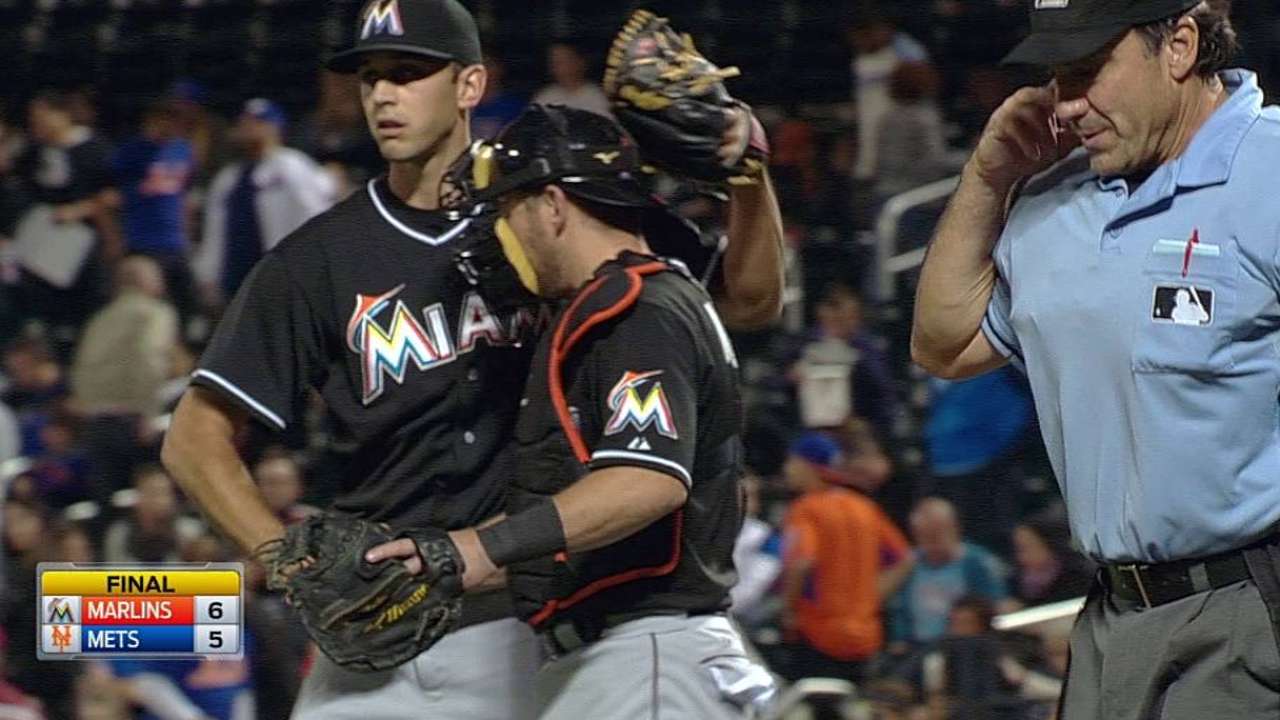 Three Marlins will have their first shot at a Rawlings Gold Glove Award this year, as shortstop Adeiny Hechavarria and outfielders Giancarlo Stanton and Christian Yelich were named National League finalists at their respective positions on Thursday.
The Gold Glove Award winners will be announced on Nov. 4 at 7 p.m. ET live on ESPN2. According to Rawlings, 75 percent of the selection process is decided by a vote of managers and coaches, with up to seven votes per team, while the remaining 25 percent comes from a sabermetric element introduced last season through a partnership with the Society for American Baseball Research. Managers and coaches can't vote for their own players.
Yelich might present the strongest case. The 22-year-old finished first among qualified NL left fielders with a .996 fielding percentage and six assists. He committed only one error in 262 chances. He led the league with 13 Defensive Runs Saved at his position, and his 12.8 UZR was well above any of the other candidates. He's up against Pirates left fielder Starling Marte and the Braves' Justin Upton.
While putting up MVP-caliber numbers at the plate, Stanton also shined in right field. He finished the year with a .982 fielding percentage, seven outfield assists and seven Defensive Runs Saved, which put him fifth in the NL. Stanton is up against Atlanta's Jason Heyward, who led NL right fielders by a wide margin in DRS and UZR, and D-backs/Brewers outfielder Gerardo Parra.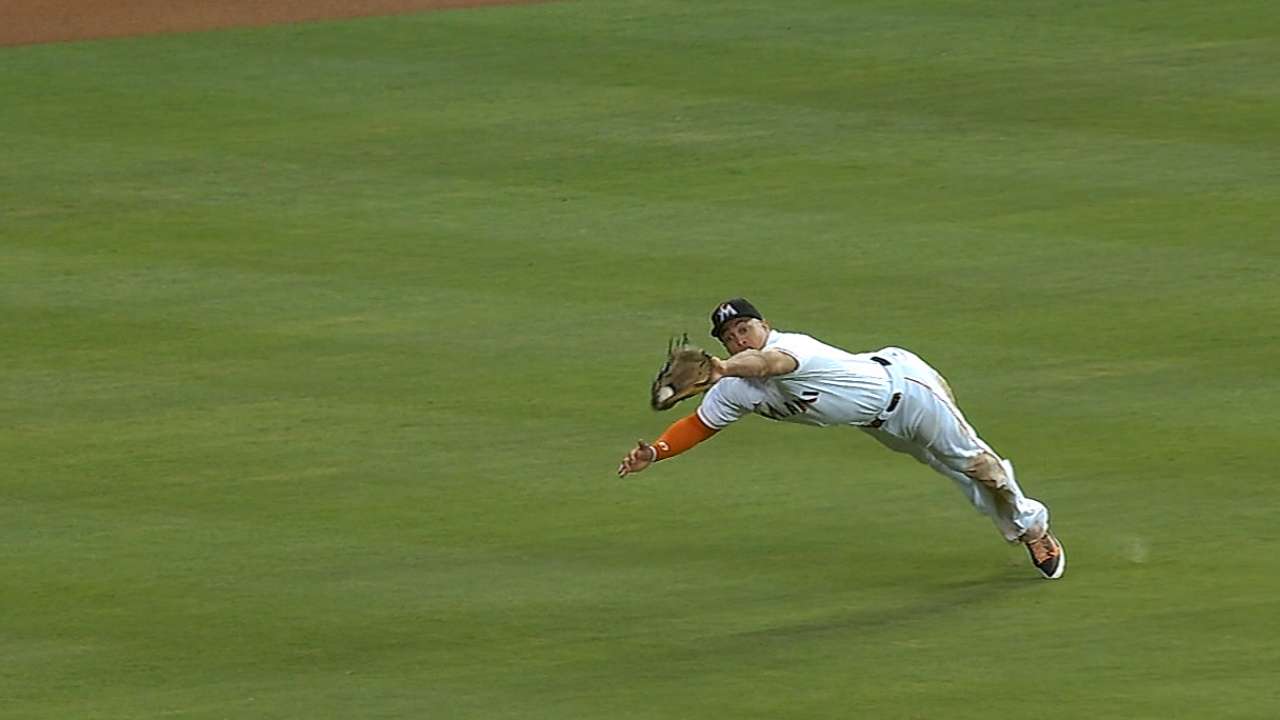 Hechavarria is nominated alongside Reds shortstop Zack Cozart and Braves shortstop Andrelton Simmons, who won last year and took home the National League's Platinum Glove Award. Hechavarria, 25, ranked sixth among qualified NL shortstops with a .979 fielding percentage, committing only 14 errors in 1,294 2/3 innings. He finished third in the NL with 438 assists and fourth with 200 putouts.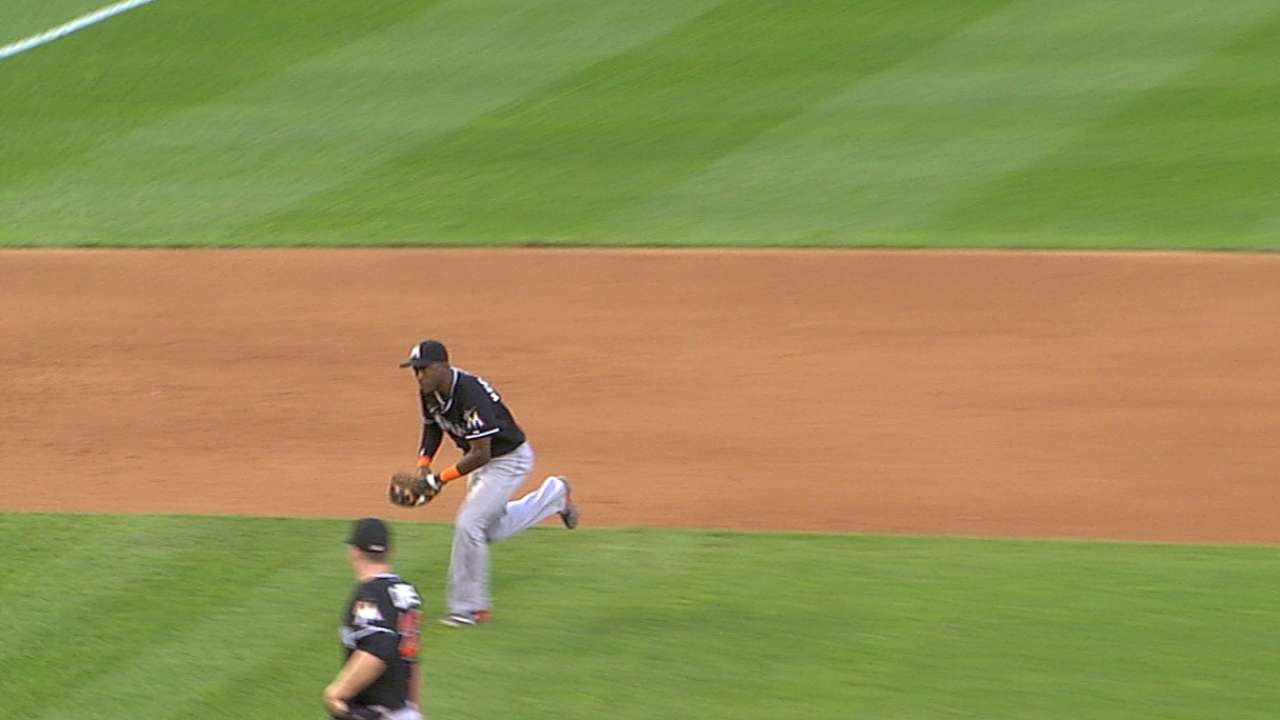 The advanced defensive metrics weren't so kind to Hechavarria this year. He finished with -3 Defensive Runs Saved and a -8.8 Ultimate Zone Rating, both among the worst in the NL at his position. Simmons led the league in both categories.
The Marlins' last Gold Glove Award went to pitcher Mark Buehrle in 2012. Otherwise, they haven't won a Gold Glove since 2005, when third baseman Mike Lowell and second baseman Luis Castillo took home the hardware.
Adam Berry is a reporter for MLB.com. Follow him on Twitter at @adamdberry. This story was not subject to the approval of Major League Baseball or its clubs.