MLB.com Columnist
Richard Justice
Baer's bond with Giants runs deep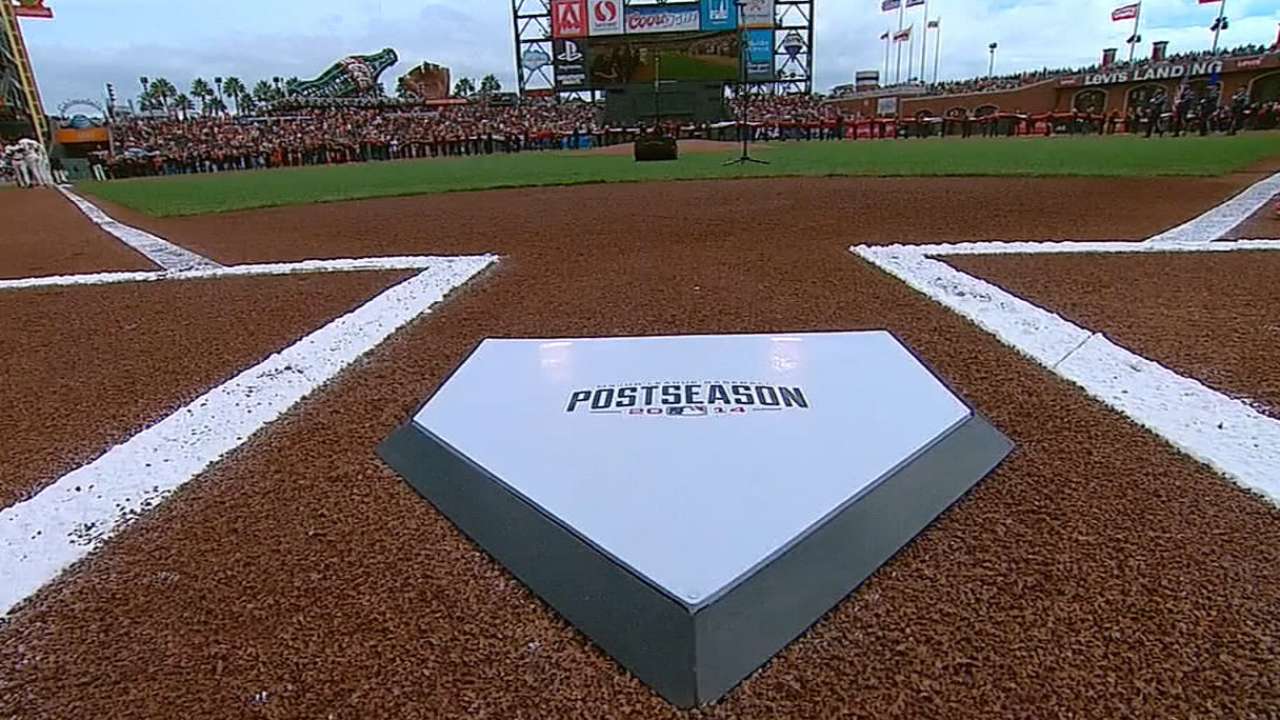 SAN FRANCISCO -- Larry Baer thinks of his father often, misses him more than ever, embraces the sweet memories that wash over him at various times and draw an assortment of emotions to the surface.
"His spirit is with me," the Giants' president and chief executive officer said.
That's especially true now with Baer's team back in the World Series, because the Giants were their team, their bond.
"Dad is smiling," Baer said.
The Giants have been one of Baer's passions throughout his entire life. First, he was a fan, a serious fan. He was serious enough that, as a kid growing up in the Richmond District of the city, he was a regular caller to Giants general manager Chub Feeney's weekend radio show.
The Giants were also Baer's first job after college in 1980, and since returning in 1992, he has methodically risen through the organization. Now he's the man ultimately responsible for one of baseball's most respected franchises.
The Giants have won the National League pennant three times in five years and will host Game 3 of the 2014 World Series Friday night at AT&T Park (4:30 p.m. PT on FOX; 5:07 first pitch). They've also sold out 287 straight home games, and amid the music and the food and the party-like atmosphere, it might just be the best place on earth to watch a baseball game.
But Baer's real love of the Giants goes back to his boyhood. One of the rituals of that boyhood was weekend trips to Candlestick Park with his father, Monroe Baer Jr., who died last spring at 91.
So this baseball season, Baer's first without his father, has been especially emotional at times.
"He's why I developed this love of baseball," Baer said.
Monroe Baer was an attorney and a third generation San Franciscan. He grew up following the old Pacific Coast League, with clubs -- San Francisco Seals, Hollywood Stars -- that are iconic names in baseball history.
"His dad took him to Seal Stadium," Baer said.
When the Giants arrived in 1958, a love affair was about to begin. And a father and son would grow closer because of it.
"It was so great," Baer remembered. "Starting from age 5 or so, all the way until I moved out of the house, we would go most Saturdays. In those days, you had to go somewhere to buy tickets in advance. He'd go to a department start called Roos/Atkins near his office. He'd go there at lunch time and buy two tickets. We'd usually be six or seven rows behind the bullpen. That was the area of Candlestick Park that got the most sun. We'd watch Willie Mays patrol center field, Bobby Bonds in right field, Willie McCovey at first. That's how my love of baseball developed. That defined my childhood, really."
That Larry Baer would get degrees from Cal and Harvard Business School, that he would work his way up the ladder with the Giants, made his dad proud.
"My parents literally watched and listened to every game," Baer said. "If I was interviewed, they'd always want me to call 'em. They'd clip out stories in the newspaper.
"He would always say -- and I think this empowered me -- he'd say how proud he was. I'd tell him, 'You gave me my love for baseball.' He'd deflect it back and say, 'You worked hard.'"
When Larry's mom died 2 1/2 years ago, a new dynamic grew from the father-son relationship. Baseball remained one of the centerpieces.
"As we've gone through each step, there has been a full circle in all of this," Baer said. "When we used to walk every Sunday, and during baseball season, the prime topic was Giants baseball. 'Why did [Giants manager Bruce] Bochy do this? Bochy isn't bunting enough. Why did Dusty [former Giants manager Dusty Baker] take the pitcher out so early?' He just loved talking about the game."
When the Giants won the World Series in 2010 and '12, Baer's first telephone call from the field was back home to his dad. His father was a regular at AT&T Park during the final years of his life.
Larry Baer is pretty sure his dad would love these Giants, this club that won 88 games and had to scratch and claw through problem after problem to secure one of the NL Wild Card berths.
"My dad was always incredibly optimistic," Baer said. "And that optimism is kind of what has gotten us through here. For these guys, it was a can-do attitude: 'We'll get through it.' My dad was like that. I'd say, 'Dad, we've lost six in a row.' He'd say, 'We're going to be fine.'"
"We had a stretch where we were 3-15. We lost a lot of games at home. My father would have said, 'We're going to be OK.' And we have been OK."
Baer will join the Edward Jones Chatting Cage on Friday at 4 p.m. ET on MLB.com and sfgiants.com (1 p.m. PT). Fans can ask a video question or tweet one using #chattingcage.
Richard Justice is a columnist for MLB.com. Read his blog, Justice4U. This story was not subject to the approval of Major League Baseball or its clubs.