Brantley, Gomes named AL Gold Glove finalists
Playing left and center, outfielder committed one error in 2014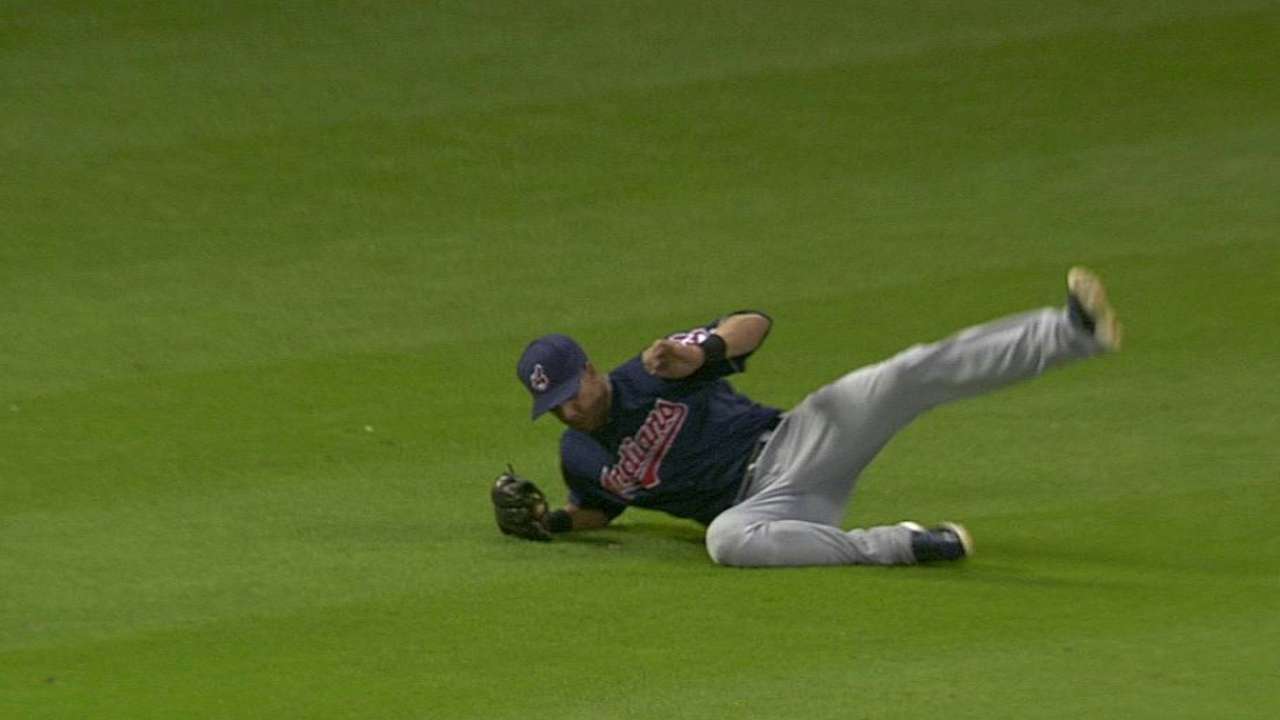 CLEVELAND -- Michael Brantley earned a trip to his first All-Star Game this past season and turned in the kind of campaign worthy of consideration for the American League's Most Valuable Player honor. The Indians outfielder is now in the mix for a Rawlings AL Gold Glove Award.
On Thursday, Rawlings unveiled the finalists for the 2014 Awards, which will be revealed at 7 p.m. ET on Nov. 4 on ESPN2. Brantley and Cleveland catcher Yan Gomes were both among the three finalists from each position in the AL and NL. Gold Glove Award nominations are based 75 percent on voting by AL coaches and managers and 25 percent on defensive metrics.
Brantley is up against Kansas City's Alex Gordon, who has won a Gold Glove in each of the past three seasons, and Yoenis Cespedes, who showed off a powerful arm for both the A's and Red Sox this year. Brantley mastered the left-field corner at Progressive Field, piling up assists and playing error-free as a left fielder for the second straight year.
"He's a complete player," Indians general manager Chris Antonetti said at the end of the season. "He was a huge part of our success and we think one of the best players in the American League."
Cleveland's offensive leader, Brantley also displayed his versatility, shifting to center field for 373 innings this season while Michael Bourn dealt with injuries. Brantley's lone error on the season came as a center fielder on April 2 and ended a club-record streak of 247 consecutive errorless games for an outfielder.
Overall, Brantley's 12 outfield assists were tied for fourth in the AL. Ten of those assists came in his 931 1/3 innings as a left fielder, trailing only Cespedes (1,090 2/3 innings) and Melky Cabrera (1,134 2/3 innings) in the AL for that specific position. Under the metric of Ultimate Zone Rating, an effort to measure the number of plays a defender makes within his defensive zone, Brantley's negative 10.1 UZR/150 rating ranked last among the AL's seven qualified left fielders, while Gordon (22.6) and Cespedes (14) ranked first and second, respectively.
Gomes is up against Kansas City's Salvador Perez (a 2013 AL Gold Glove winner) and Detroit's Alex Avila.
While Gomes' 14 errors left something to be desired, the Indians' young starting catcher excelled at stopping the running game and leading Cleveland's pitching staff. As a team, the Indians had just three pitchouts this past season -- tied with Kansas City and Tampa Bay for the fewest in the AL. Gomes posted a 32 percent (31-of-97) caught-stealing rate.
"He got it straightened out," Indians manager Terry Francona said of Gomes' early-season errors, "and turned into a force behind the pate. He is a force."
FanGraphs.com gave Gomes a 13.2 defensive rating for 2014, ranking him third among qualified AL catchers behind Perez (17) and Avila (15.3). Gomes committed only three errors over his final 55 games and ended the season with single-season franchise records for putouts (1,052) and total chances (1,139). The Indians' pitching staff also set a Major League record with 1,450 strikeouts this past season.
Jordan Bastian is a reporter for MLB.com. Read his blog, Major League Bastian, and follow him on Twitter @MLBastian. This story was not subject to the approval of Major League Baseball or its clubs.