Padres name Geaney director of player development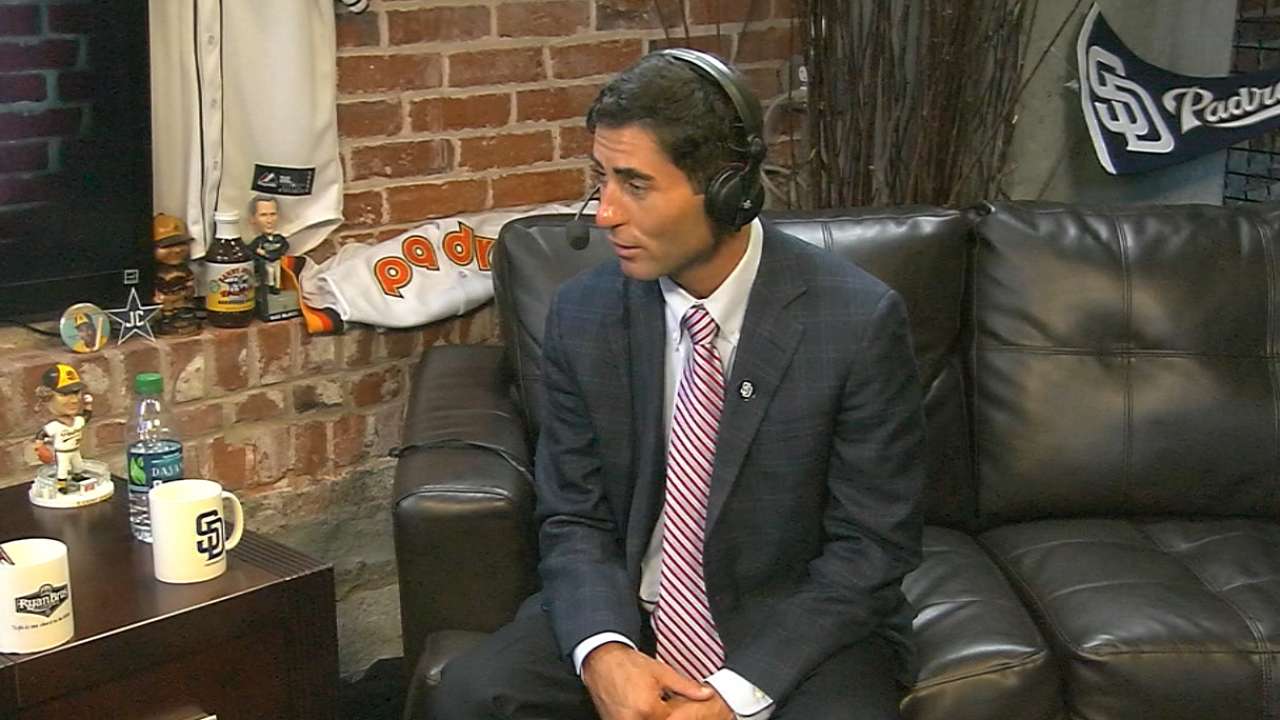 SAN DIEGO -- The Padres hired Sam Geaney on Thursday as their director of player development, a role that will have him oversee the organization's Minor League system.
"It's a big challenge," Geaney said. "Over the coming months, it will be getting familiar with a lot of the quality people already there in San Diego, learning about the players, the coaches. There are staffing decisions that need to be made and just learning more about the position."
Geaney had been with the A's the past nine seasons, the last three as coordinator of international scouting.
Geaney, 29, replaces Randy Smith, who is now a senior advisor, baseball operations, with an emphasis on scouting.
"We're excited to have Sam join our staff," said Padres first-year general manager A.J. Preller in a press release. "He has a smart baseball mind and a strong work ethic that will shape our player development philosophy."
Geaney will be responsible for managing all of the organization's player development efforts, including working with roving coordinators as well as Minor League managers and coaches.
One of Geaney's first items of business will be to hire a field coordinator, hitting coordinator and outfield coordinator as well as a Double-A manager to replace Rich Dauer, who recently left to take a job on the Astros' staff.
Geaney recently spent time in San Diego where he met manager Bud Black and others in the front office, such as special assistants Mark Kotsay, Mark Loretta and upper-level pitching coordinator Trevor Hoffman.
"There's a really, really good core of people there already," Geaney said. "I'm looking forward to picking their brains. We want to figure out how to be the best we can."
Geaney got to know Preller during his time working internationally with the A's and has a long-standing relationship with David Post, who was hired in September as the special assistant to the general manager, scouting.
With the A's, Geaney was an intern in the baseball operations department and an assistant in the scouting department, while simultaneously serving as an area scout. He was promoted to coordinator of scouting in 2009 before moving into his international role in January 2012.
"I've been with the A's since I was 20, so leaving is a difficult thing," Geaney said. "I'm leaving behind a lot of people who were important to me in my life, guys who gave me a chance early on. I'll always be very appreciative to them, how they allowed me to grow, as a person and evaluator, giving me a lot of responsibility."
Geaney is a native of Oakland who graduated from the University of California, Berkeley in 2007 with a BA in political science.
Corey Brock is a reporter for MLB.com. Keep track of @FollowThePadres on Twitter. This story was not subject to the approval of Major League Baseball or its clubs.