MLB.com Columnist
Jim Callis
White Sox AFL class features talented Anderson
Chicago's No. 2 prospect off to a fast start in the Fall League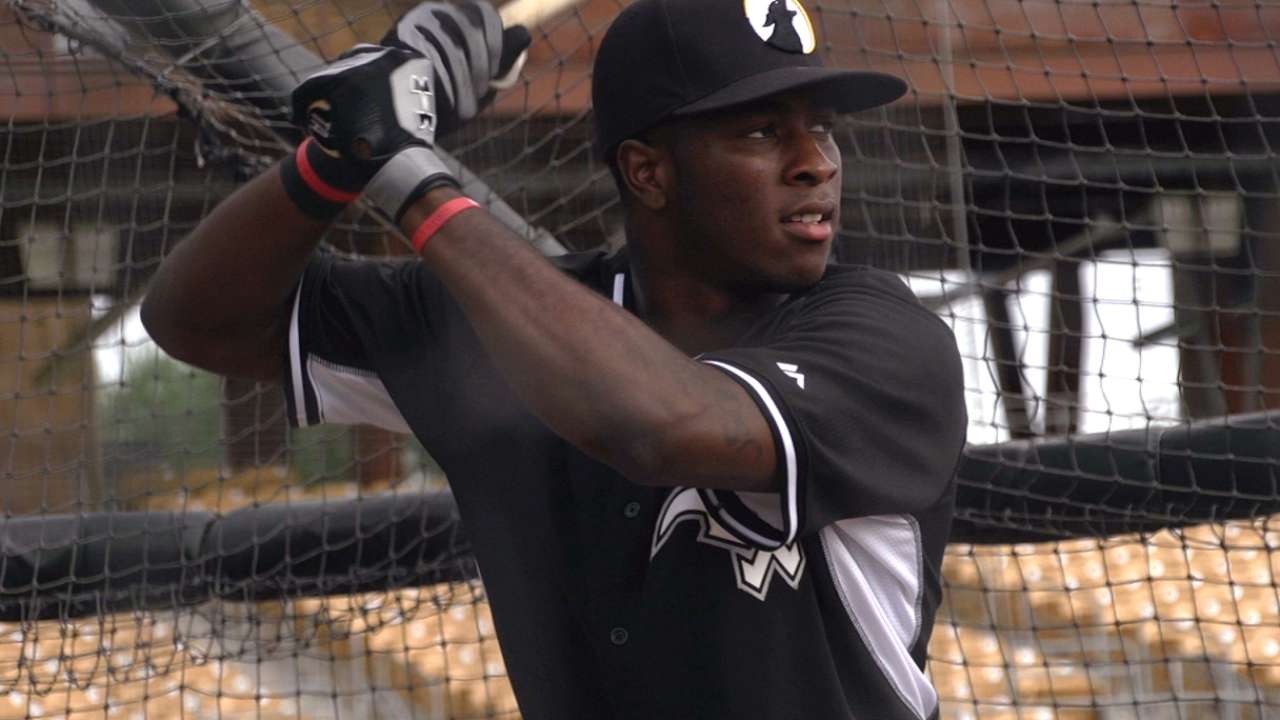 Tim Anderson has moved faster than expected since the White Sox drafted him in the first round of the 2013 First-Year Player Draft. He also missed two months after an errant pitch fractured his right wrist in June, so he's in the Arizona Fall League to compensate for missed at-bats.
Though Anderson is one of the younger players in the AFL at age 21 and hasn't faced much advanced pitching, Chicago's No. 2 prospect according to MLB.com is looking forward to the opportunity.
"I'll see great pitching," Anderson said. "I feel like it'll be a challenge, and I think I'm ready for it. Just get a lot better and get many reps -- make up for the lost time. I just want to go about my business the right way and get it done."
Anderson has performed well in his first two weeks with the Glendale Desert Dogs, going 12-for-39 (.308) with three extra-base hits and four steals in 10 games. The rough edges in his game -- strike-zone discipline and defensive consistency -- have still been apparent. He has 13 strikeouts without a walk and two errors in six games at shortstop.
While Anderson commanded a $2,164,000 bonus as the 17th overall pick in 2013, his lack of polish was expected. At Hillcrest High School (Tuscaloosa, Ala.), he didn't play baseball until his junior year and was better known as a point guard who led his team to the 2011 6-A state basketball championship. He went undrafted out of high school and again after his freshman season at East Central Community College (Miss.), though his stock skyrocketed after he topped all Division II junior college players in hitting (.495) and on-base percentage (.568) as a sophomore.
Anderson hadn't faced much pro-level pitching before joining the White Sox, but he went straight to Class A for his debut and batted .277/.348/.363 with 24 steals in 68 games. He fared even better in 2014, putting up combined .301/.327/.481, mostly at Class A Advanced Winston-Salem. After his wrist healed, he finished the season by hitting .364 in 10 games at Double-A Birmingham, an hour from his hometown.
"High A was kind of challenging from the start, but I kind of caught on real quick," Anderson said. "When I moved to Double-A, I was the youngest guy there, but I felt like I was at home. Actually, I was at home, so it felt good to be there."
Anderson has the best all-around tools in Chicago's farm system, starting with his well above-average speed. A right-handed hitter, he has the all-fields approach and bat speed to hit for a solid average and decent power in the big leagues once he learns to better control the strike zone. He has the actions, range and arm strength to remain at shortstop, with center field as a fallback.
White Sox hitters in the AFL
• A 2012 fifth-rounder from a Florida high school, third baseman Nick Basto had the best year of his pro career in 2014, hitting .263/.313/.387 in Class A Advanced. He's a below-average runner without a true plus tool, making him difficult to profile as a regular.
• Catcher Kevan Smith originally attended Pittsburgh as a quarterback and broke Dan Marino's school record for passing yards in a debut with 202. A seventh-rounder in 2011, he has hit .296/.374/.471 in pro ball and projects as an offensive-minded backup with close to average offensive and defensive skills.
White Sox pitchers in the AFL
• After a breakthrough 2013 season, right-hander Chris Bassitt fractured his pitching hand in an off-field incident and didn't return to the mound until mid-July. He did earn his first big league victory on Sept. 22, when he shut out the Tigers for 7 2/3 innings. His 91-95 mph fastball is his lone plus pitch, so he could wind up in the bullpen.
• Signed by the Red Sox in 2009, Dominican right-hander Francellis Montas came to the White Sox in last summer's Jake Peavy trade and broke out in his first year with his new organization. He always threw hard and hit 102 mph this season, and he also improved his slider, changeup, control and command. He went 5-0 with a 1.44 ERA in 15 starts (mostly at Class A Advanced) with an 80/22 K/BB ratio in 81 innings during a season abbreviated by meniscus surgery on both knees.
• Jefferson Olacio is a 6-foot-7 lefty with a fastball that reaches 96 mph, and his changeup shows flashes of becoming a plus pitch as well. But the 20-year-old from the Dominican Republic has trouble repeating his delivery and throwing strikes, which is why he posted a 4.99 ERA while striking out 71 in 70 1/3 innings between Class A Advanced and Double-A this year.
• A 2011 fifth-round pick from Stanford, left-hander Scott Snodgress started throughout his pro career before moving to the bullpen in Triple-A in late July and making his Major League debut in September. His curveball and changeup are better pitches than his fringy fastball, so he's probably best suited for a relief role. He had a 4.01 ERA and 95 strikeouts in 139 Minor League innings this year, mostly in Double-A.
Jim Callis is a reporter for MLB.com and writes a blog, Callis' Corner. Follow @jimcallisMLB on Twitter. This story was not subject to the approval of Major League Baseball or its clubs.