Hart named Braves' president of baseball operations
Coppolella to be 'right hand man' as part of front office reconstruction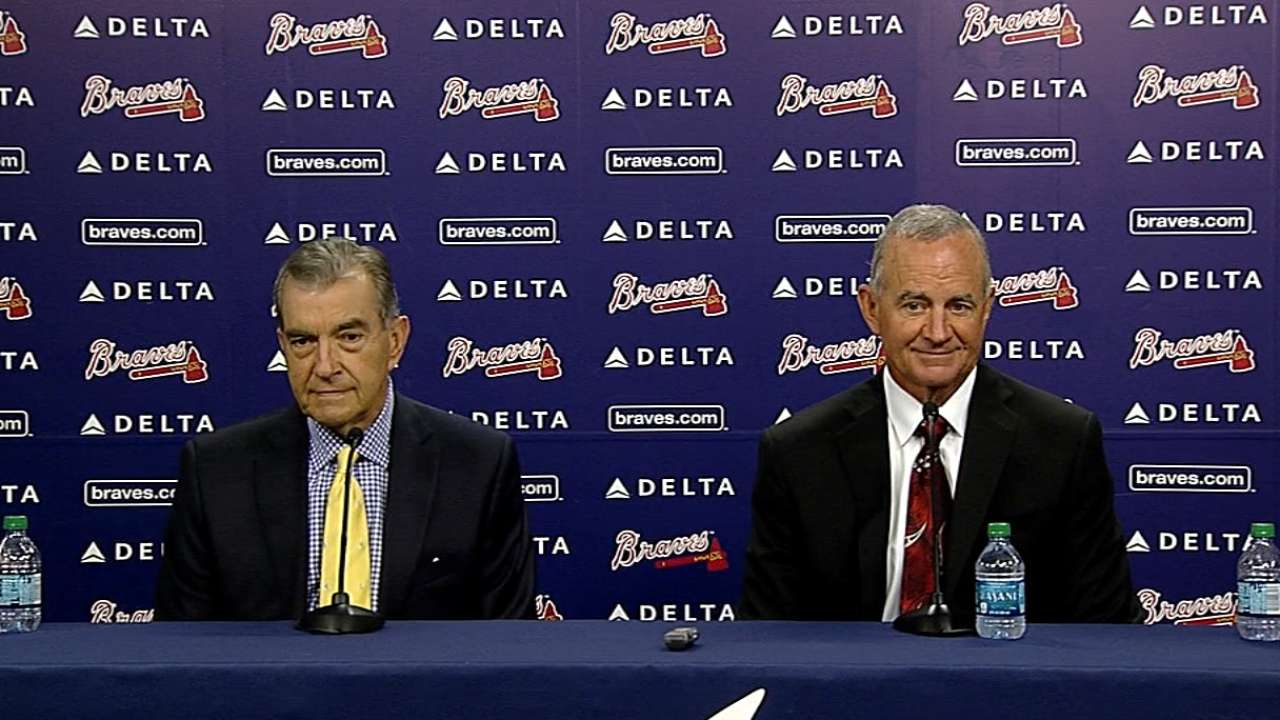 ATLANTA -- Braves president John Schuerholz was in a jovial and upbeat mood as he sat in front of a group of reporters on Thursday afternoon at Turner Field. To his left sat his longtime friend John Hart, the man he had long hoped would lead the organization through its current reconstruction phase and into the future.
When Frank Wren was dismissed as Atlanta's general manager on Sept. 22, Schuerholz made it clear who he wanted to assume those duties. But his power of persuasion did not produce a desired effect until Monday afternoon, when Hart agreed to a three-year deal to serve as the Braves president of baseball operations.
"We couldn't have a better man standing in this room in charge of this organization than [Hart] is on the baseball operations side," Schuerholz said. "I've known him a long time and I respect the heck out of what he does. He's the guy. There is nobody else."
This is the same feeling many of Major League Baseball's top executives expressed when they mingled with Schuerholz, when he visited his old stomping grounds in Kansas City earlier this week to watch Game 1 of the World Series.
"[Hart is] very persuasive," Schuerholz said. "He's got great leadership personality. People respond to him very well.
"I've seen it already. I've seen it in the past. He's the best guy to be in this job. The best negotiations of my entire baseball career was [Monday]."
When Hart was given the interim GM title in September, he indicated that he did not envision assuming a full-time role that would take away some of the freedoms he had over the past few years as he served as an advisor (for both the Rangers and Braves) and an MLB Network analyst. But after being reintroduced to the role, his highly competitive nature progressively led him back to this position where he will significantly influence the Braves' level of success over the next few years.
"The decision ultimately comes down to, 'Do you want to get back in the game?'" Hart said. "'Do you want to compete?' I can honestly say to people who know me, I love to compete, it doesn't matter what it is. ... That is something you do miss when you're not in this arena."
Instead of immediately assigning the general manager title to somebody, Schuerholz has decided the duties will be carried out by Hart and assistant general manager John Coppolella (widely known as Coppy), who has only enhanced his bright future as he has spent the past month working with Hart to complete what has been a significant front office reconstruction process.
"[Hart] will have many responsibilities that a general manager of a team would have," Schuerholz said. "By his side, his right hand man will be John Coppolella. They will work in unison to continue to move this organization forward as they have done over the last three weeks and continue to grow. We have no plans at the moment to add another person in our baseball operations organization."
Over the past month, Hart, Coppolella and Royals general manager Dayton Moore have been the only individuals linked to the vacancy. While Schuerholz is very proud of what Moore has done since leaving the Braves in 2006, he was also going to respect that his prized pupil is under contract for two more years in Kansas City.
Recognized as one of baseball's top young minds, Coppolella might eventually be given the GM title. But for now, he will carry out many of the responsibilities of the role while benefiting from the guidance provided by the 66-year-old Hart, who filled the GM role for both the Indians (1991-2000) and Rangers ('02-05) before serving as a senior advisor in Texas' front office from '06-13.
"I think Coppy is a big reason why I took this job," Hart said. "I've had a lot of people in the [GM] family tree, if you will. I've had a lot of young guys who have come through the office. Coppy is really good. I'm telling you, he is really good."
Over the past few weeks, Hart and Coppolella have overhauled the scouting and player development departments. Roy Clark was brought back to the organization to oversee the amateur scouting department, which will be run by the recently promoted Brian Bridges. Gordon Blakely was brought in to improve international scouting, which has been one of the club's weaknesses over the past few years.
Dave Trembley was also lured back to the organization to head the player development department, which also recently added Jonathan Schuerholz, the club president's son. All of these changes were made courtesy of the countless discussions the elder Schuerholz, Hart, Coppolella and former manager Bobby Cox have had.
"I can't say enough about the leadership [Hart] provided, first step on the ground," Schuerholz said. "He got it up and running right away. He took the interim general manager's position and embraced it as if it was his own and this was his to do for his organization. The staffing we've done and the adjustments we've made were remarkable and they were under his leadership. He, along with John Coppolella, did remarkable jobs in getting us to where we are today. We really, really are well positioned to move forward."
Mark Bowman is a reporter for MLB.com. This story was not subject to the approval of Major League Baseball or its clubs.